Currently I'm based
in Belgrade
PRODUCT DESIGNER. NOW AT
YANDEX, INTERNATIONAL PROJECTS DEP. PREVIOUSLY AT IVI
Streaming video service
with 60M MAU
CONTENT CARD Jan — Dec 2021
Senior Product Designer · IVI
The largest and most important task in 2021 at IVI for me was the new content card. We modernized the design of the screen on all the platforms, reviewed information priorities, and the main thing — we made the video nearer to users and more affordable.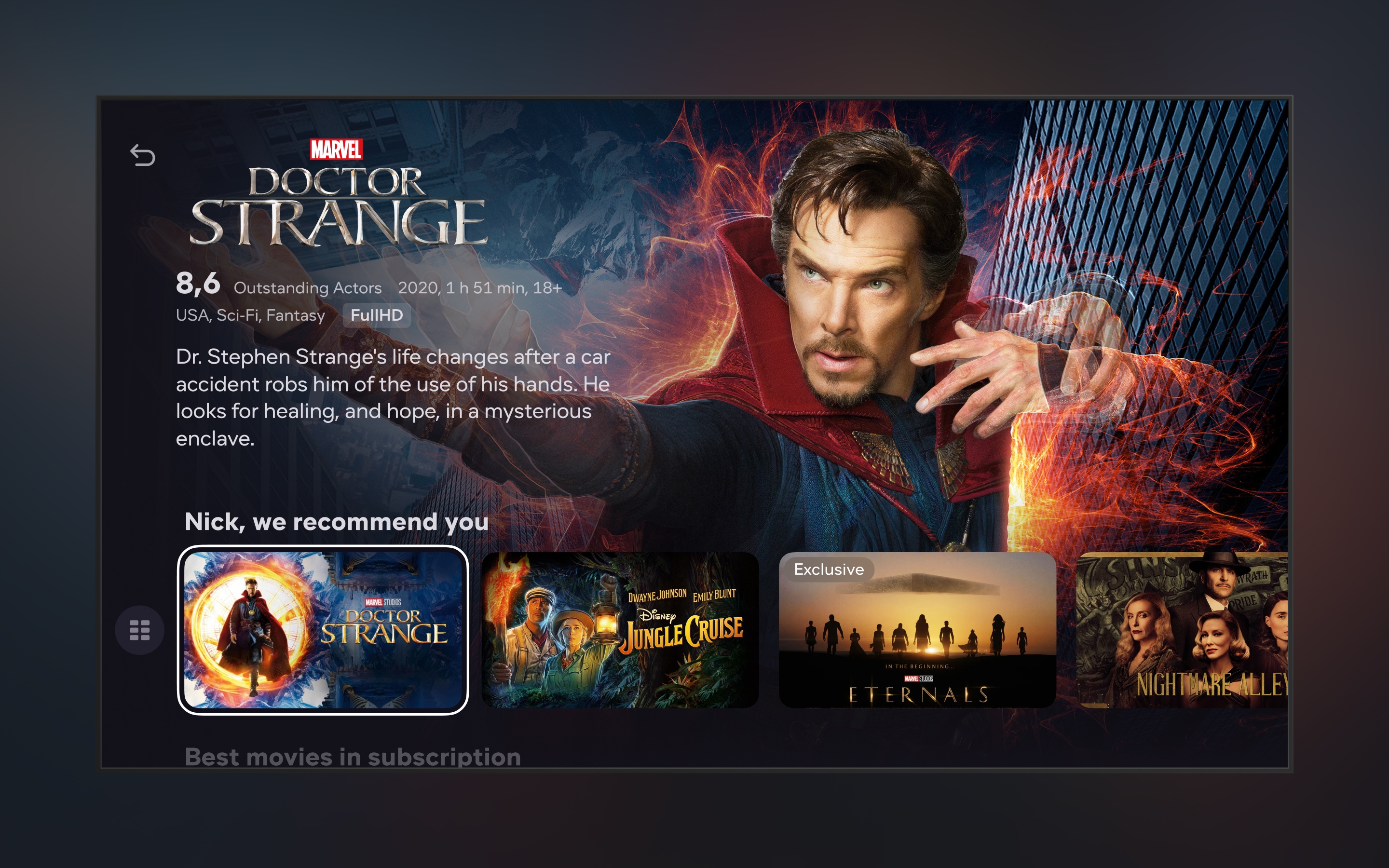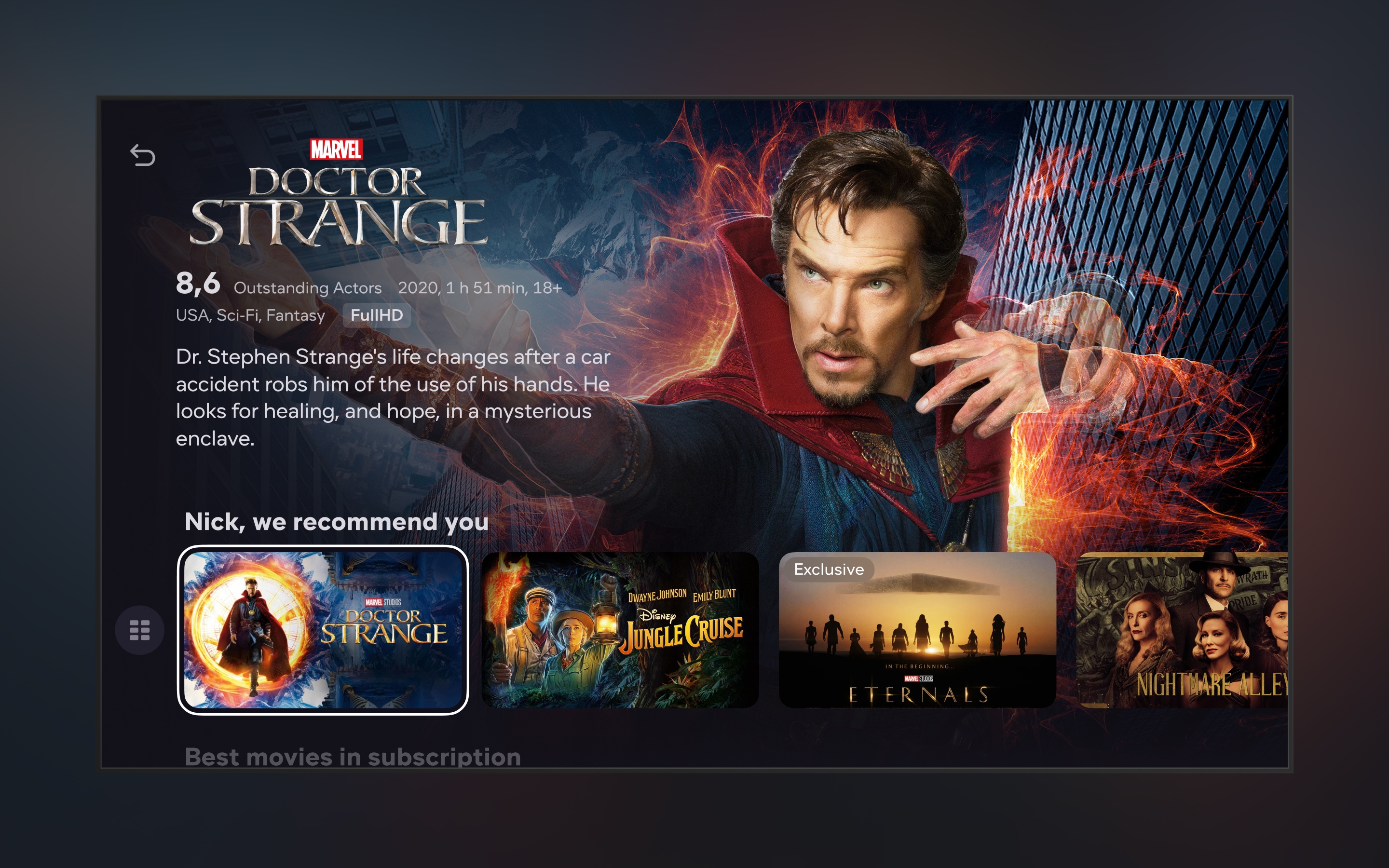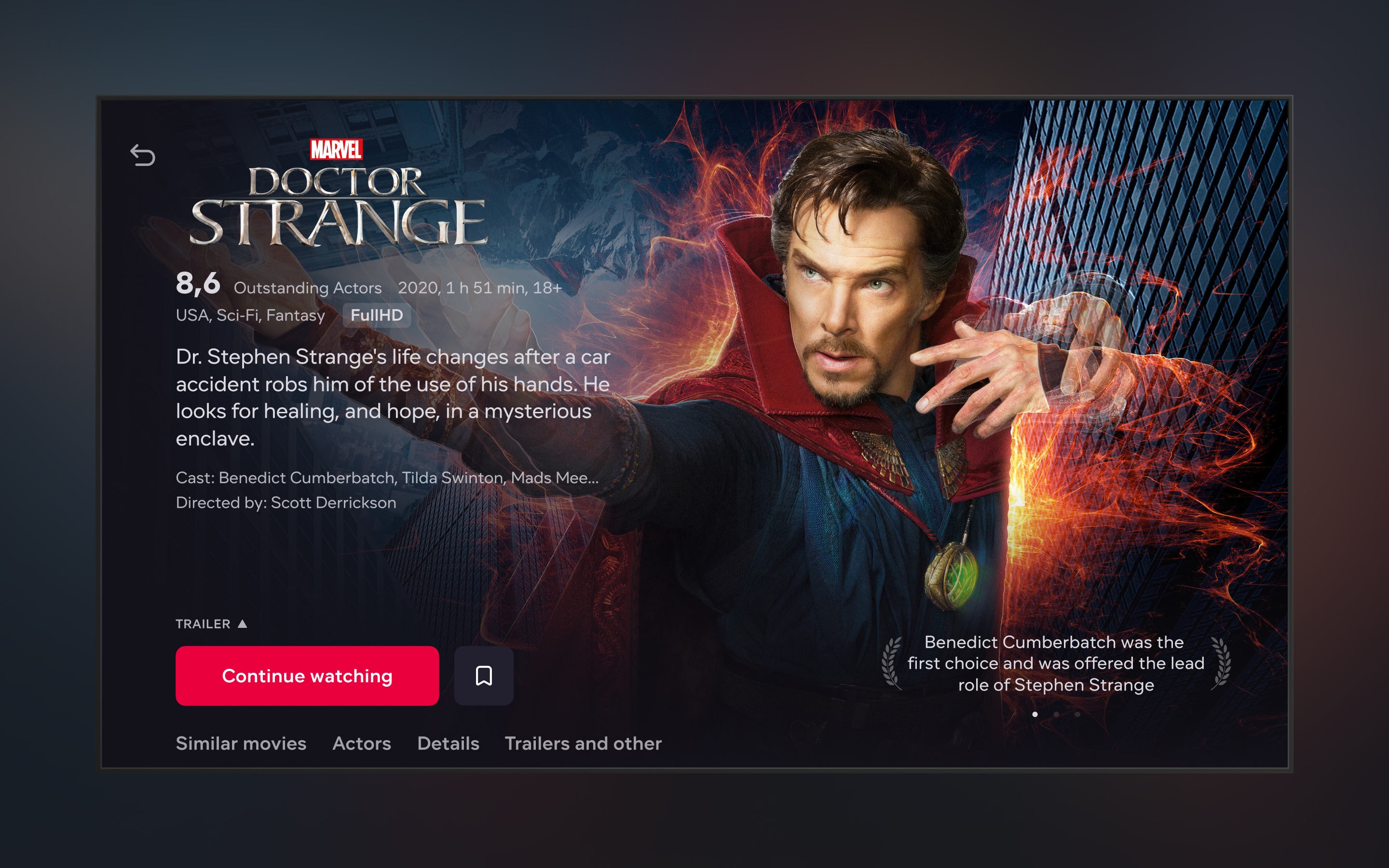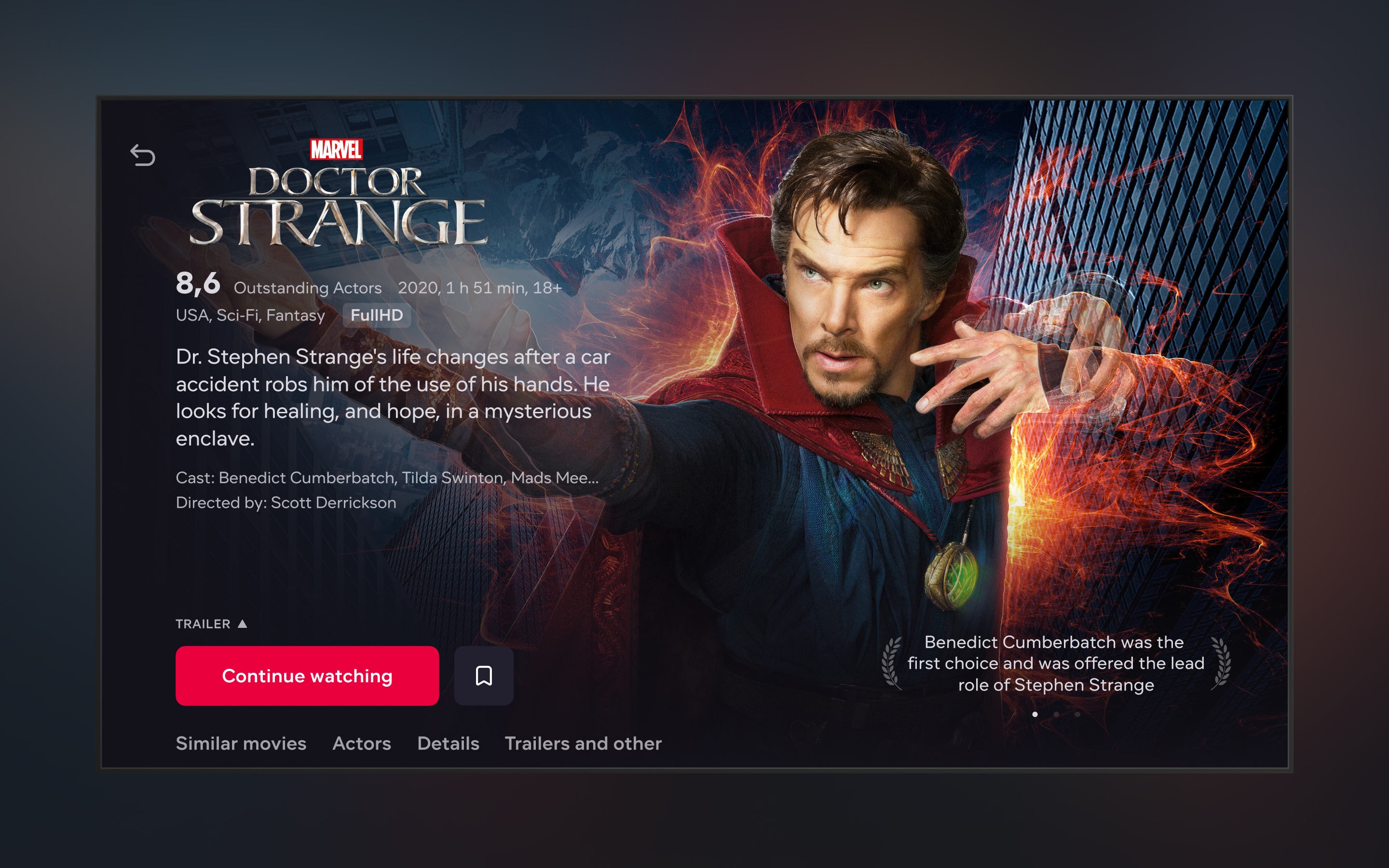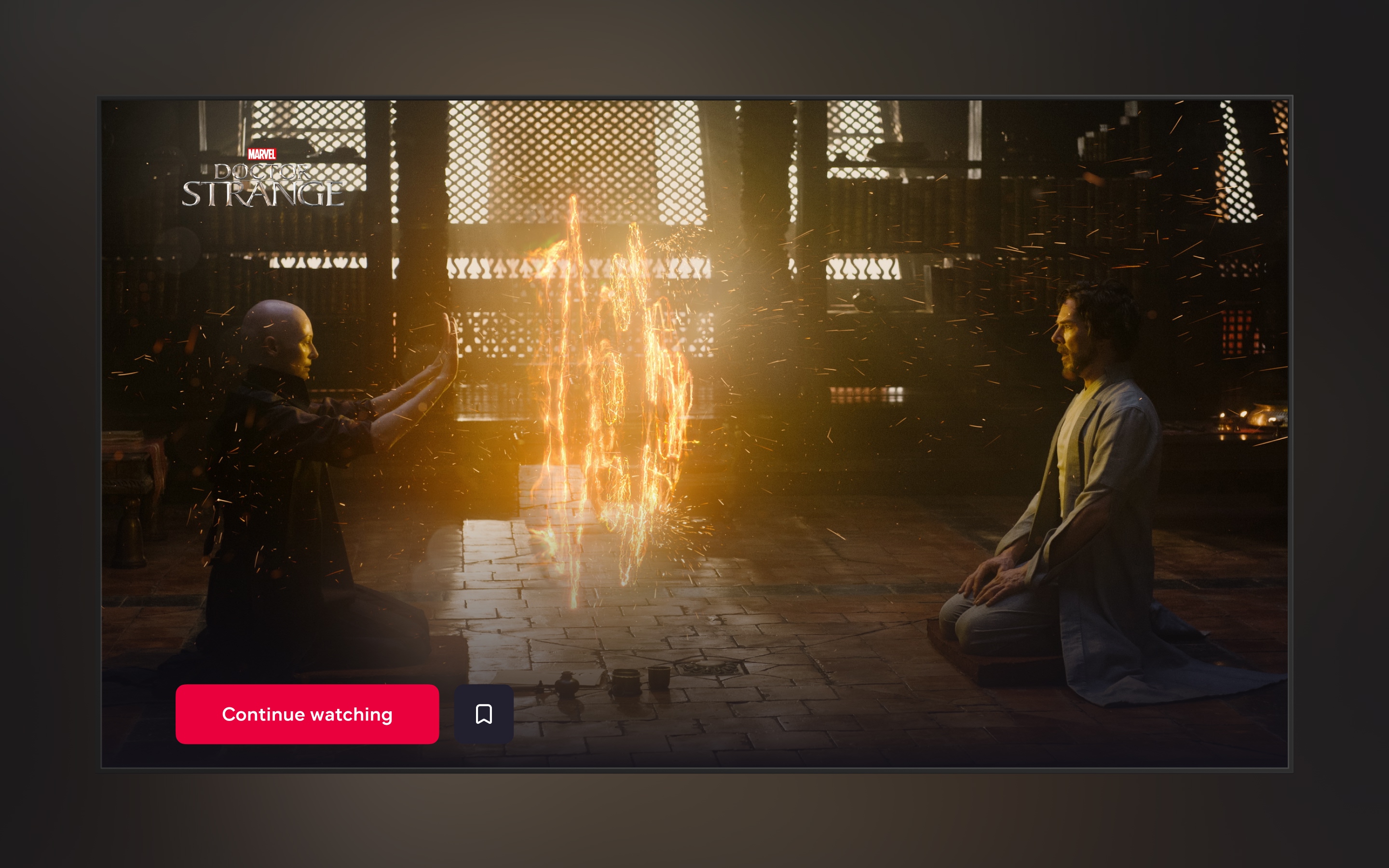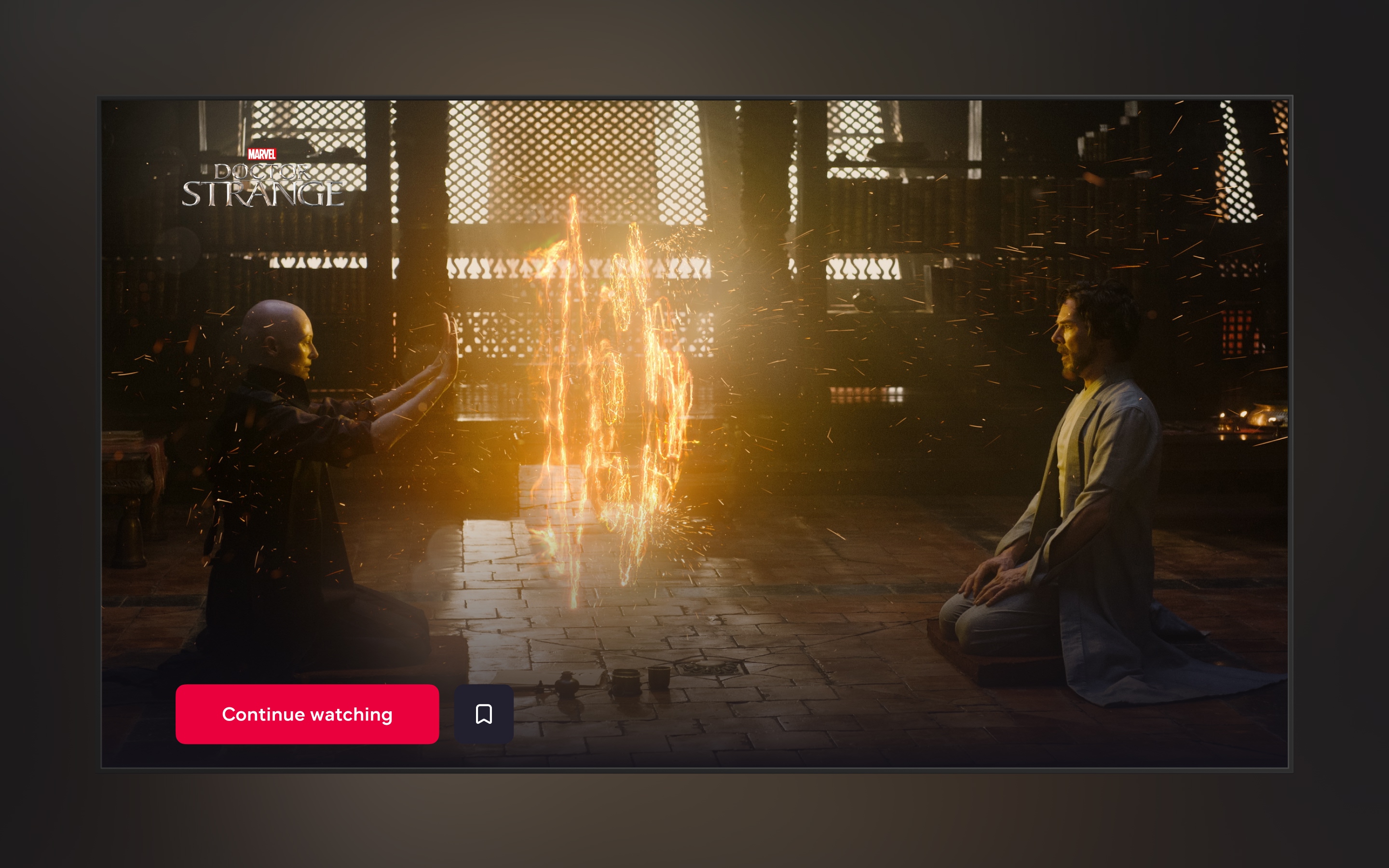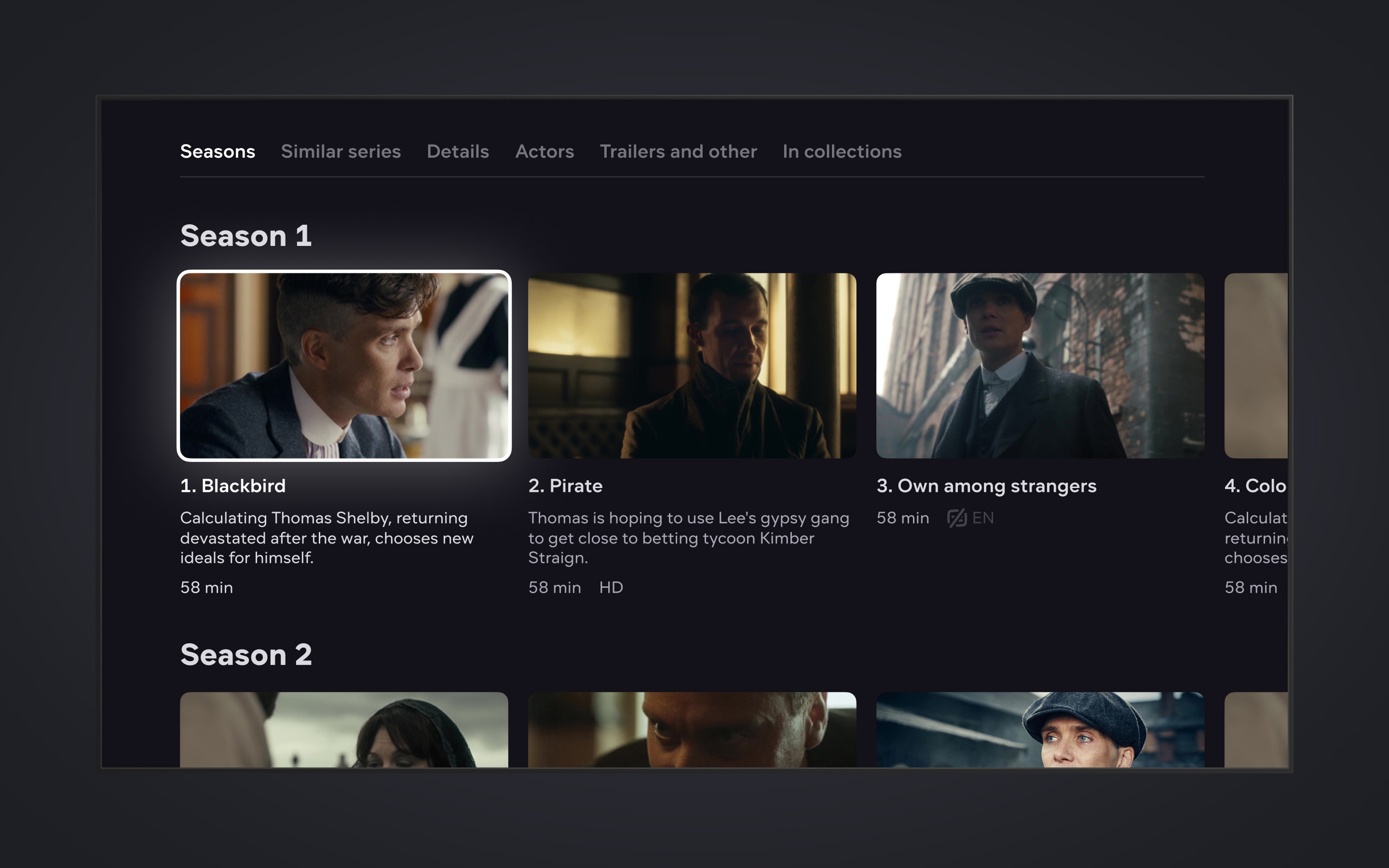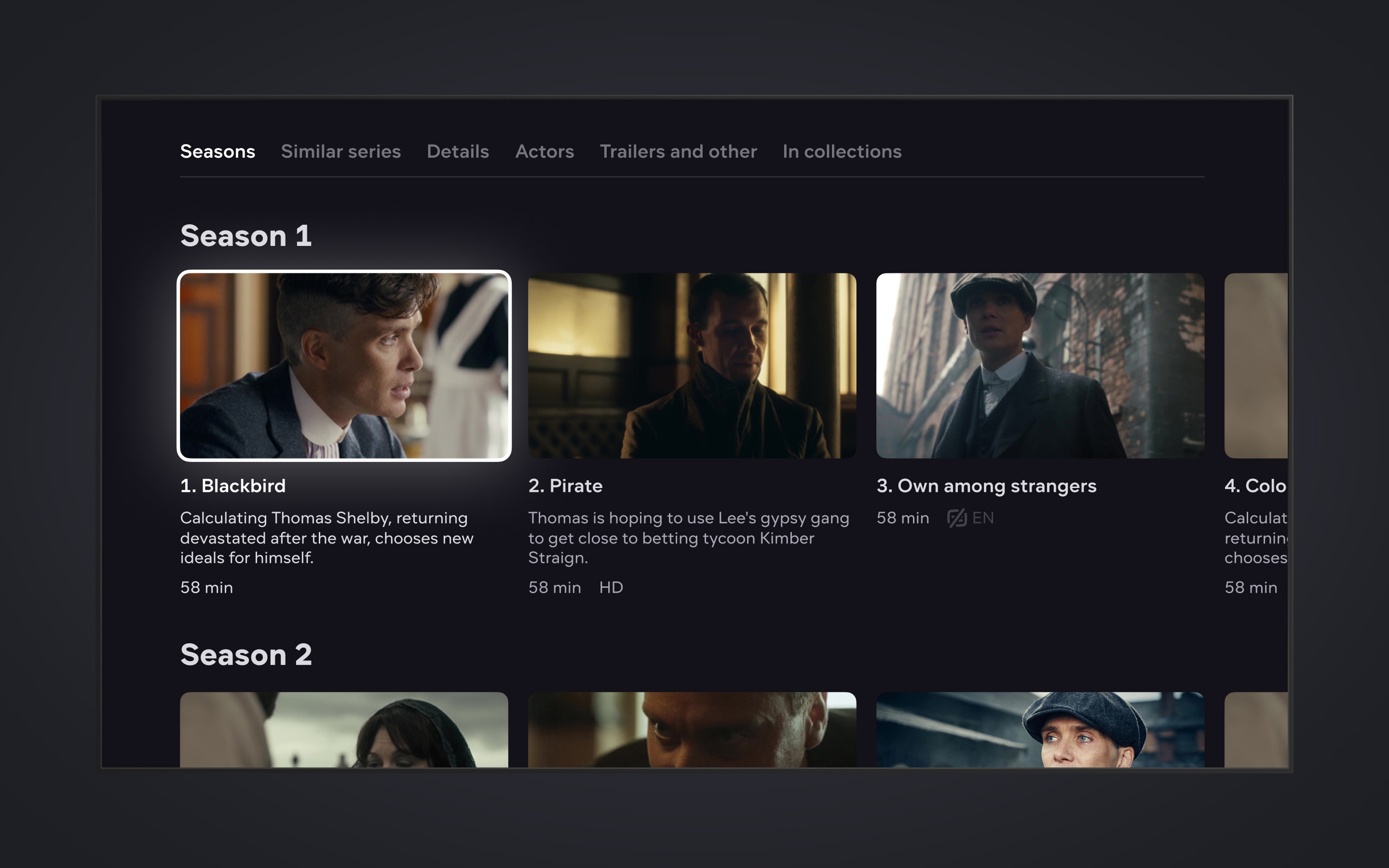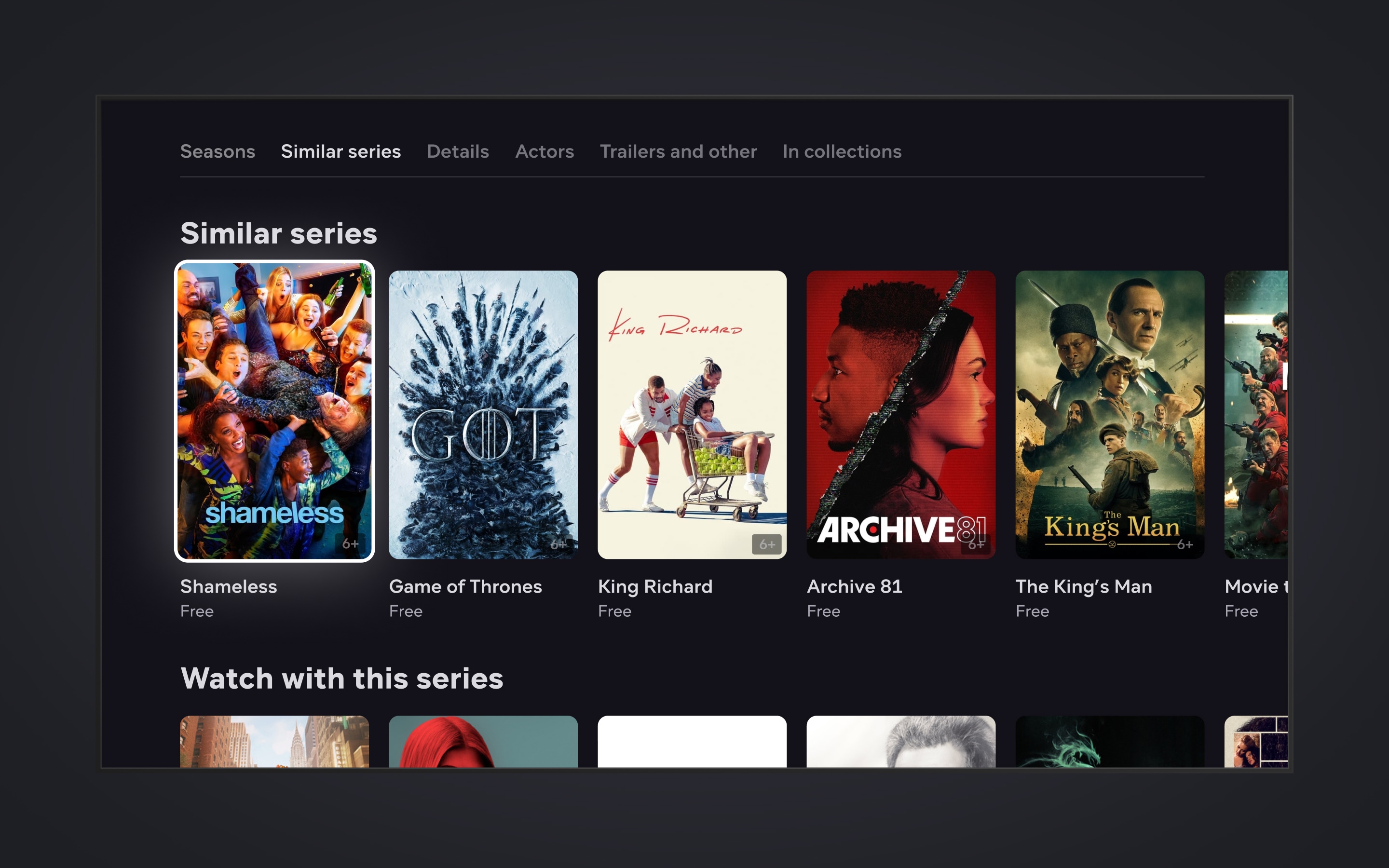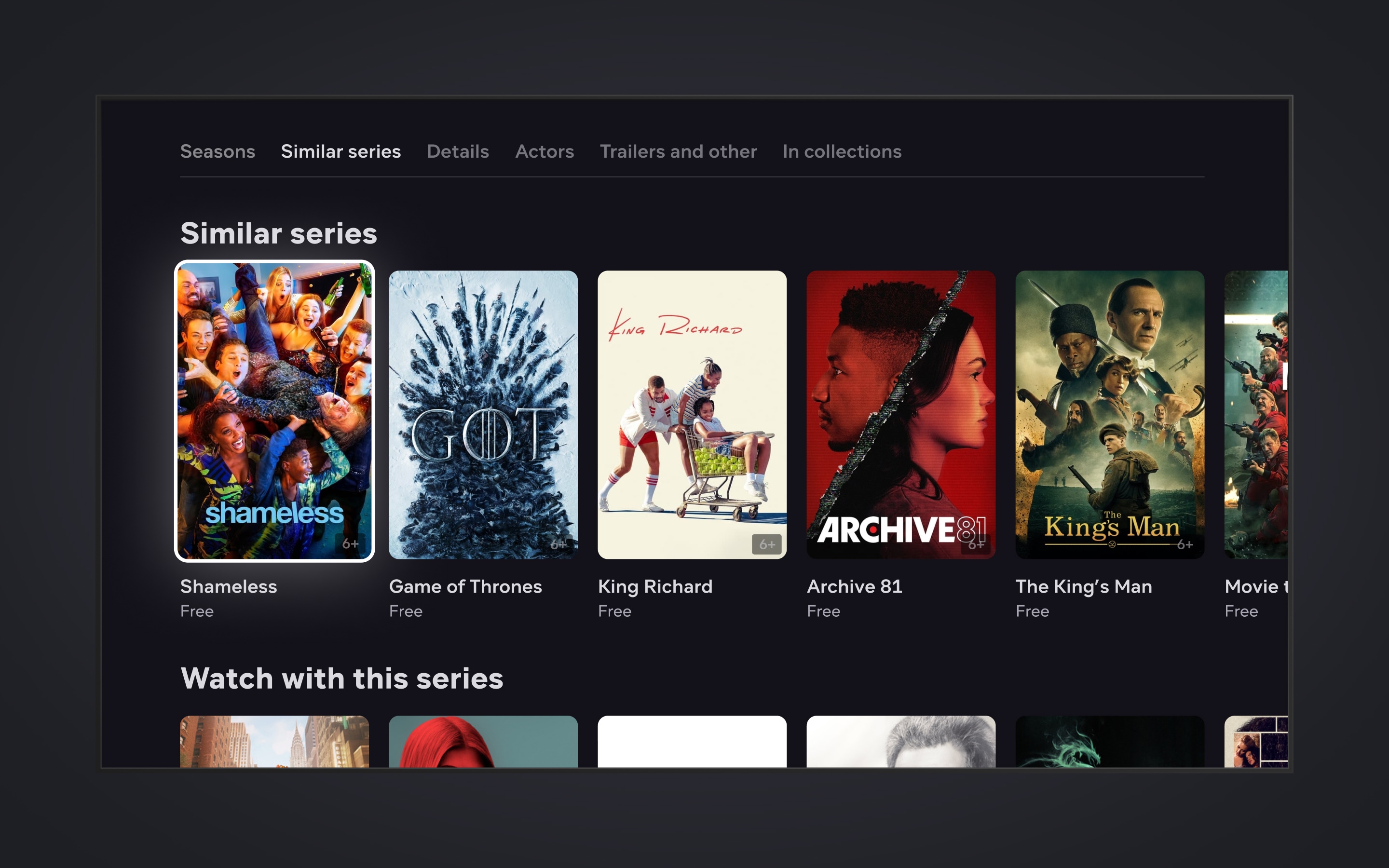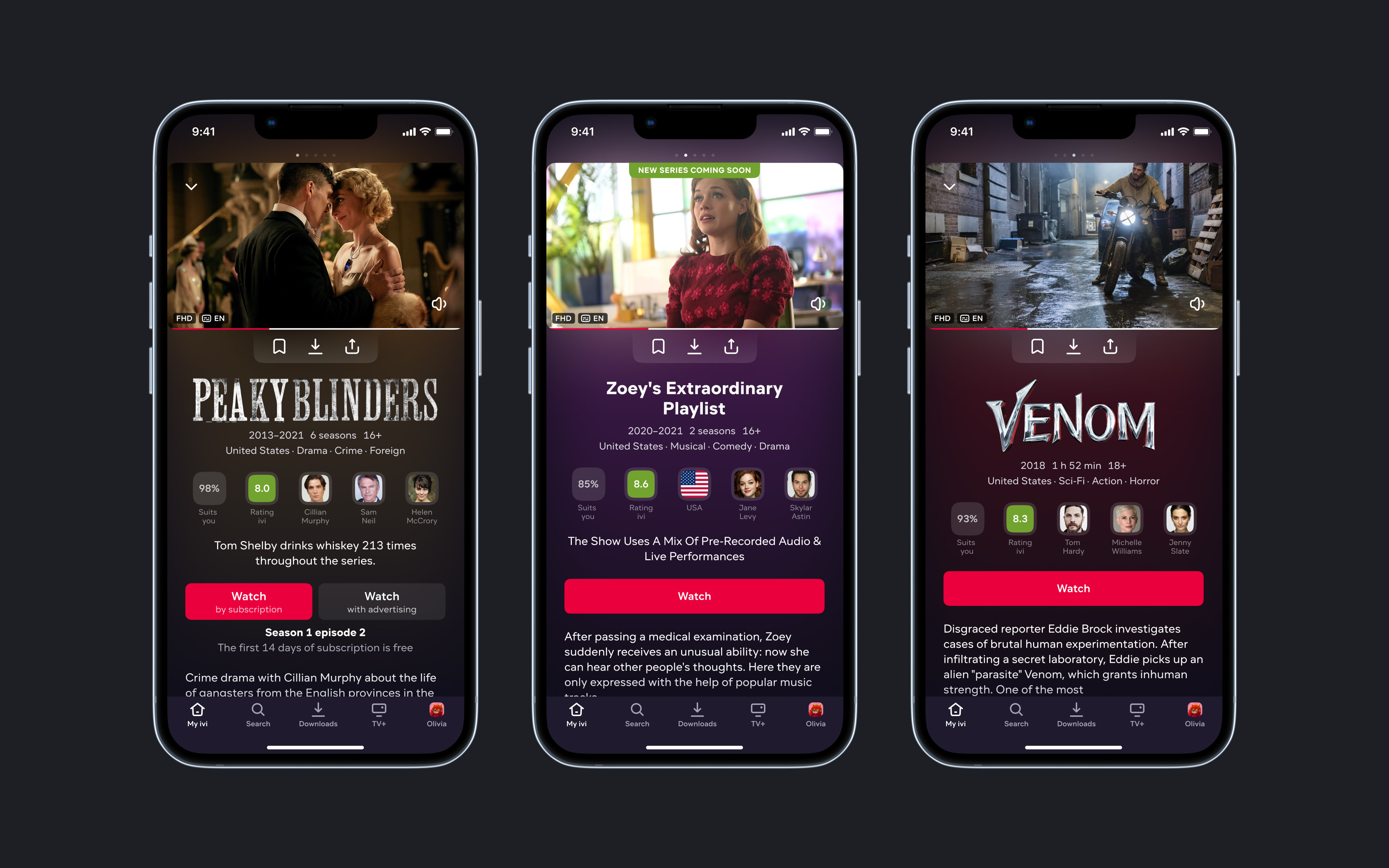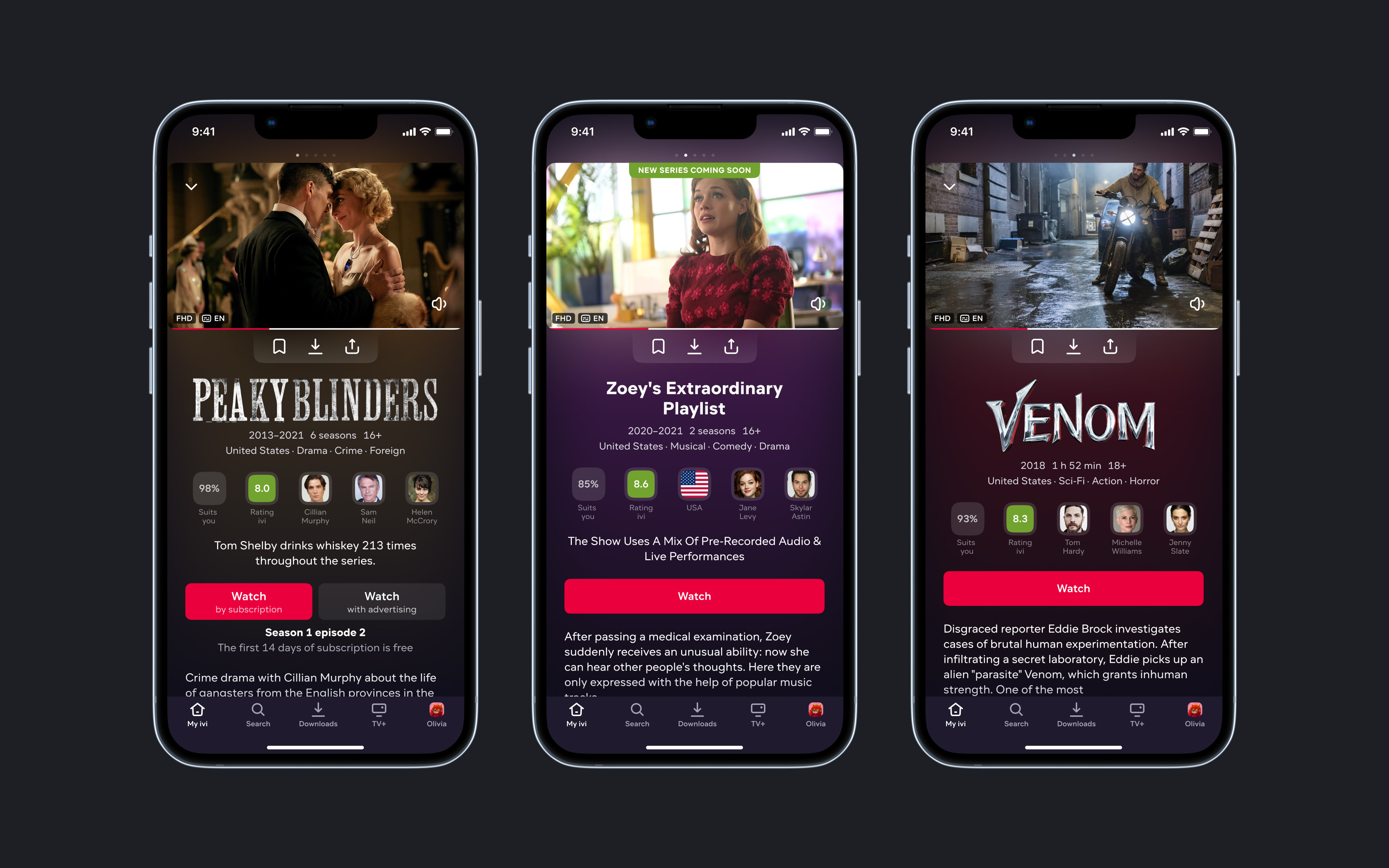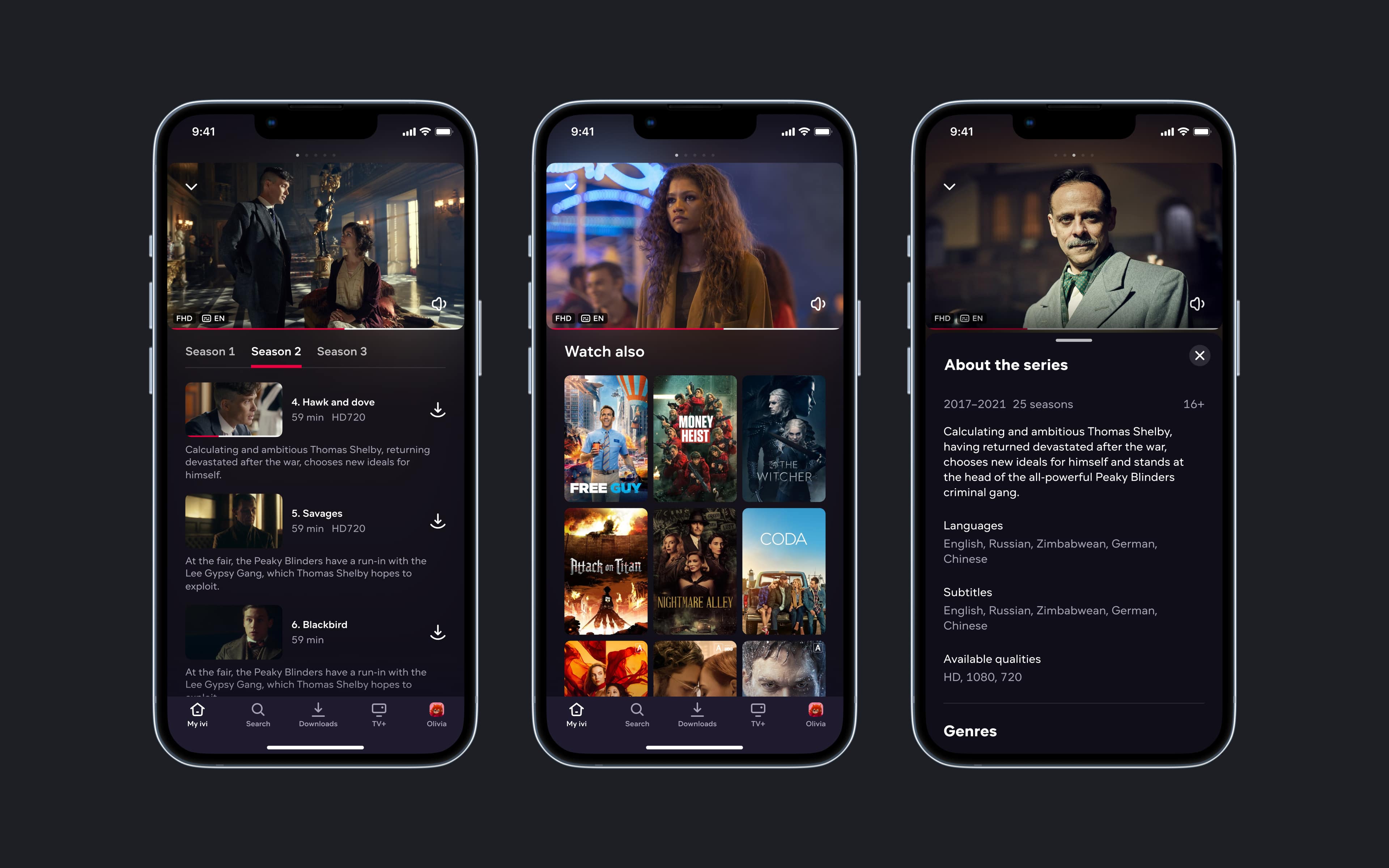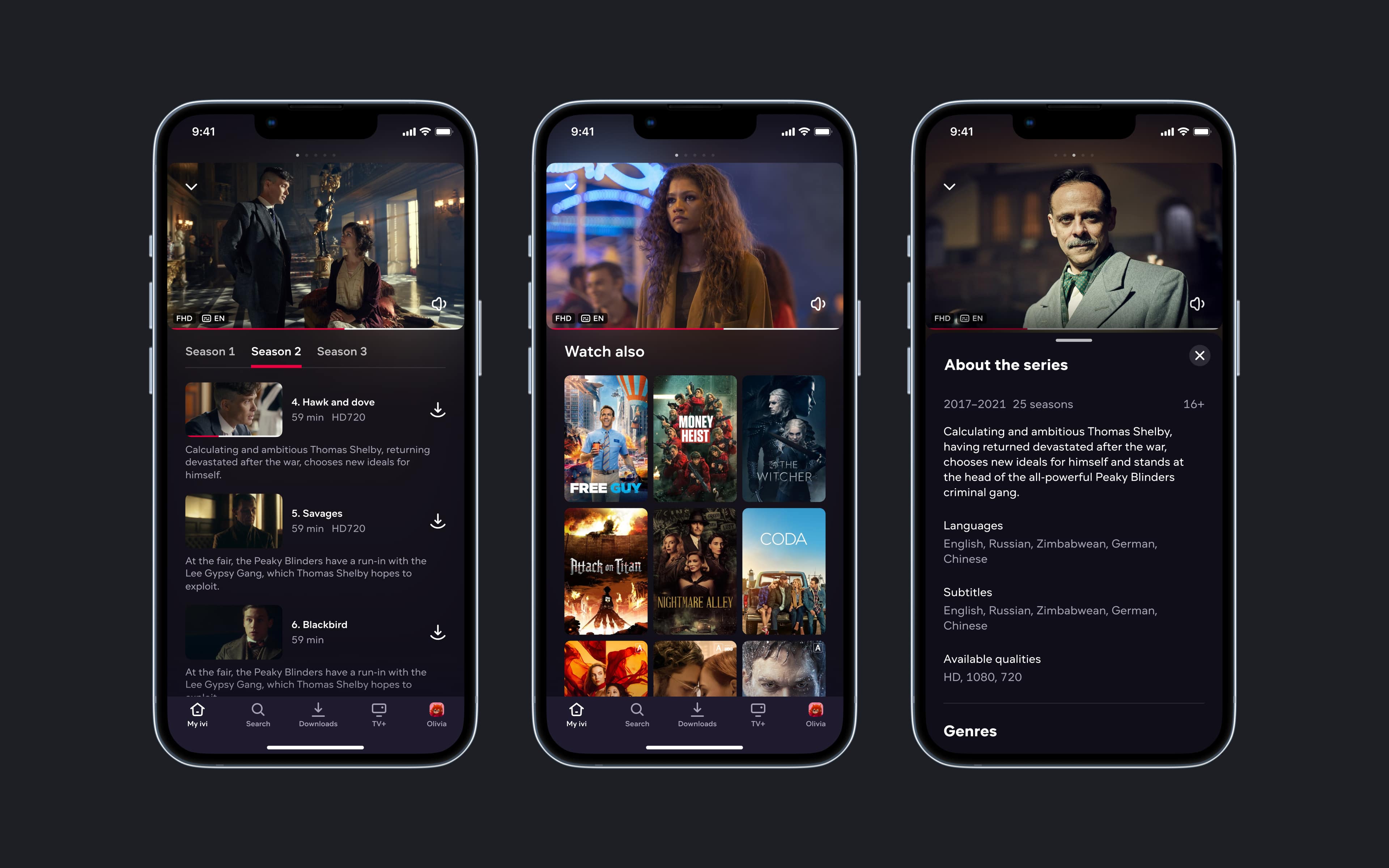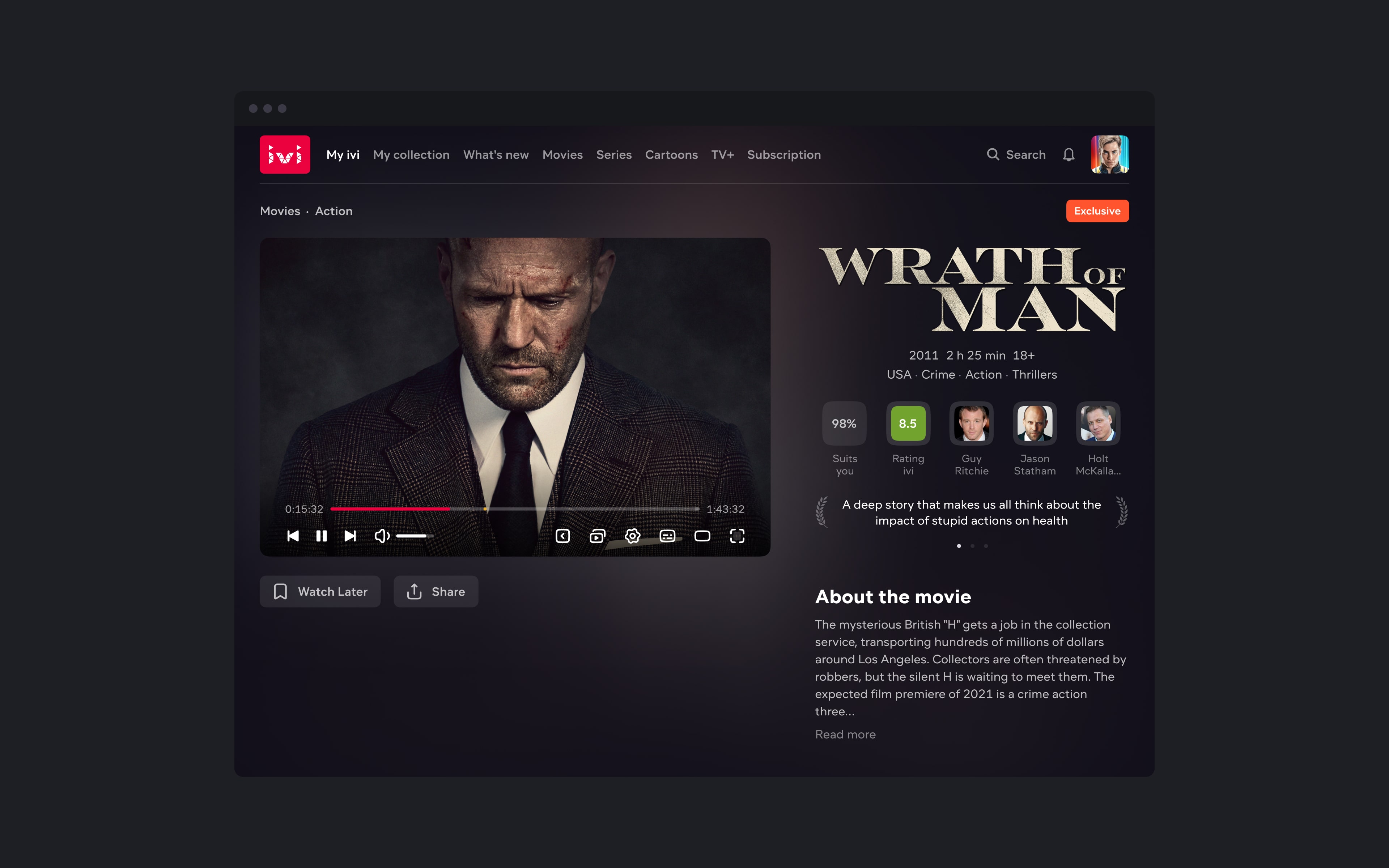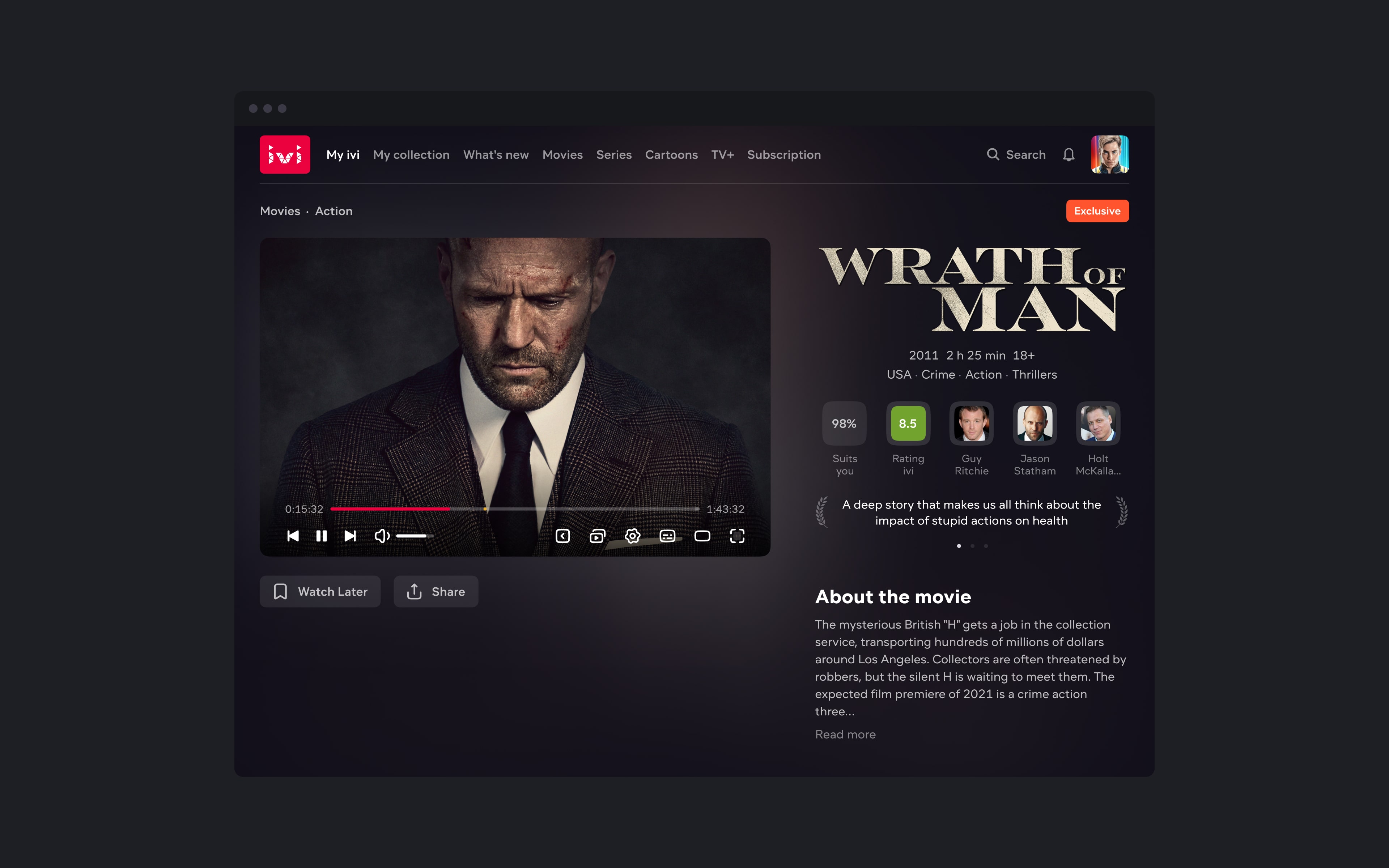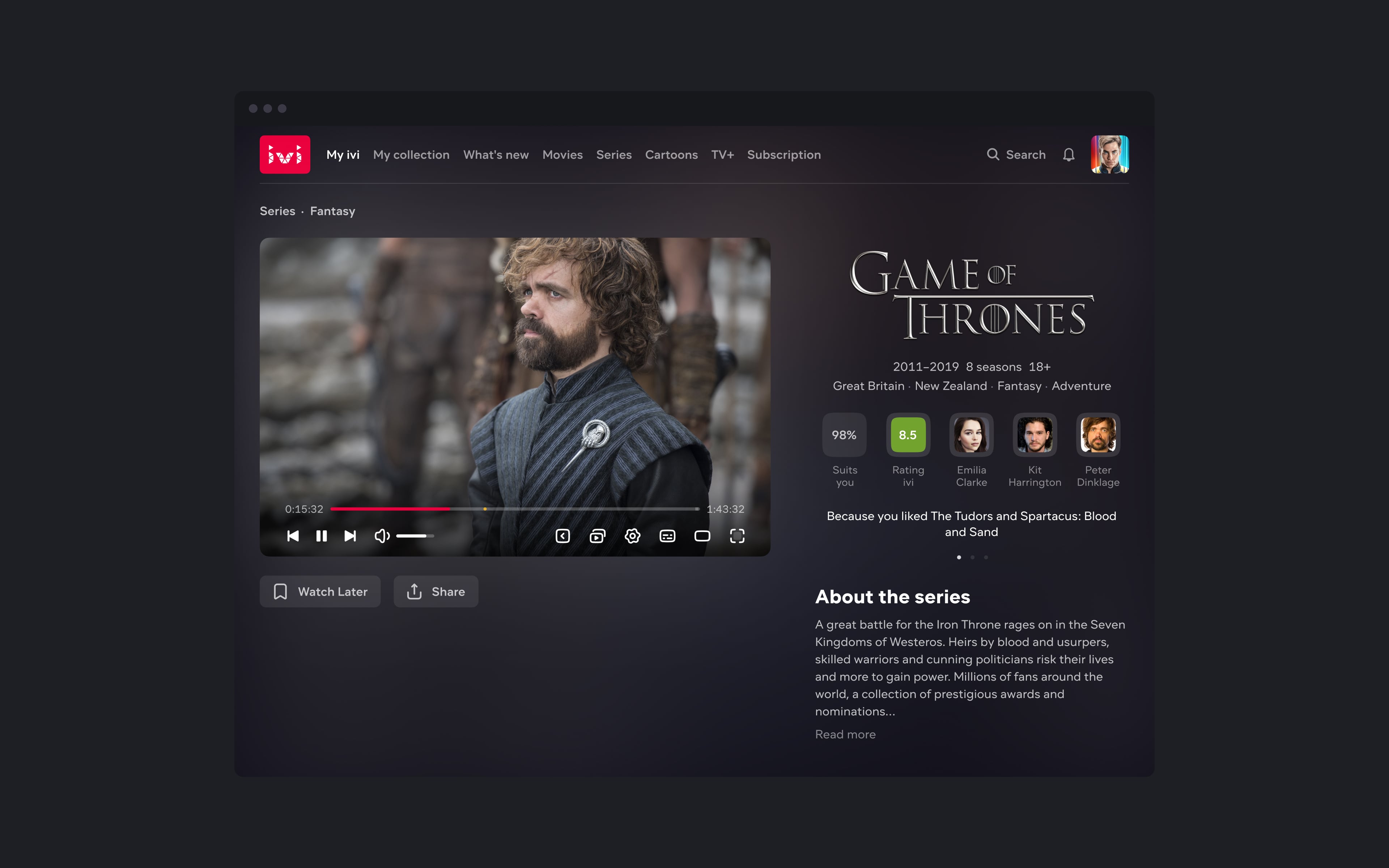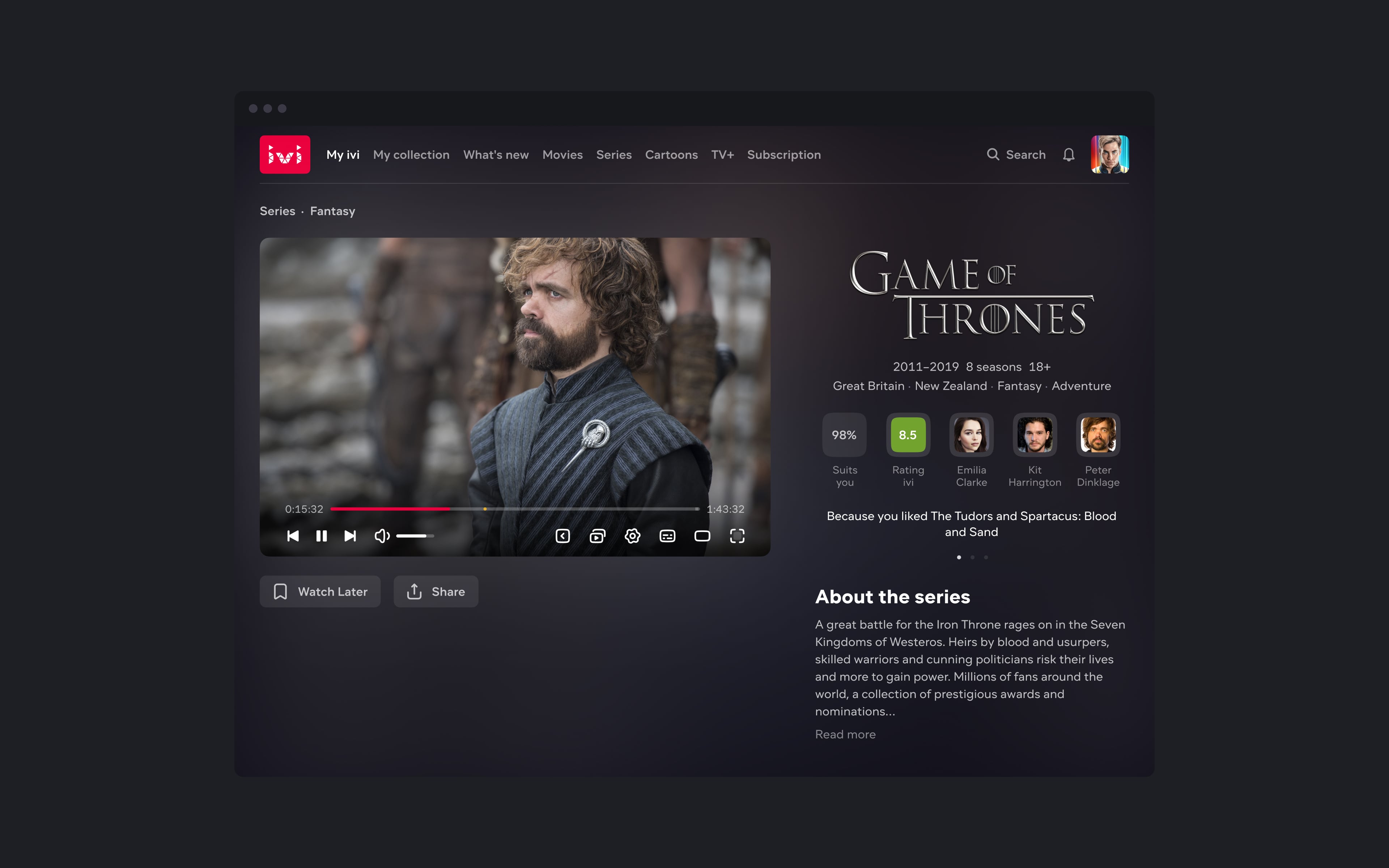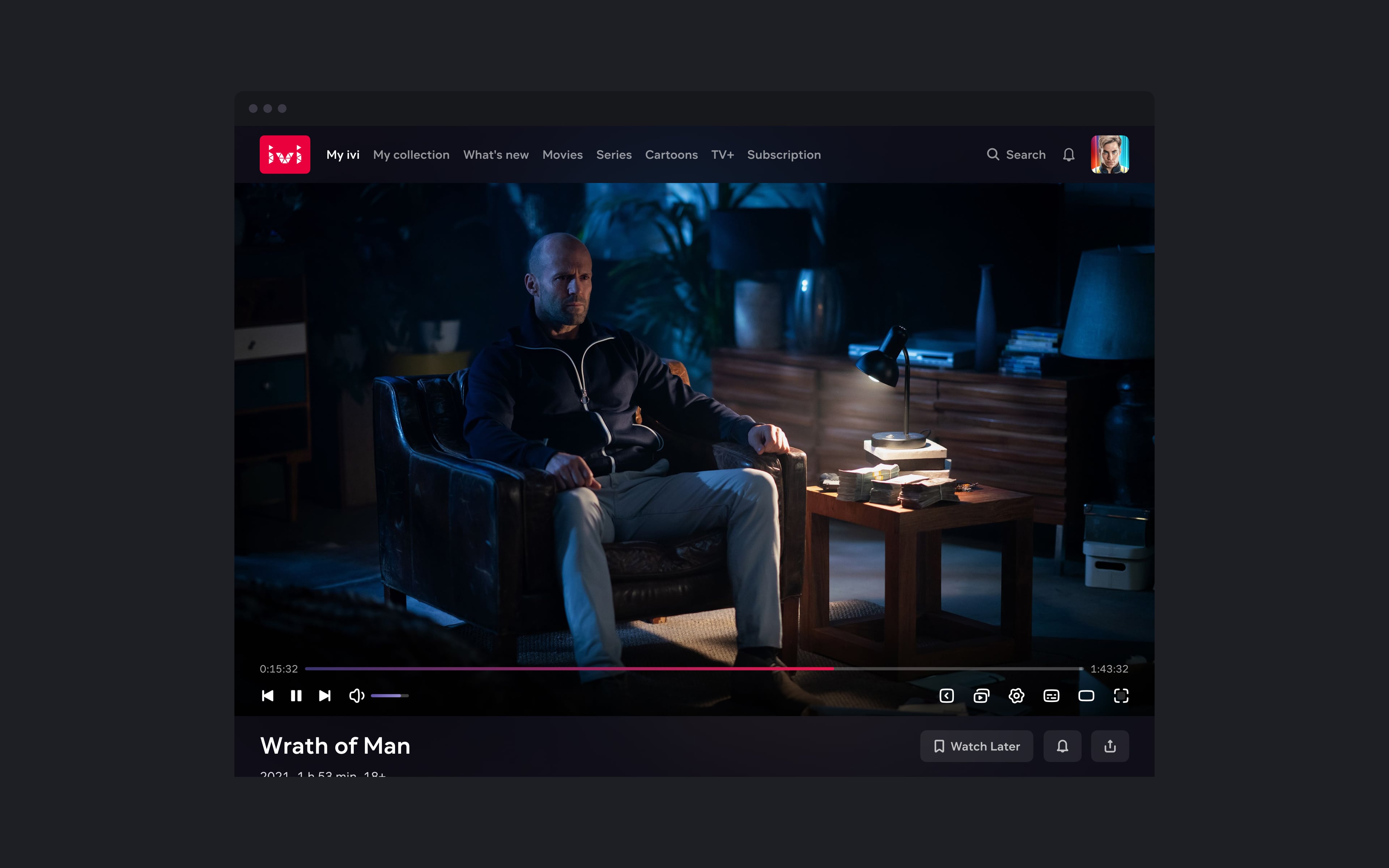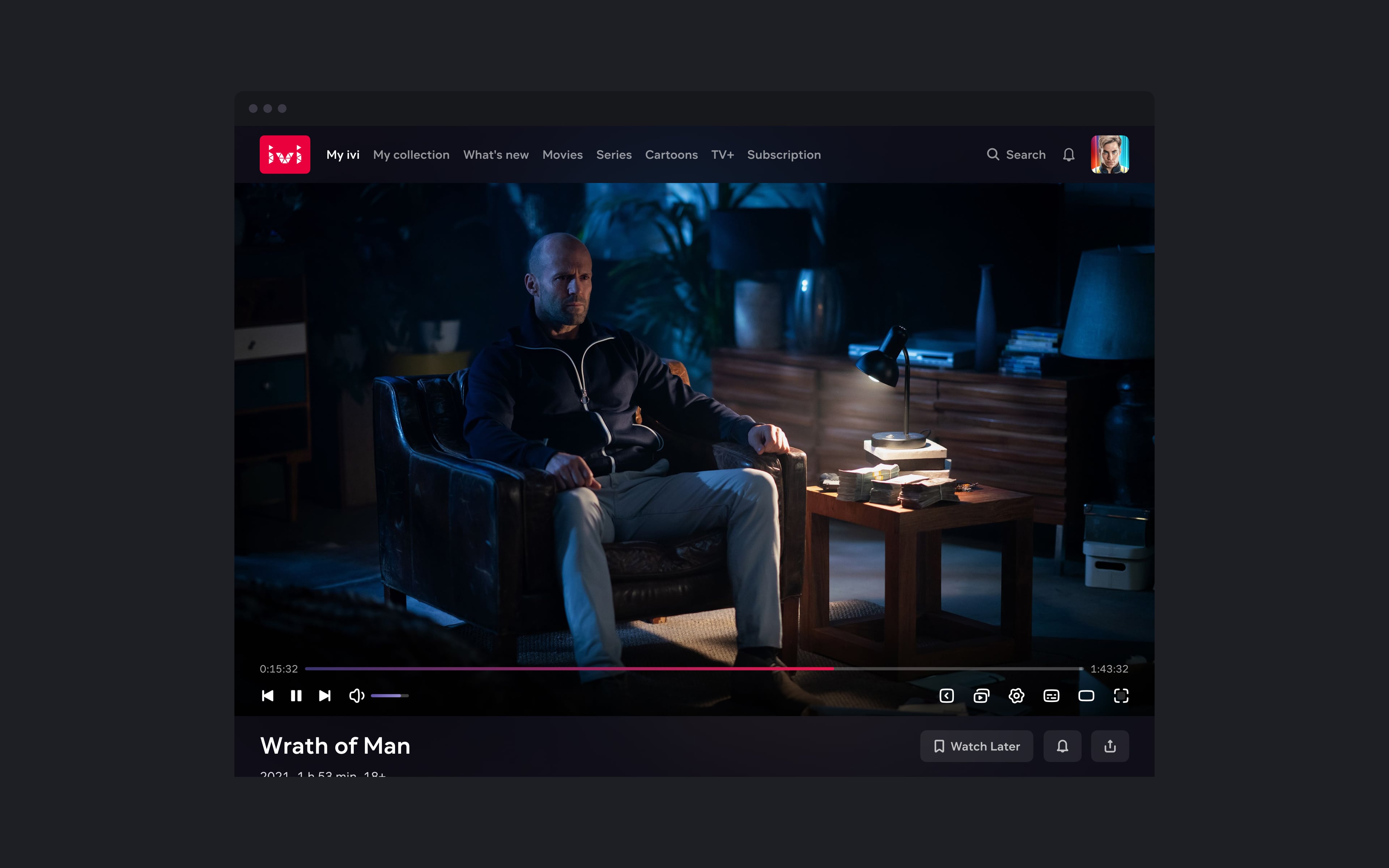 CENTRAL PROMO BLOCK July 2021 — Mar 2022
Senior Product Designer · IVI
It is a major project to change the Central Promo Block (CPB) on the application's main page and the IVI website. The first block on the page, for obvious reasons, is the best way to convert the user into viewing content and buying a subscription. We've added a short synopsis, a title logo, and made the key visual larger.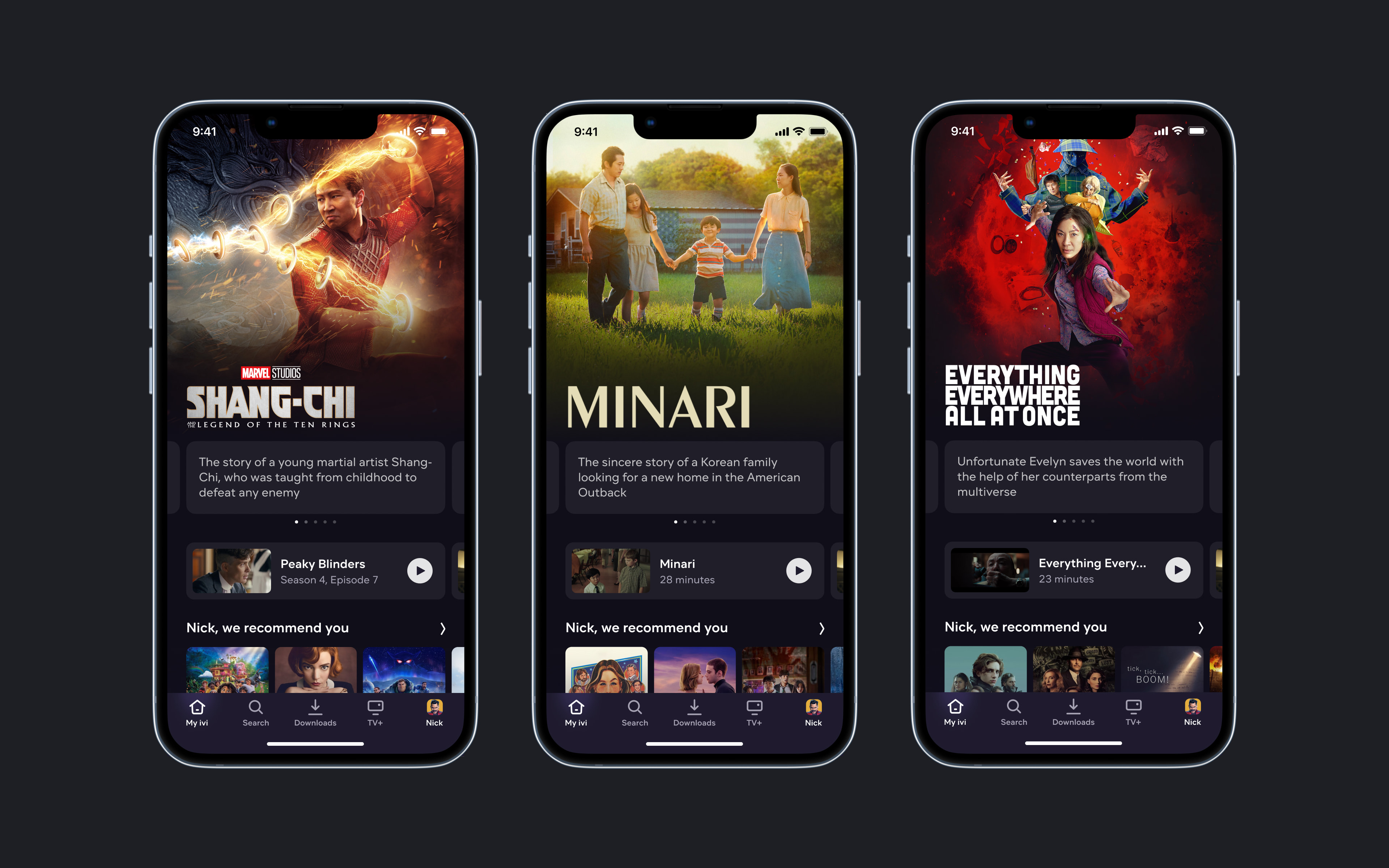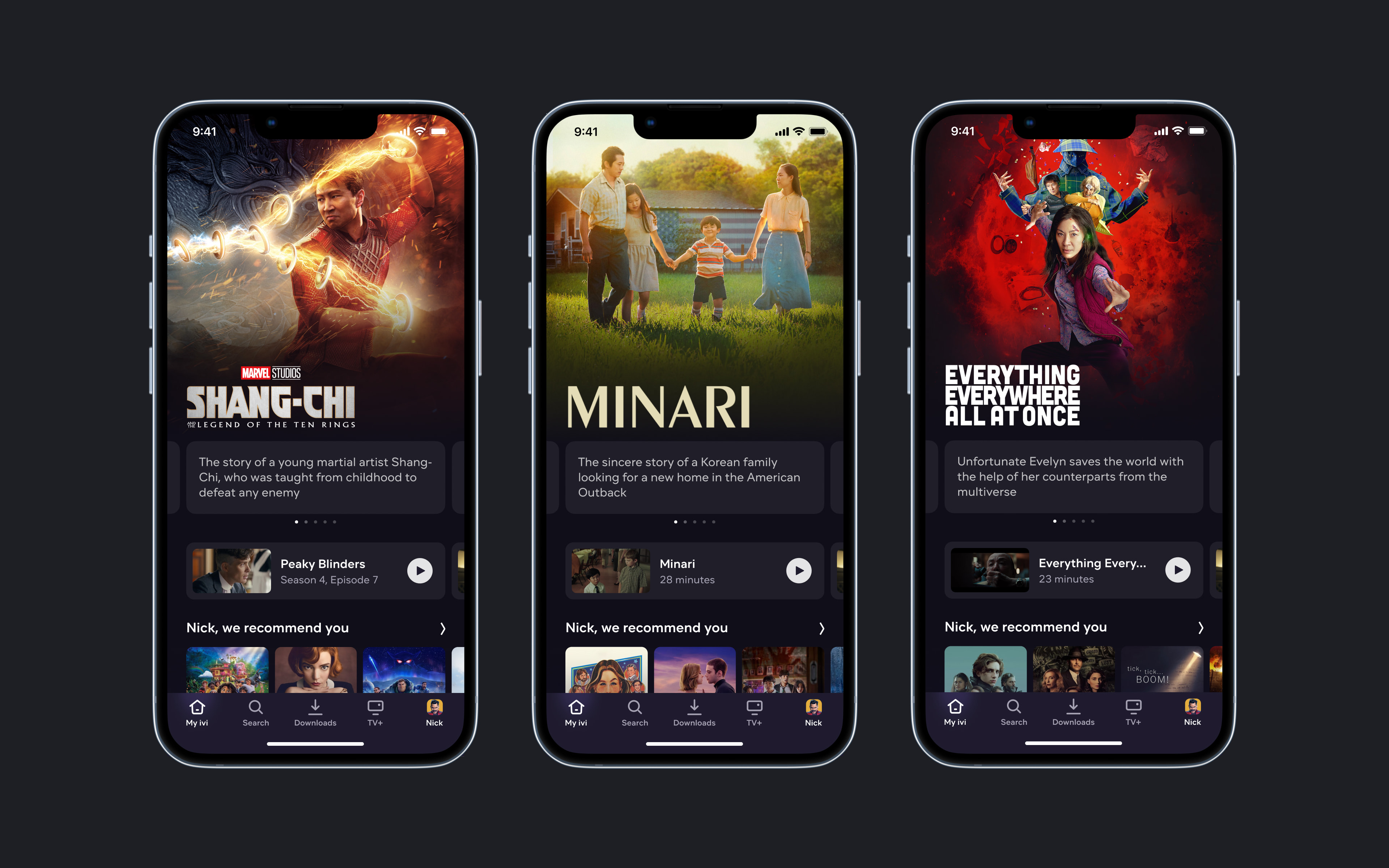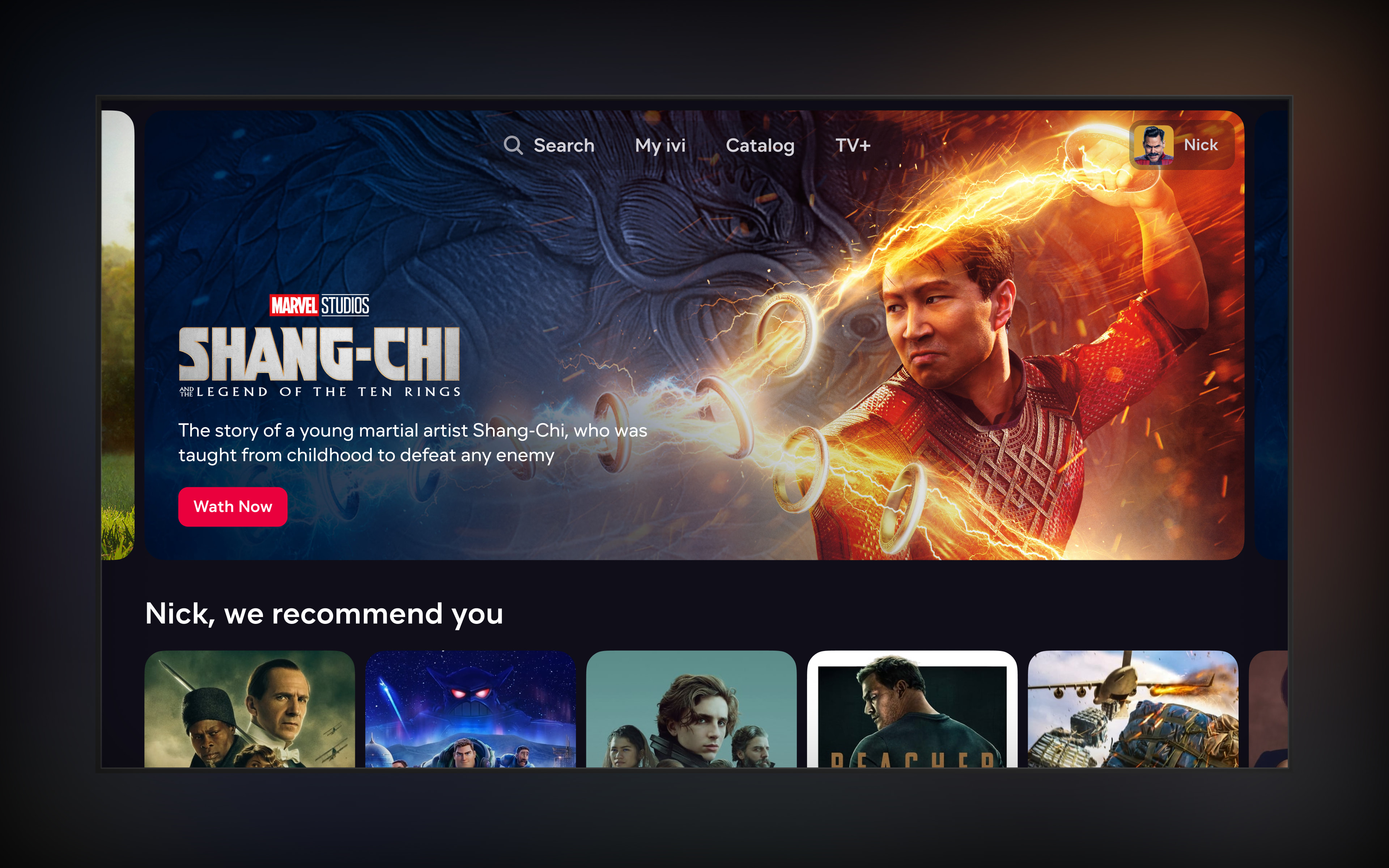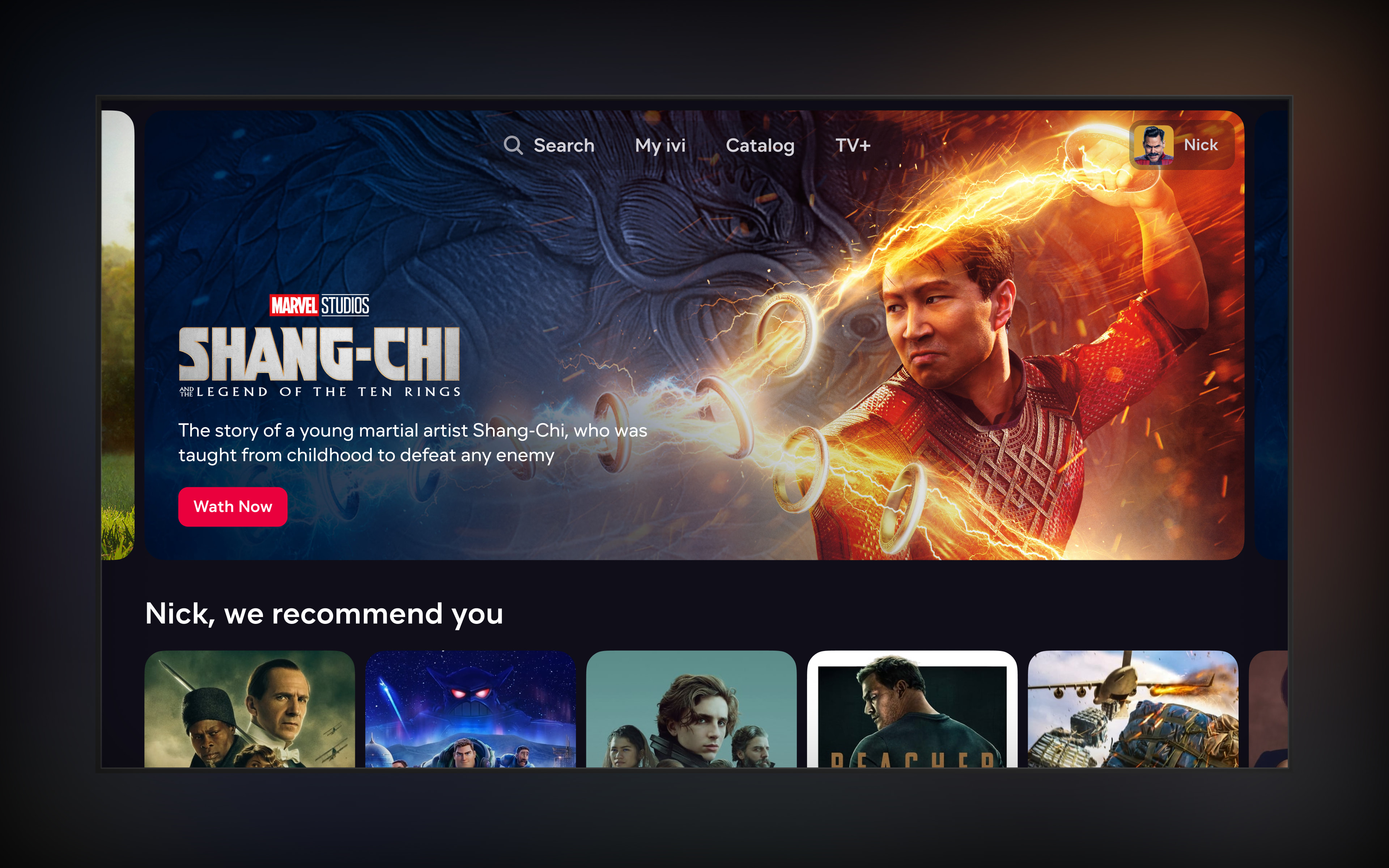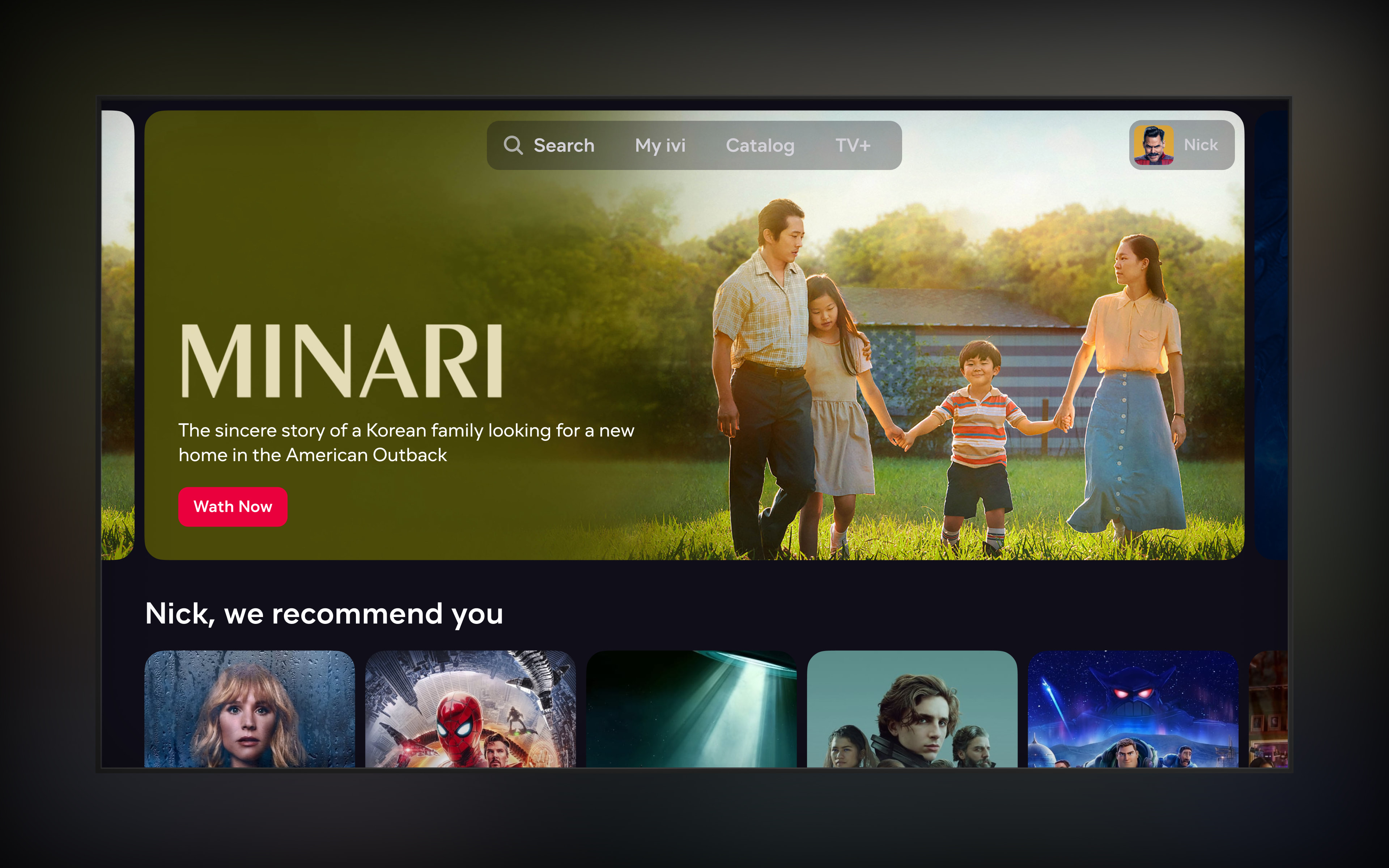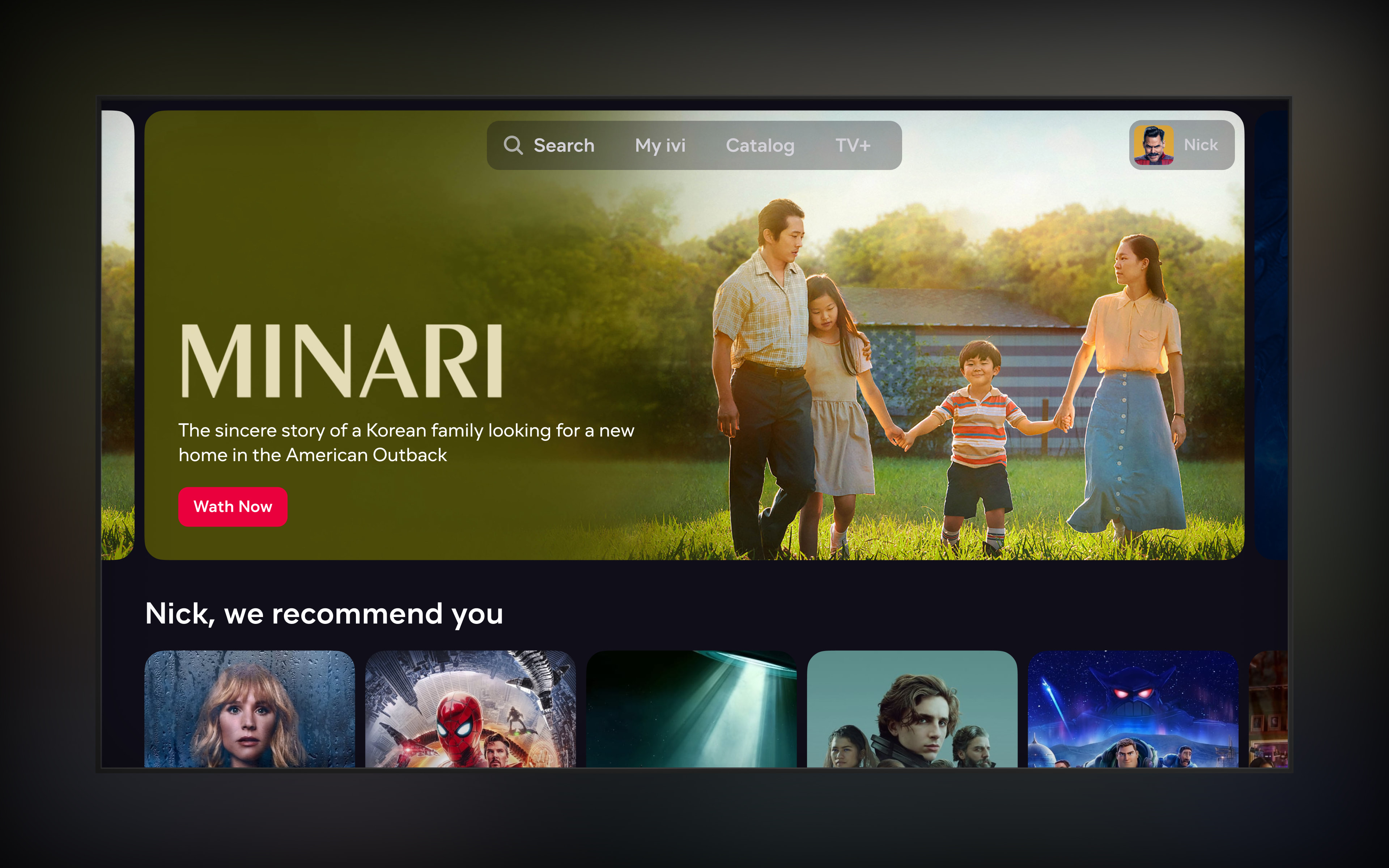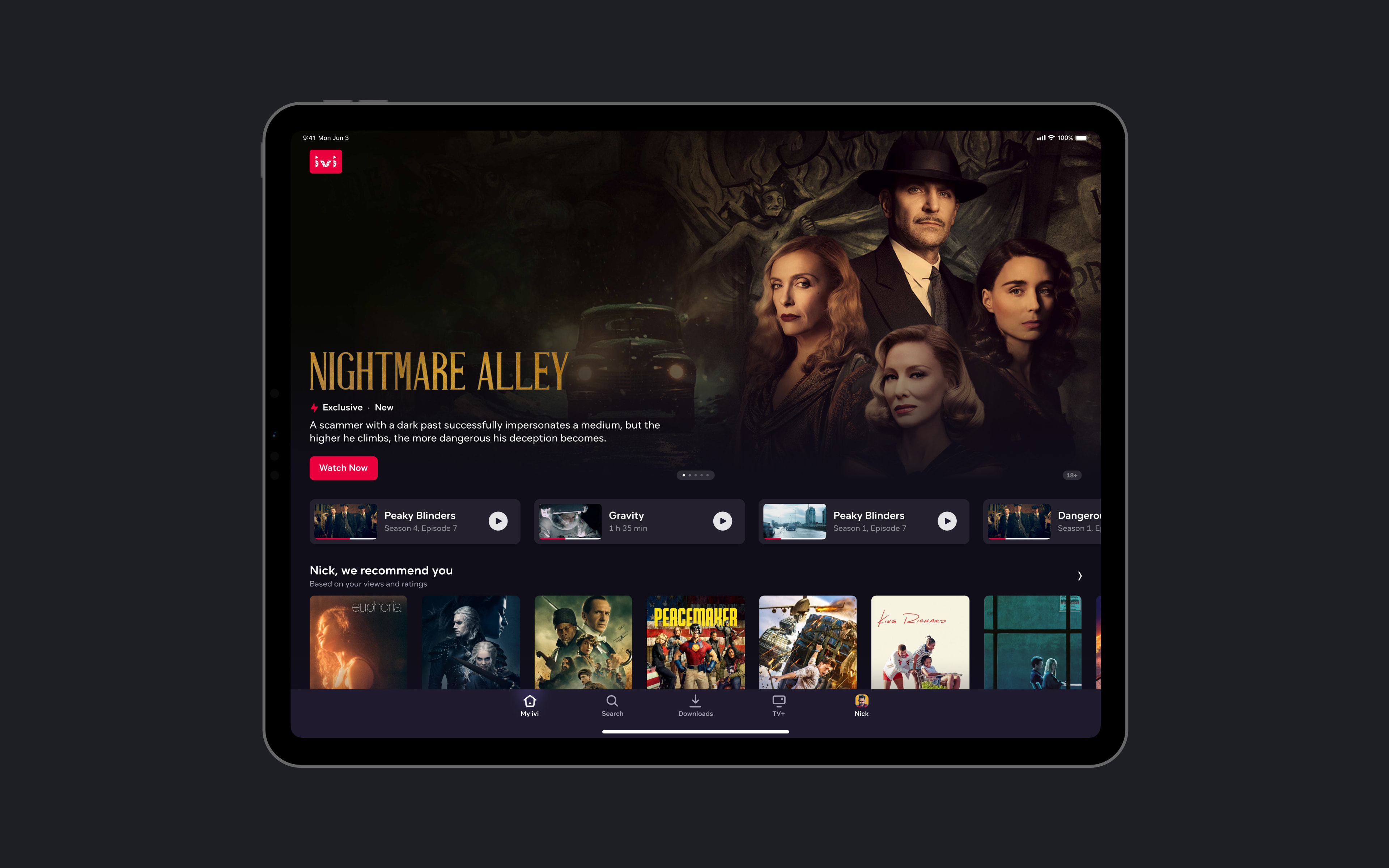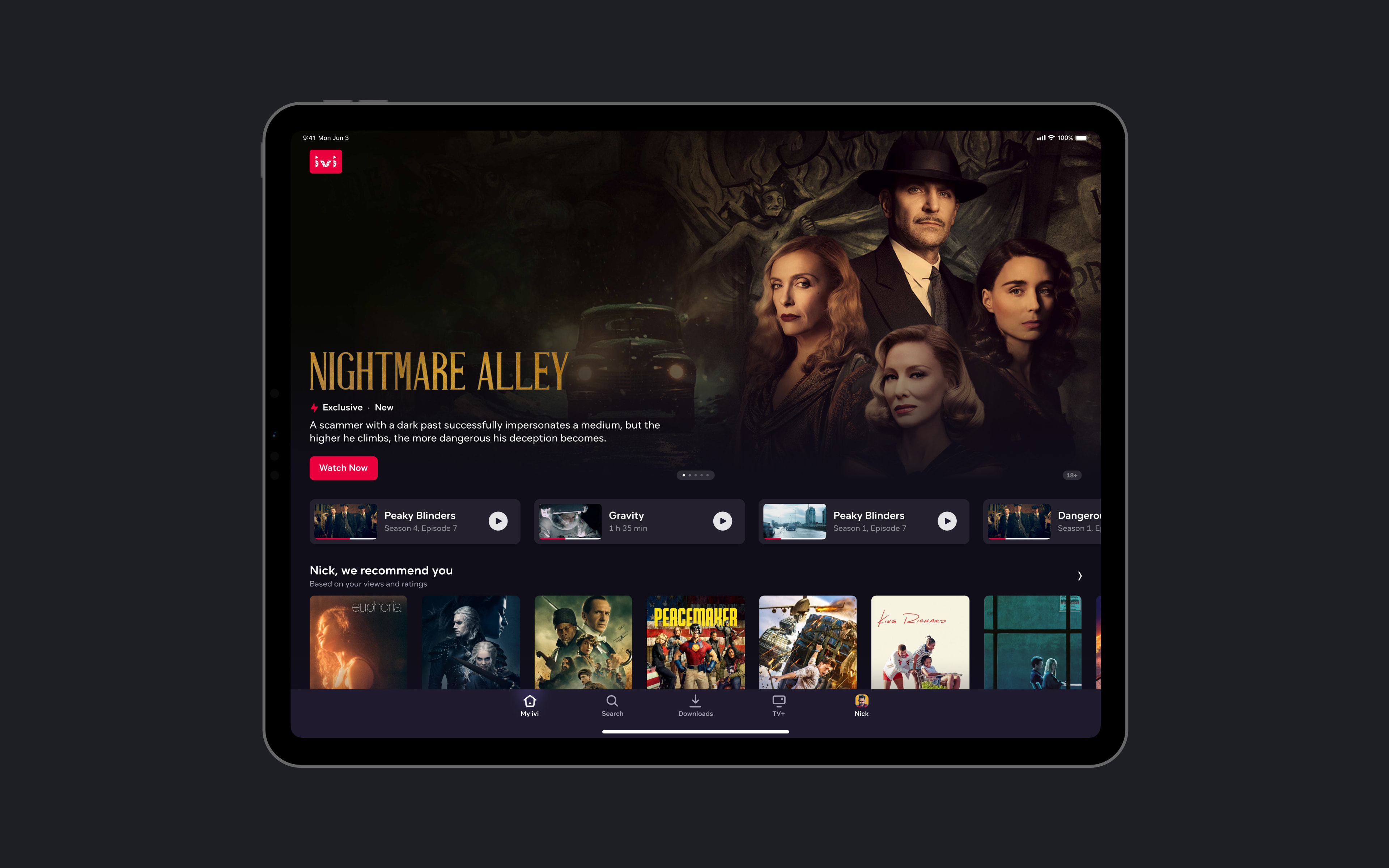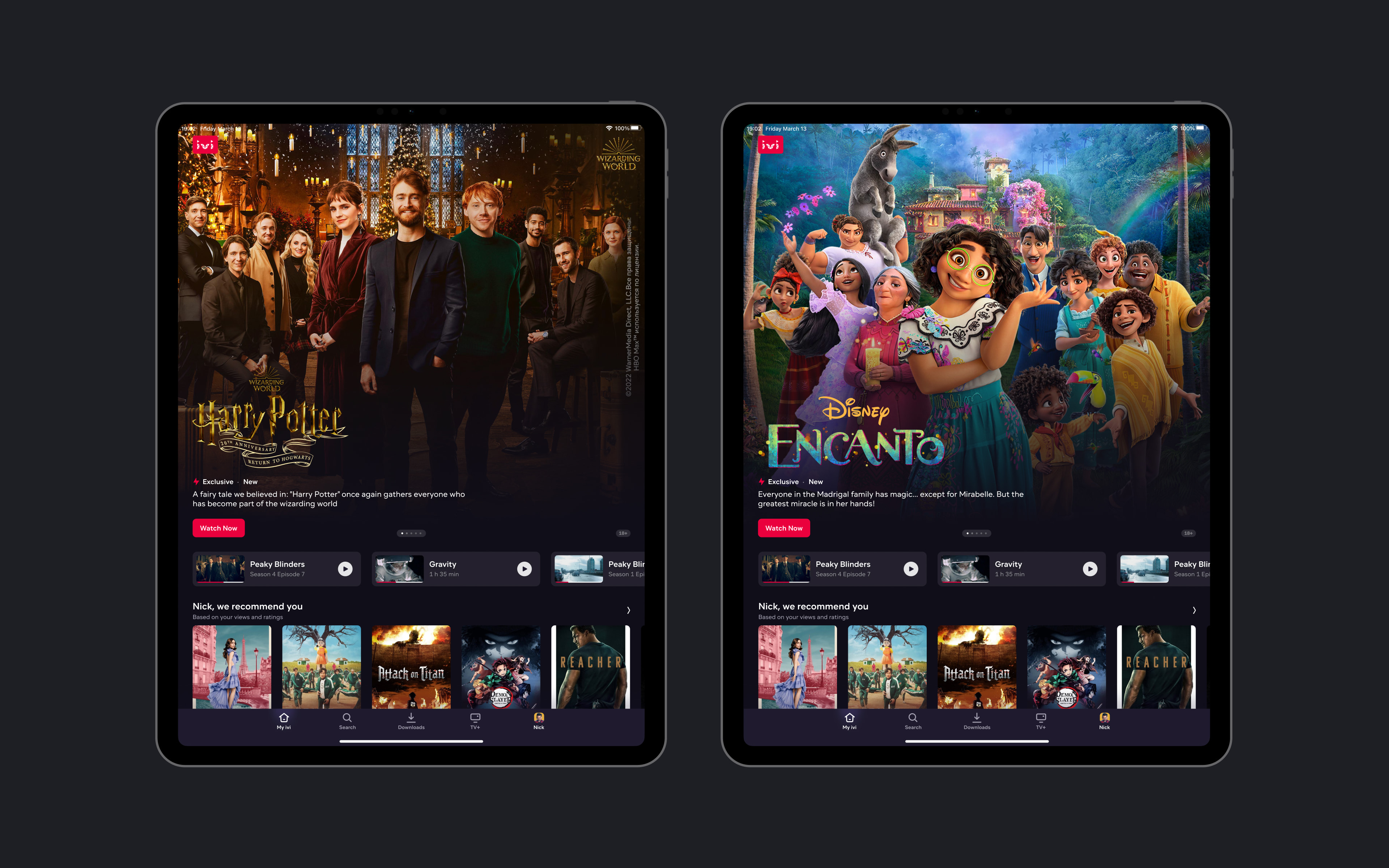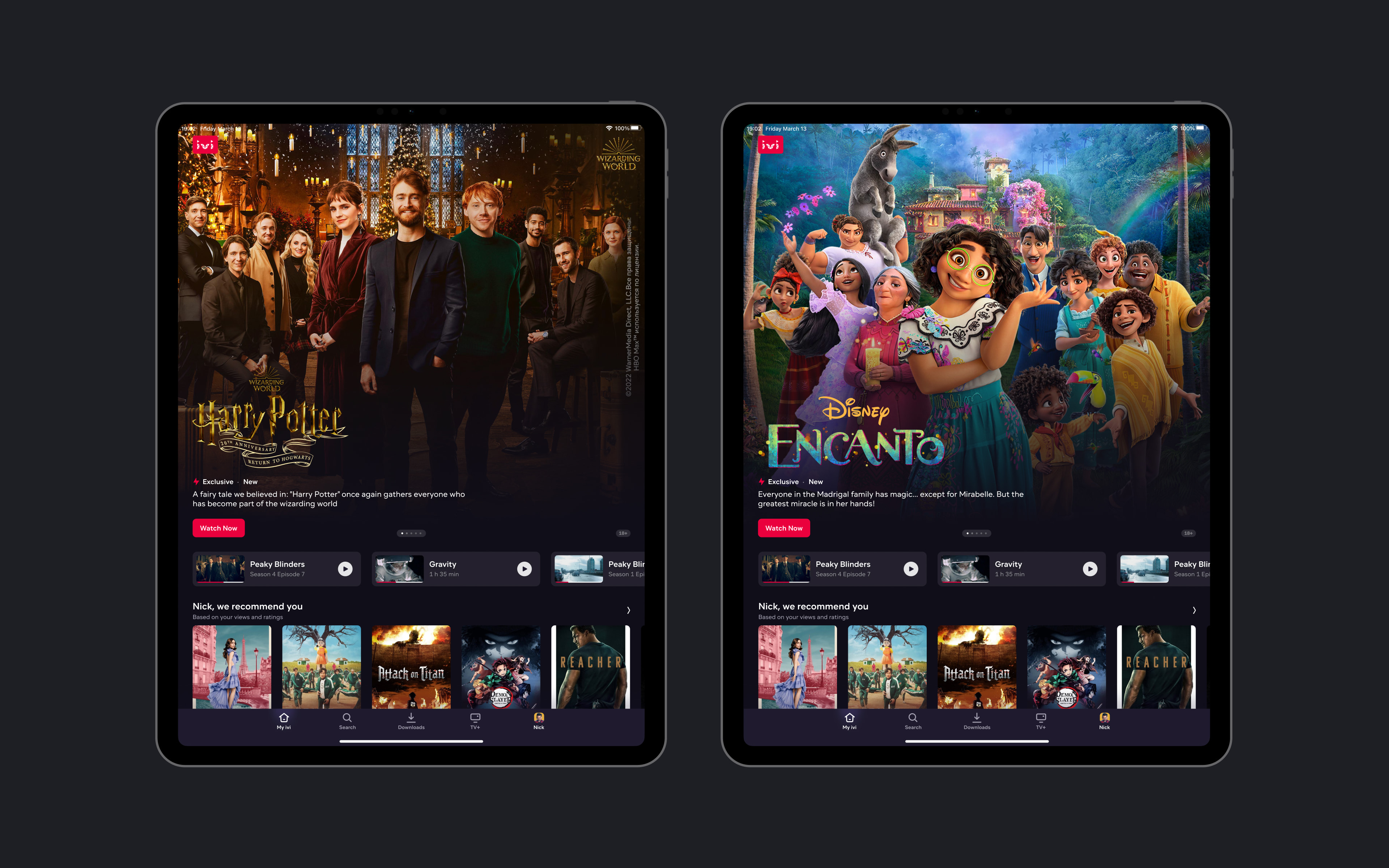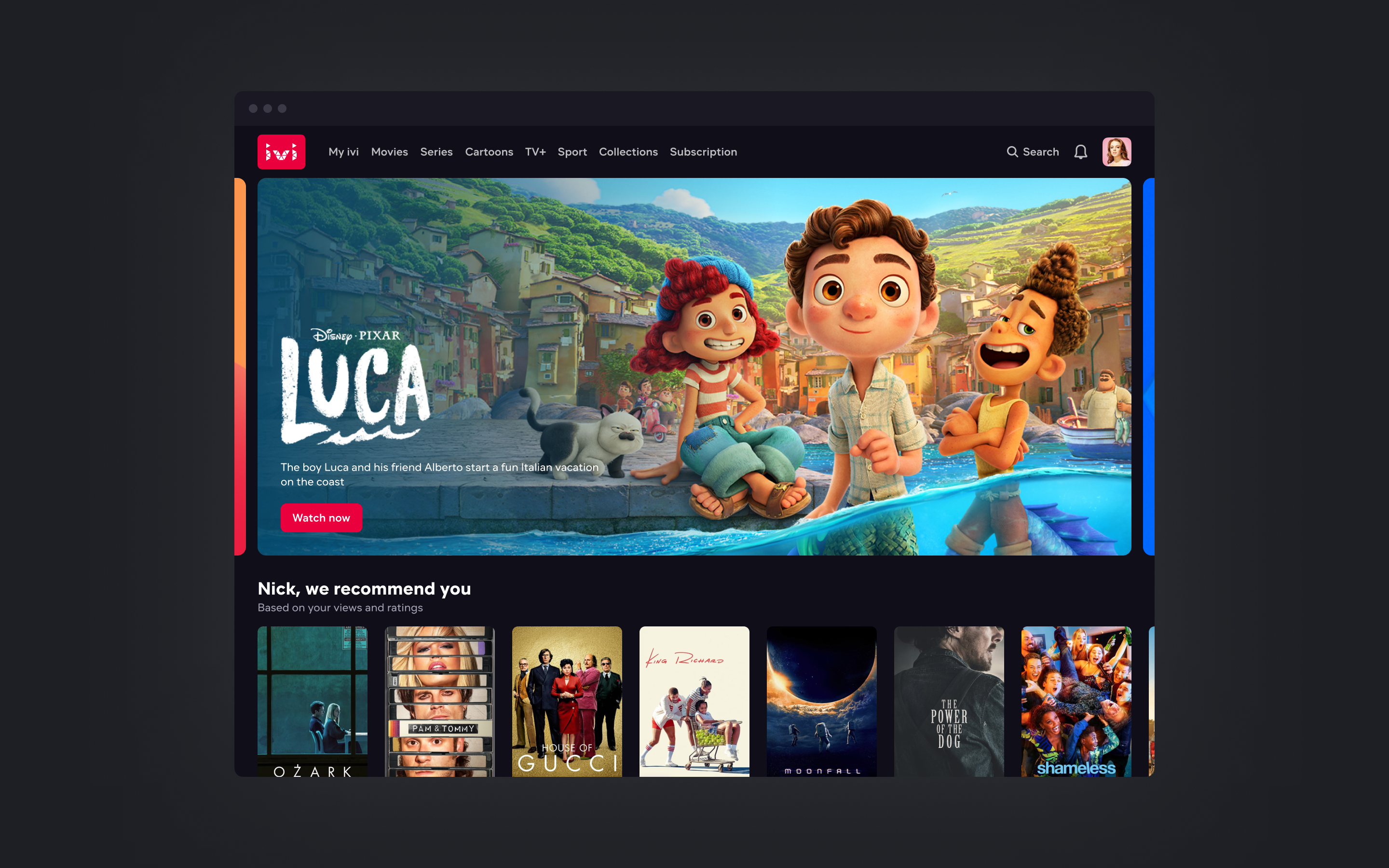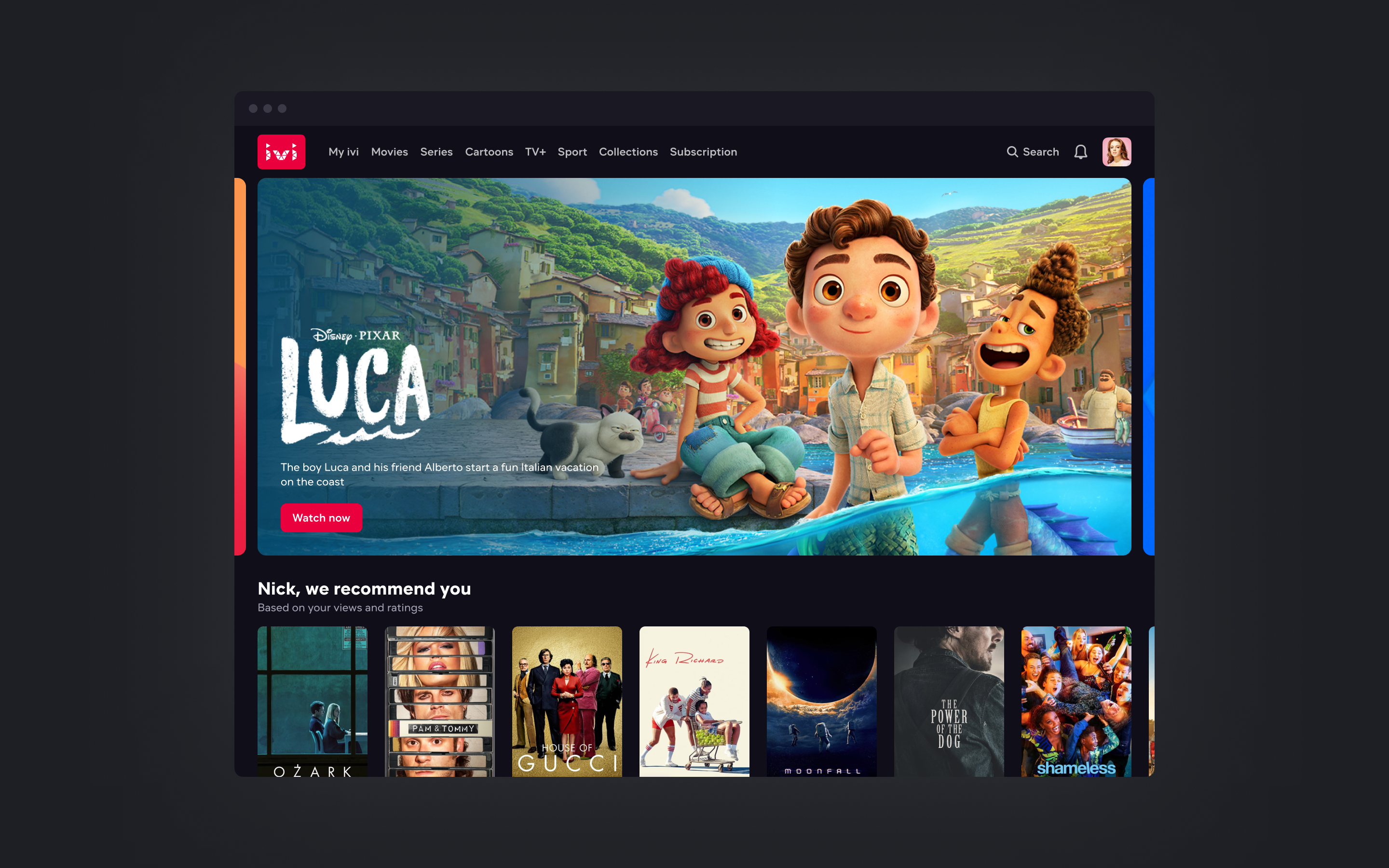 IDENTITY Oct 2020 — Feb 2021
Senior Product Designer · IVI
We prepare a lot of advertisements and promo materials at IVI. So for refreshing and creating a stable and memorable vision of the company, we developed an update of identity. Our decision consists of two parts: basic format and image background graphics.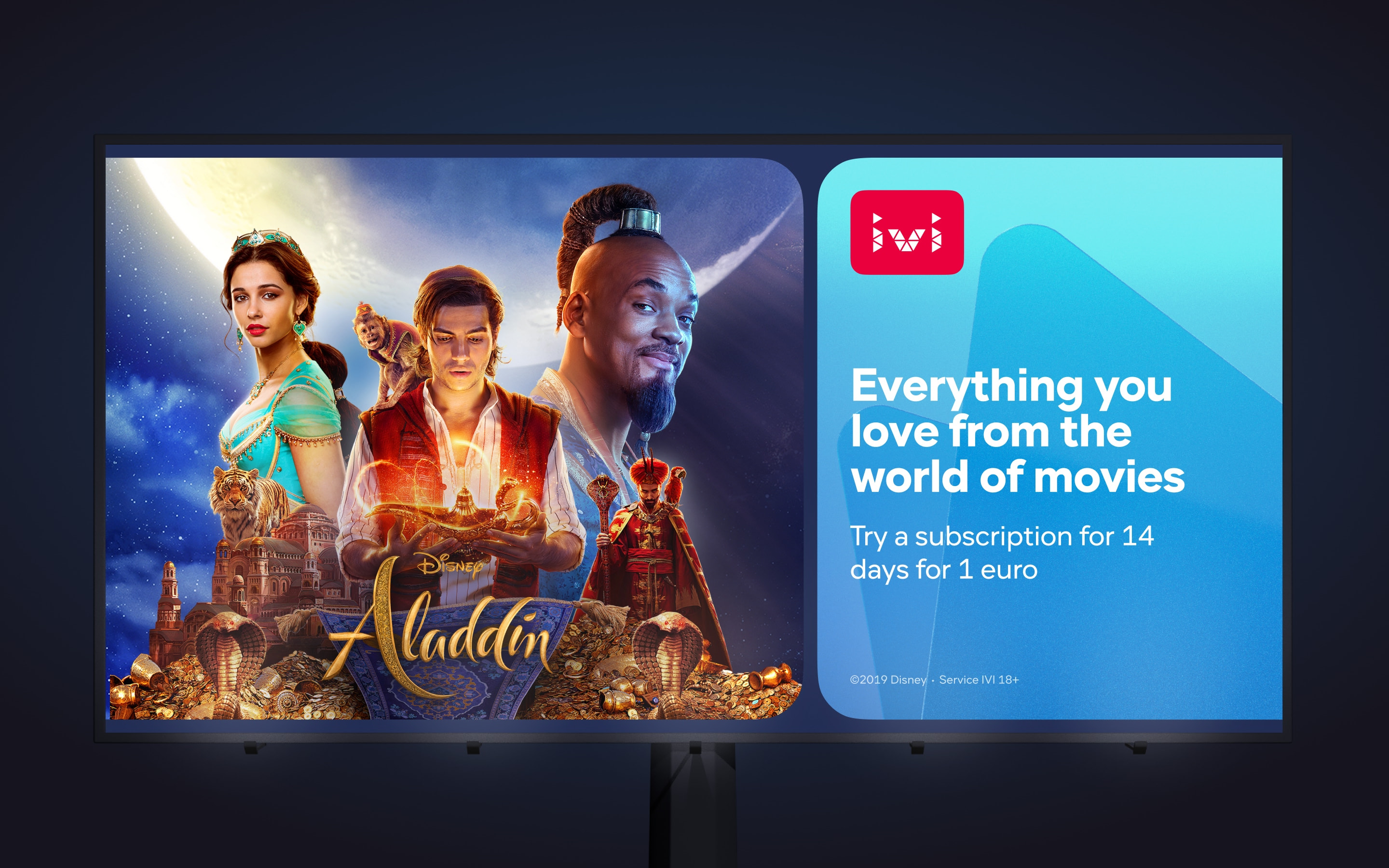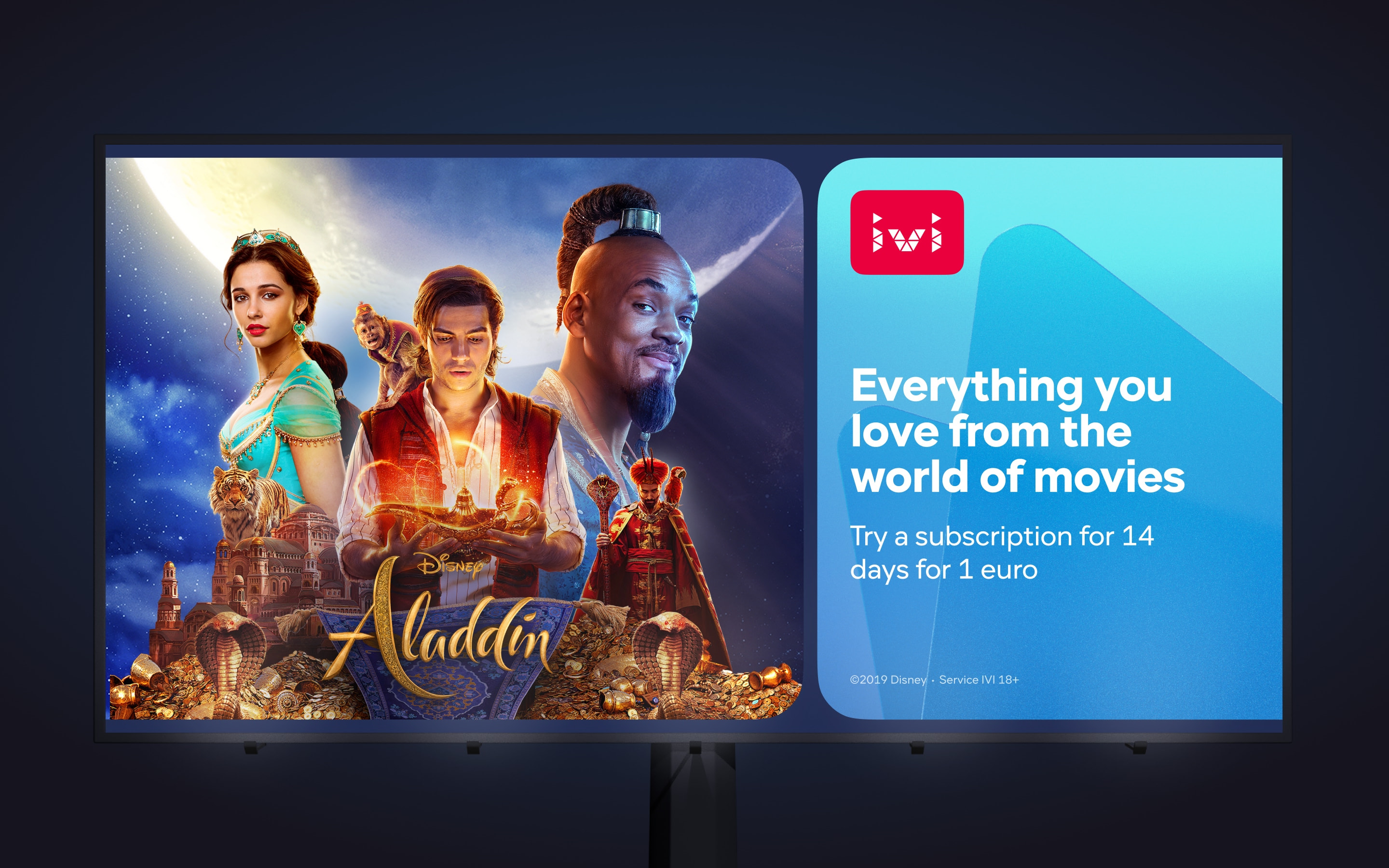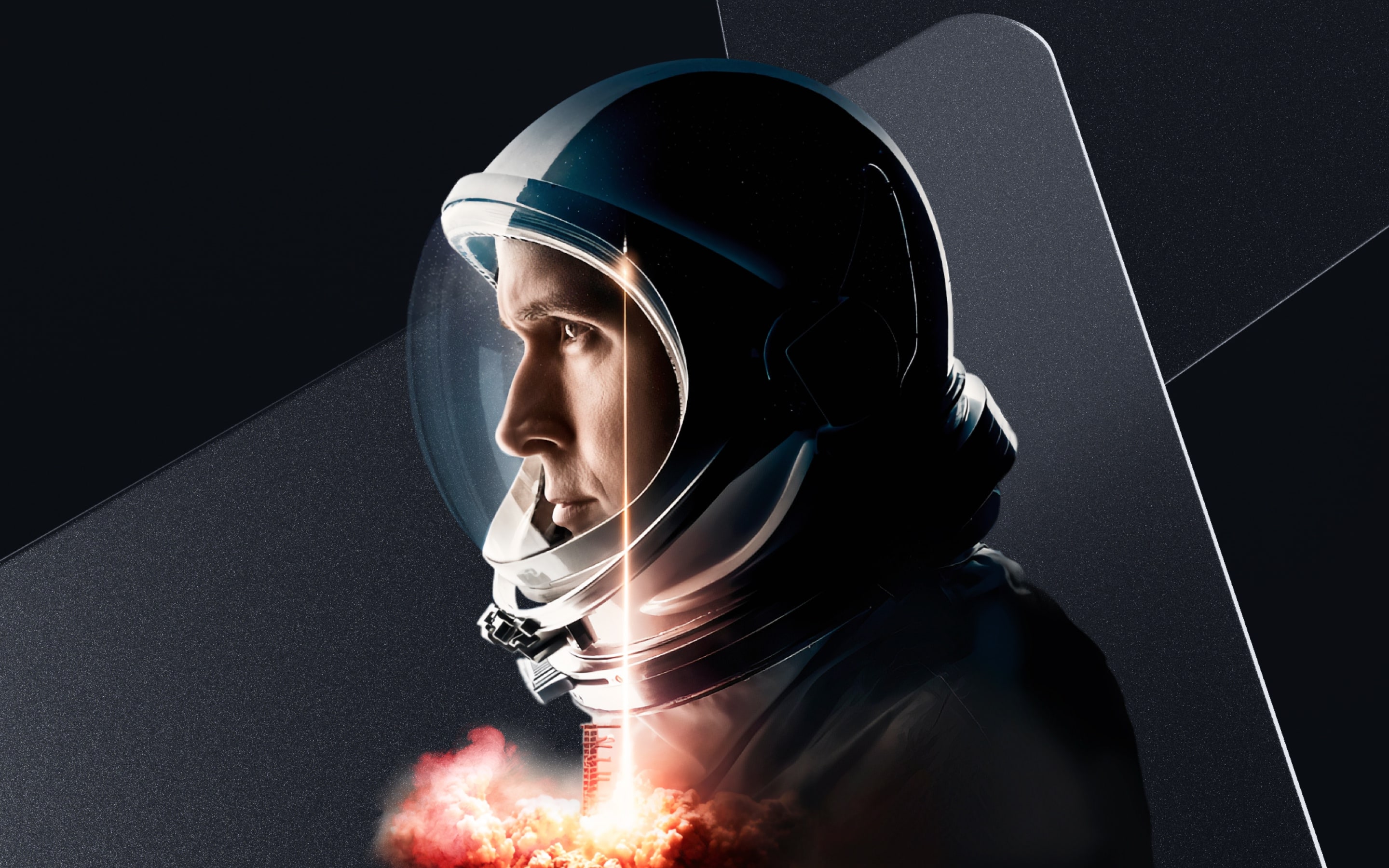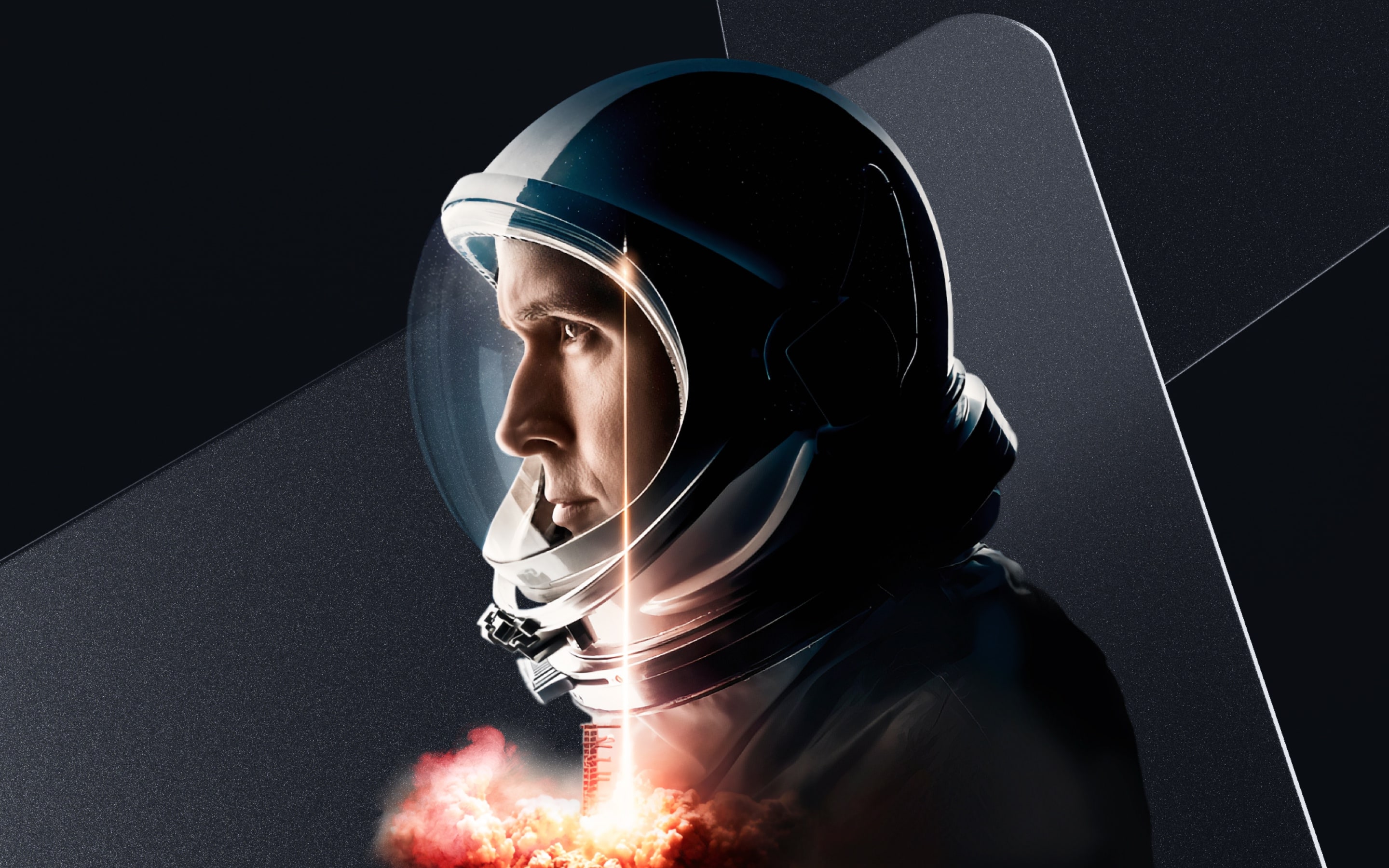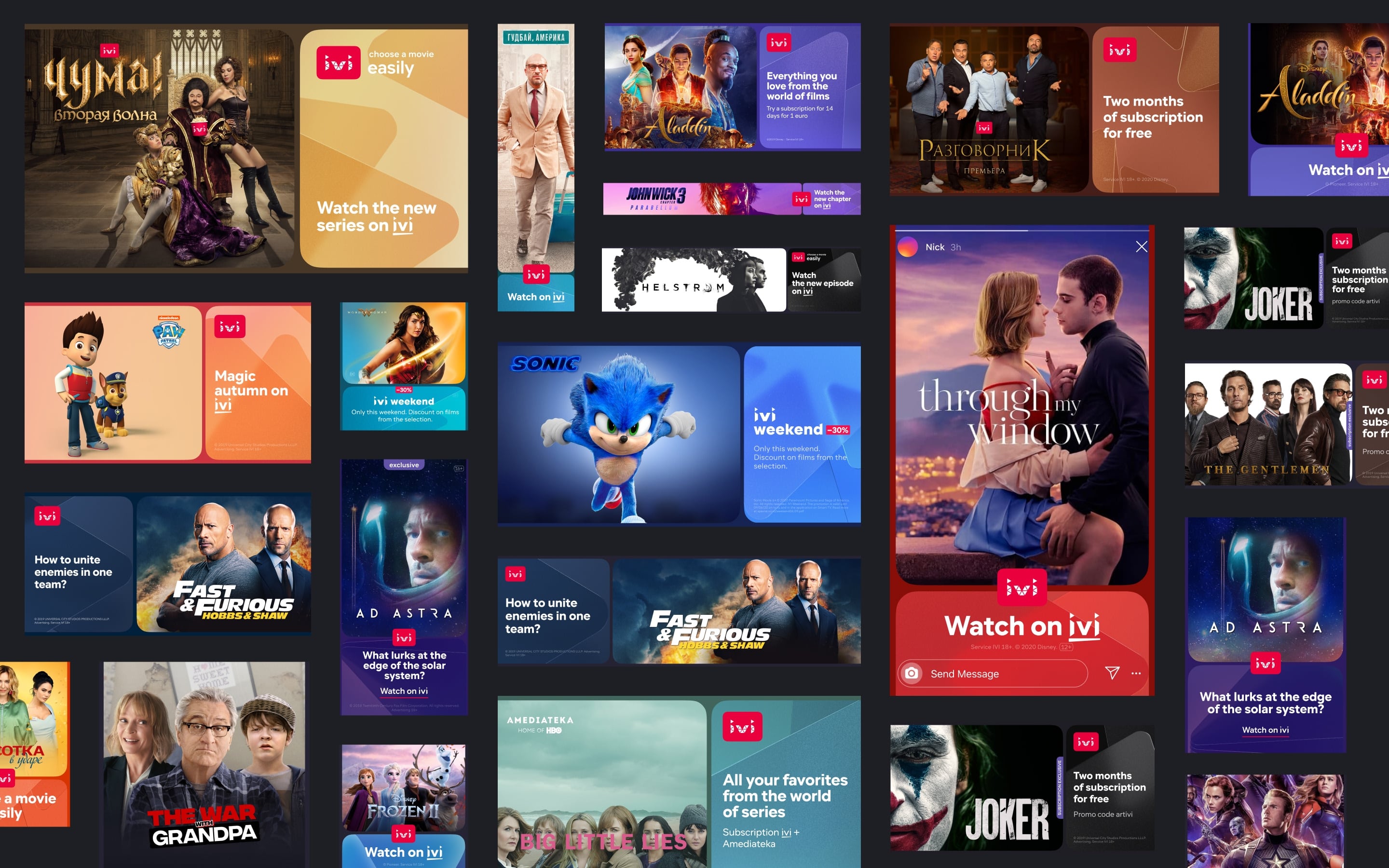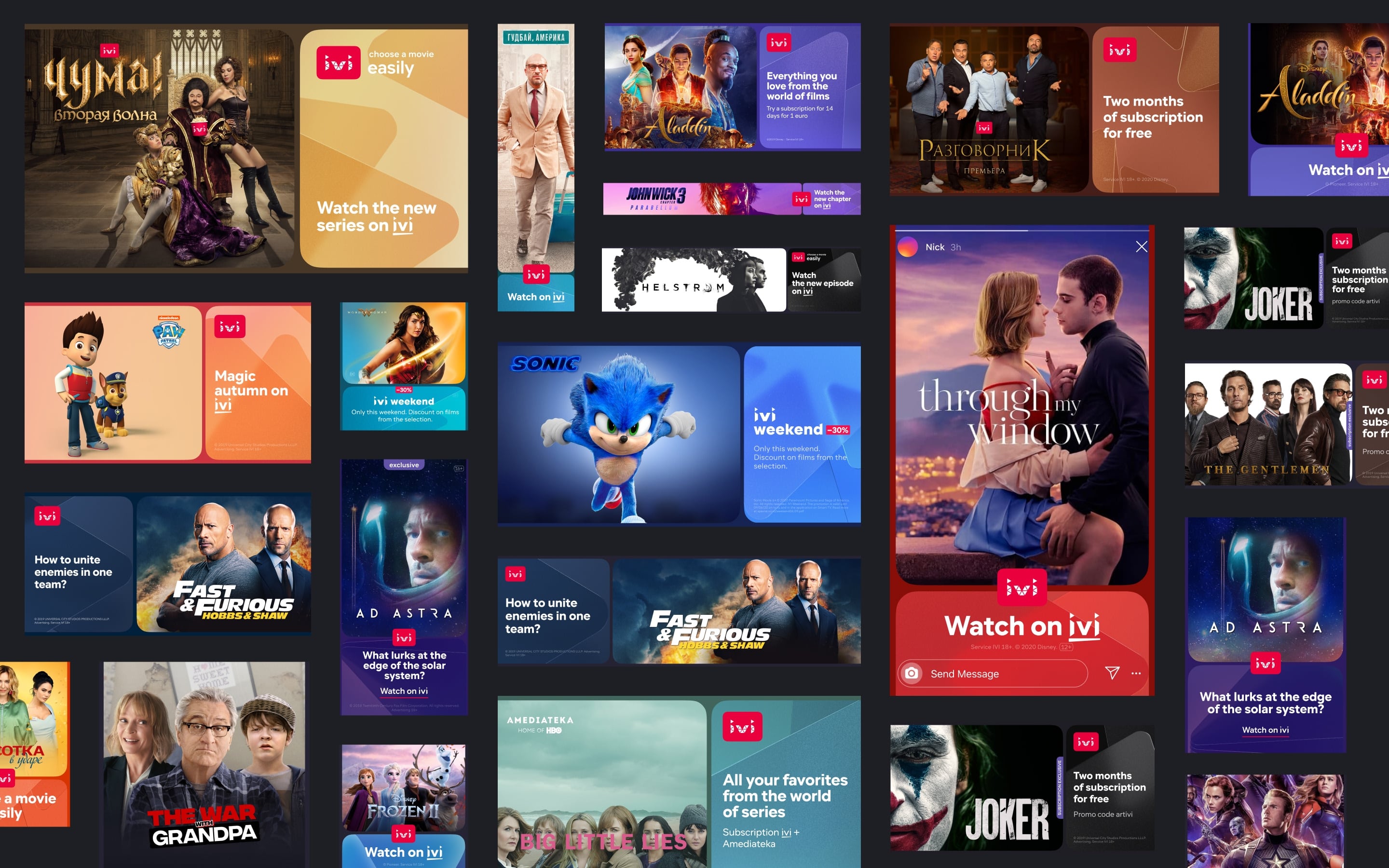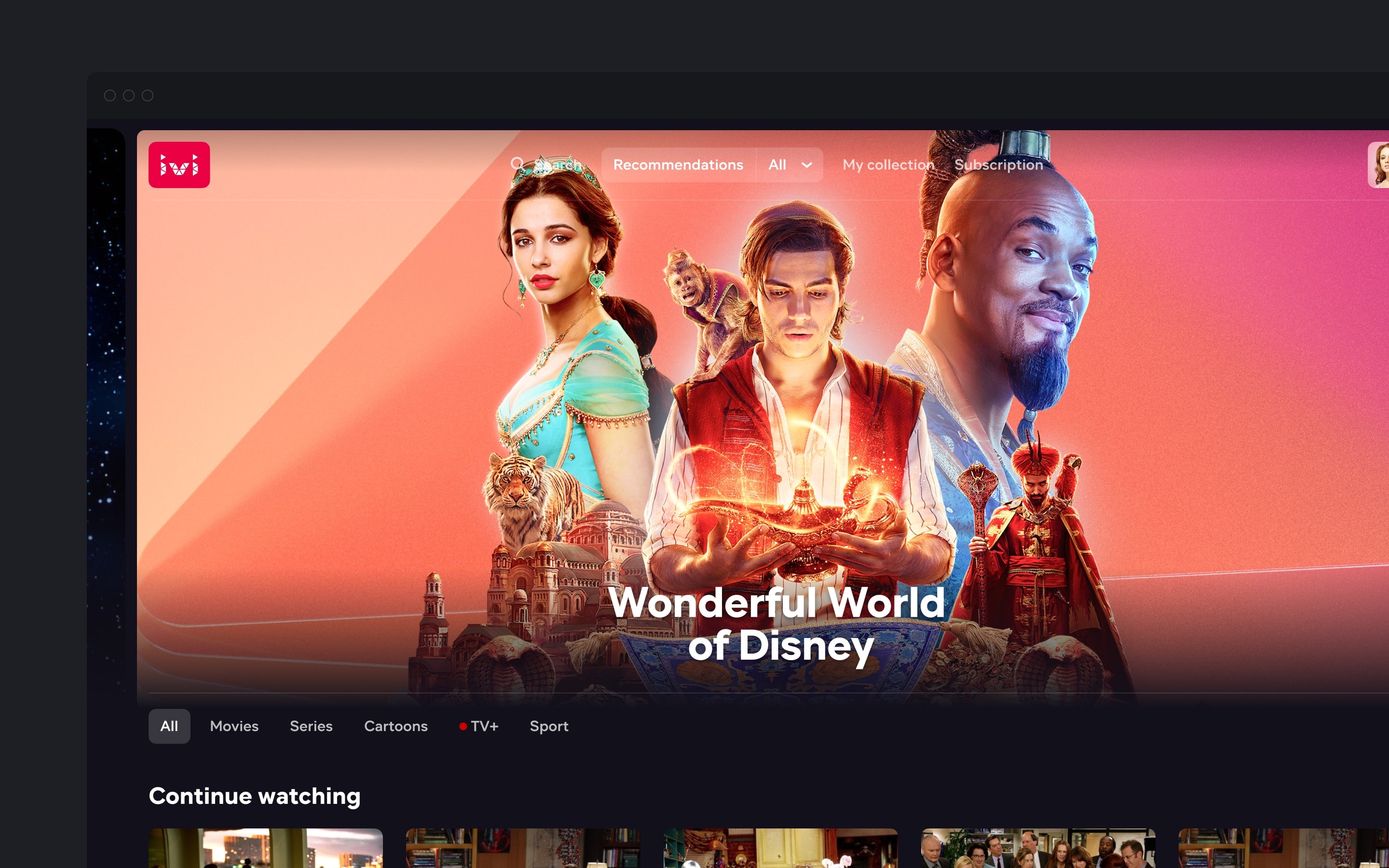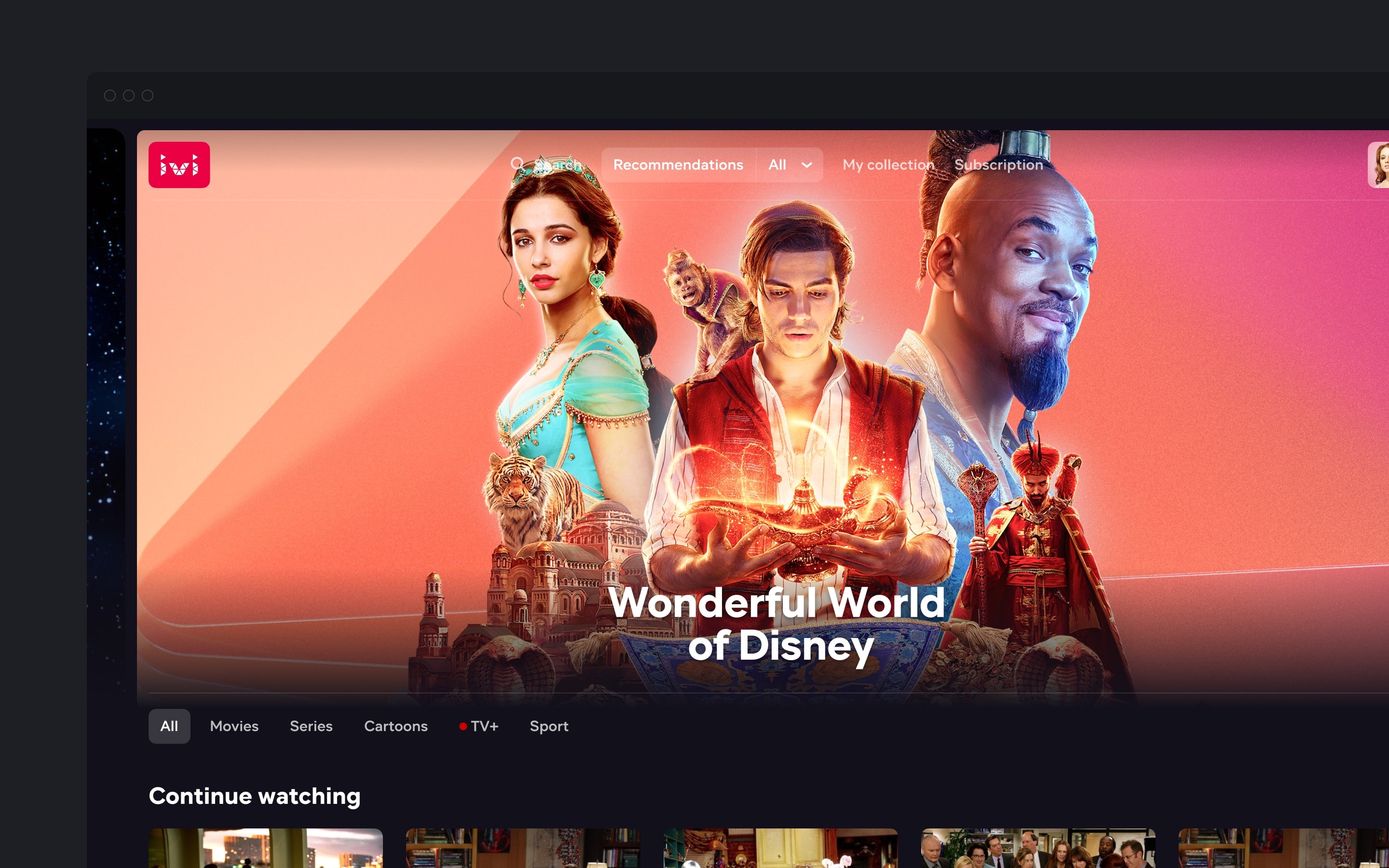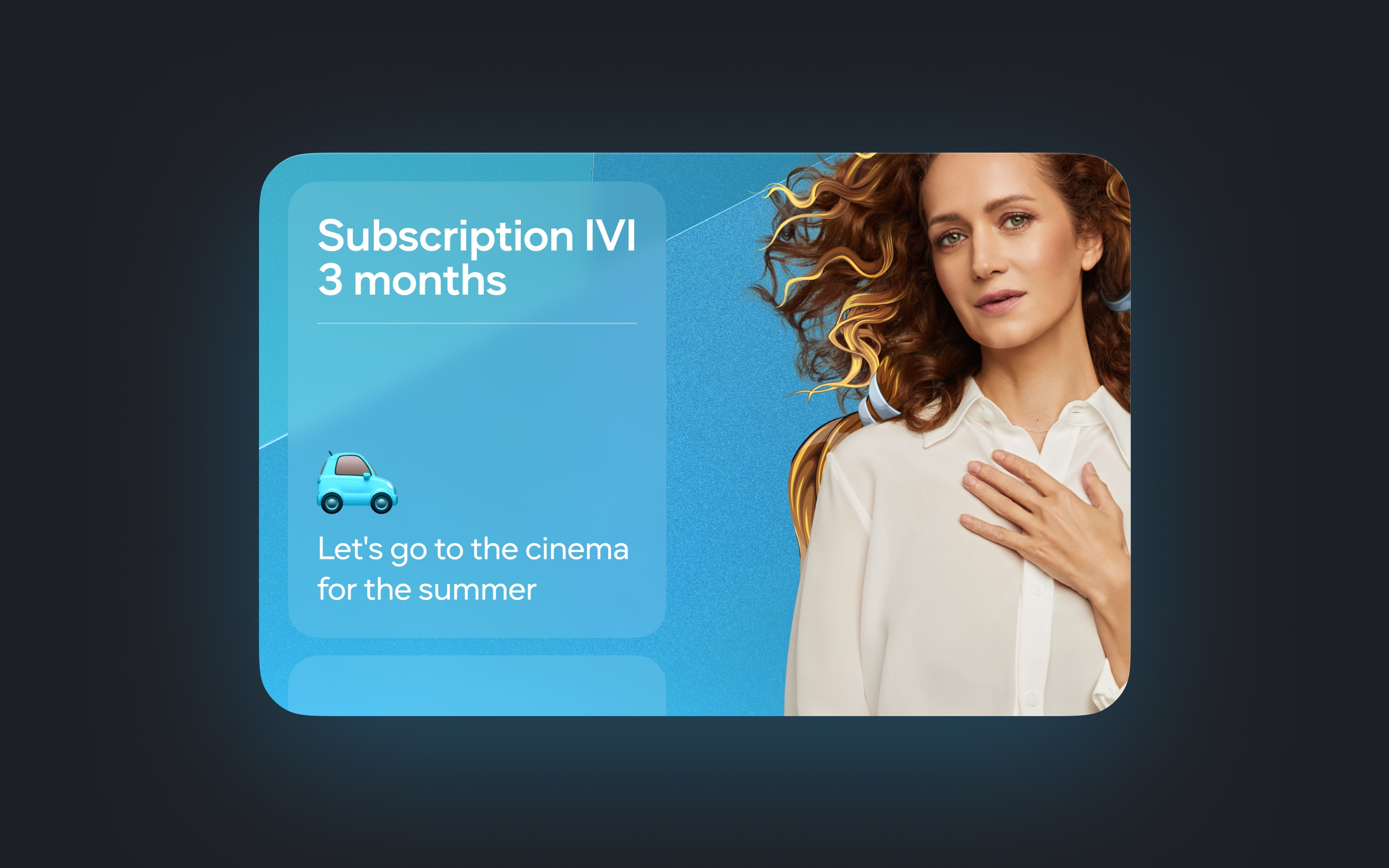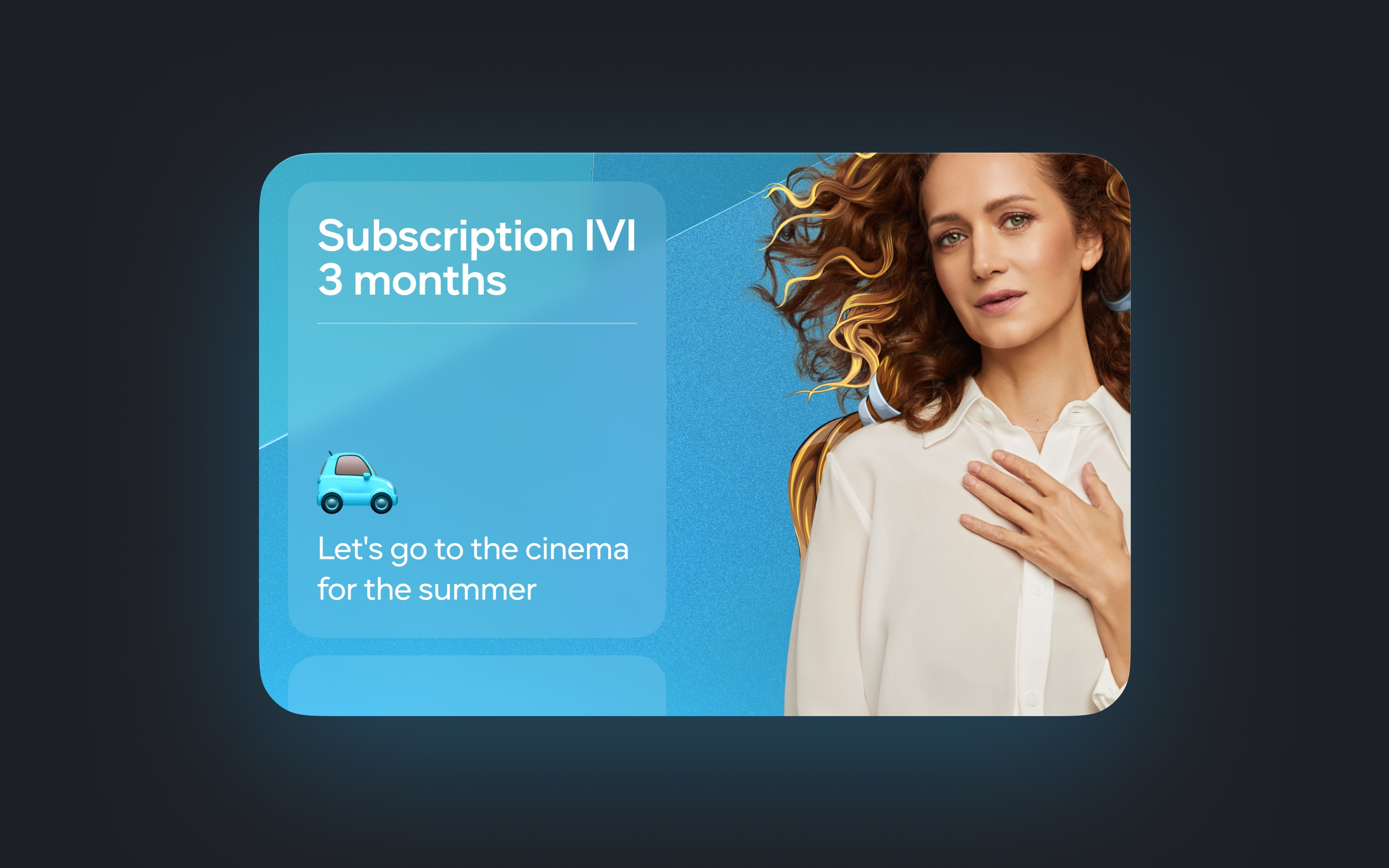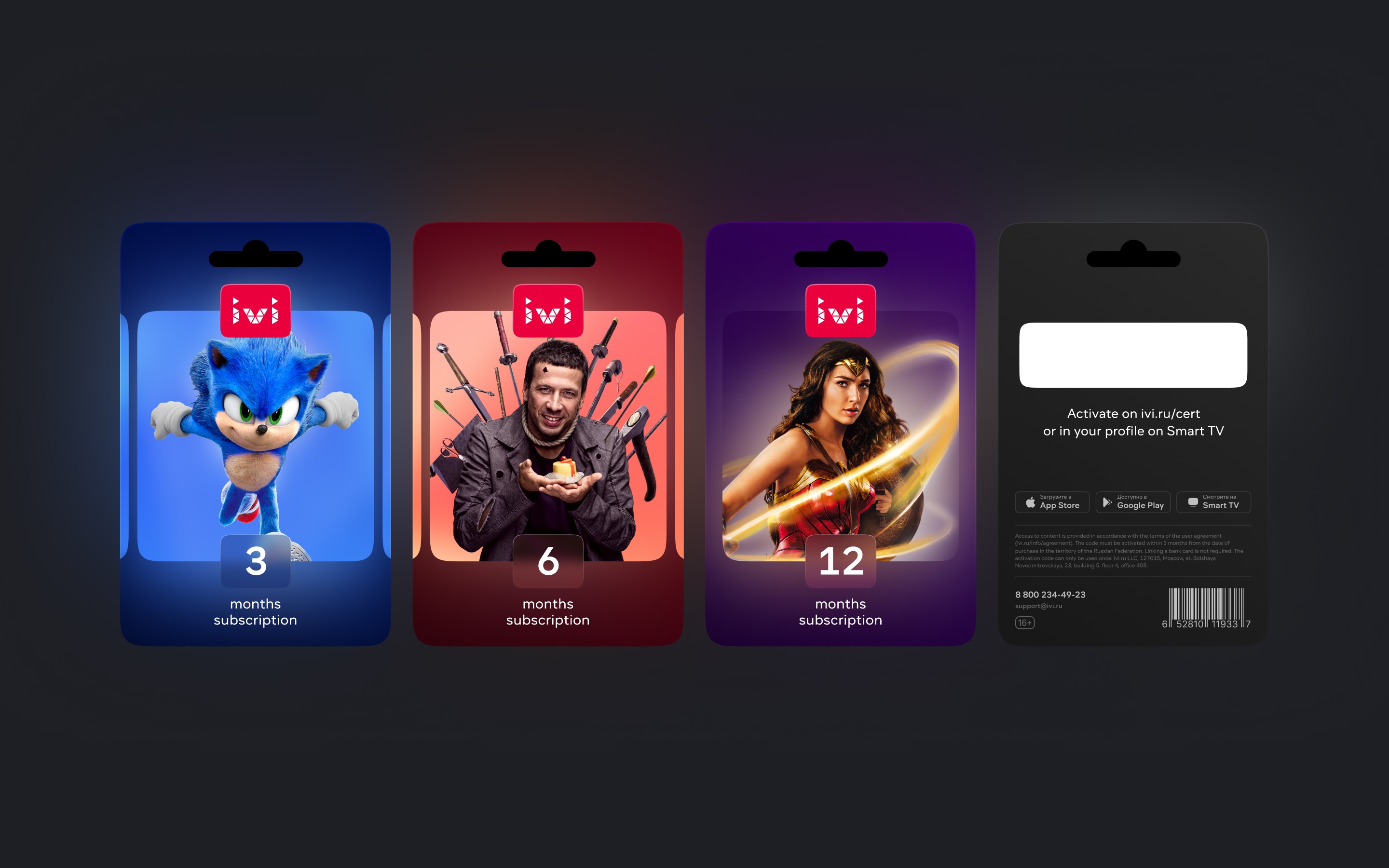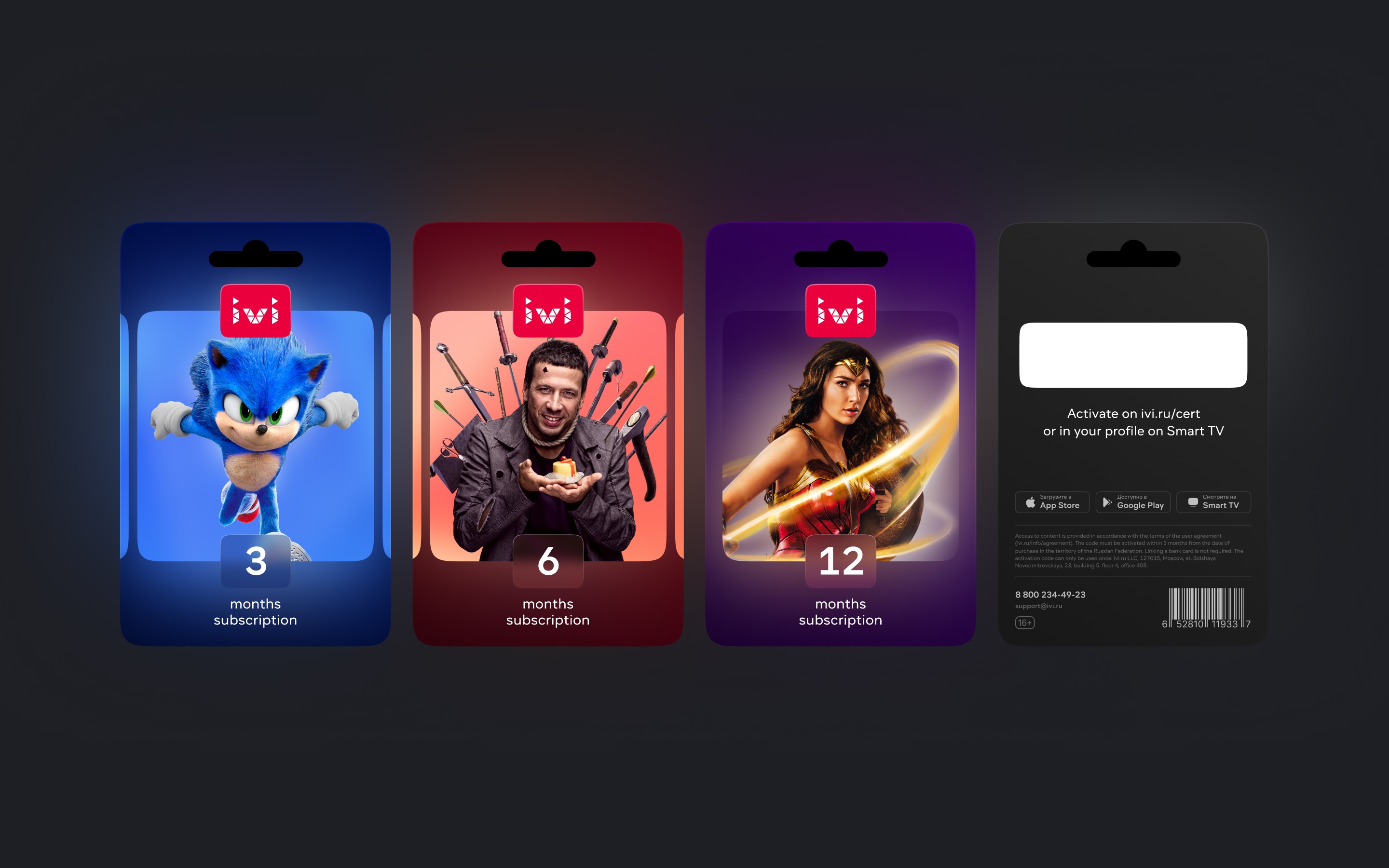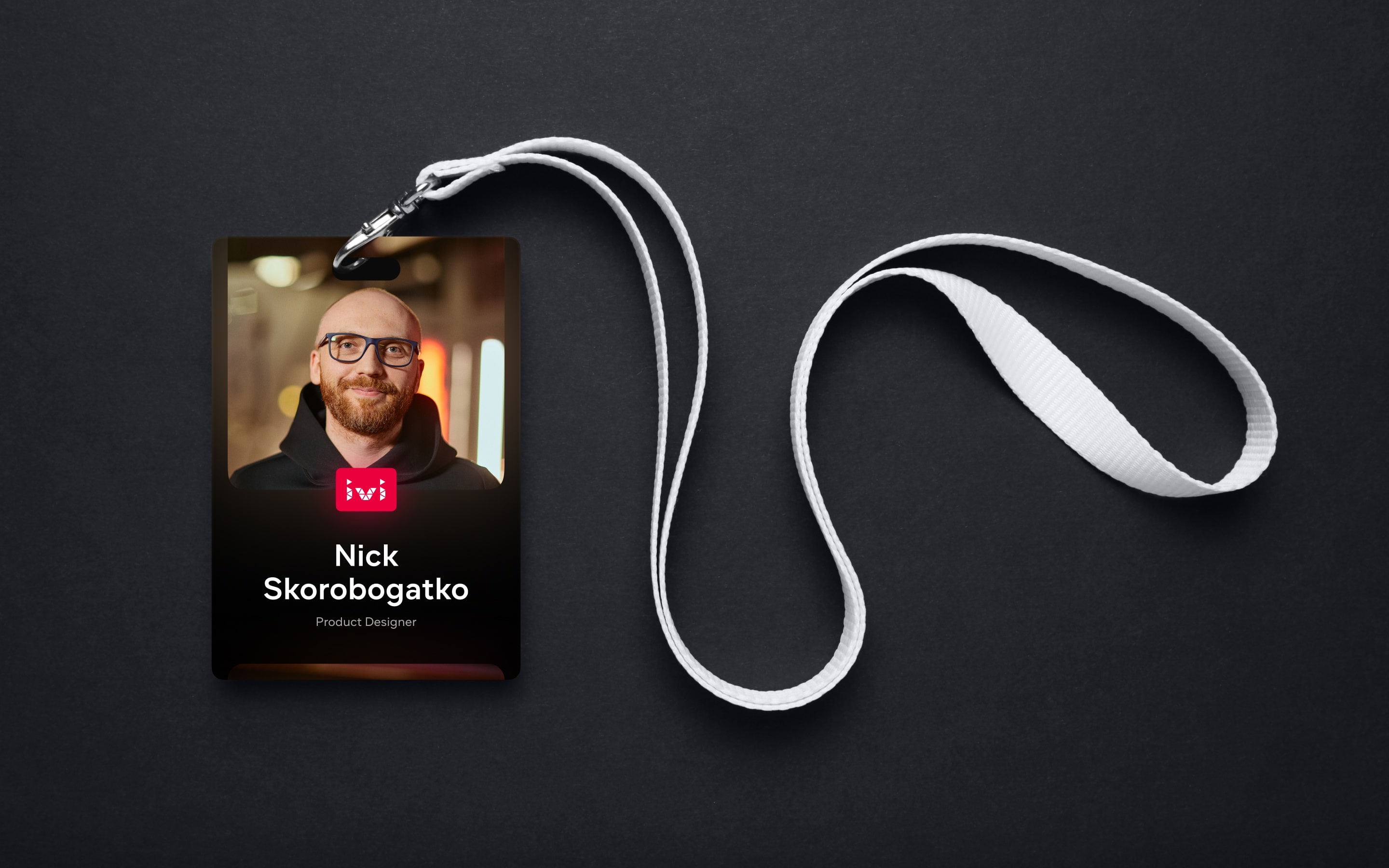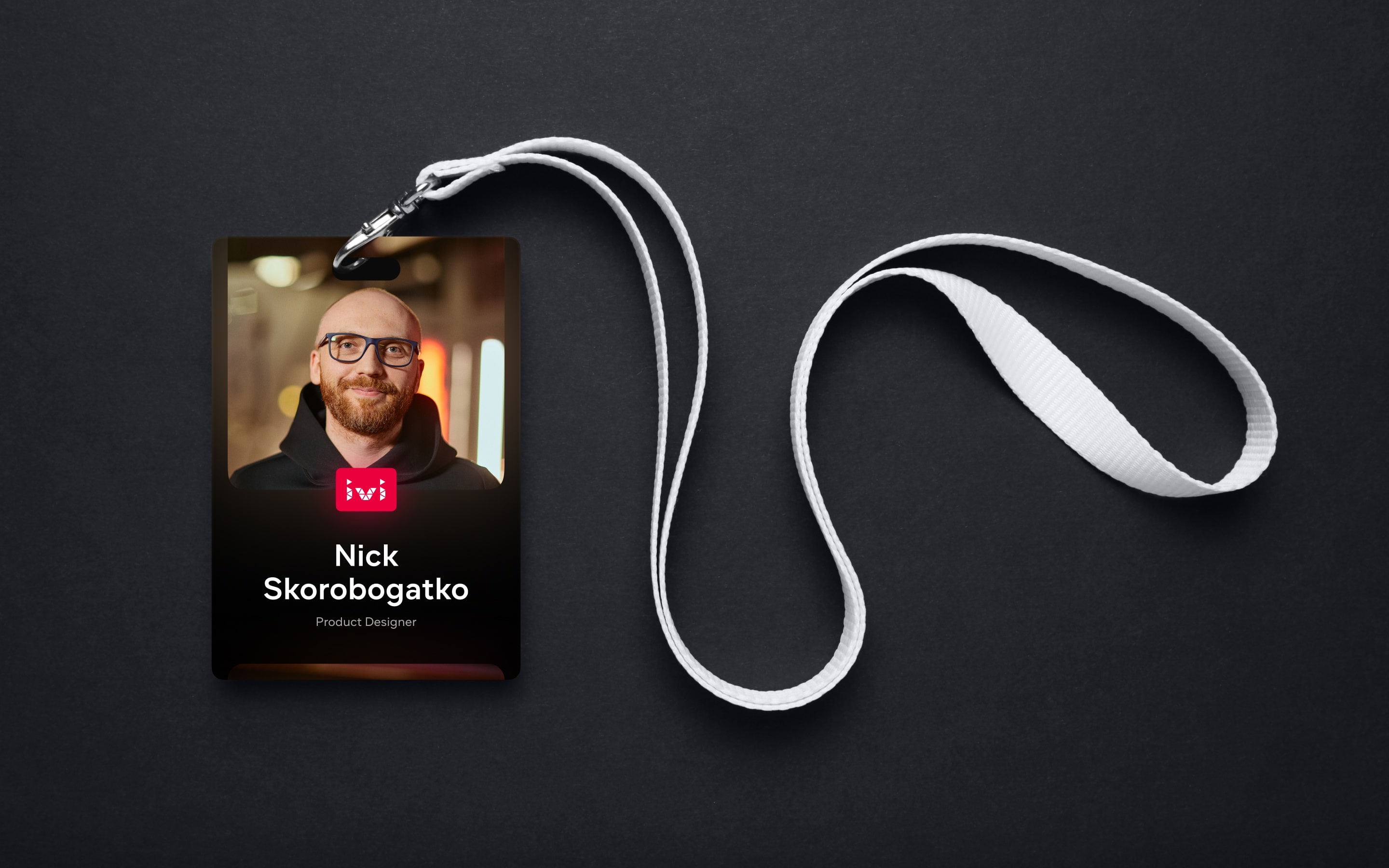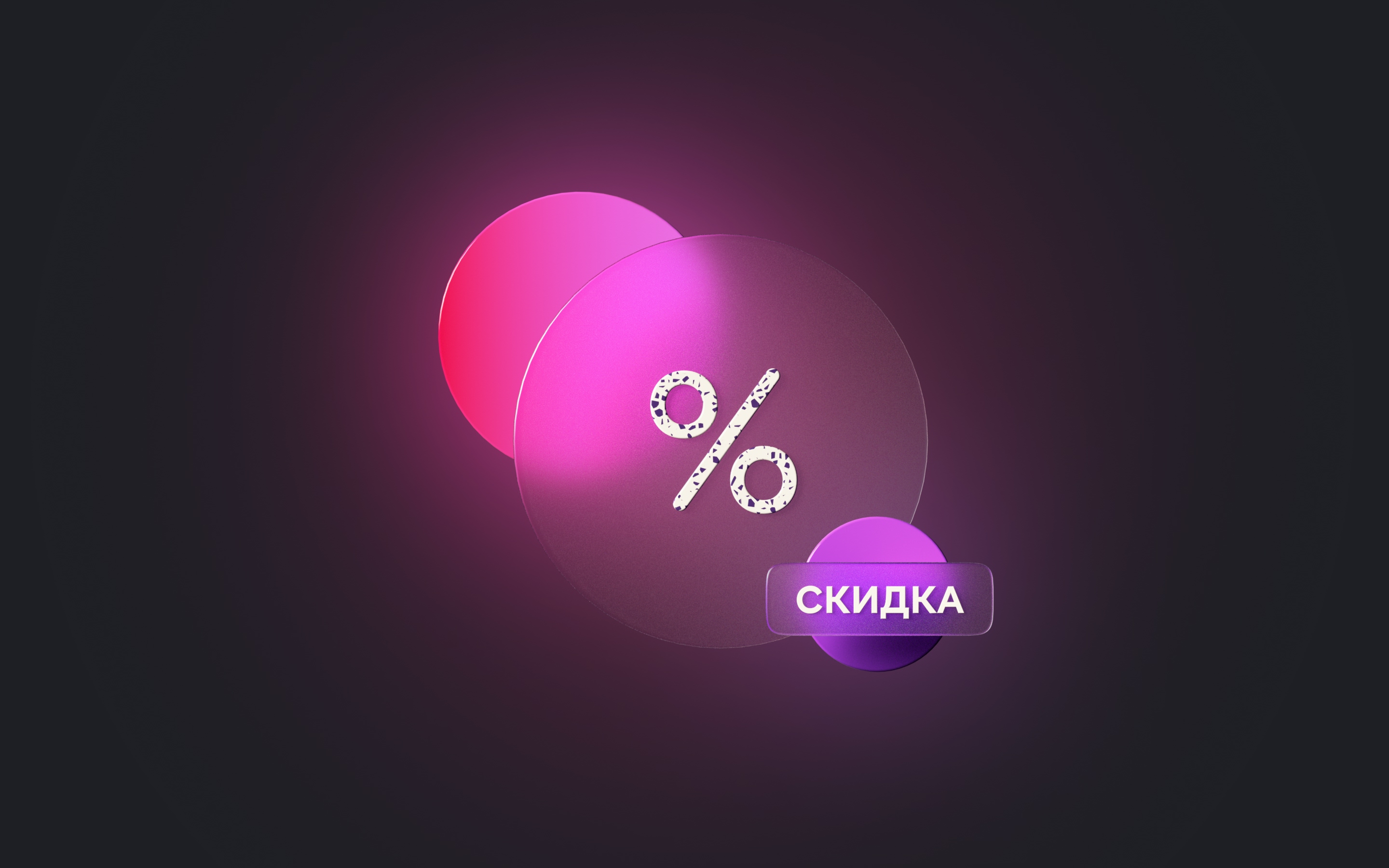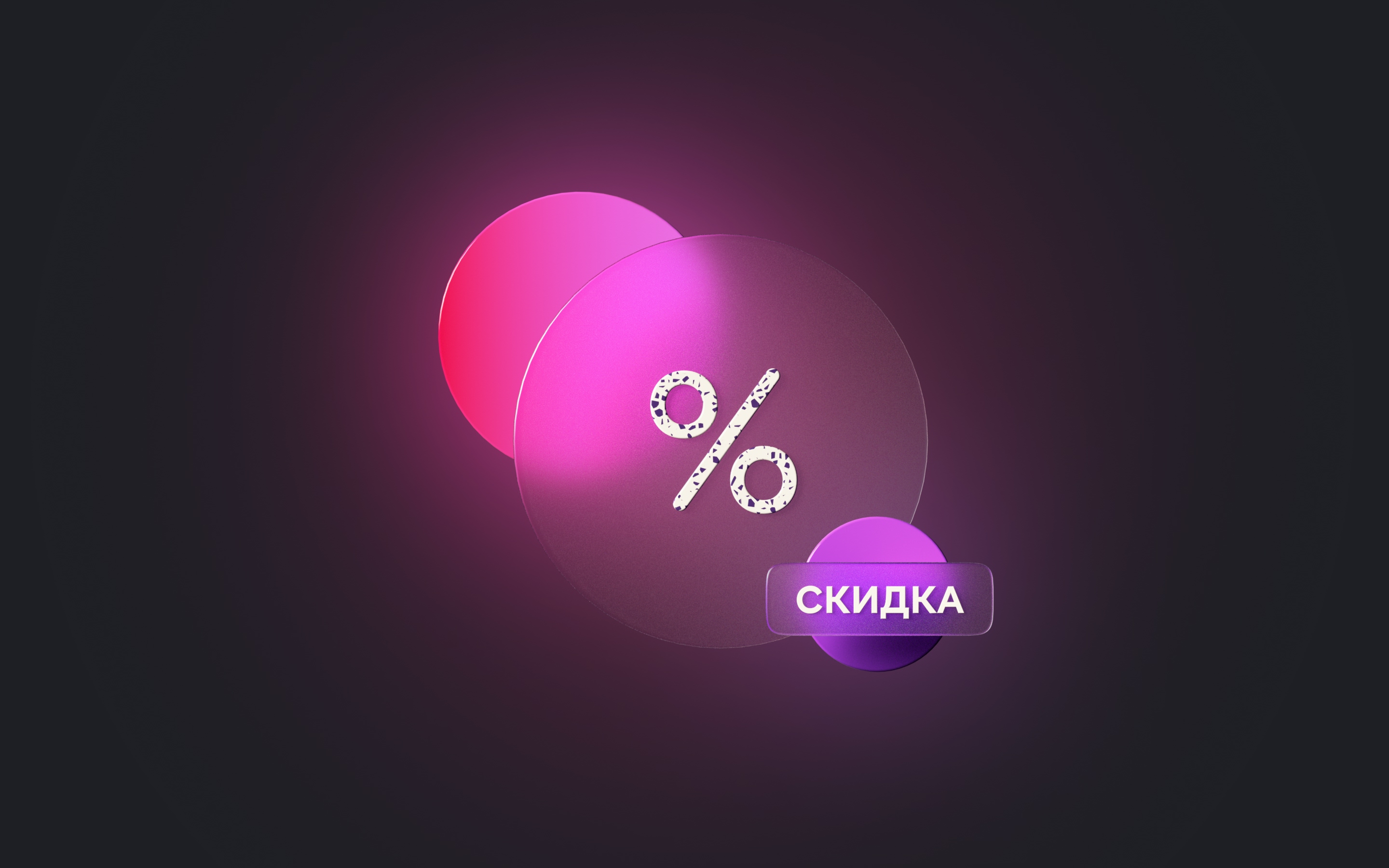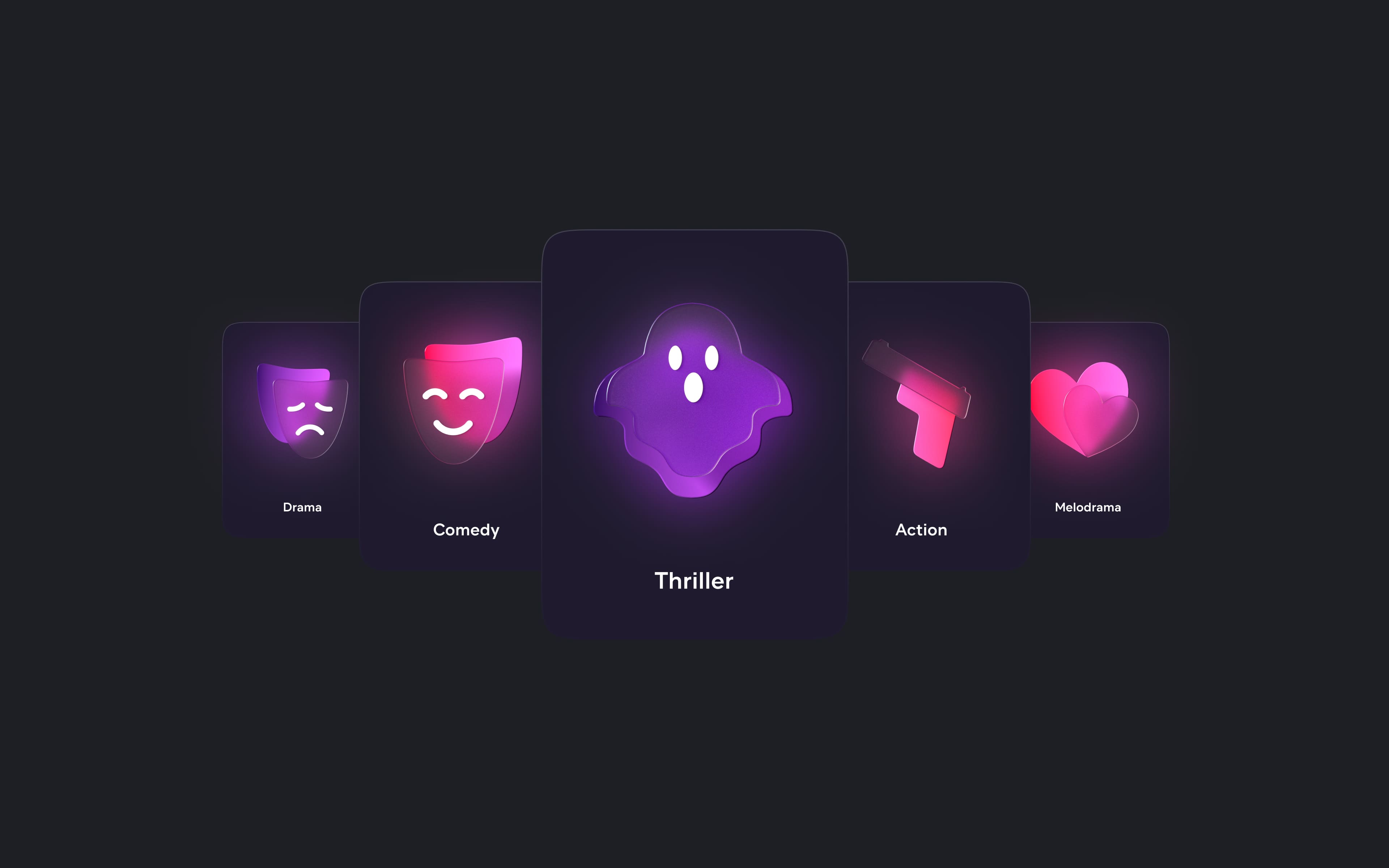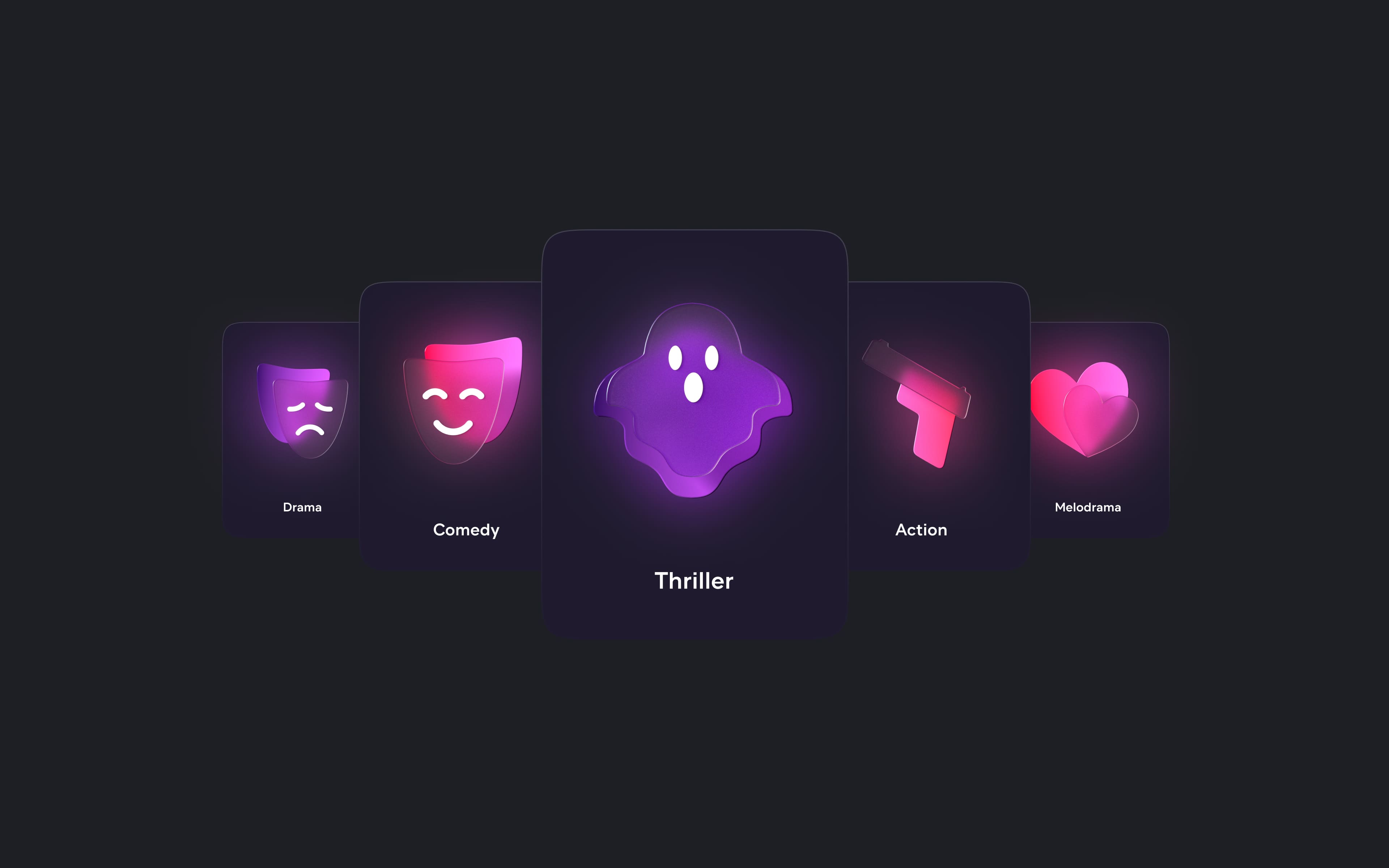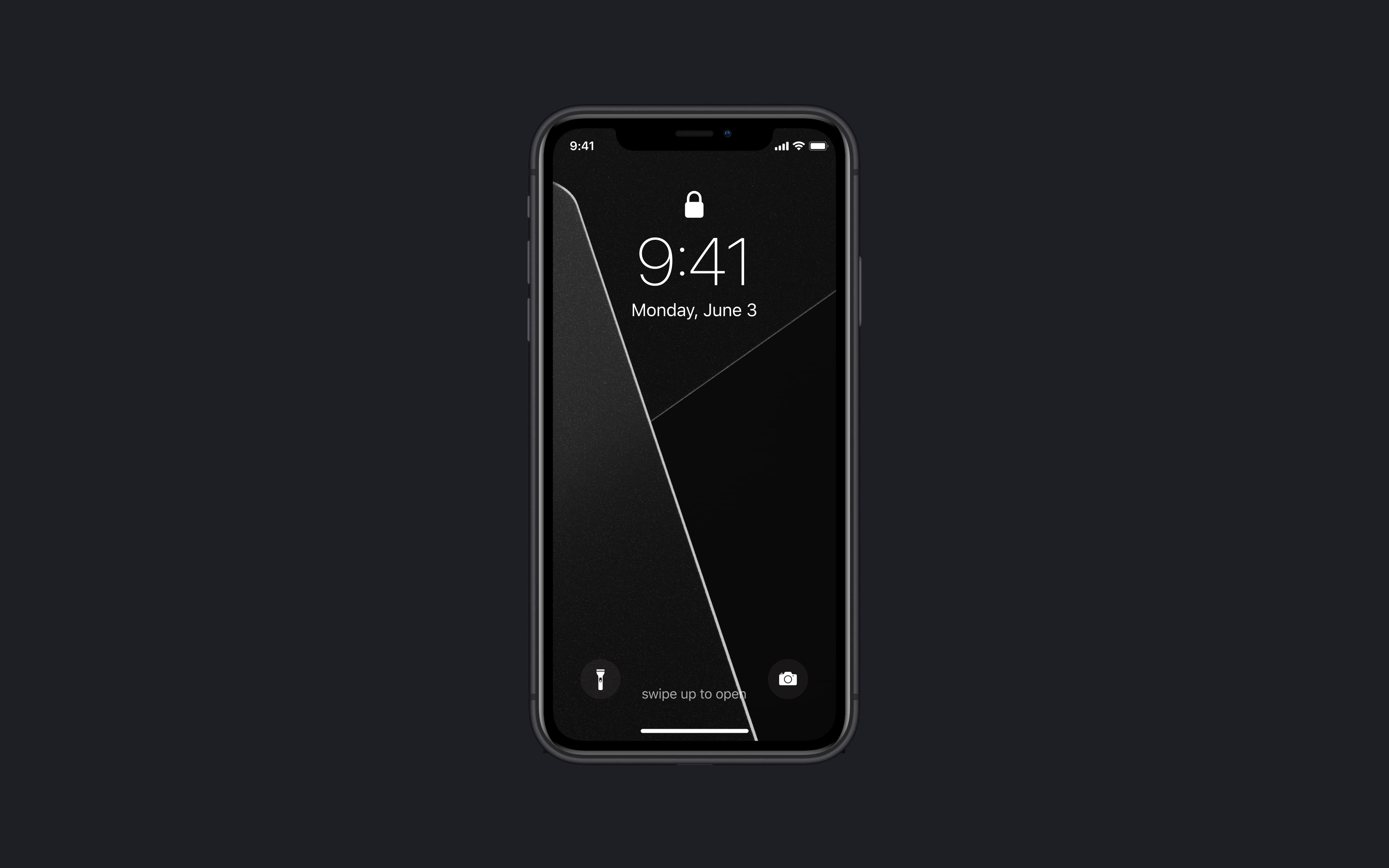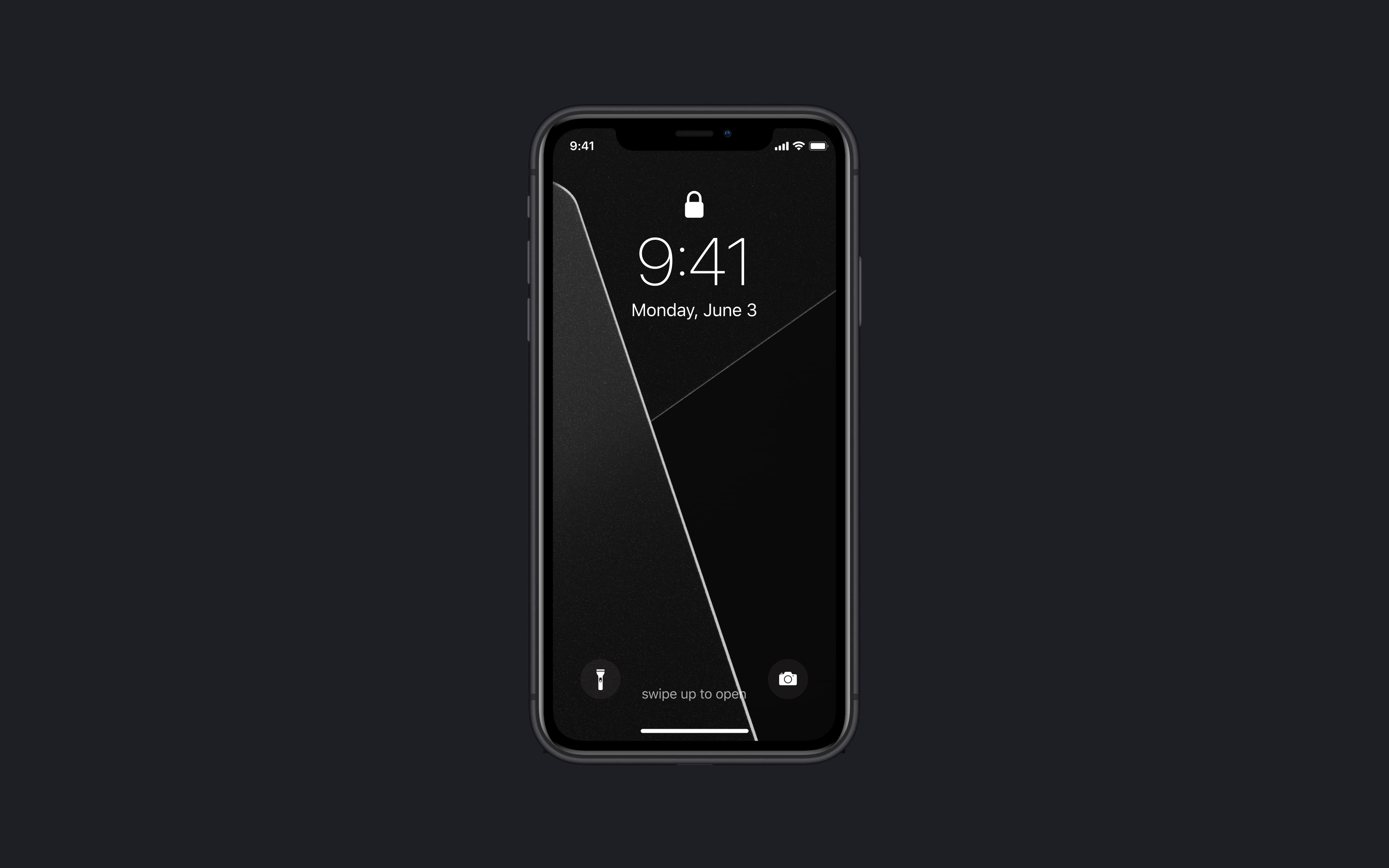 CHILD PROFILES AND PINCODE June — Aug 2020
In the summer of 2020, we decided to put more effort into children's profiles and watching. For this, we brightly showed children's profiles and created onboarding for children to improve our recommendation system. For personalization, we drew a lot of avatars. We made a Pincode that protects children from switching to adult profiles and from payments. Also, we refreshed communication and added new mechanics of promo to create profiles on all the platforms.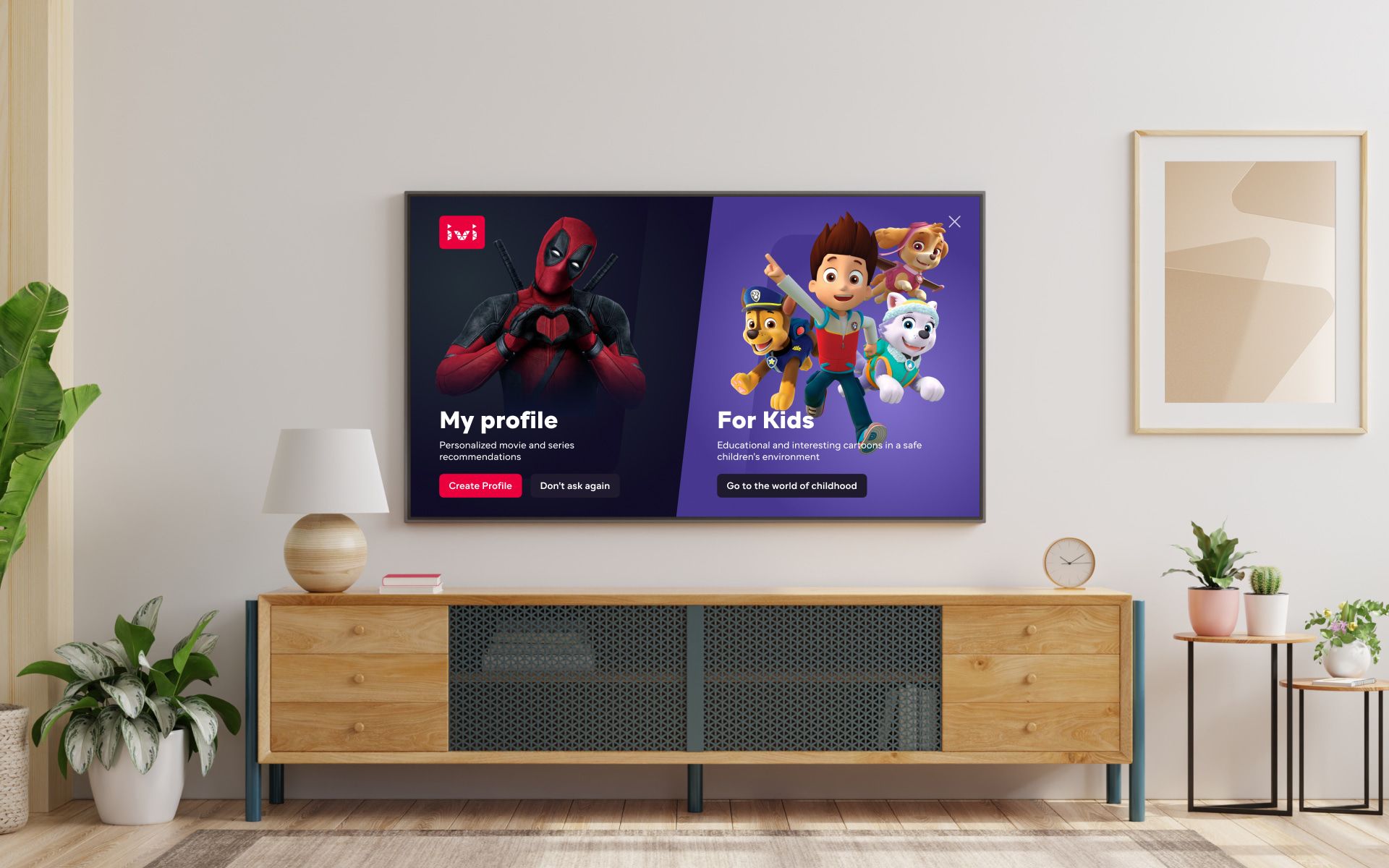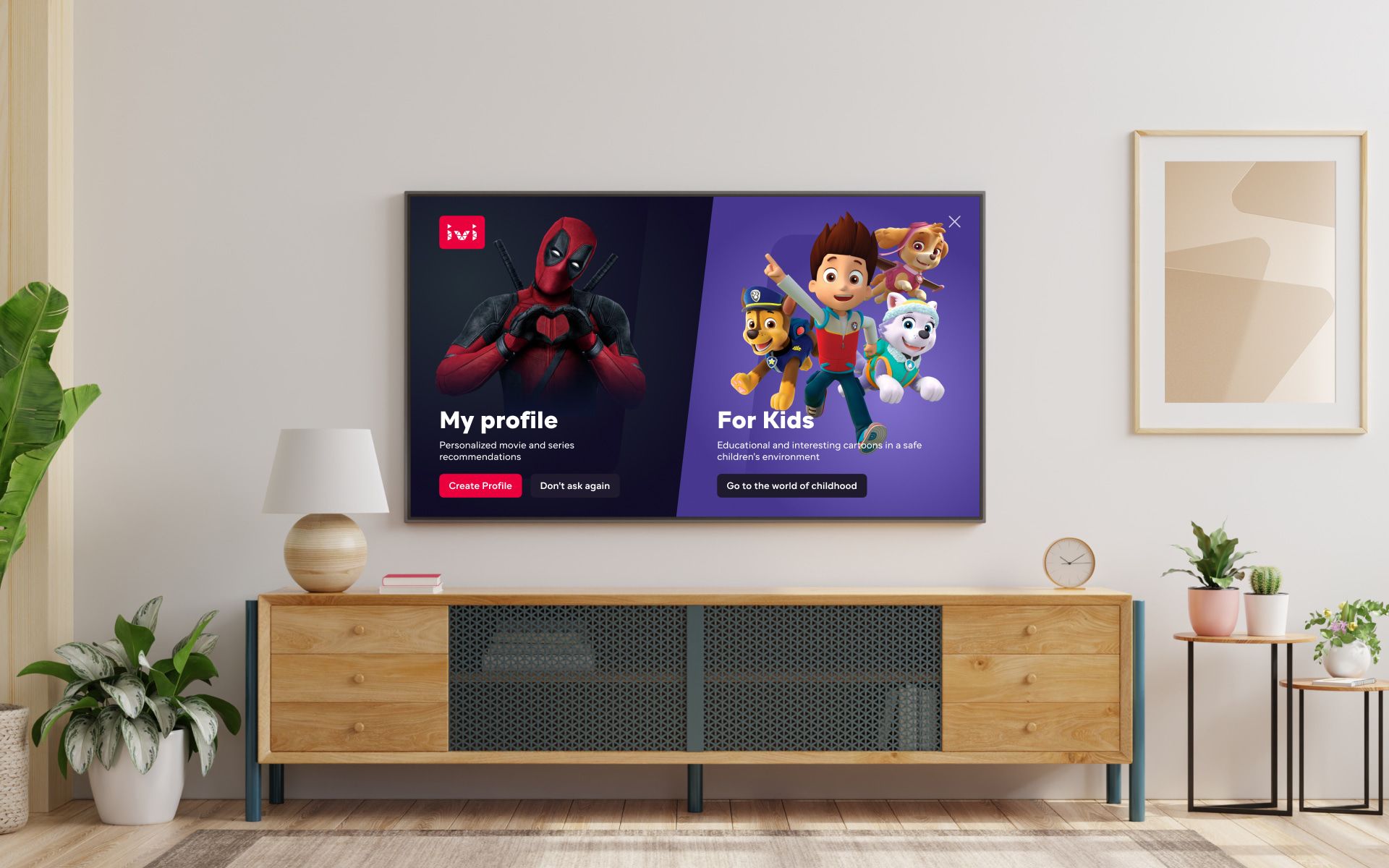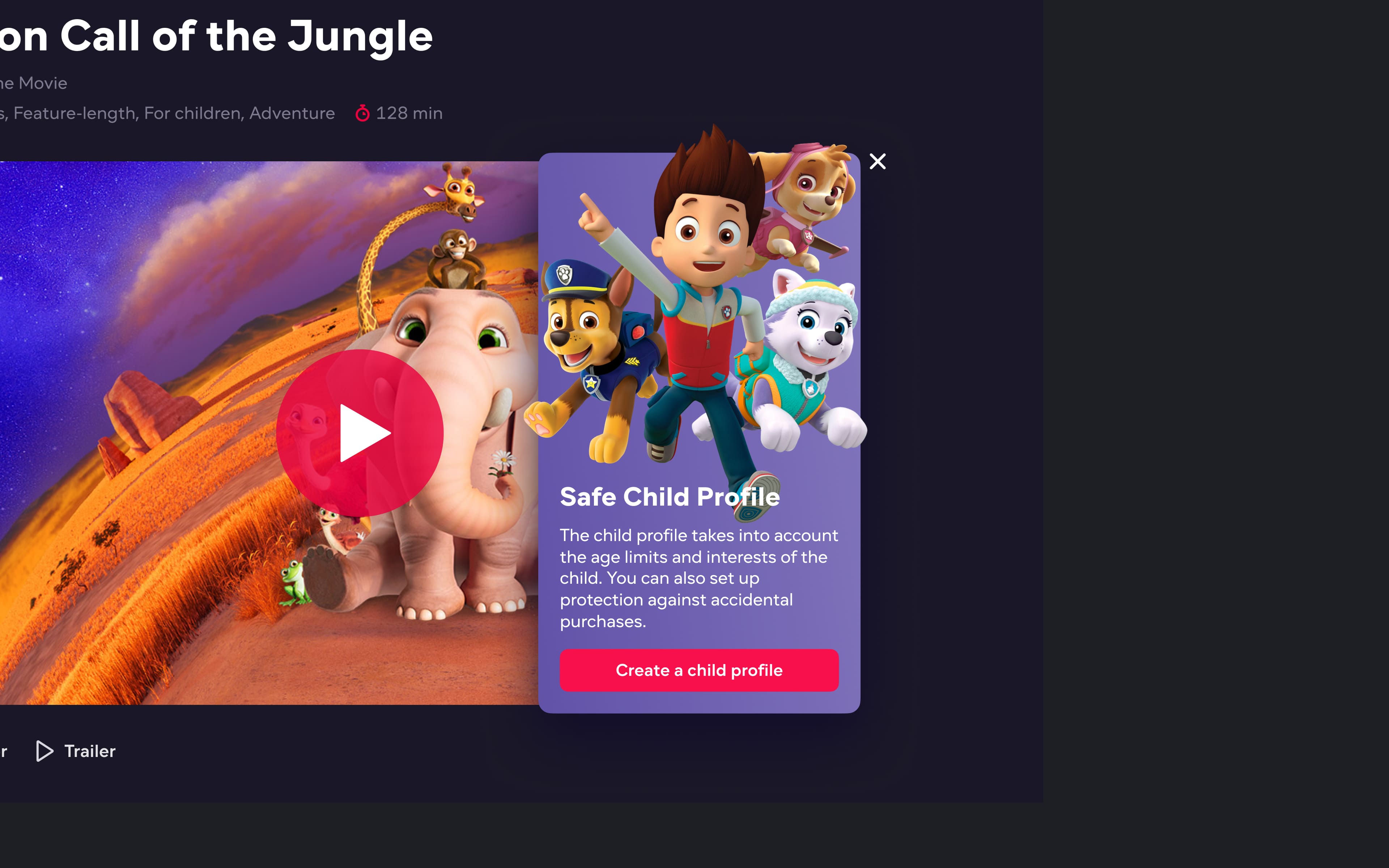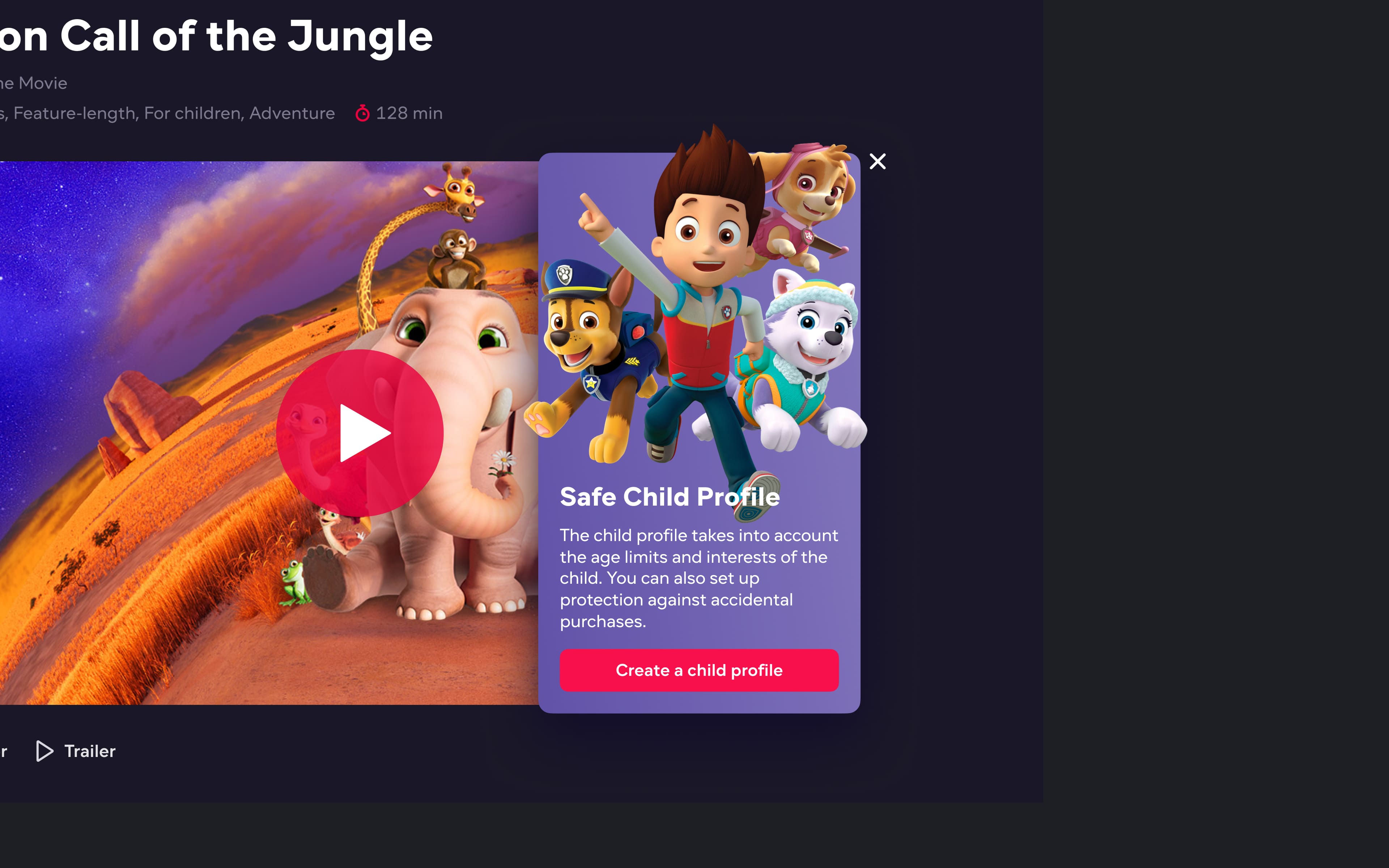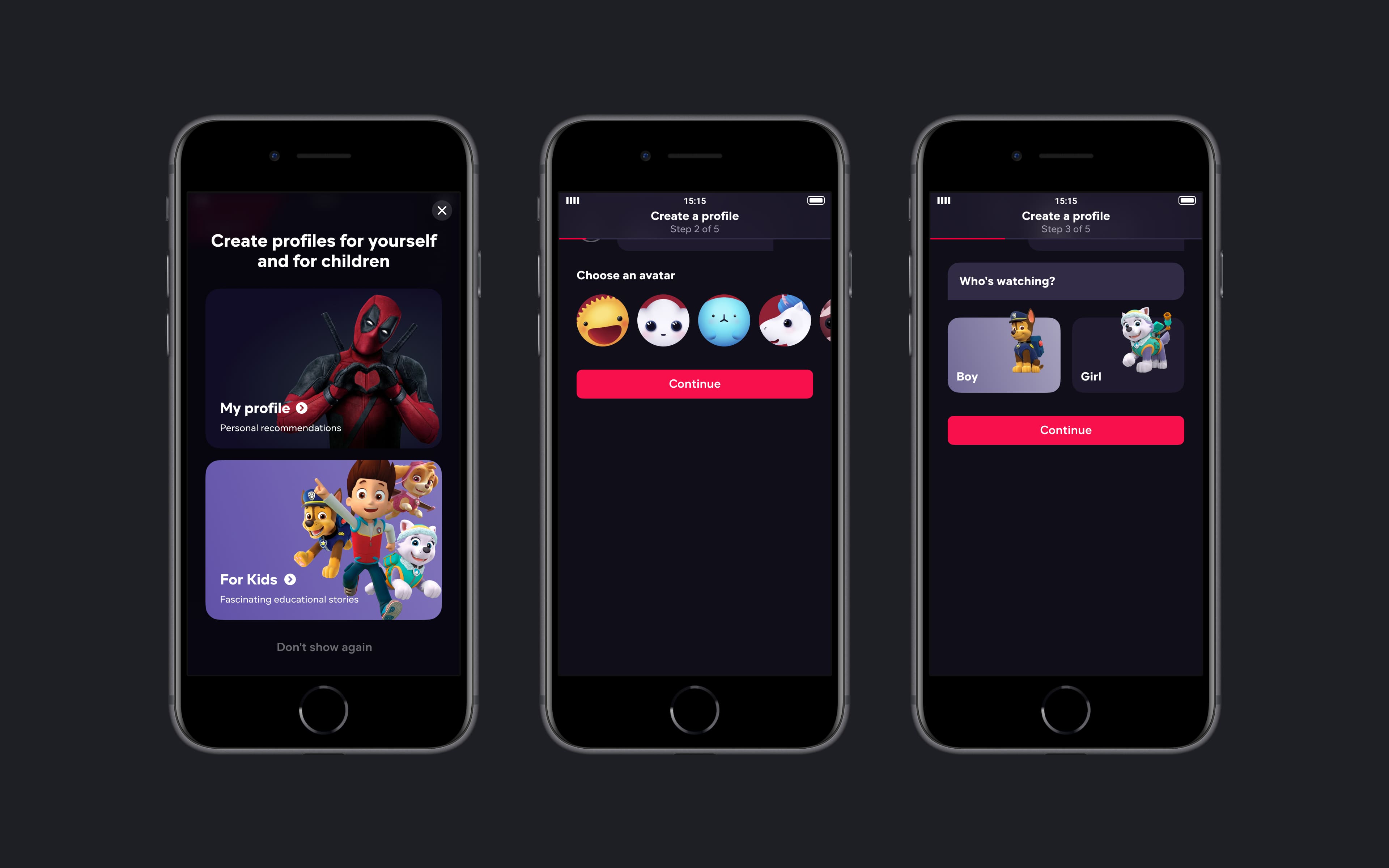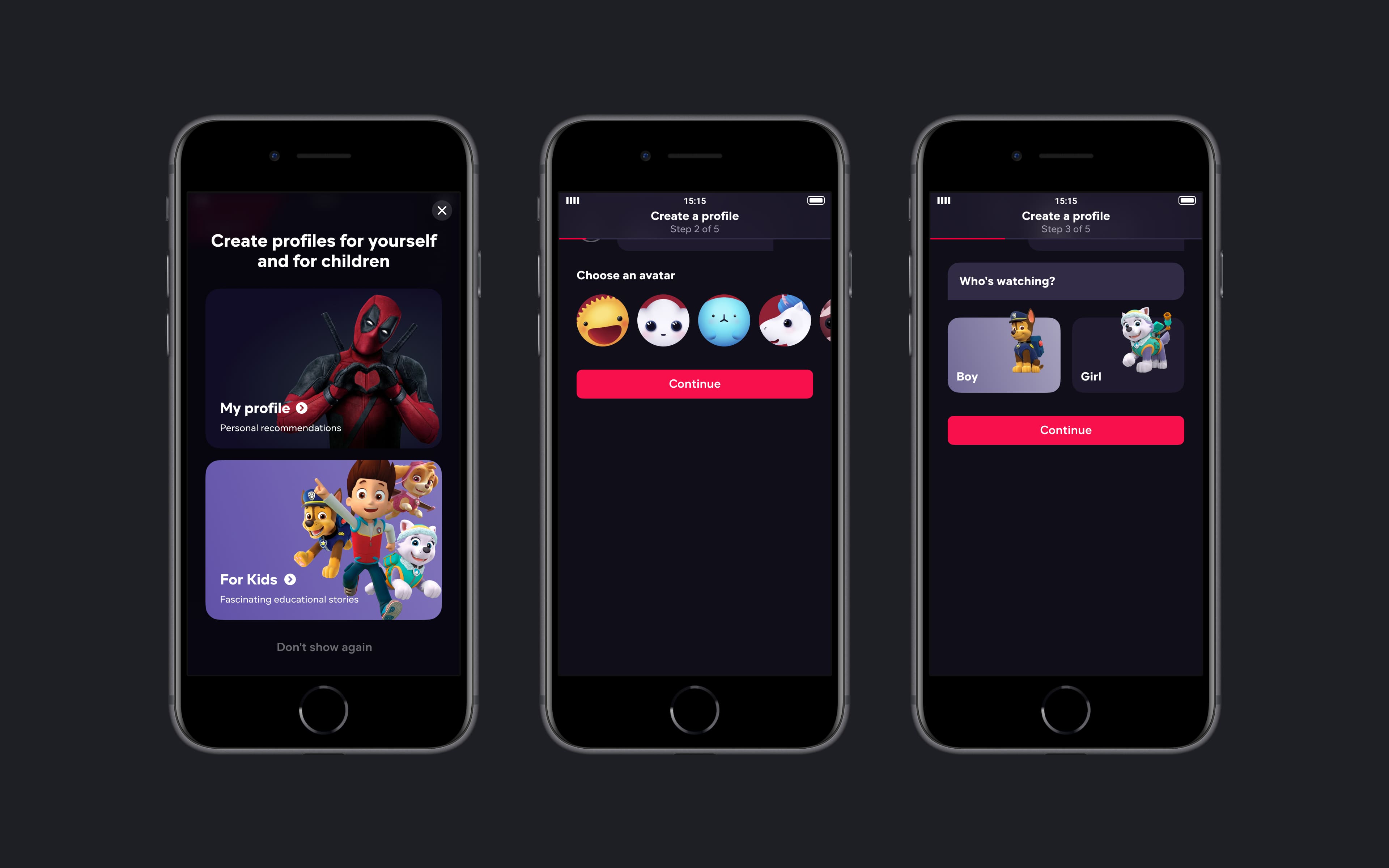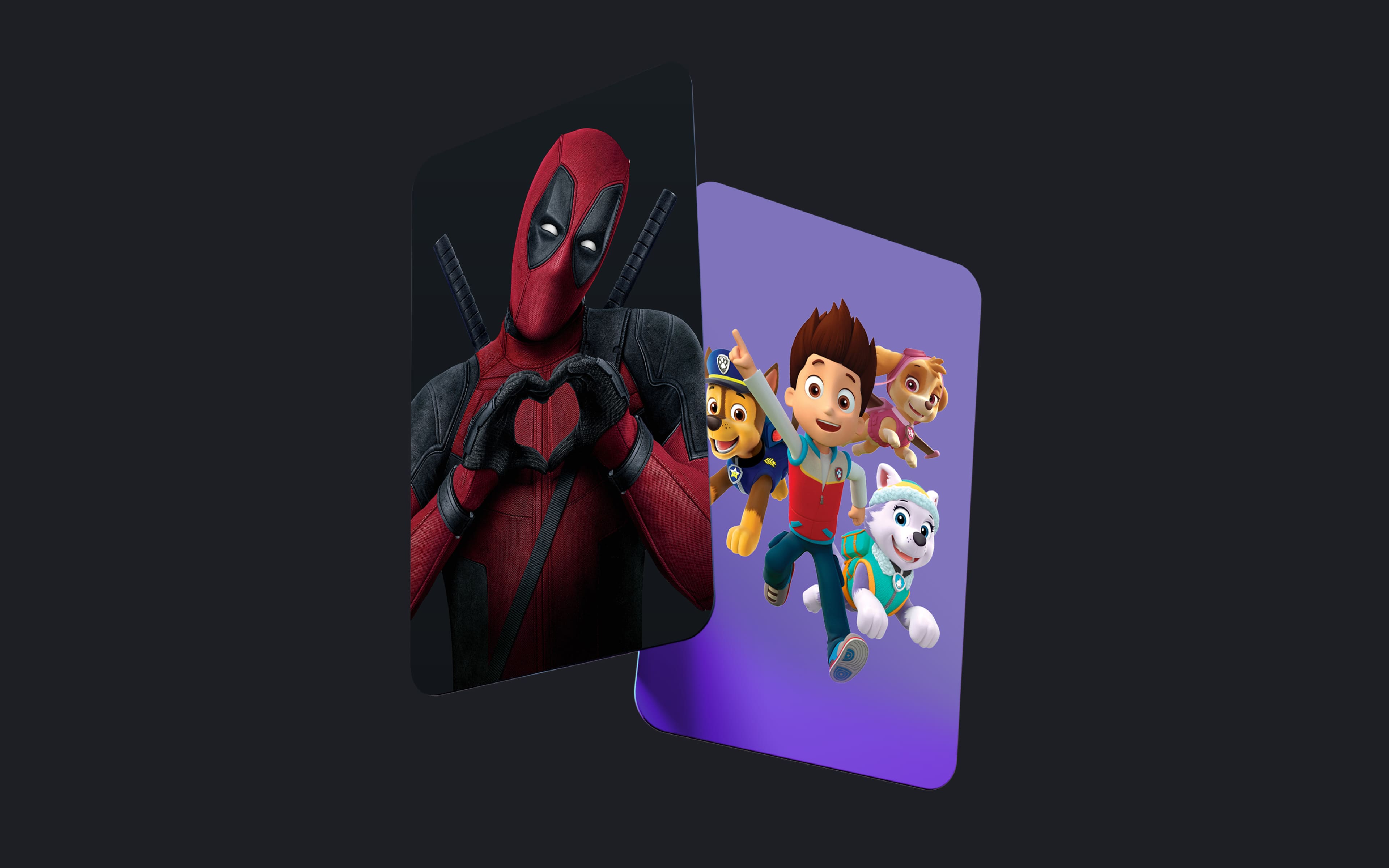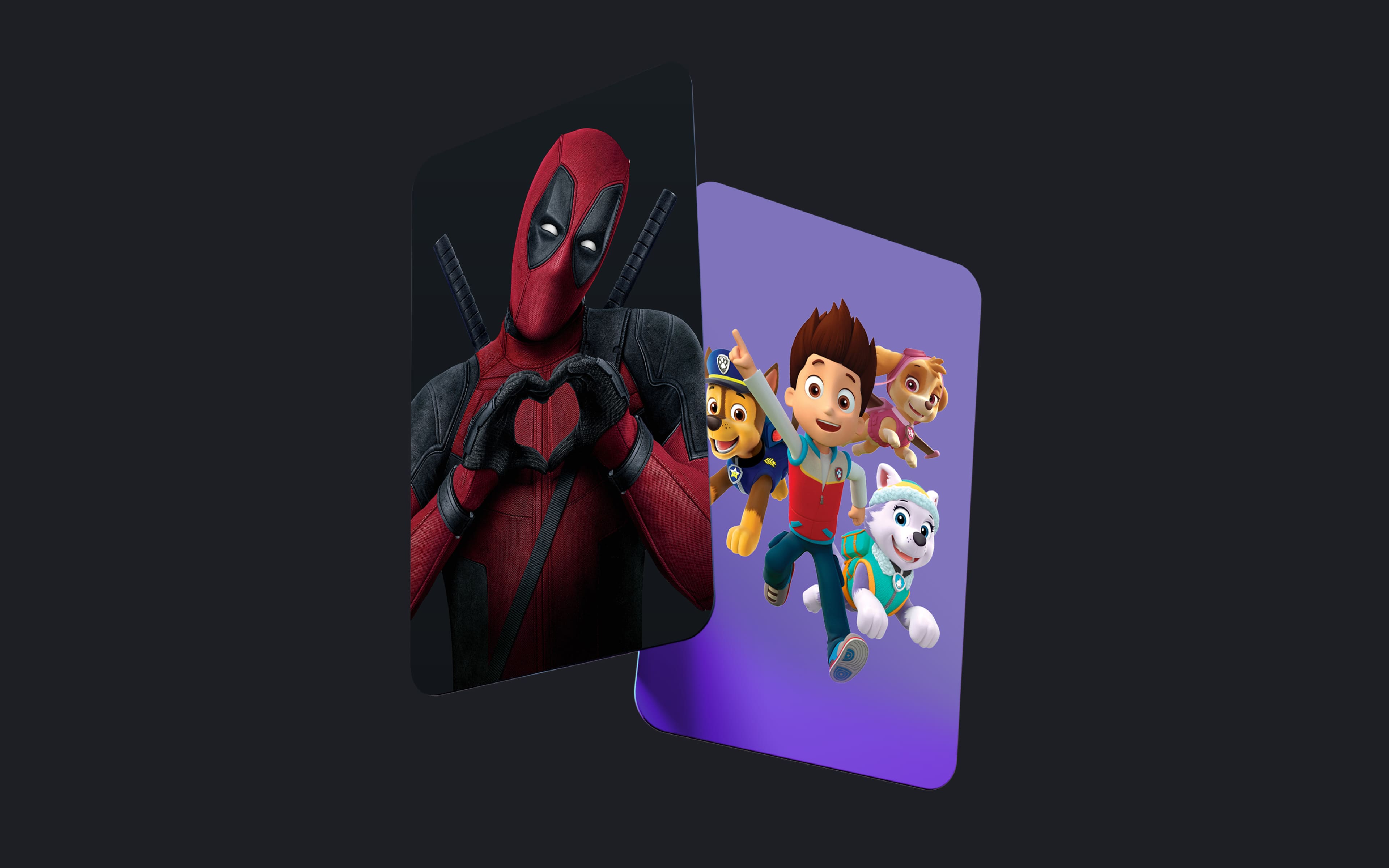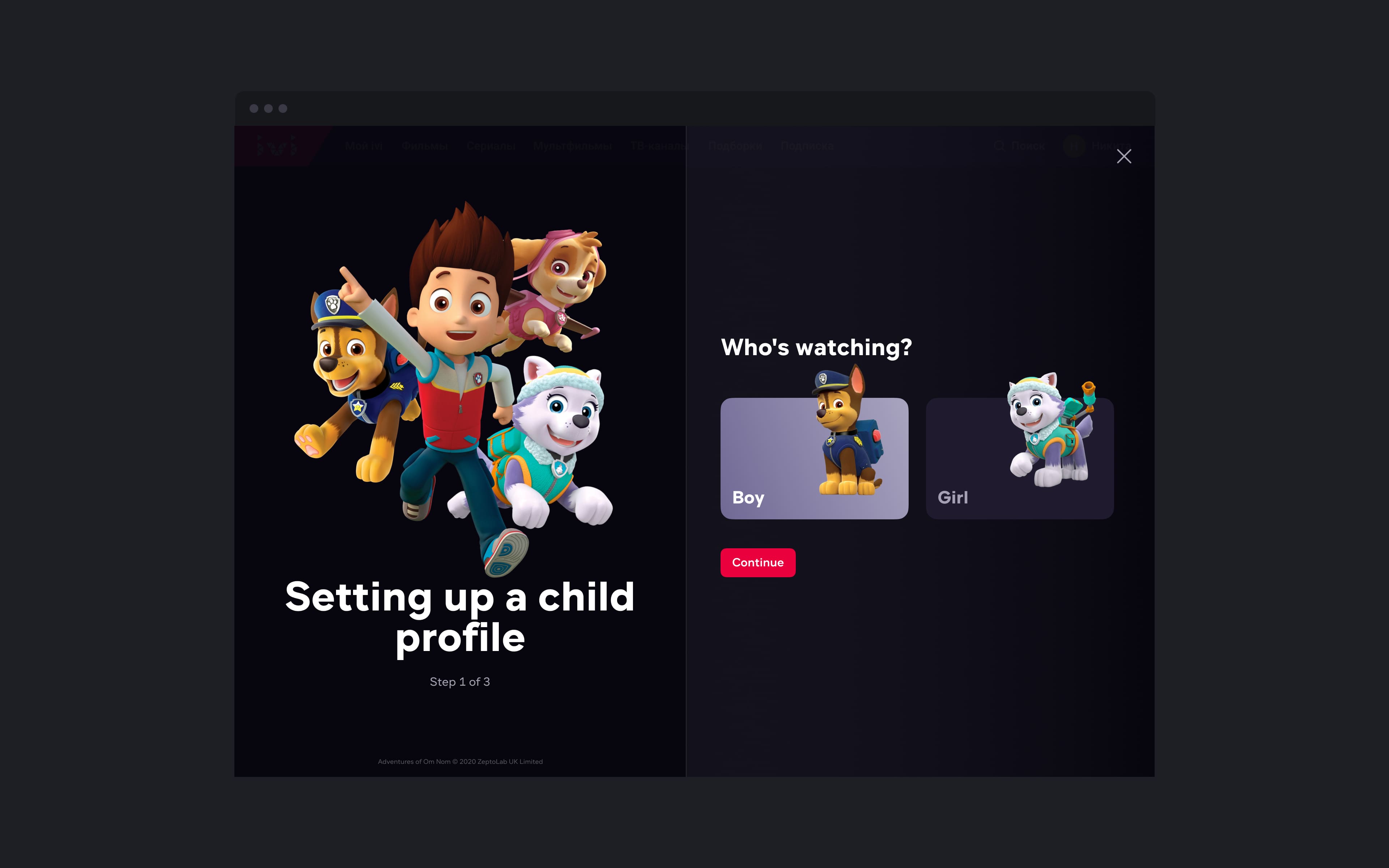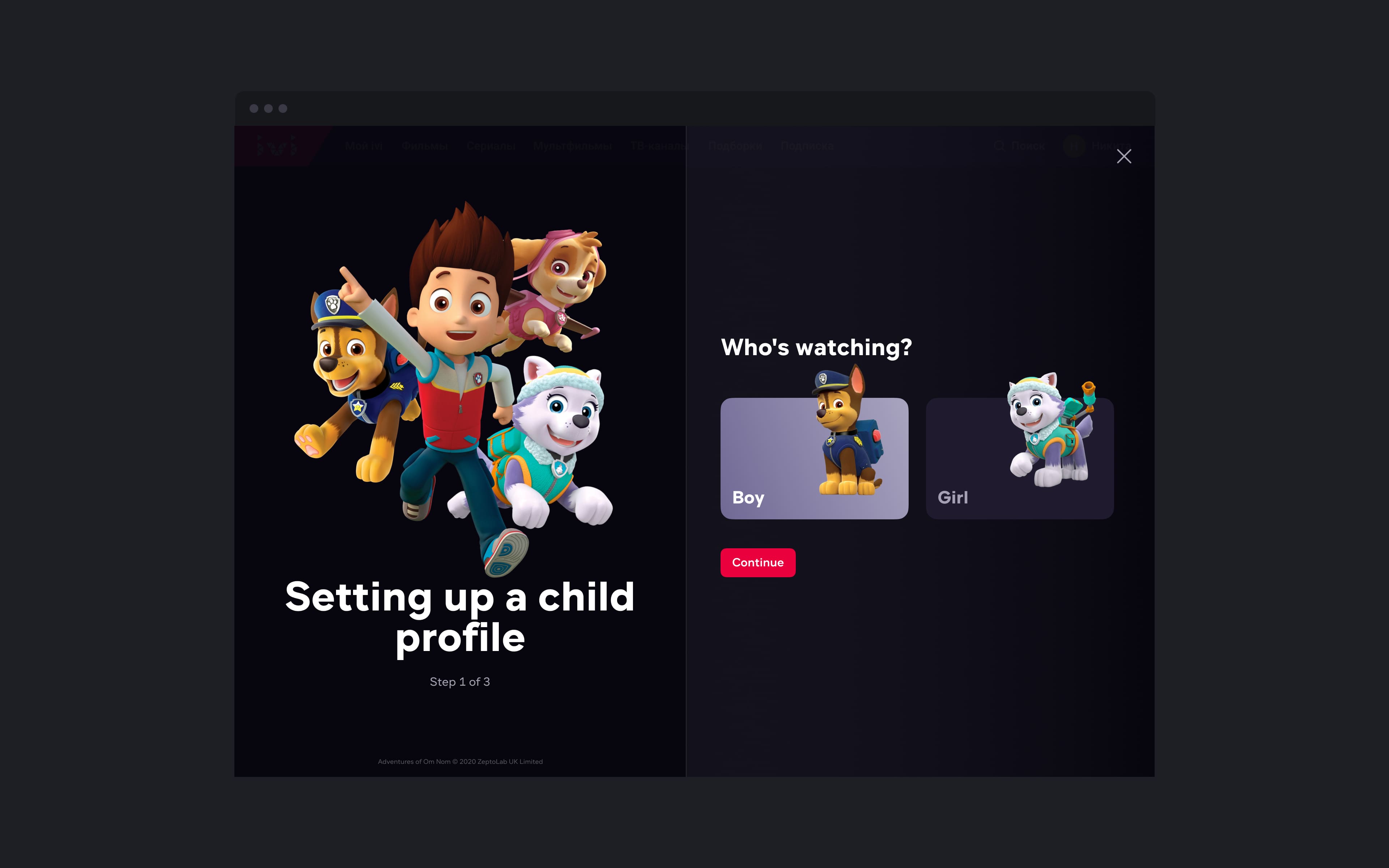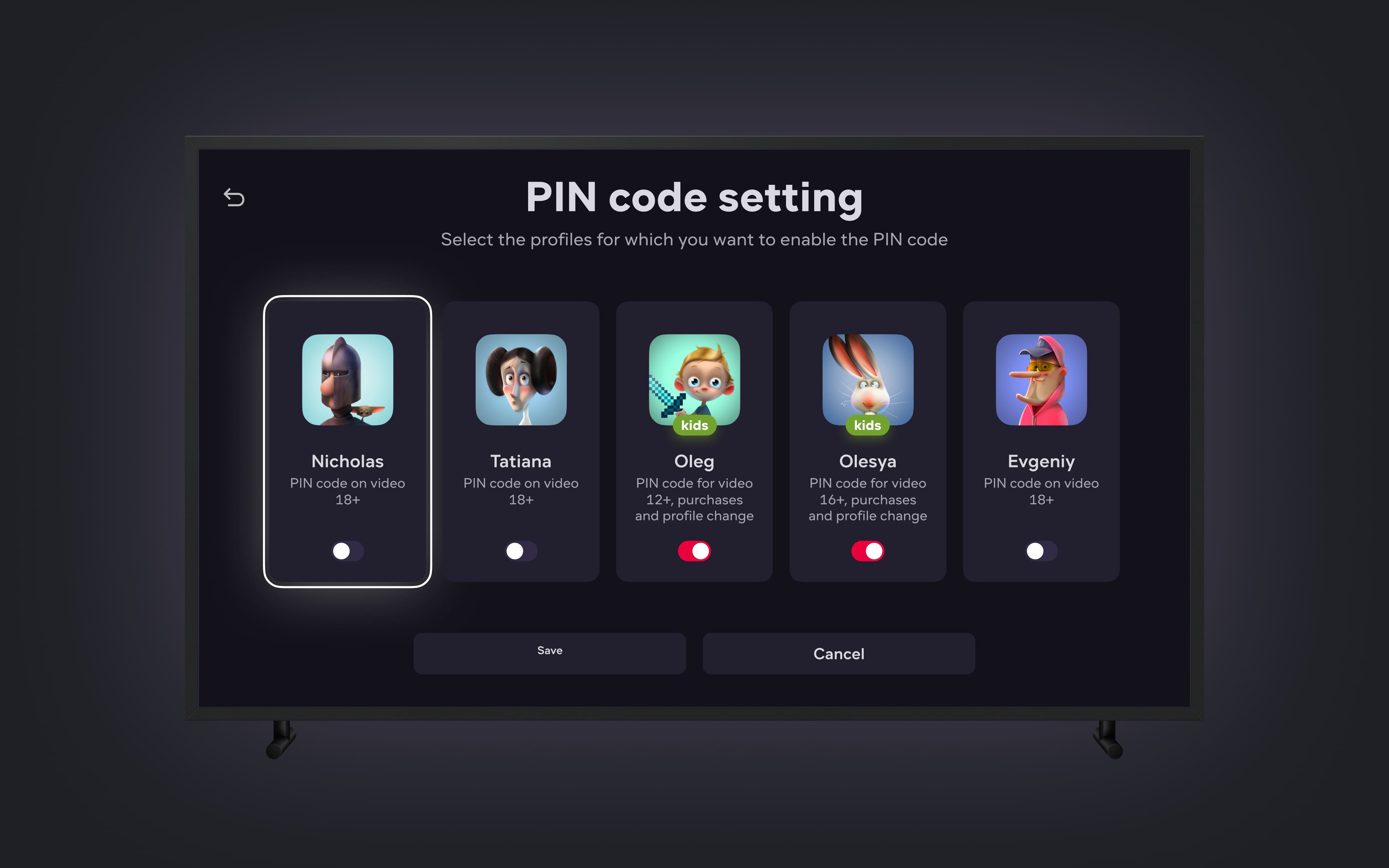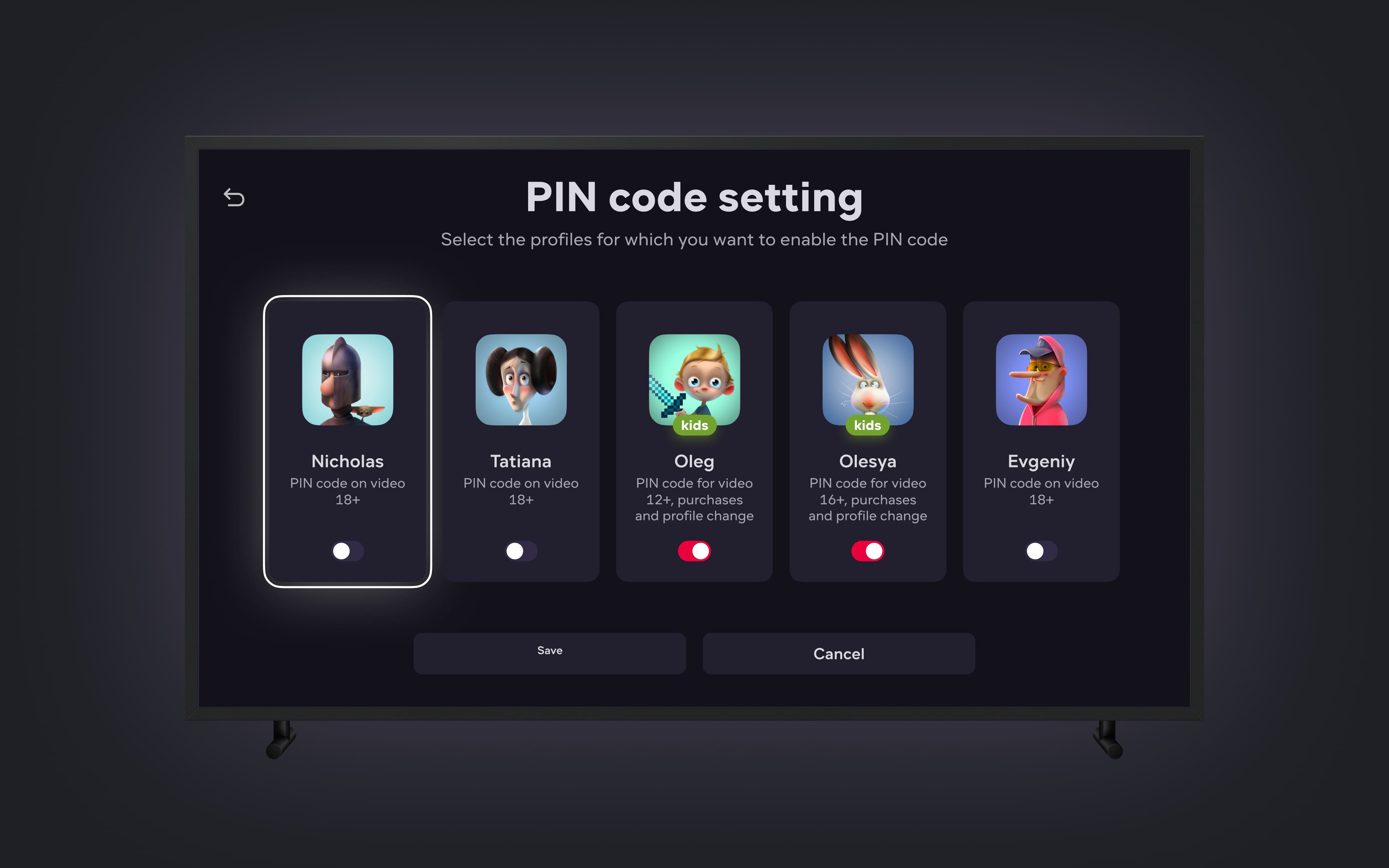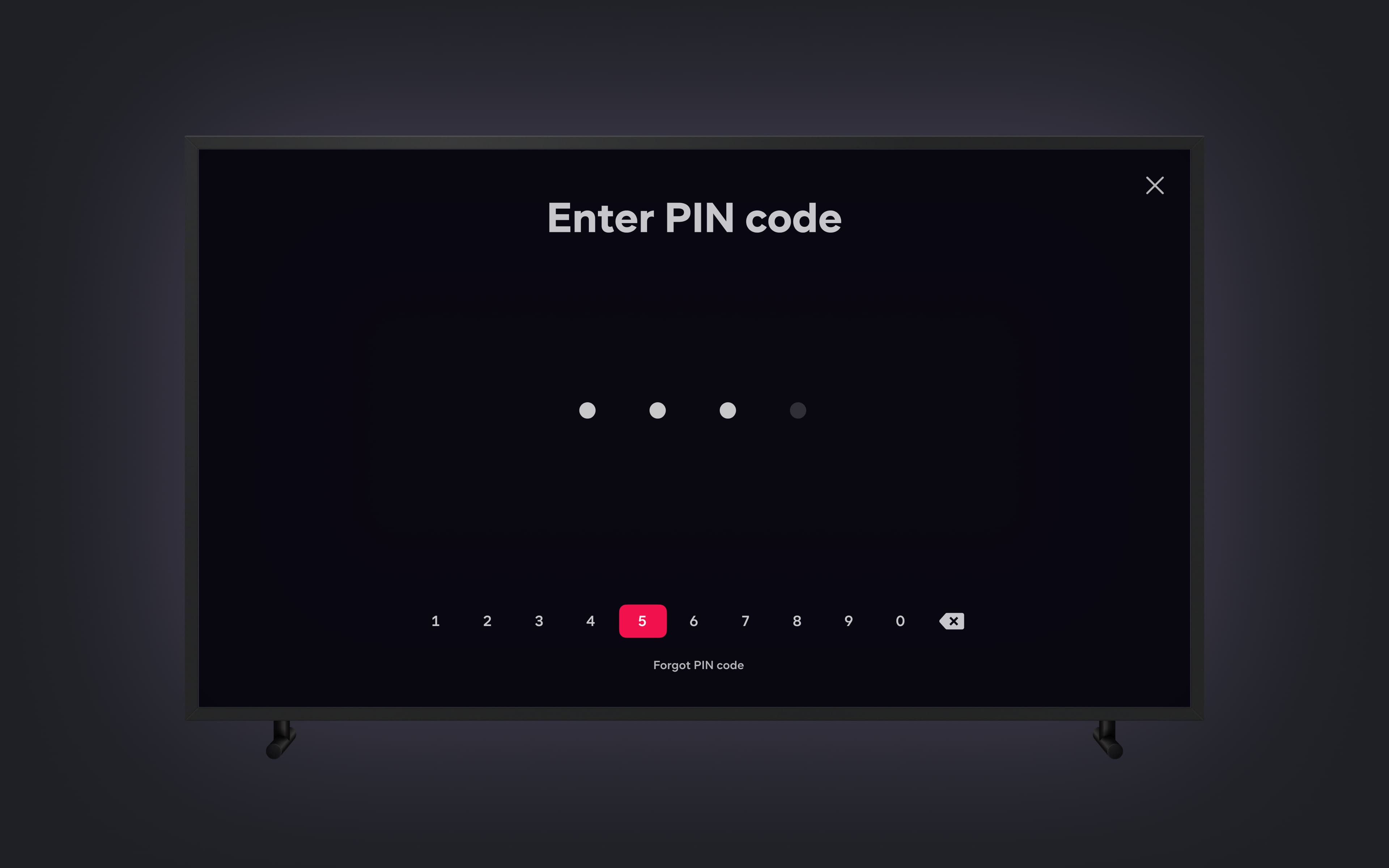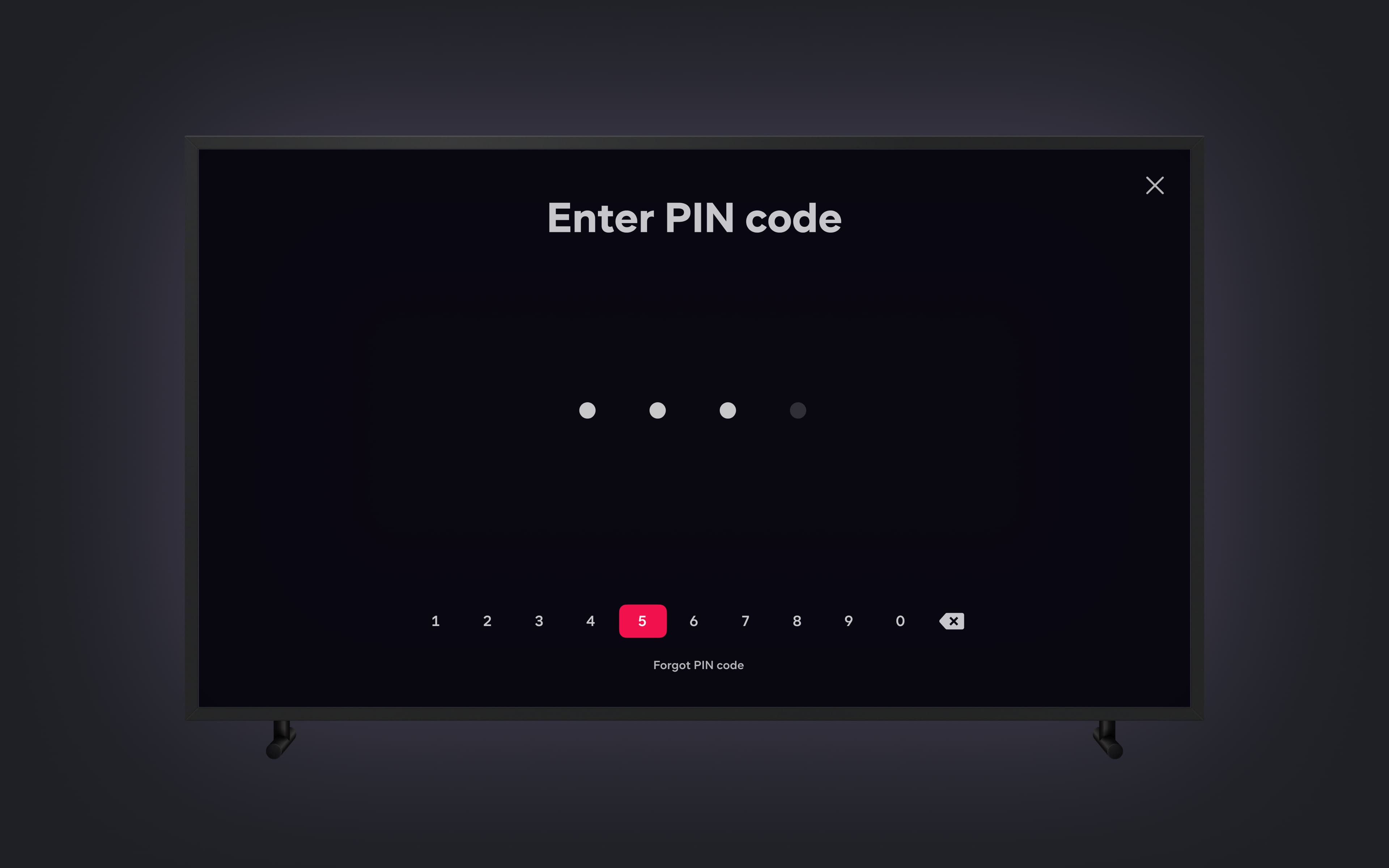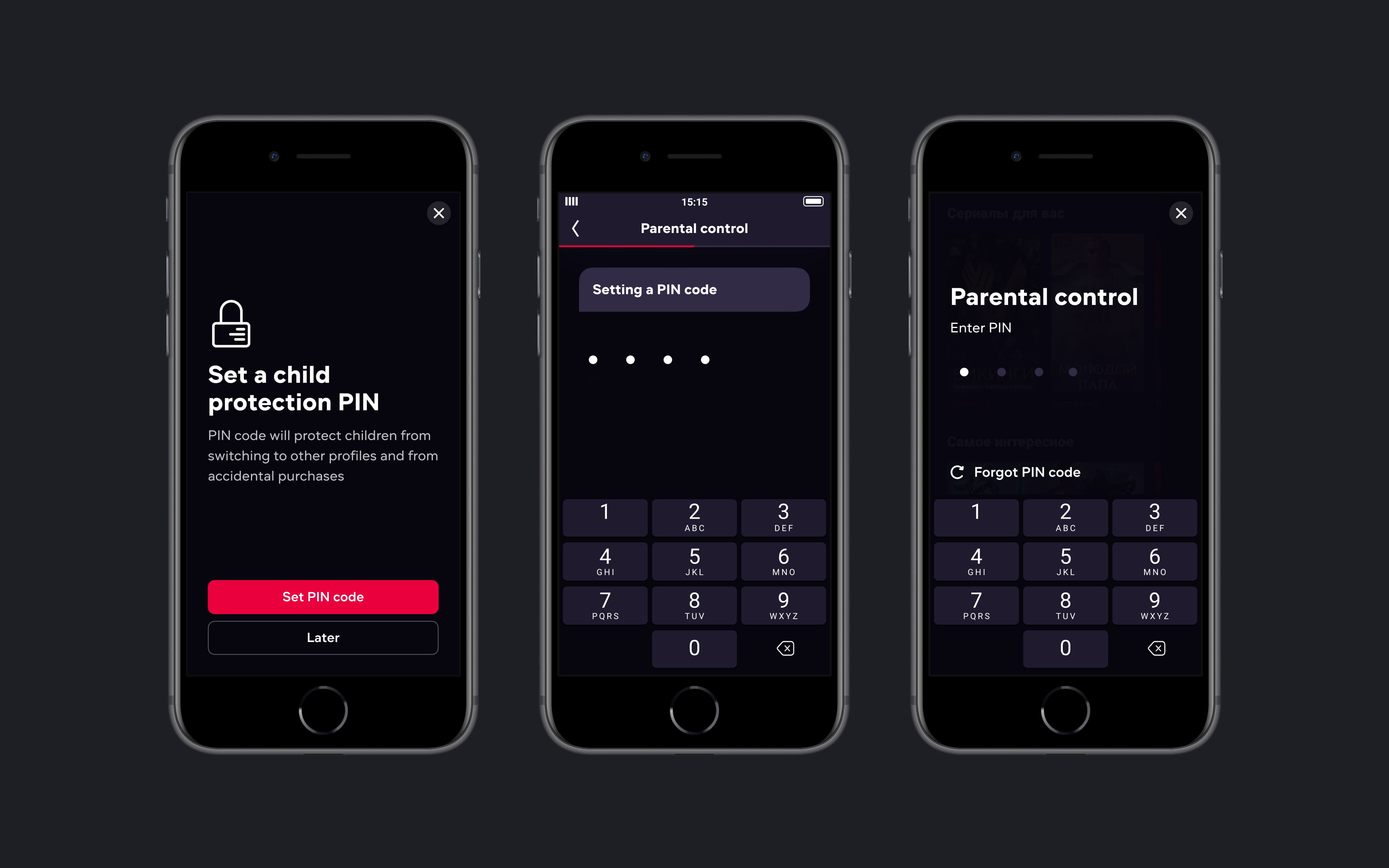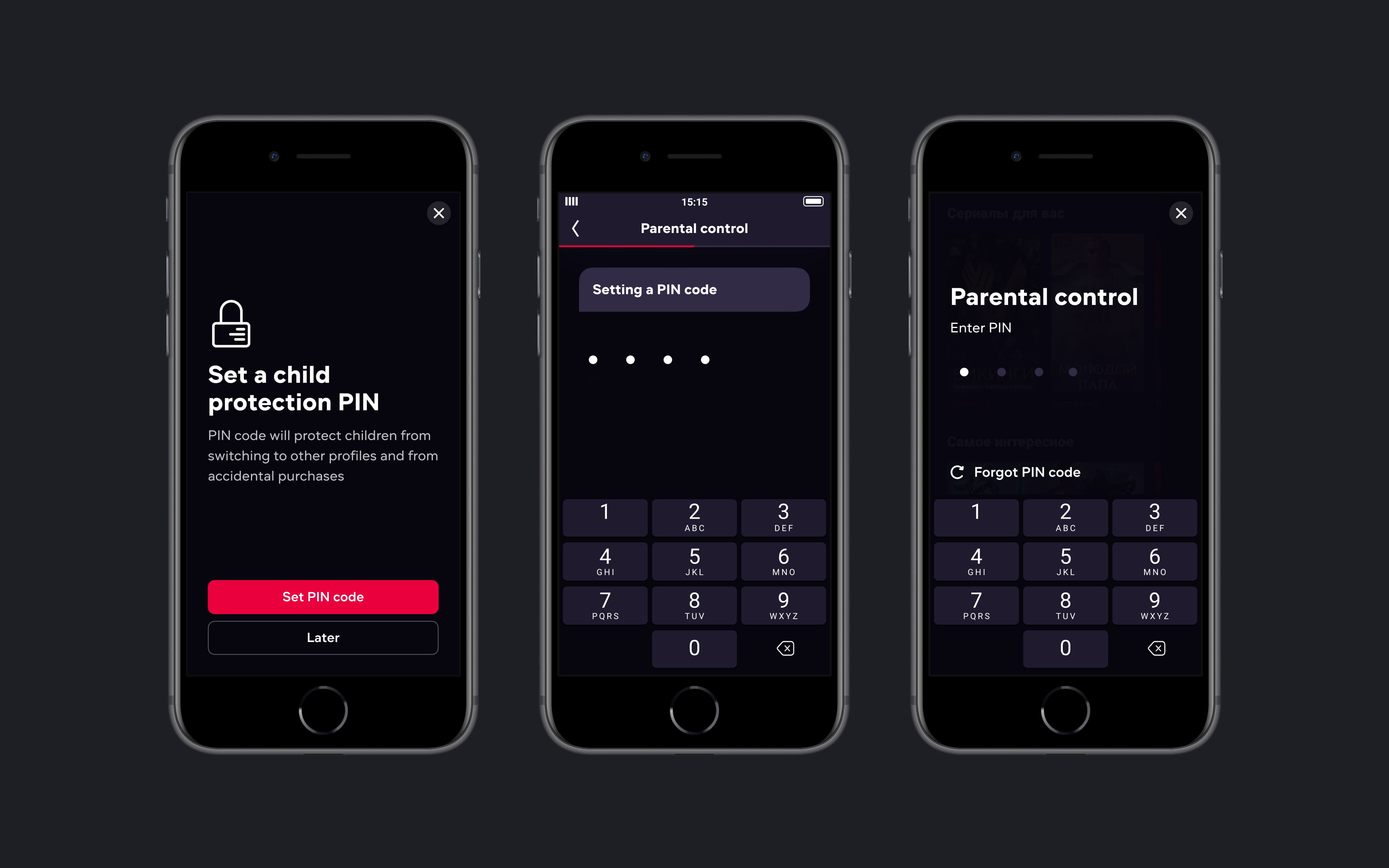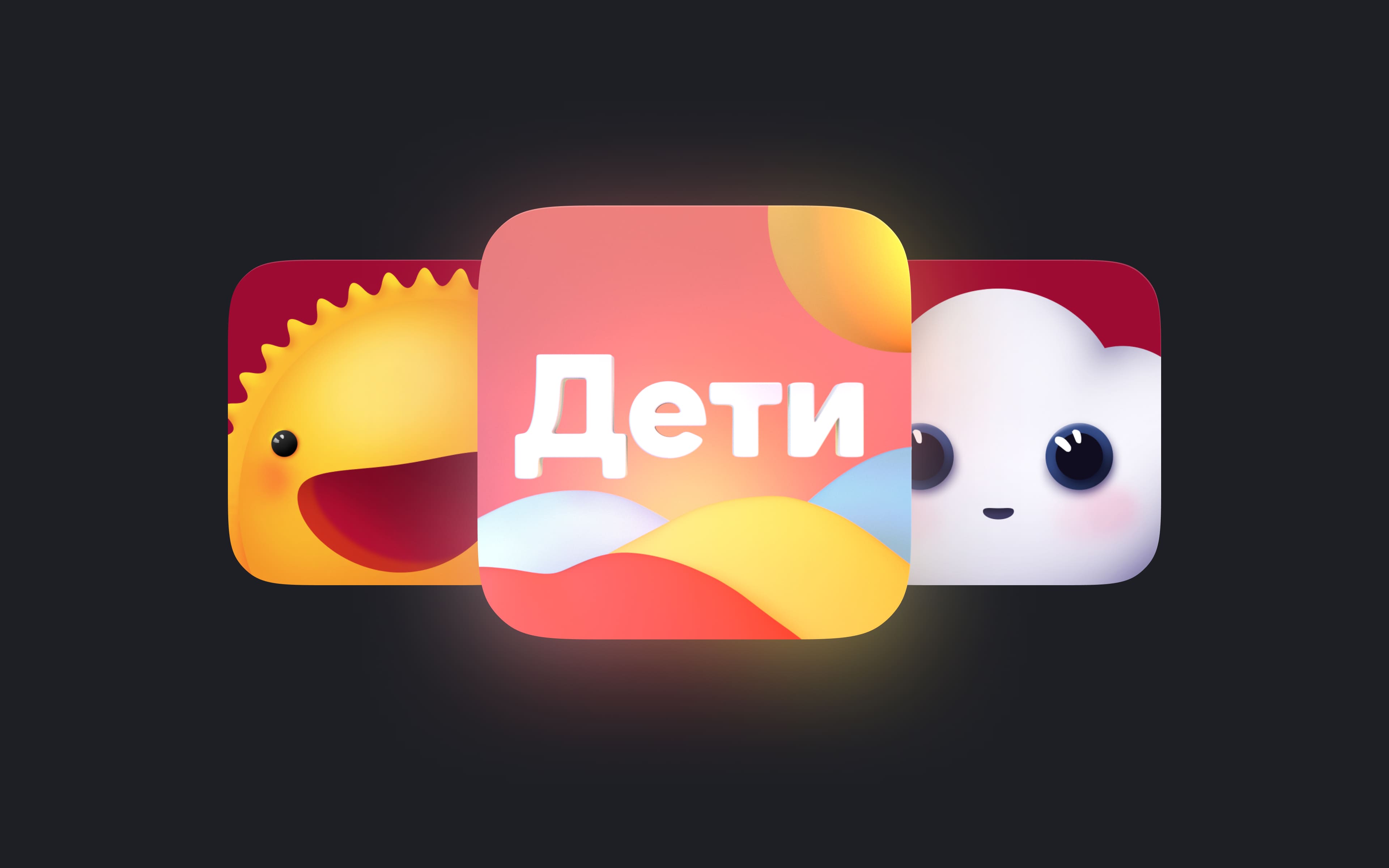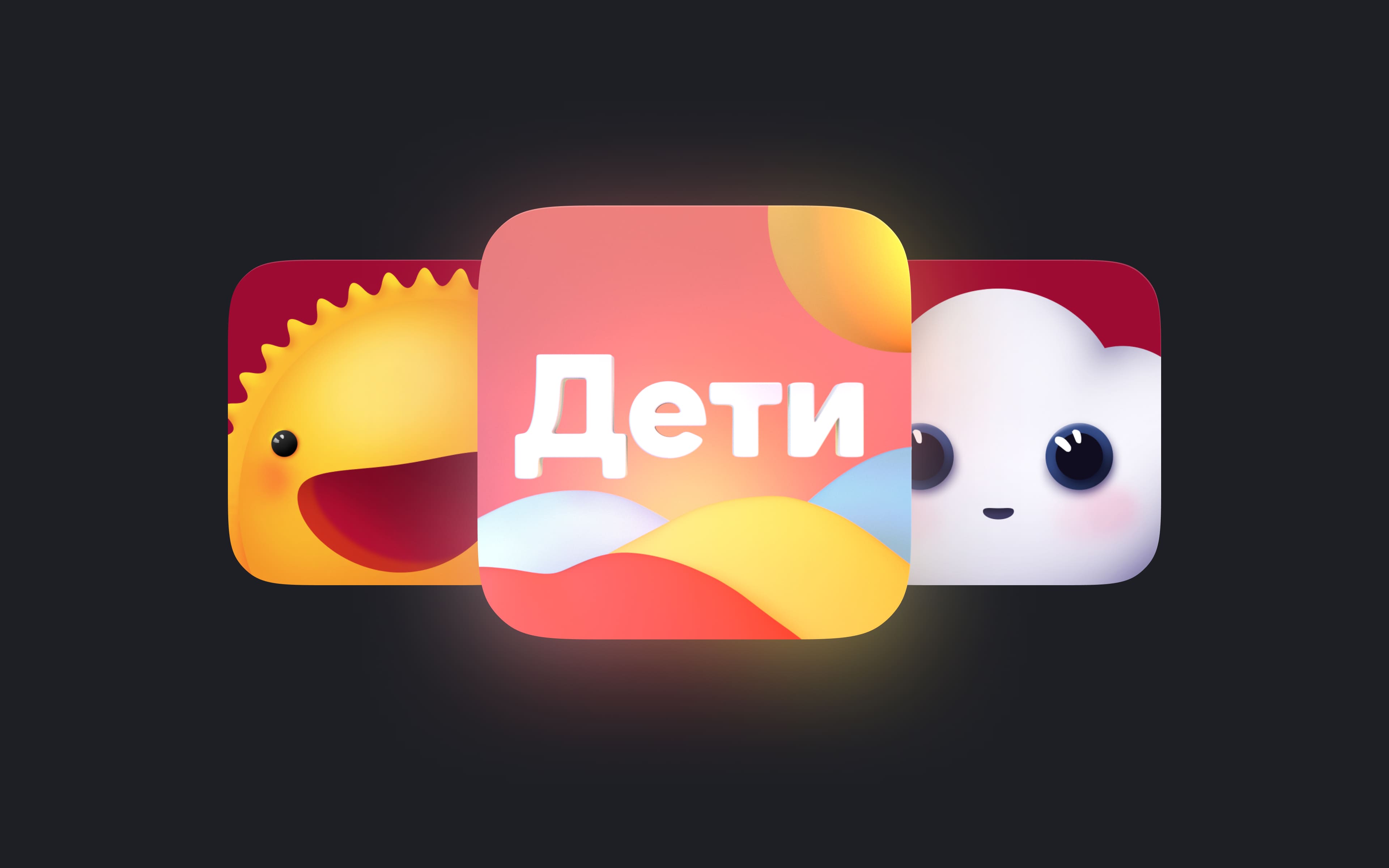 IVI has a magazine with publications of news and interesting posts about movies and series. It exists standalone from the main product. We had the hypothesis that if we transfer it partly inside the product, then we could grow the conversion to the trial and purchases from users. We did it. Conversion increased by 110%. We are going to develop this direction.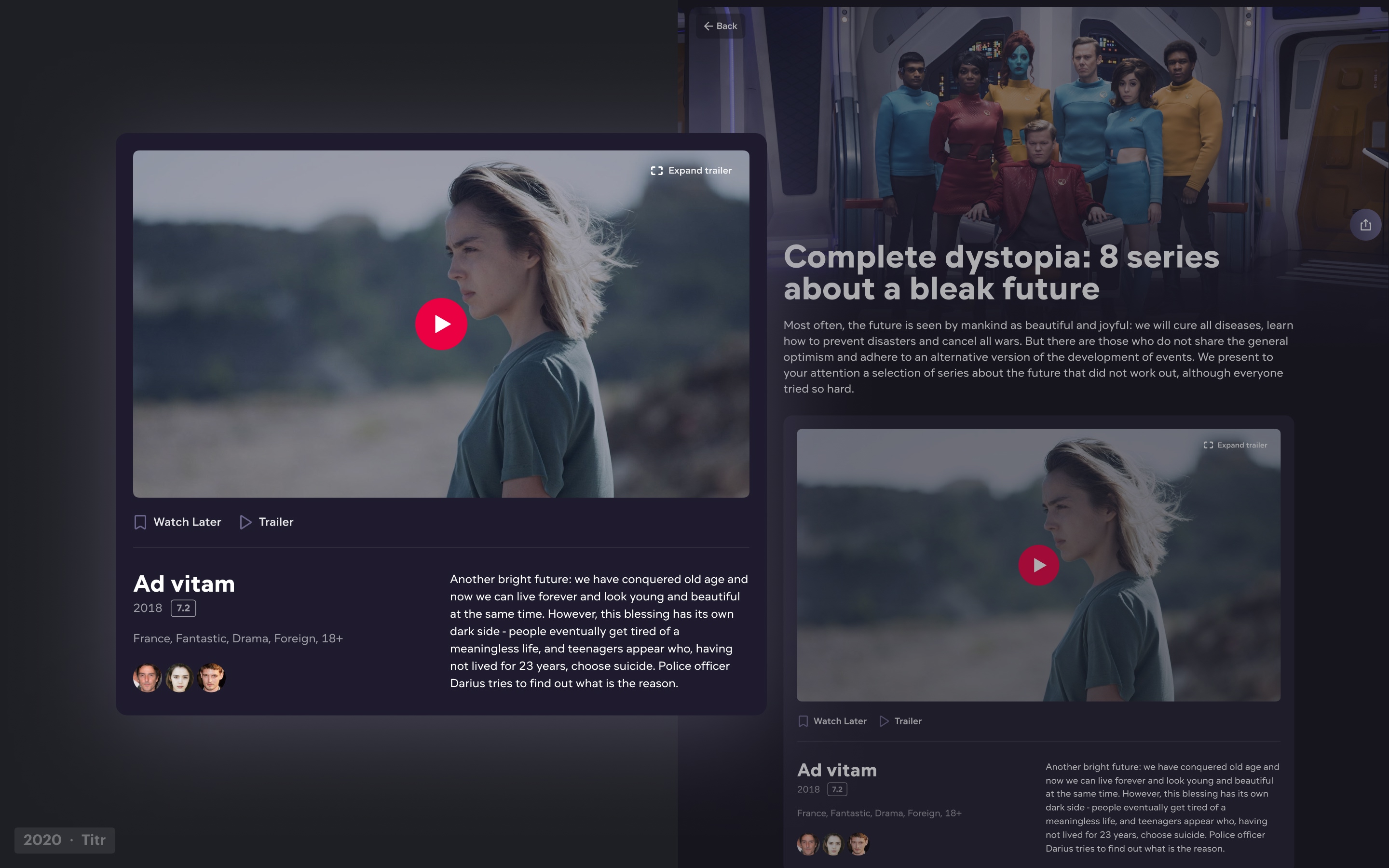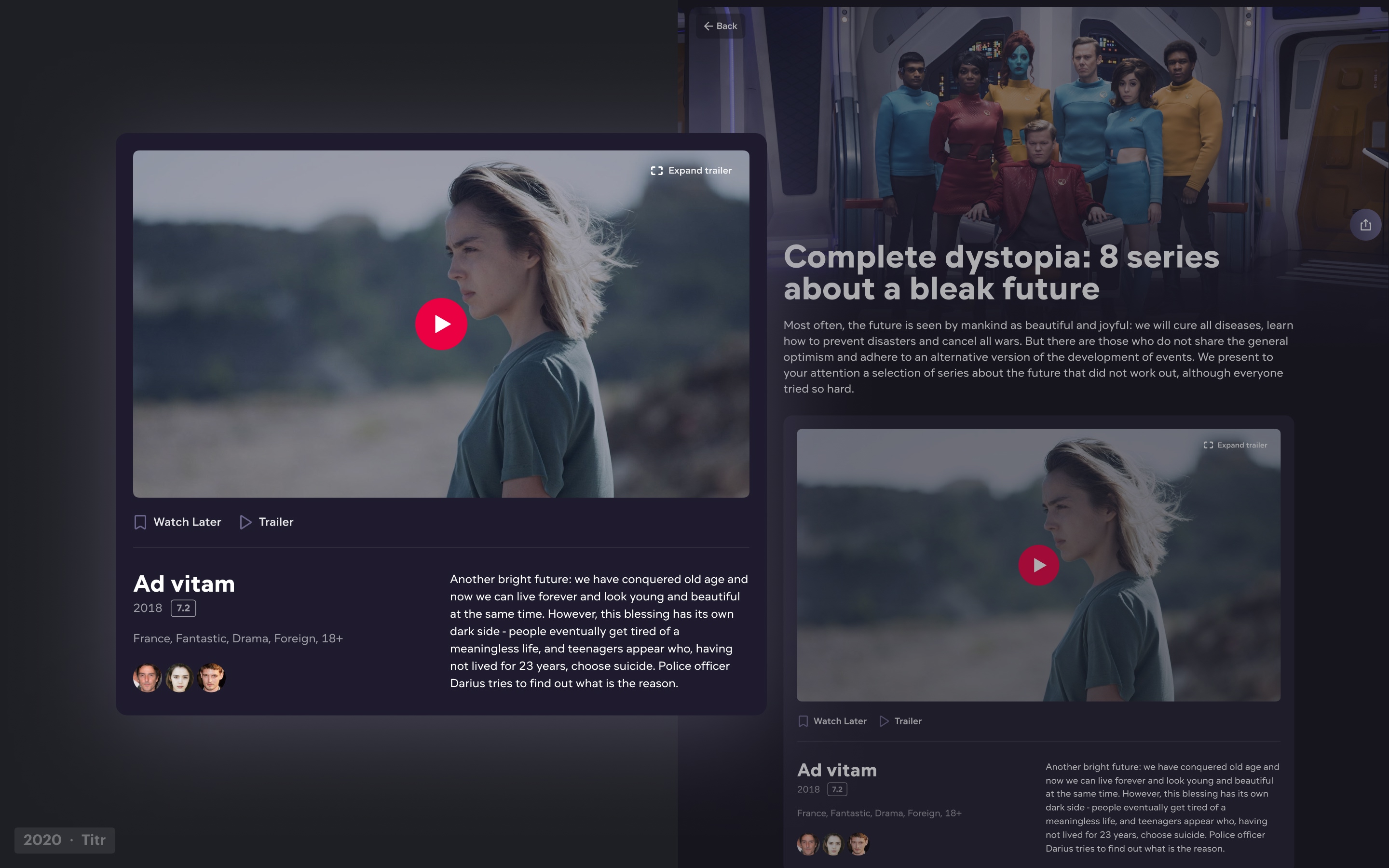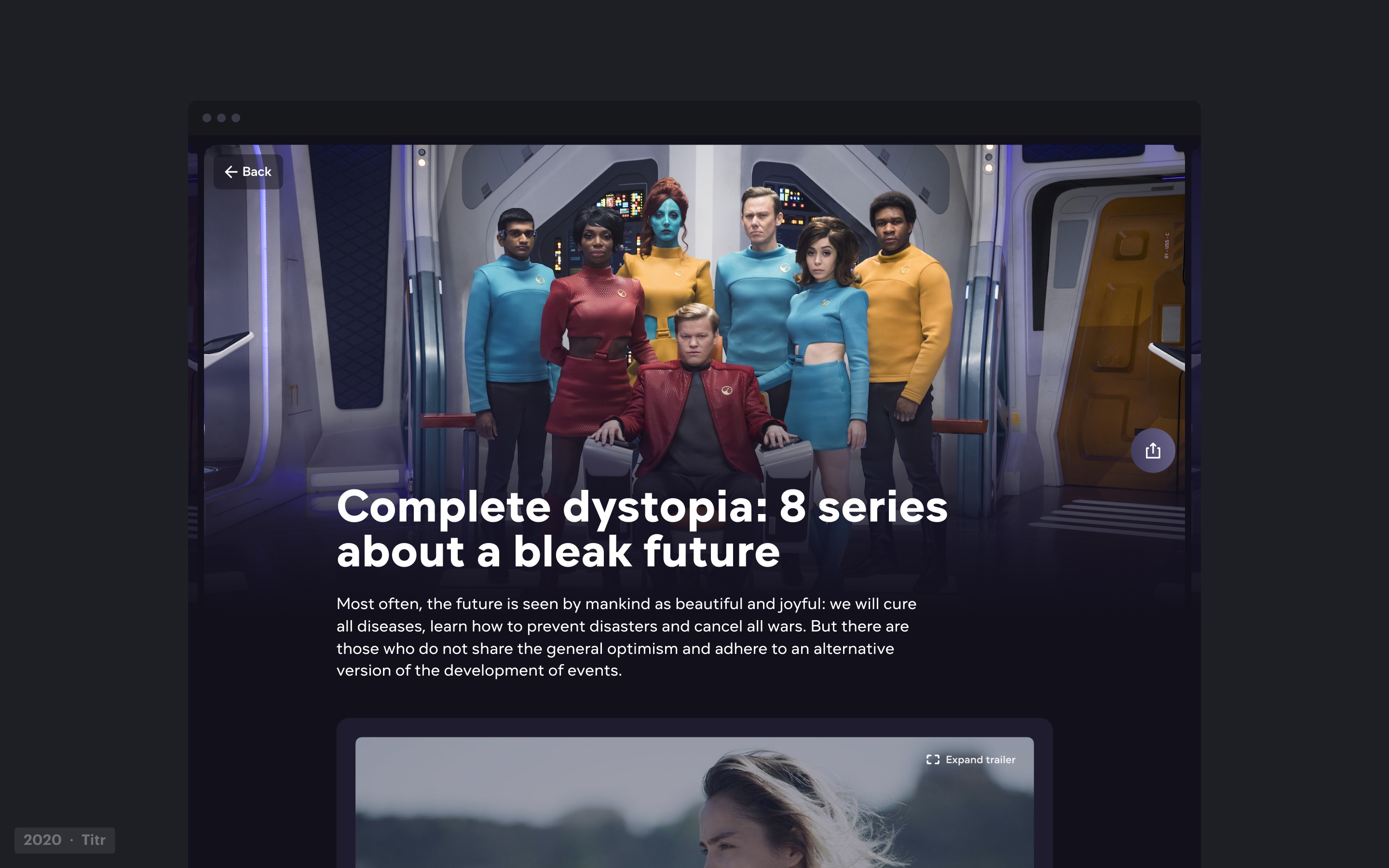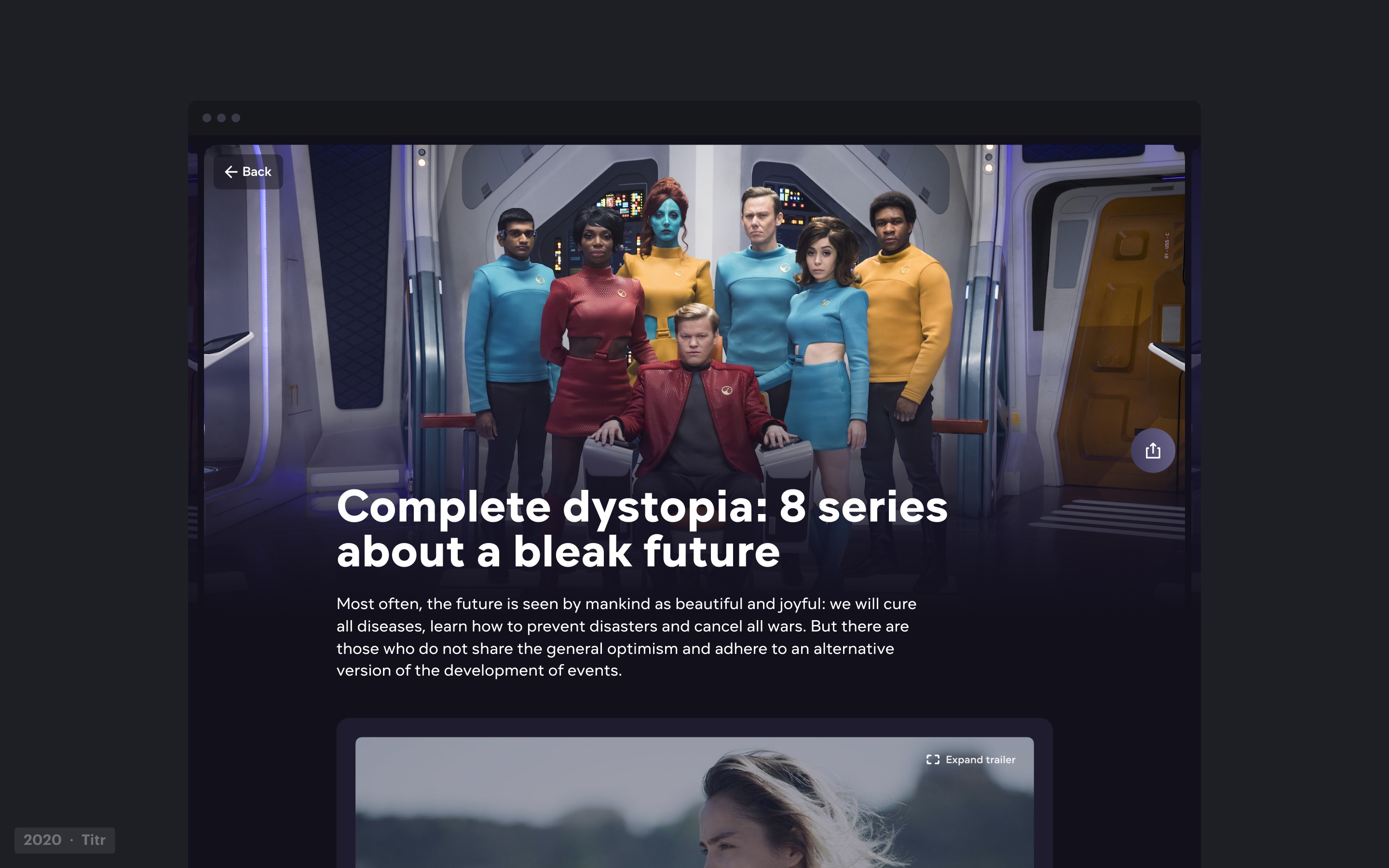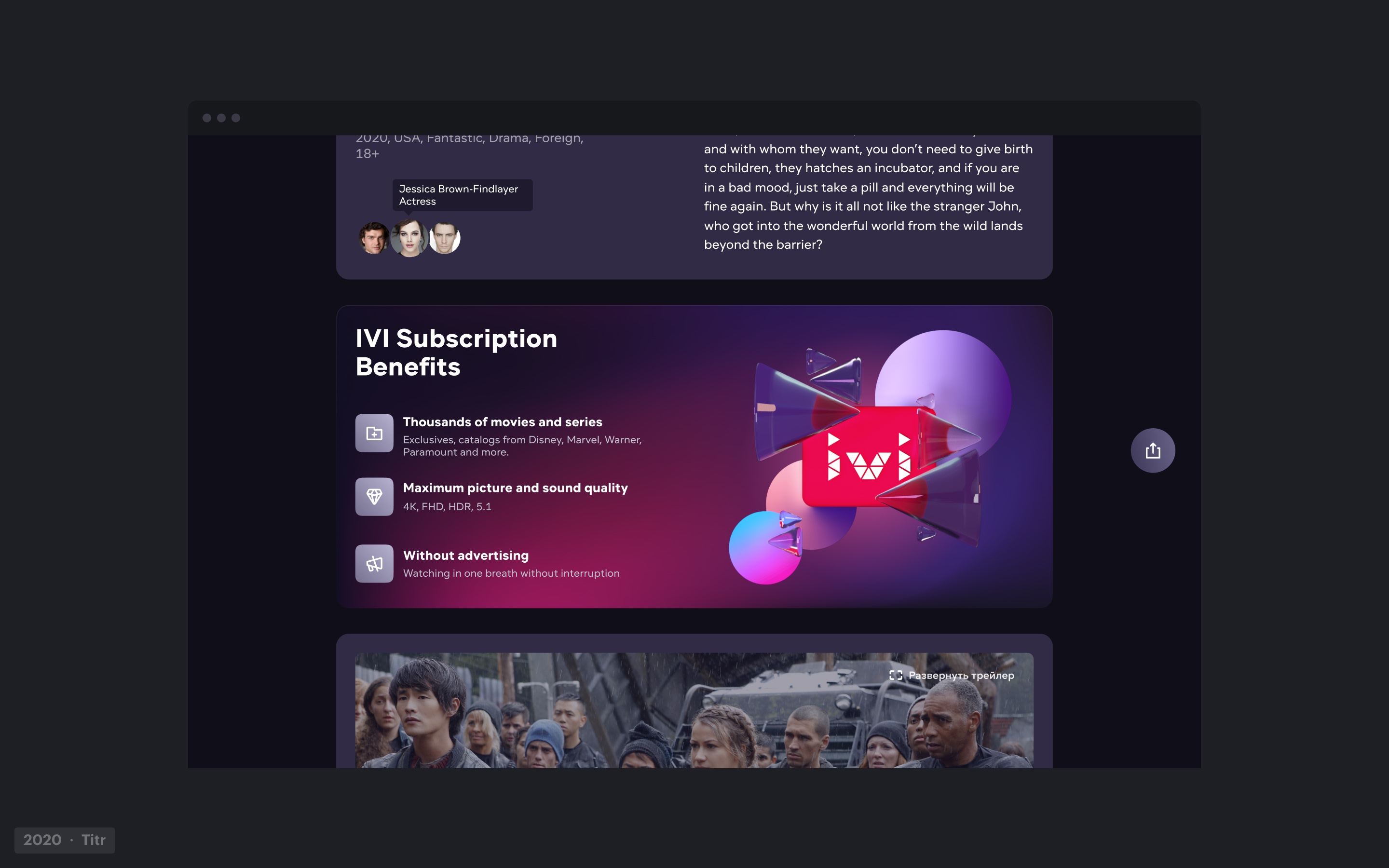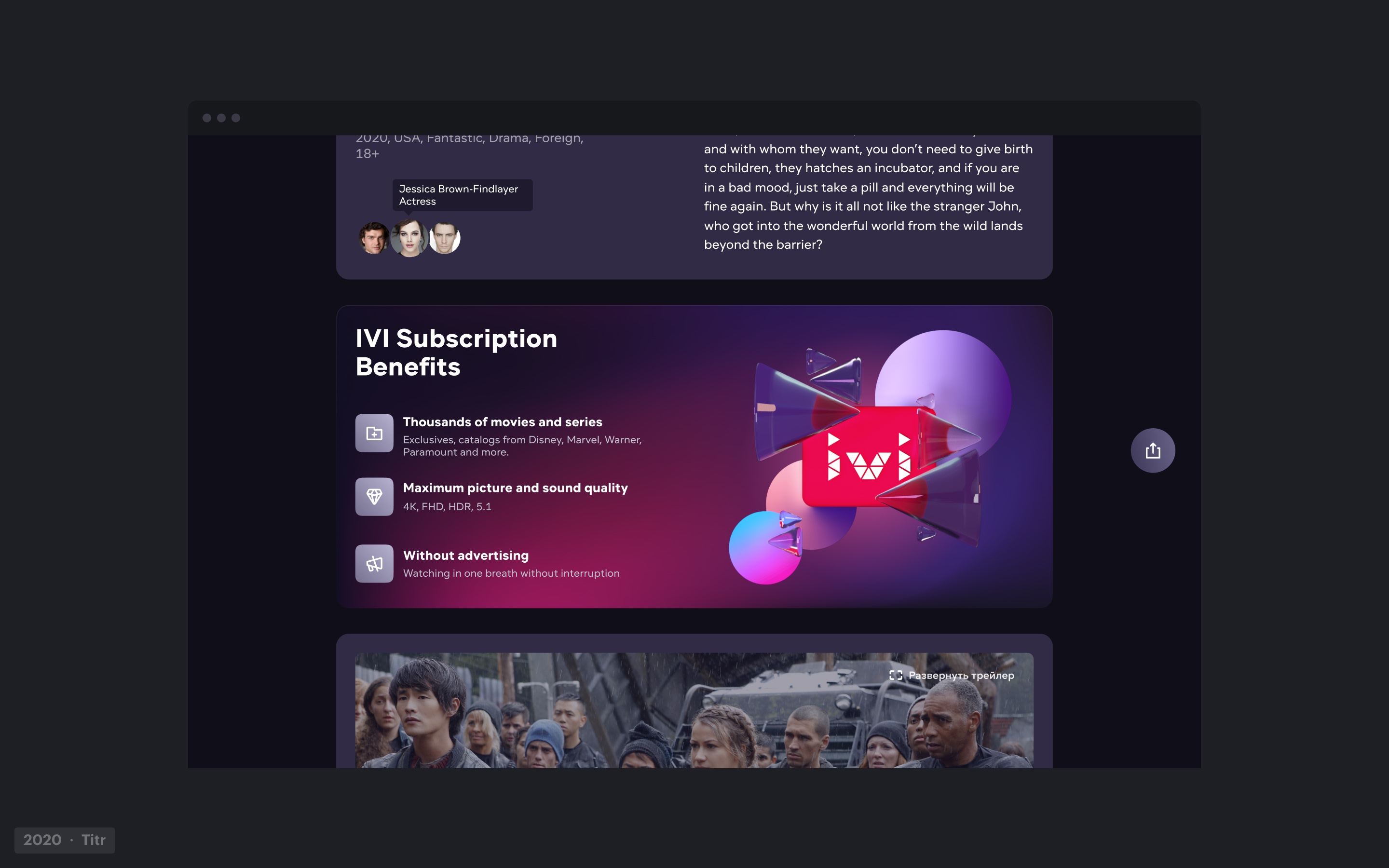 SECOND SCREEN FOR A VIDEO PLAYER MANAGING. CONCEPT July 2020
Simple concept — to allow users to manage video player on the Smart TV from a smartphone. Firstly, it's beautiful. Secondly, it's convenient. It's much easier to search for movies and series on a smartphone. Search phrases can be entered faster, and pages can be switched easier. Additional feature — sharing a frame or piece of video on social networks.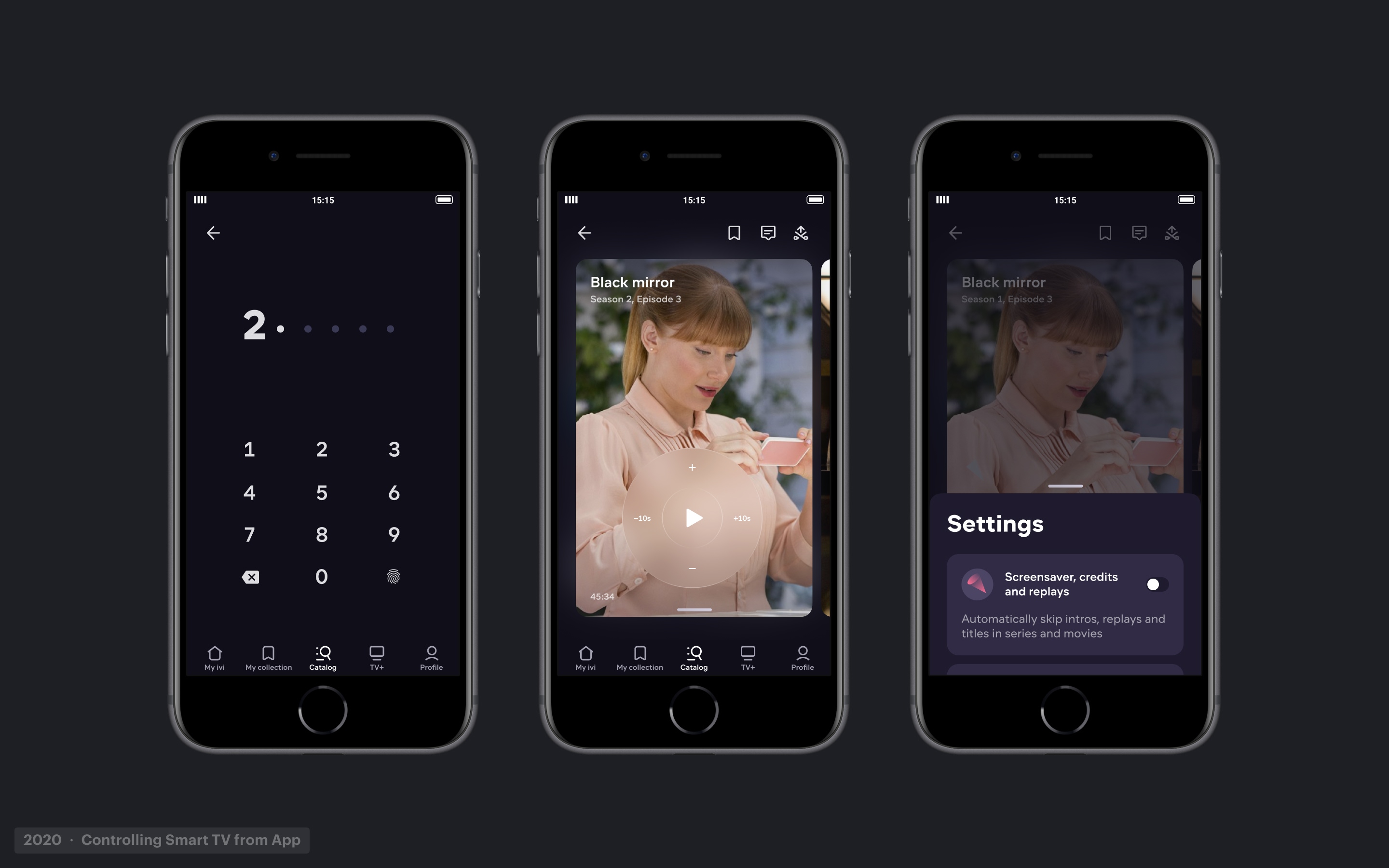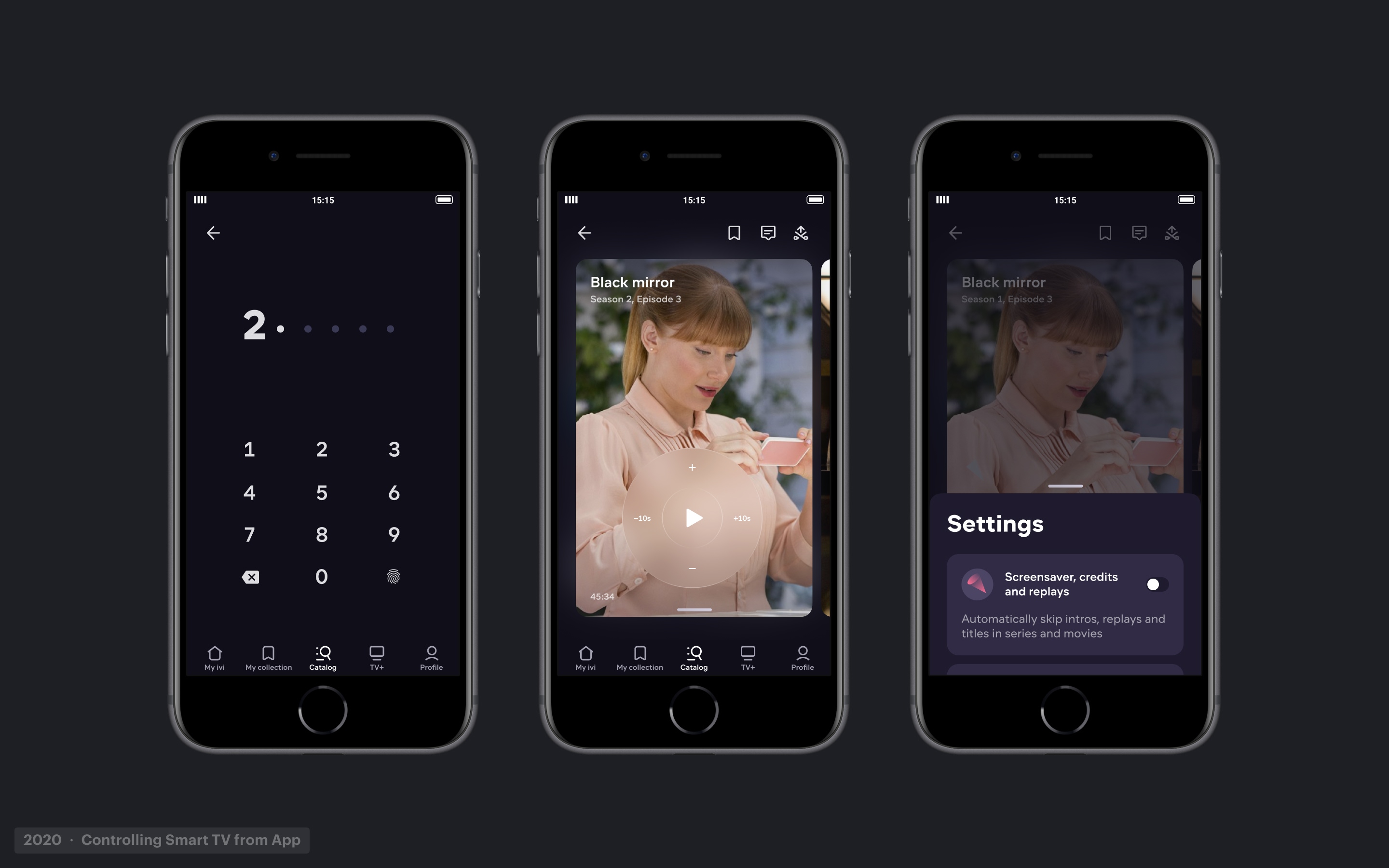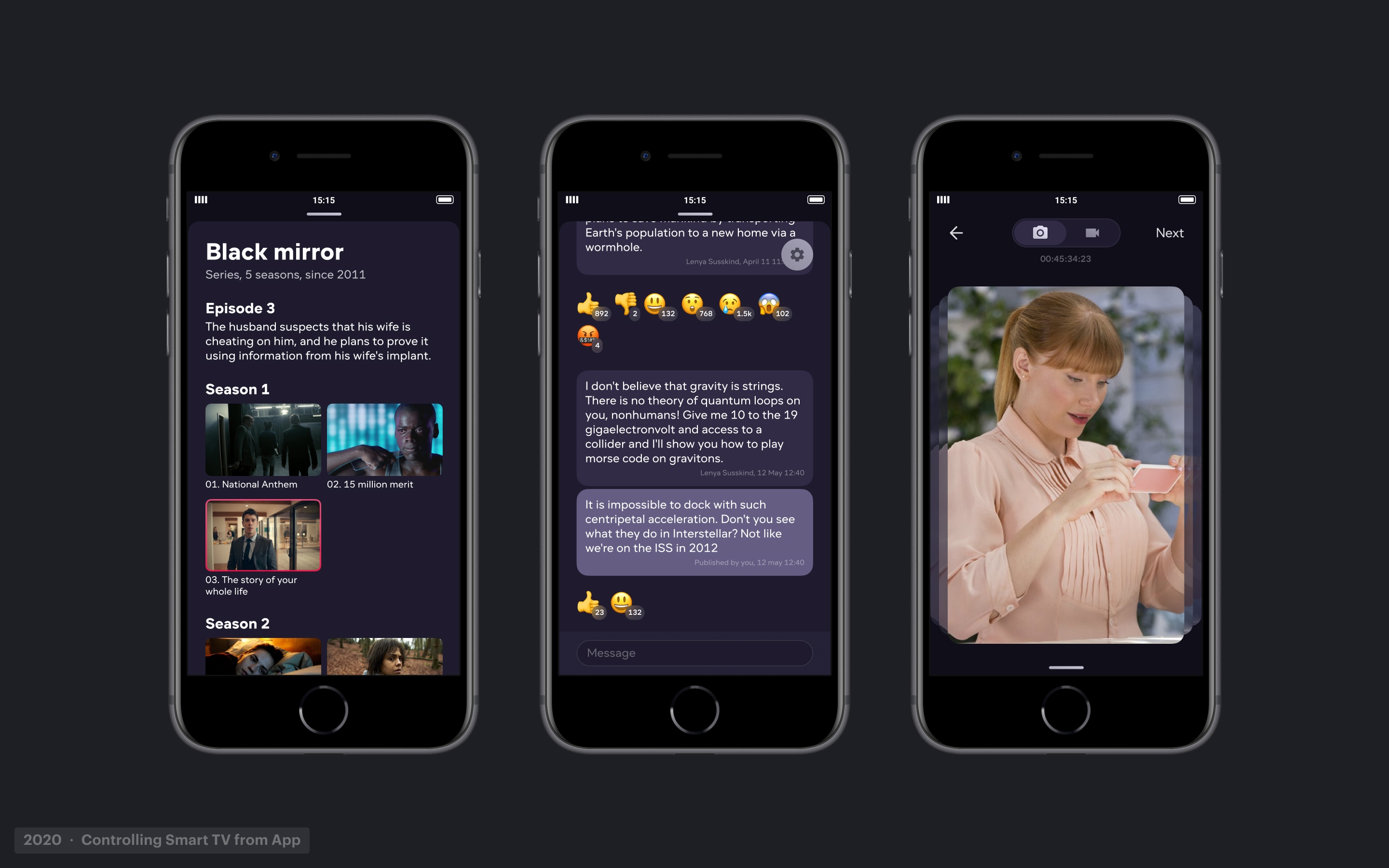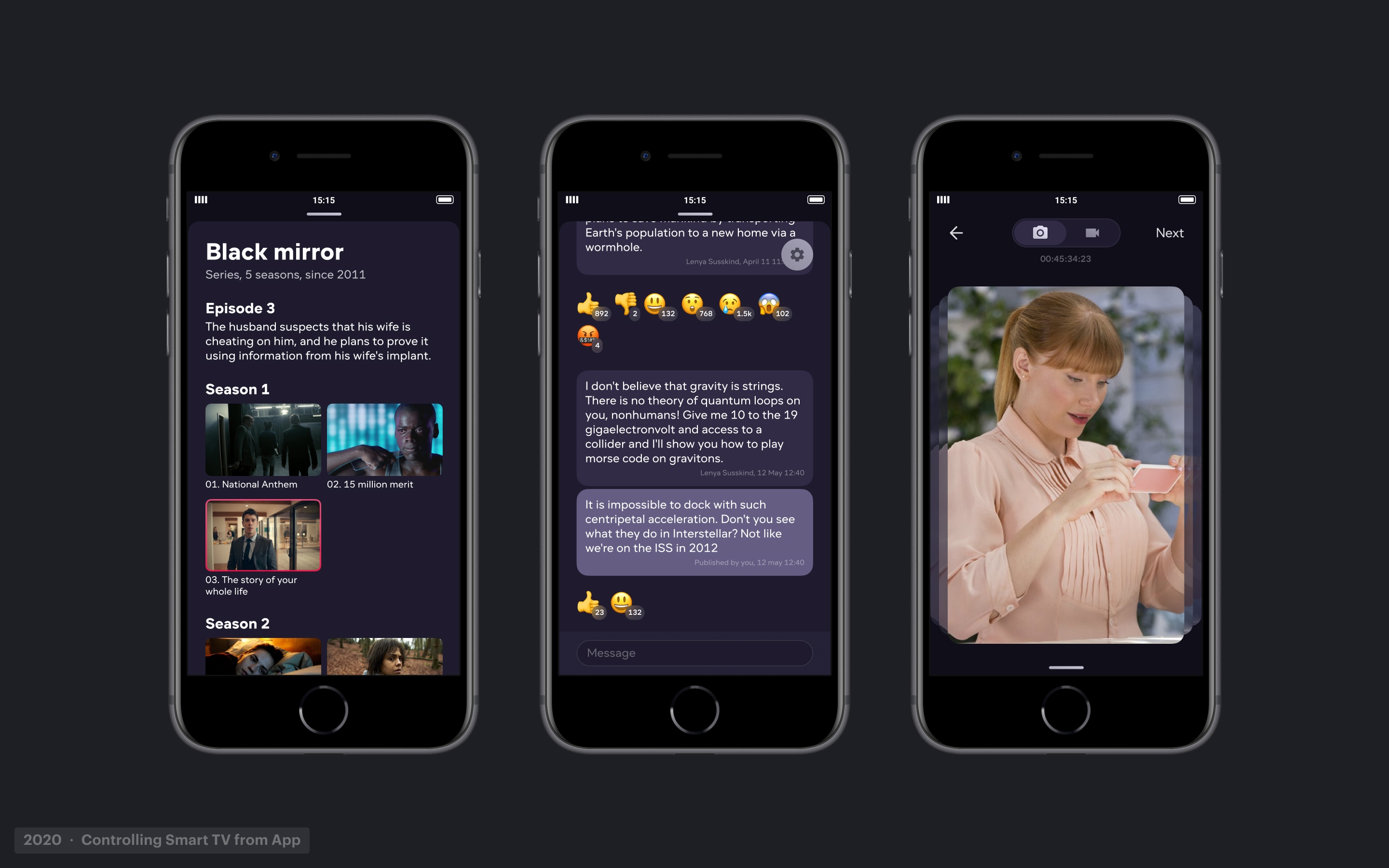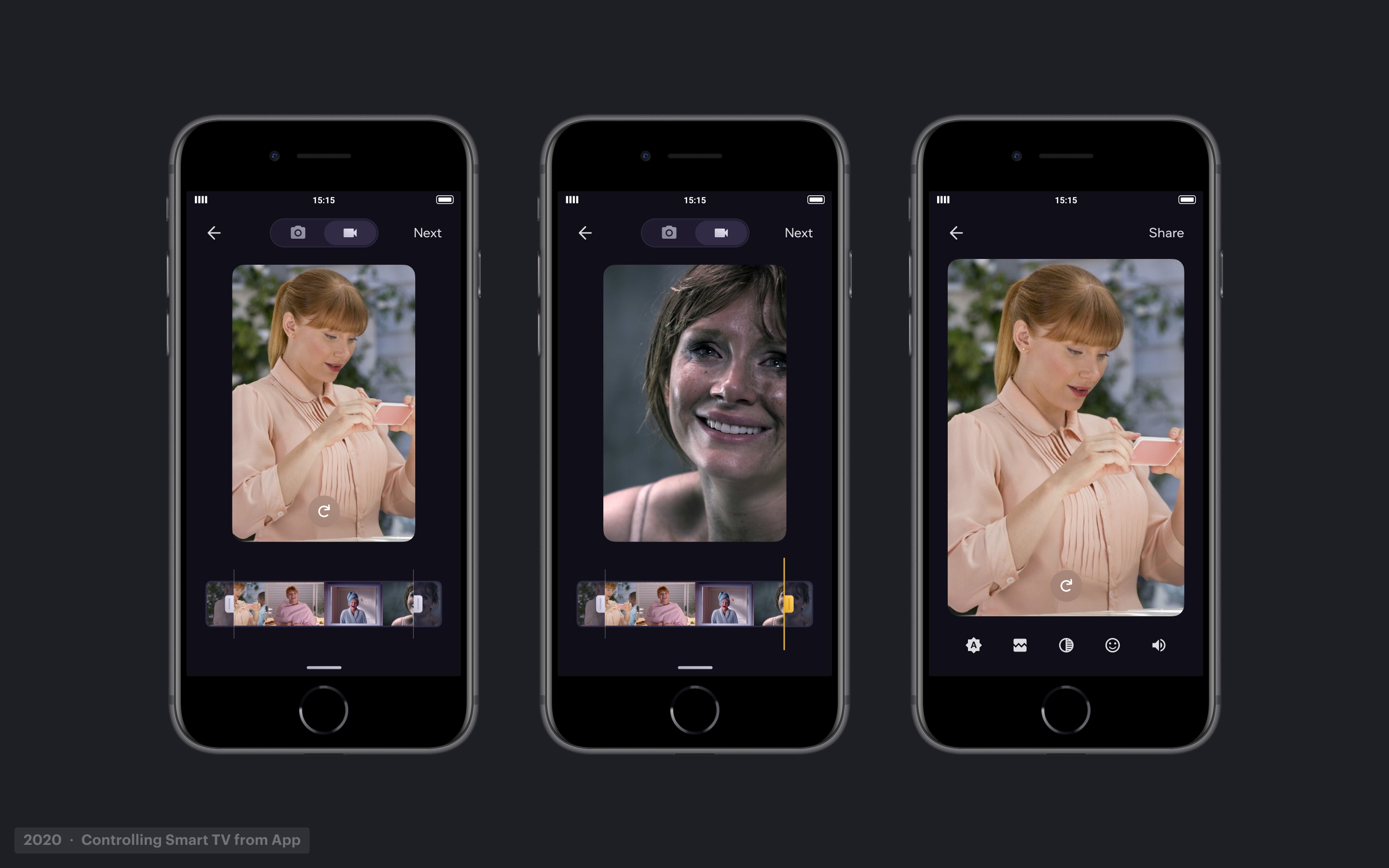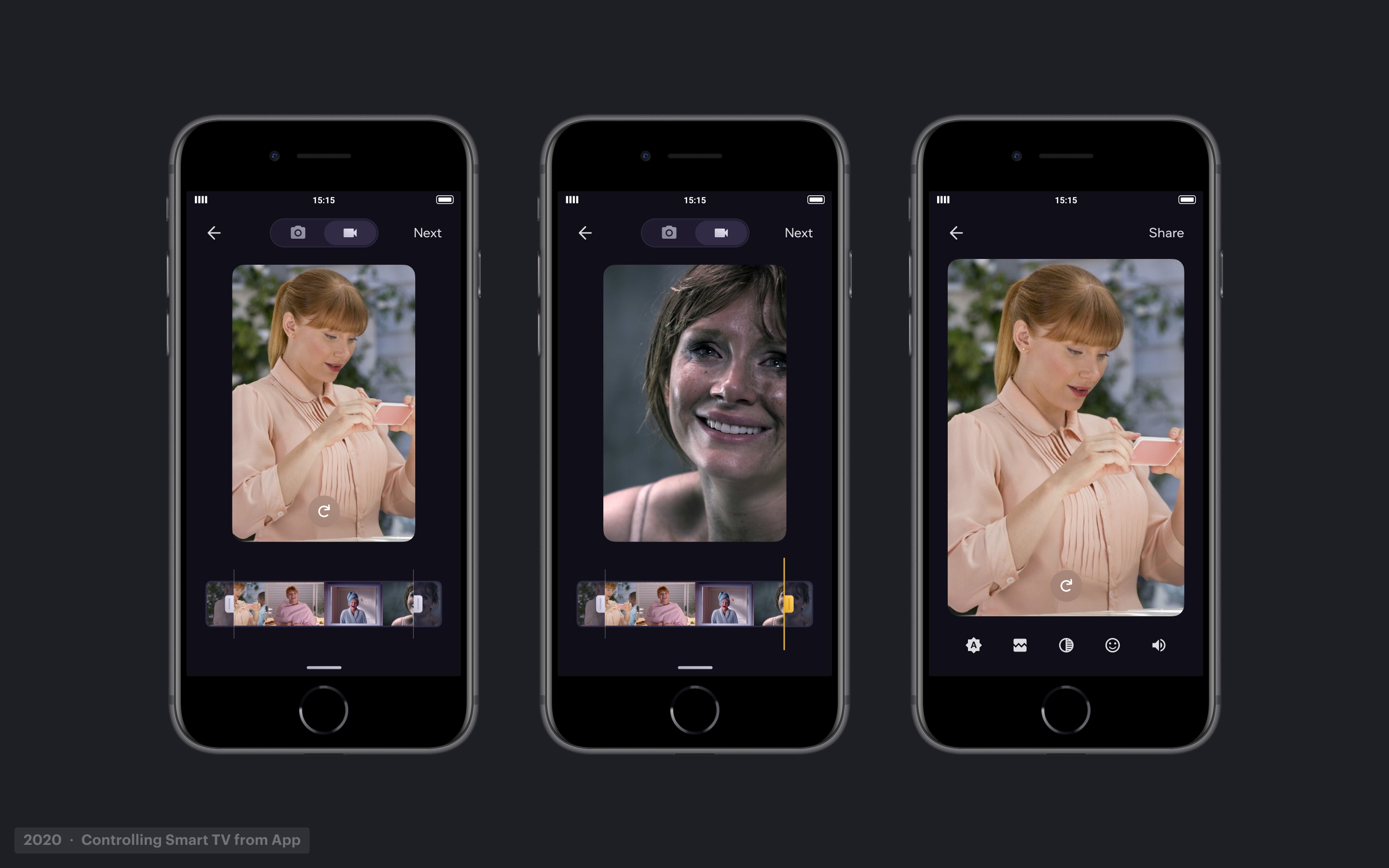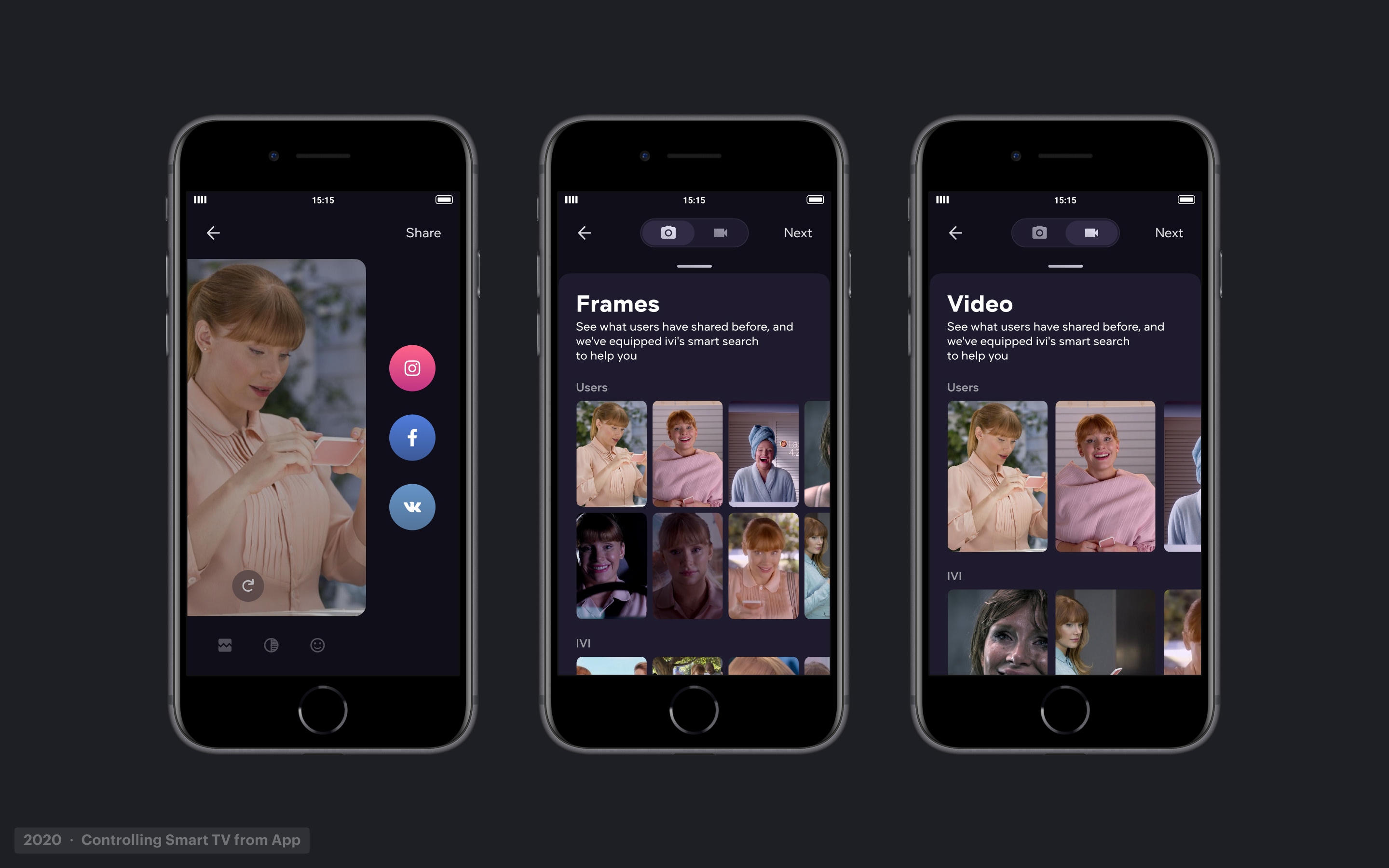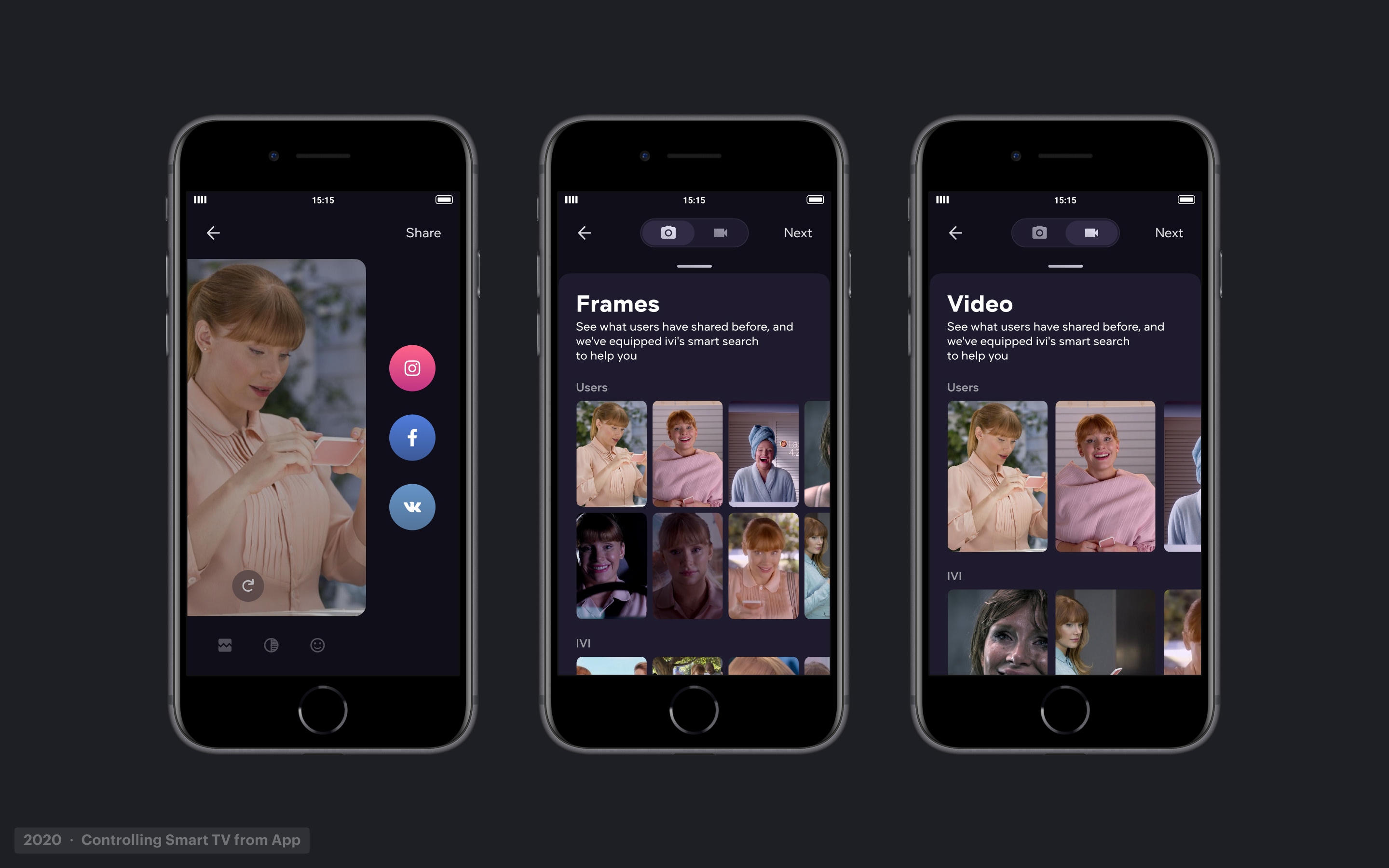 SHARED WATCHING. CONCEPT July 2020
Idea — to organize a shared watching of content with communication in the chat and fast reactions.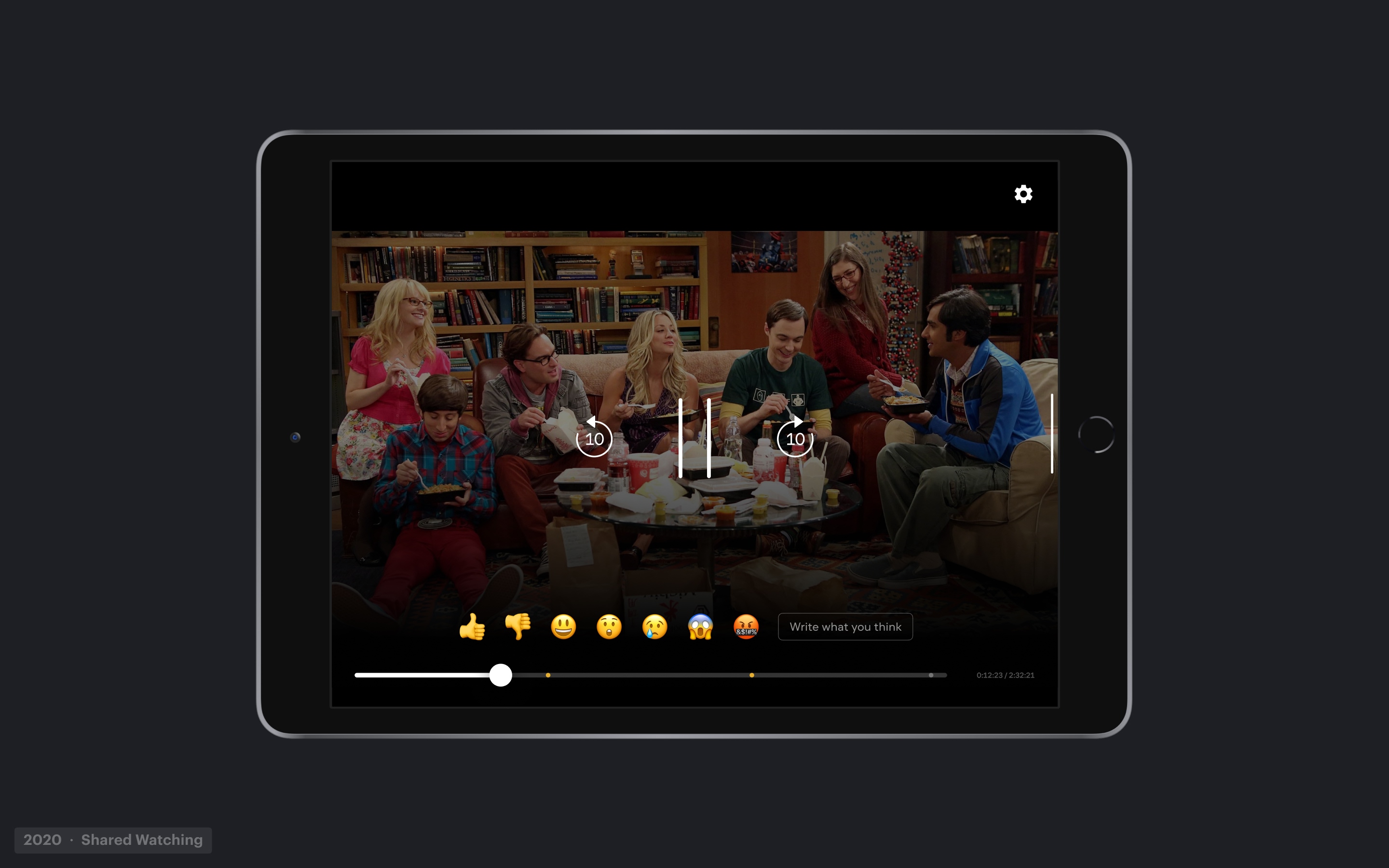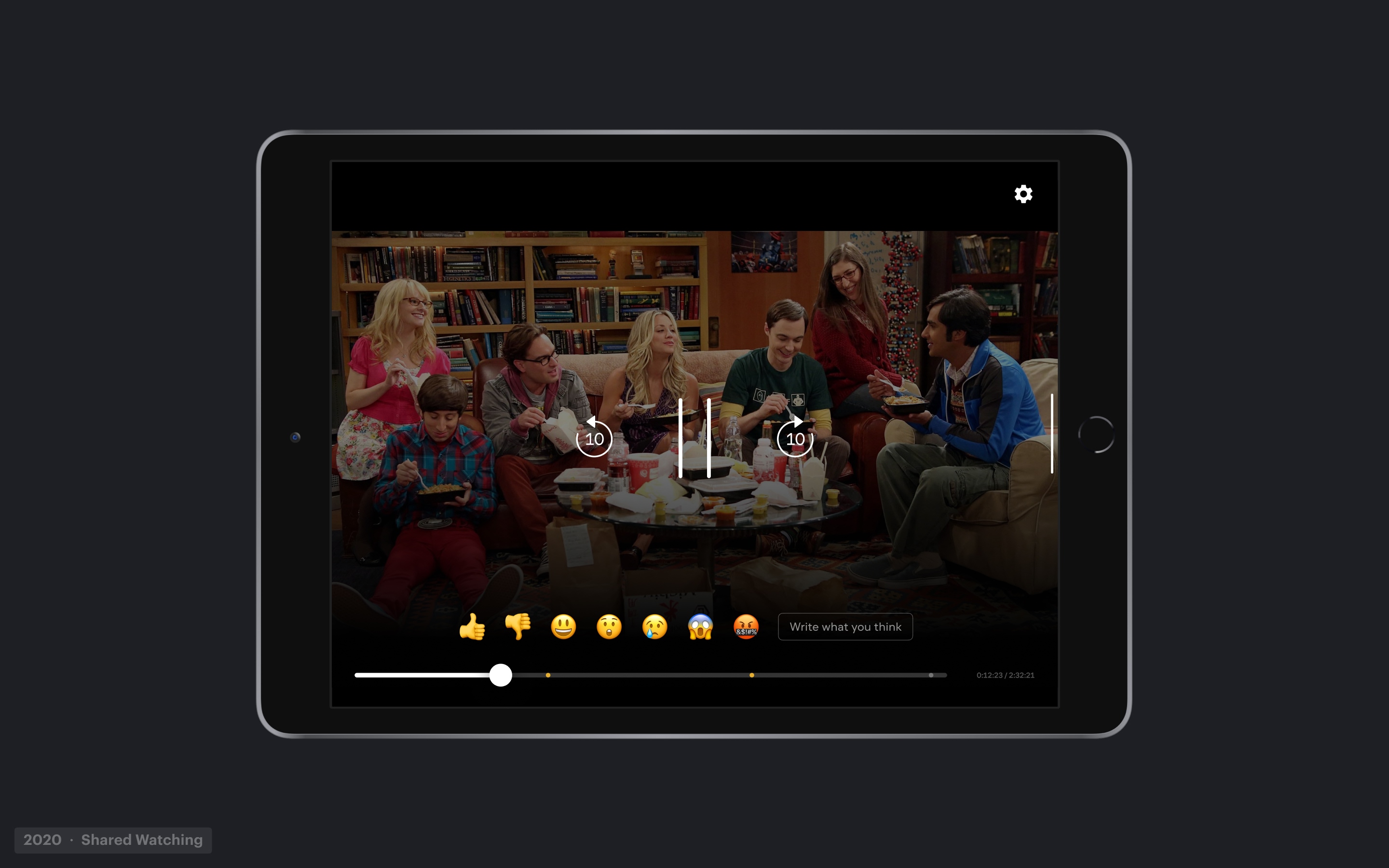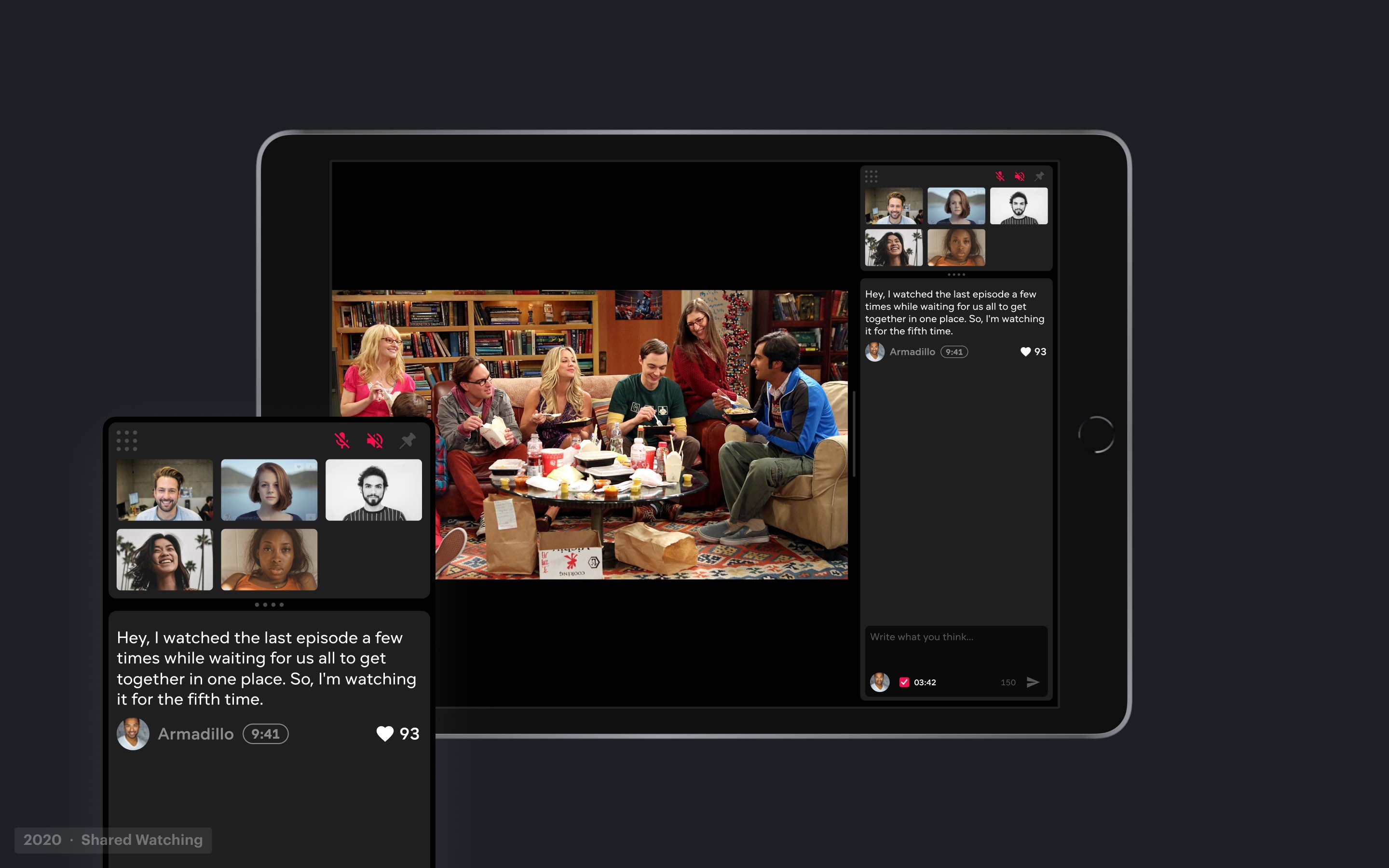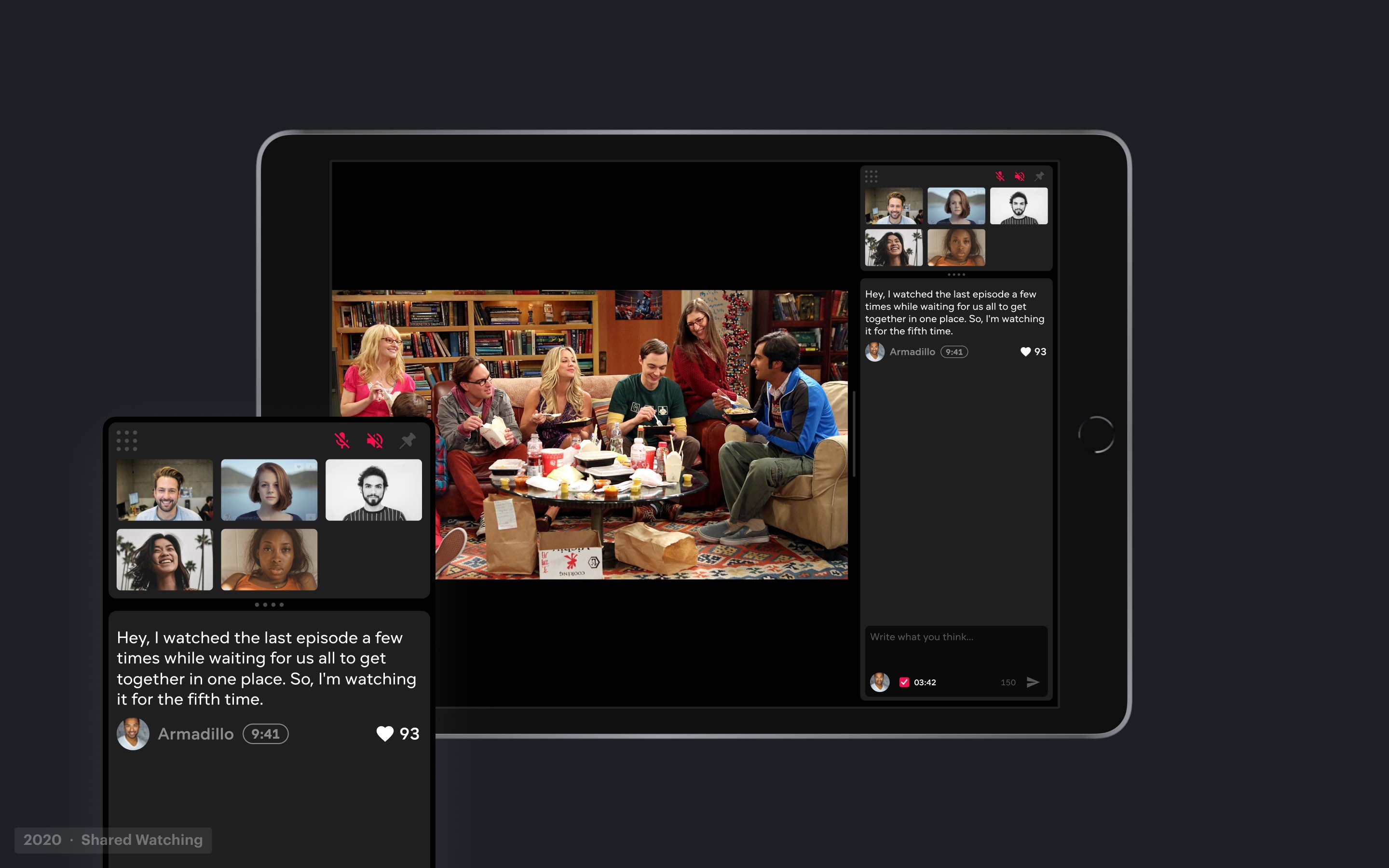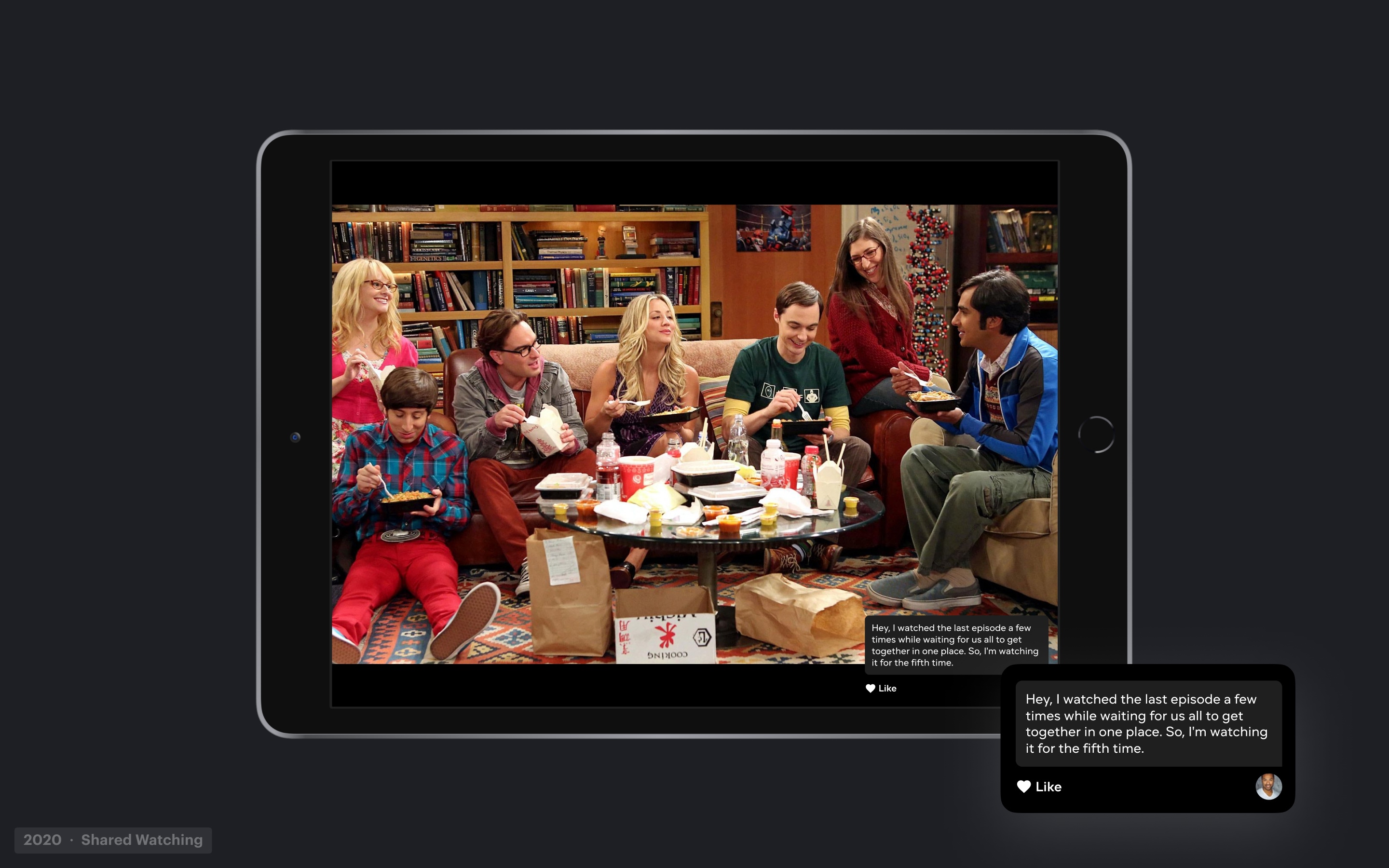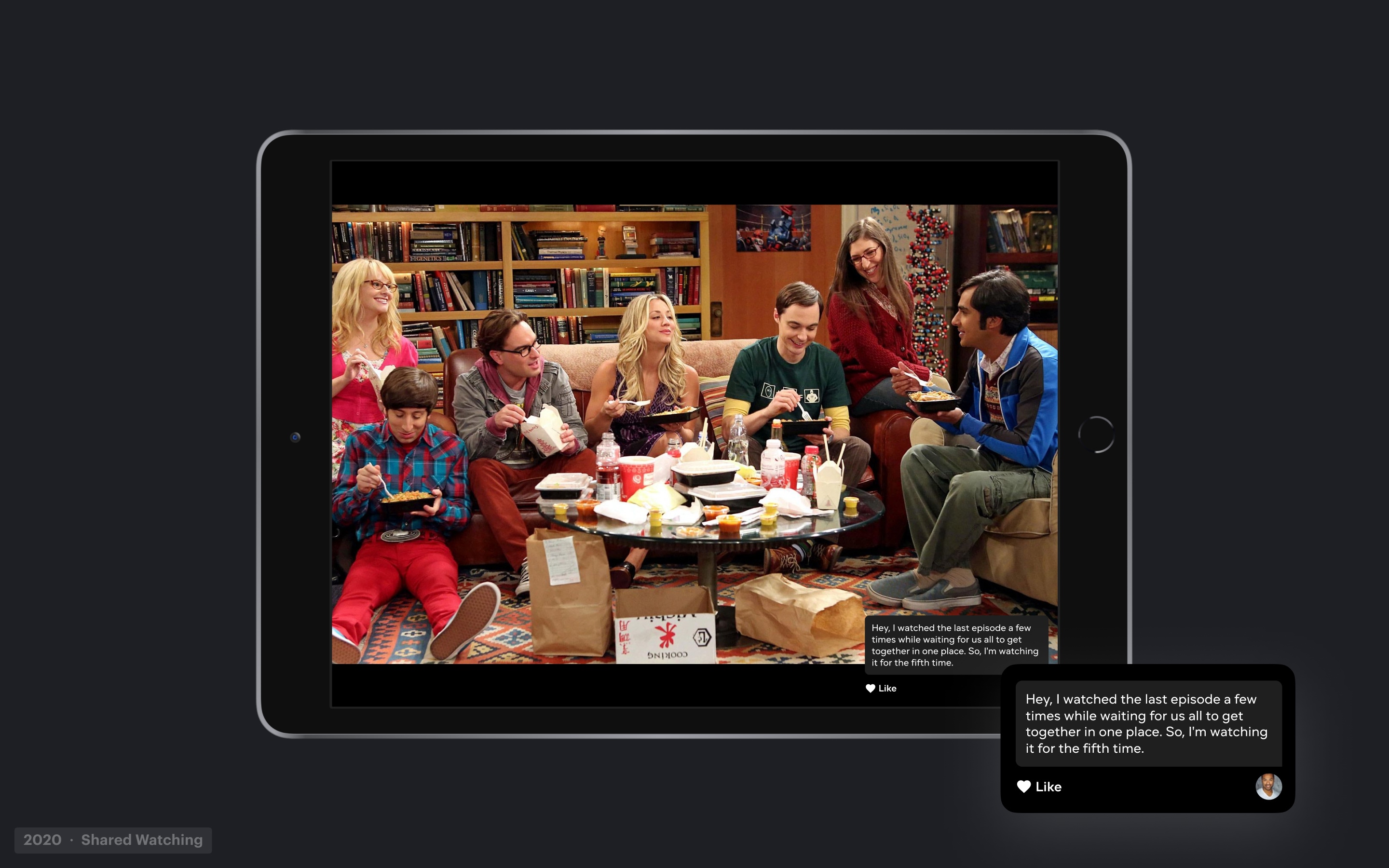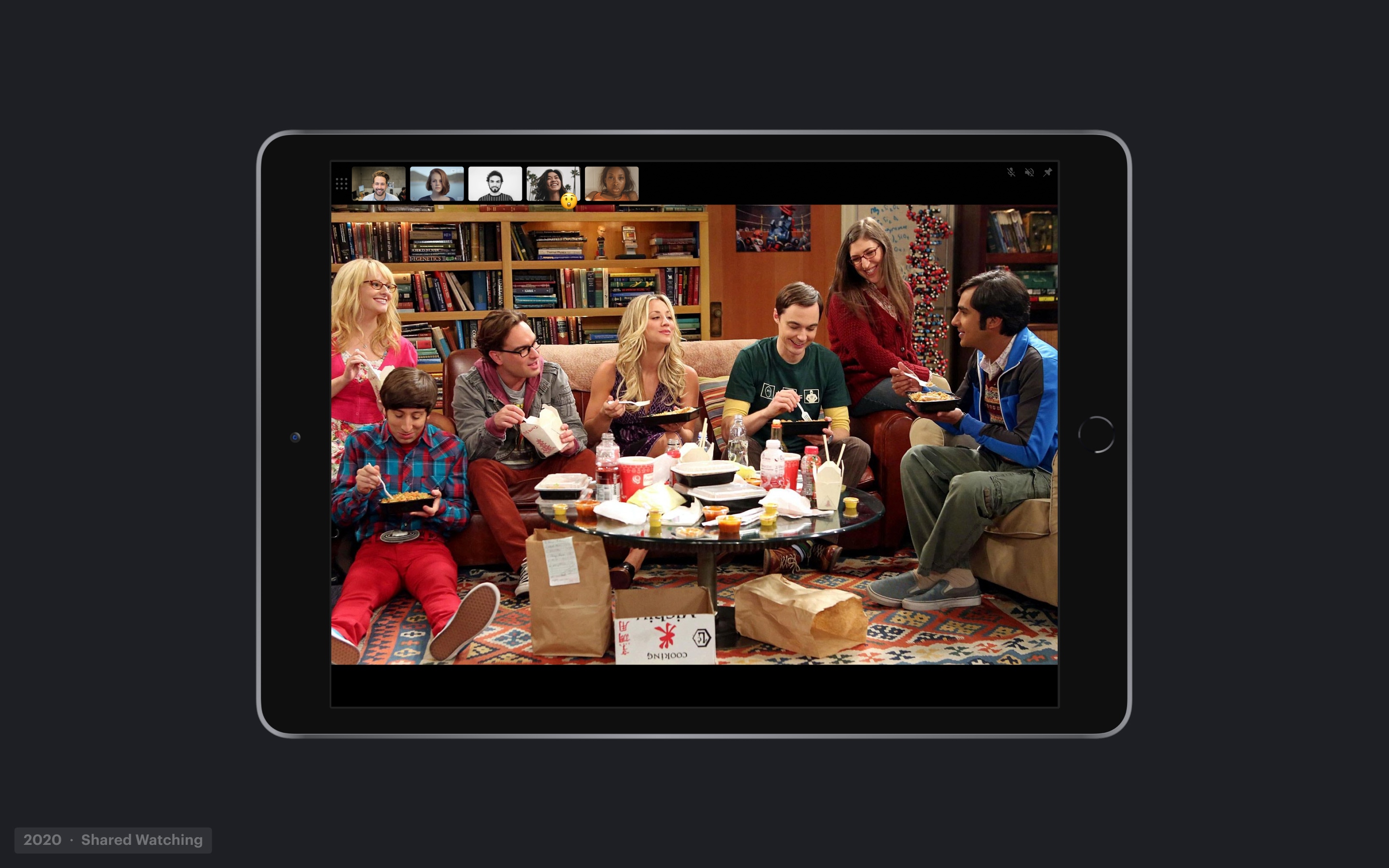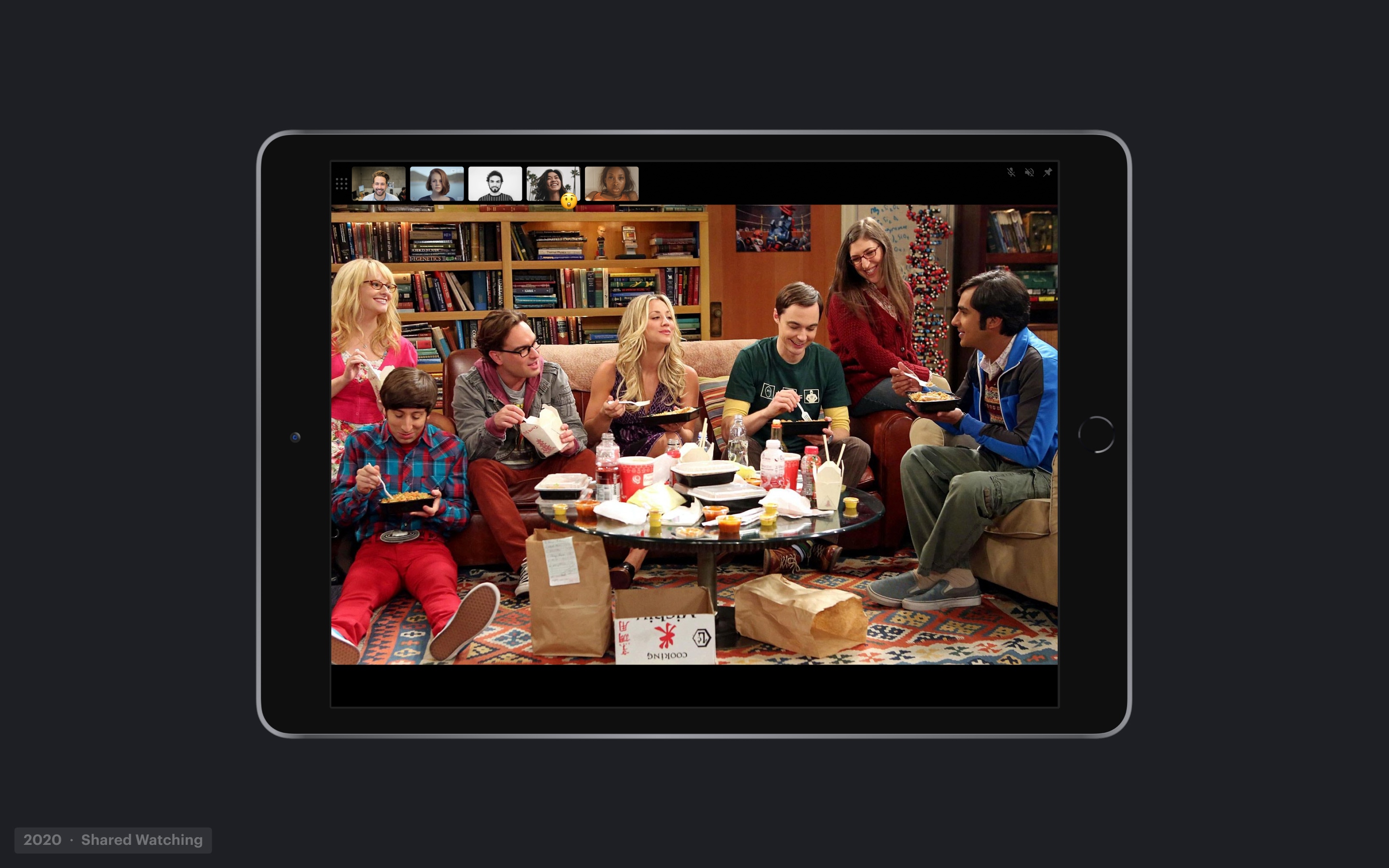 Small one-page website for IVI.Talents. In the frames of the project, the IVI team searched for beginners in cinematography. With the help of mentors and producers, authors created scenarios and produced a pilot for a mini-series for up to 15 minutes. The base of the conception of the page is justifying texts and blocks that look like the final titles.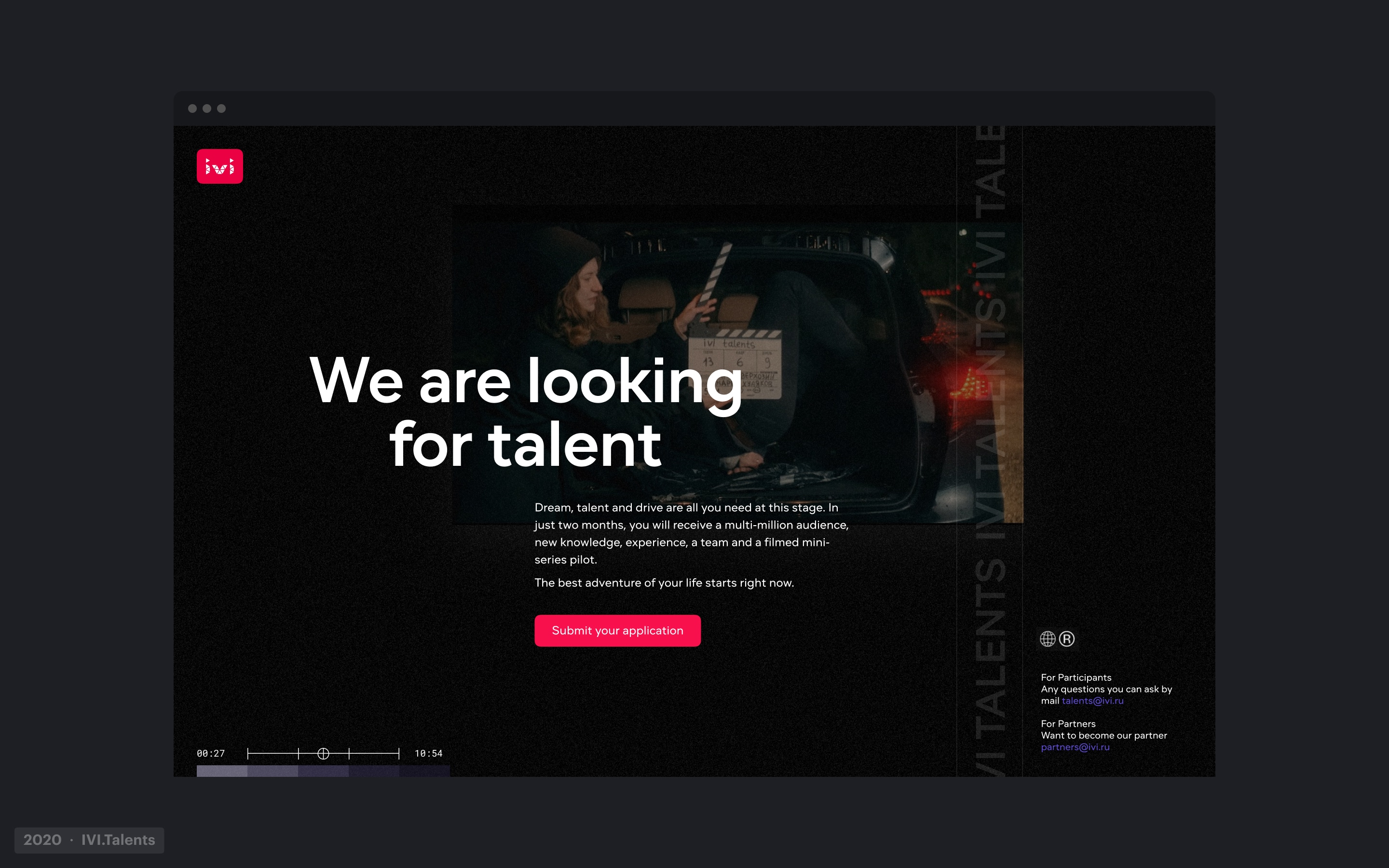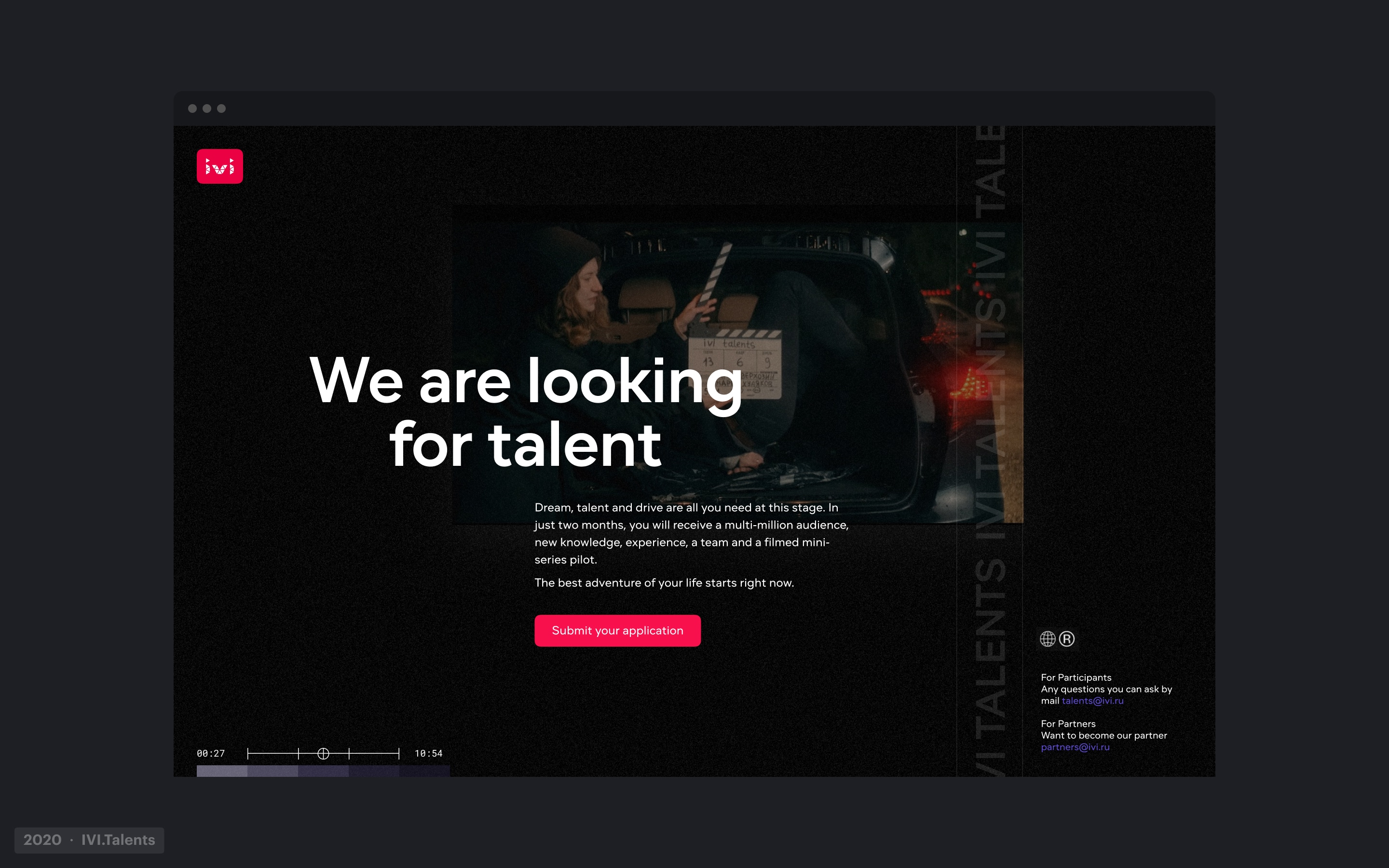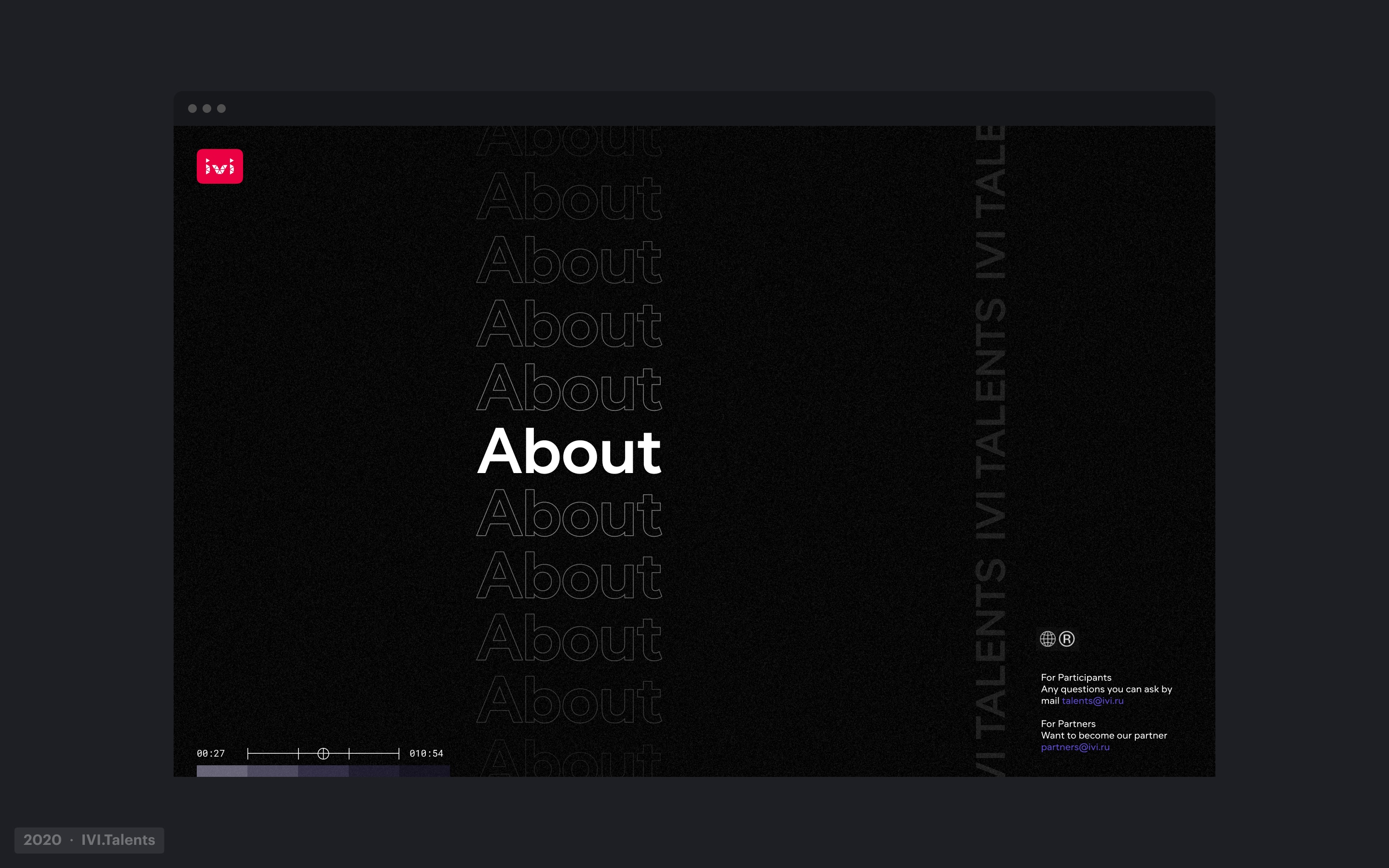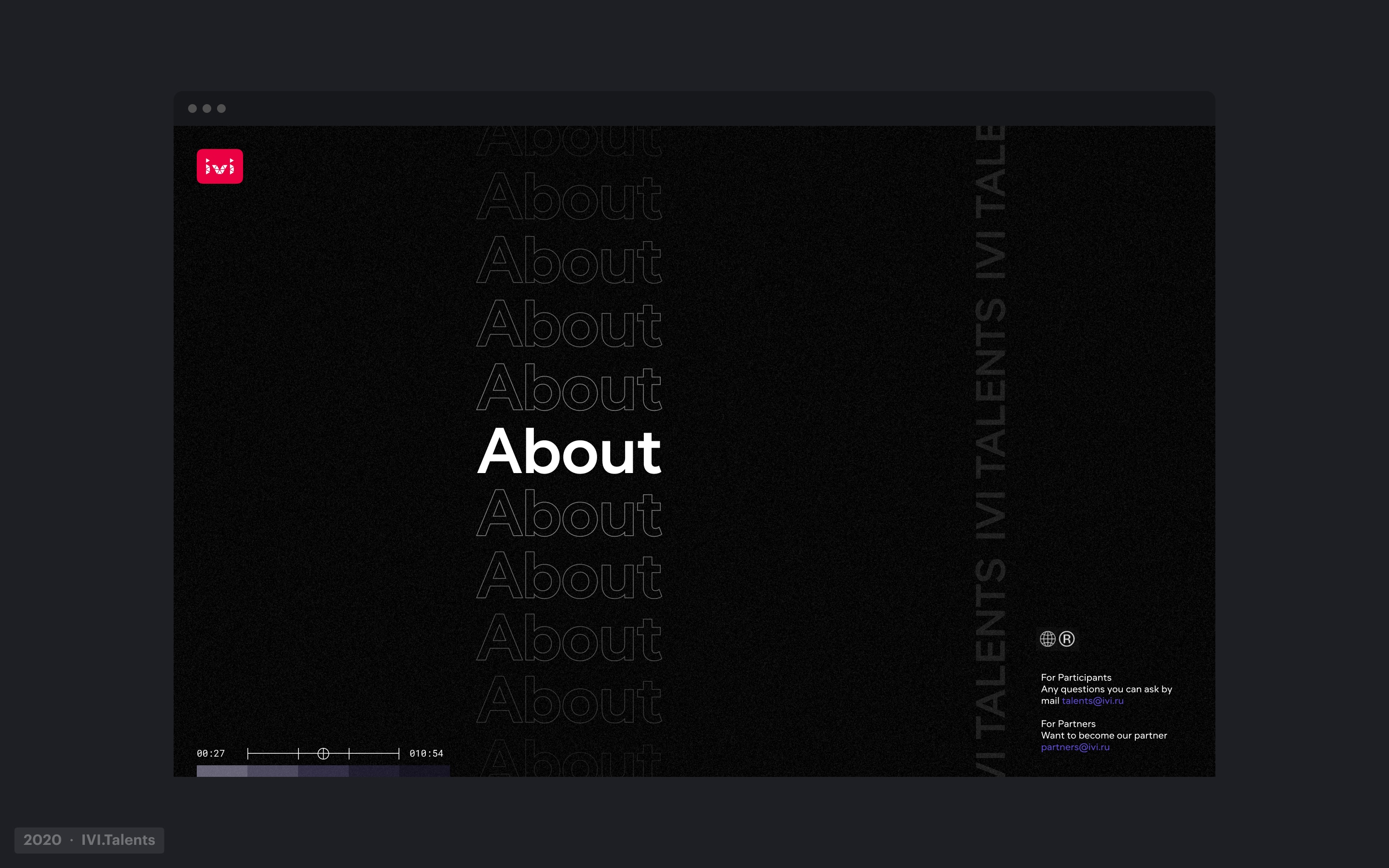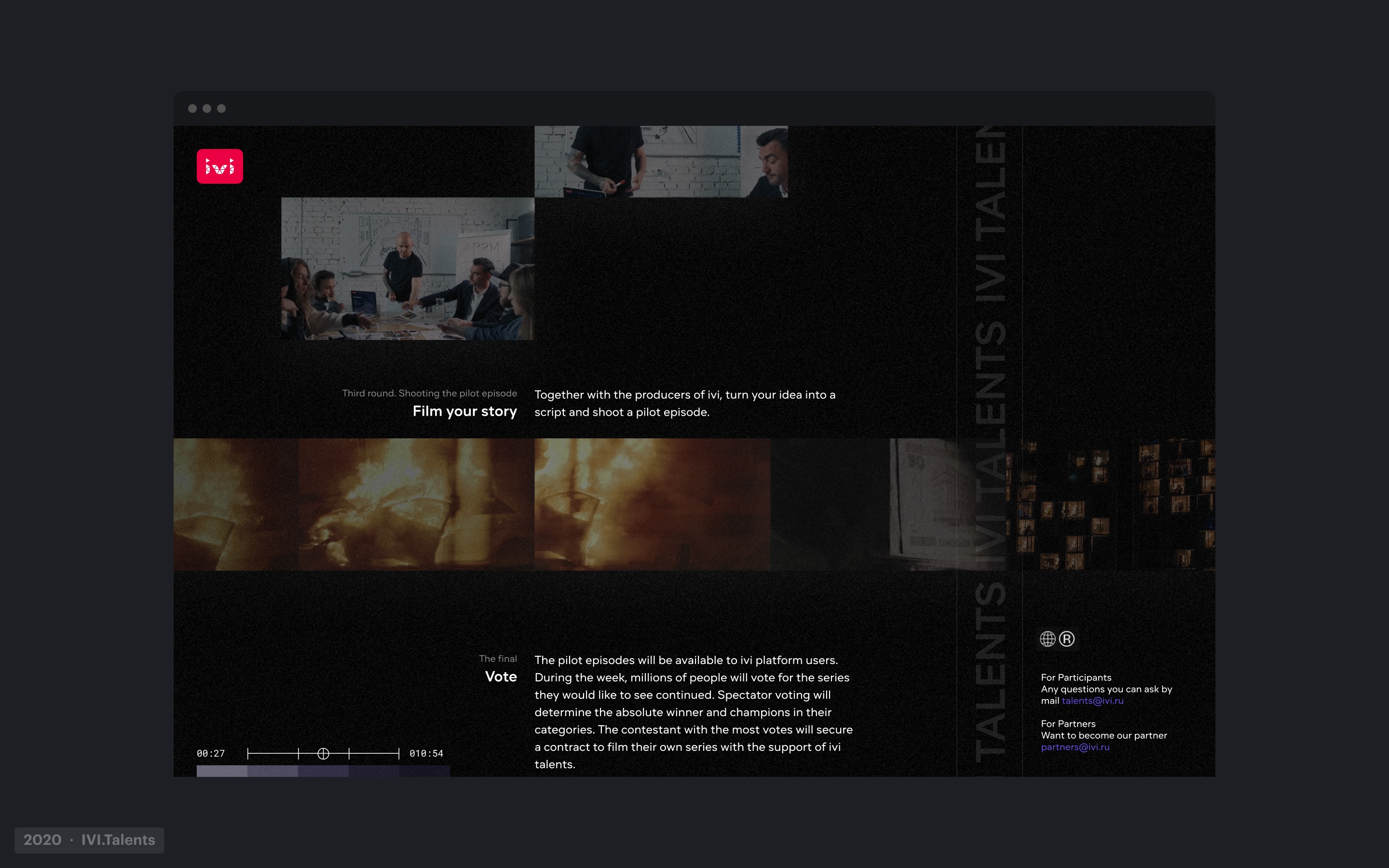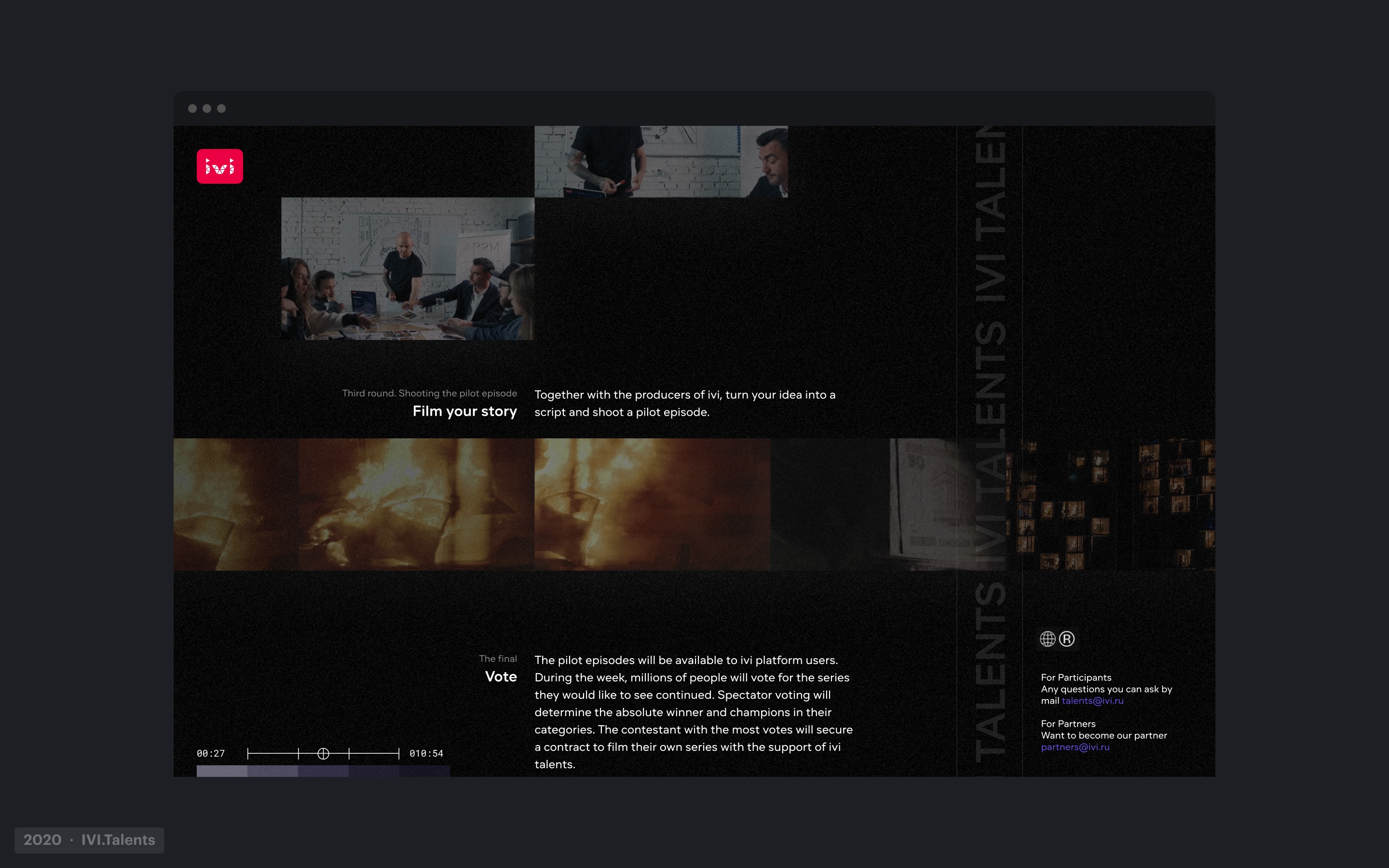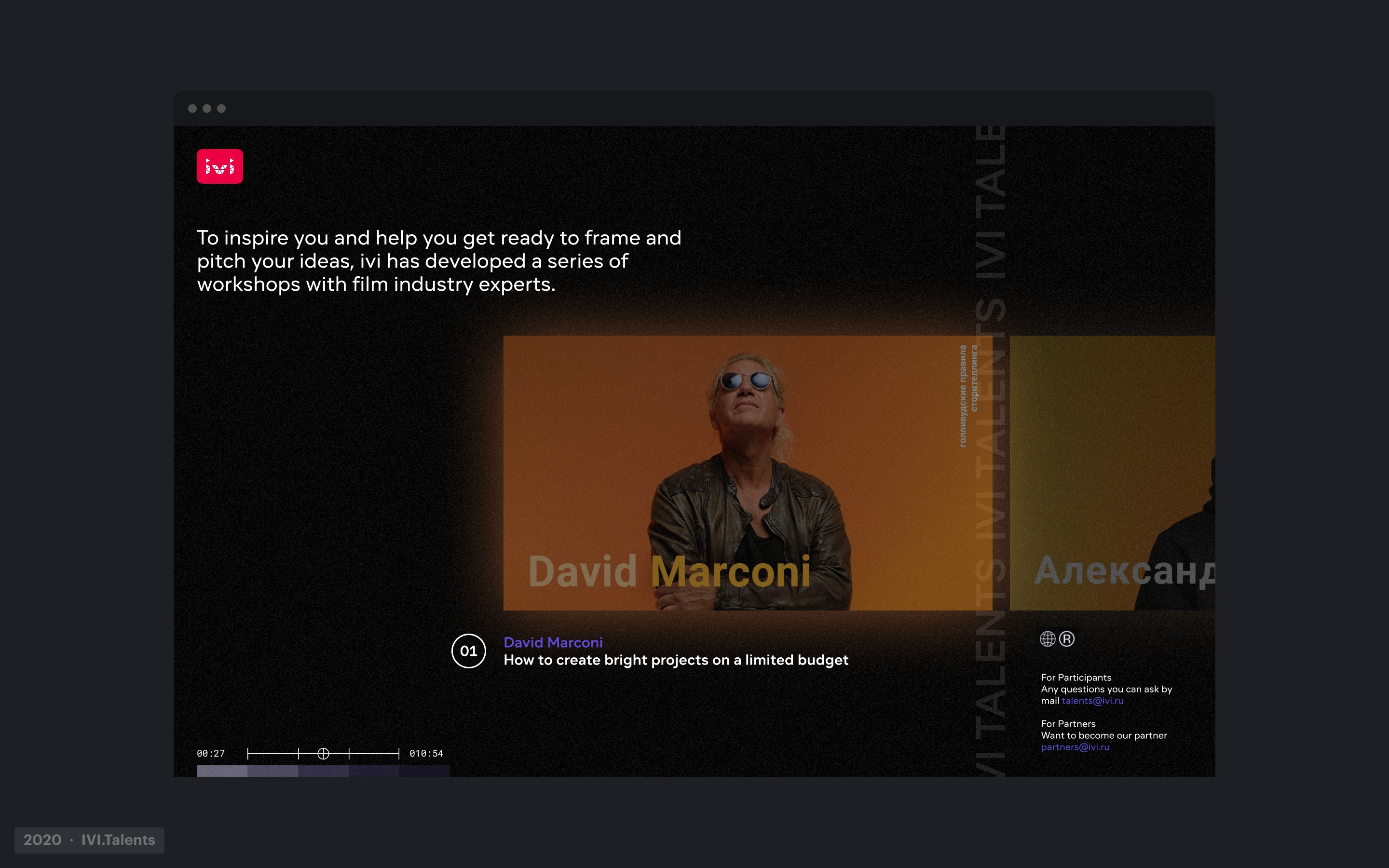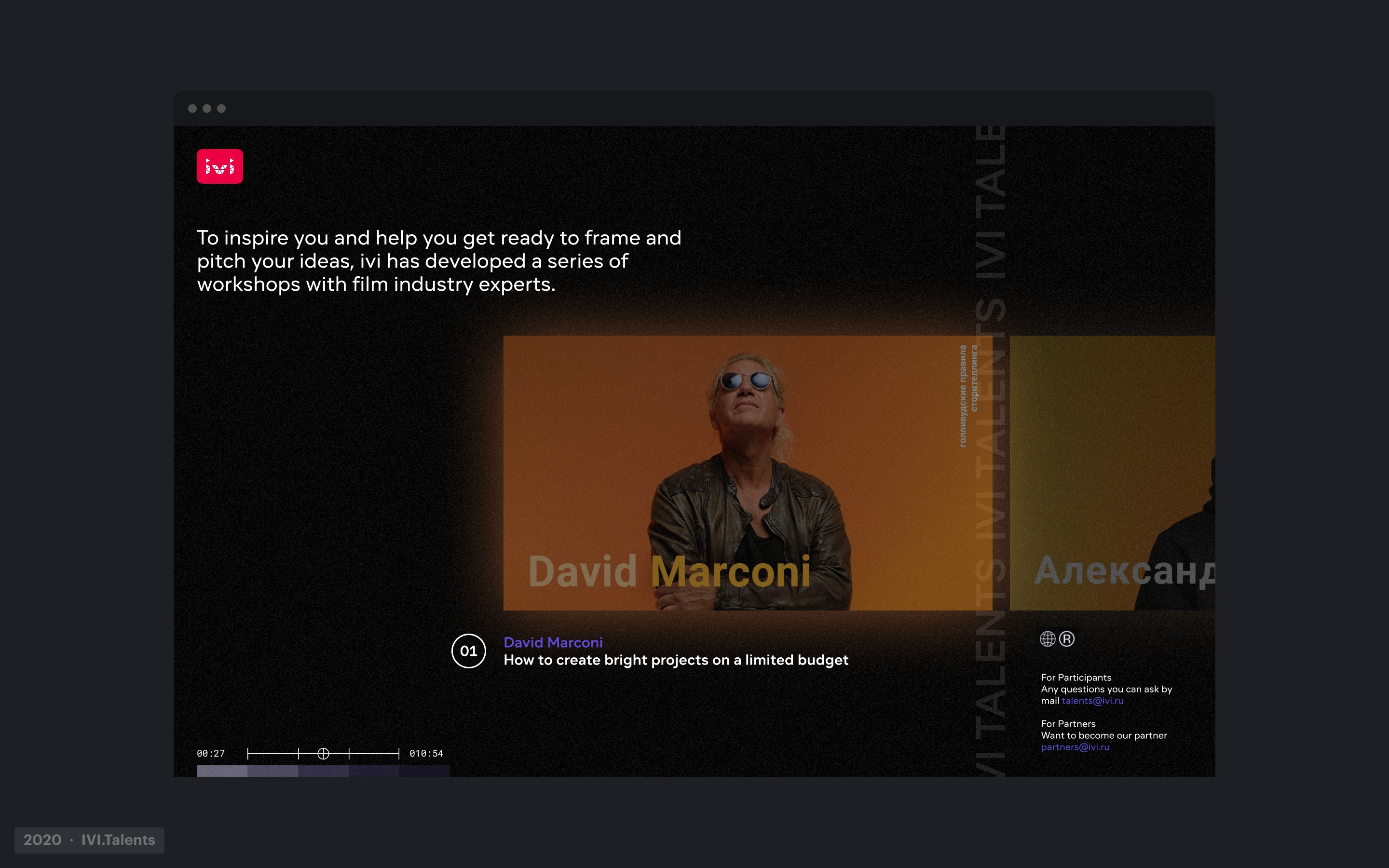 OTHER PROJECTS AT IVI 2020 — 2022
Who watches IVI and the promotion of profiles. Chromecast. A page for beta testers with an invitation and a story about the program. Payment flow on Smart TV with switching to a smartphone. Long Tap for posters. Three reasons for watching movies or series.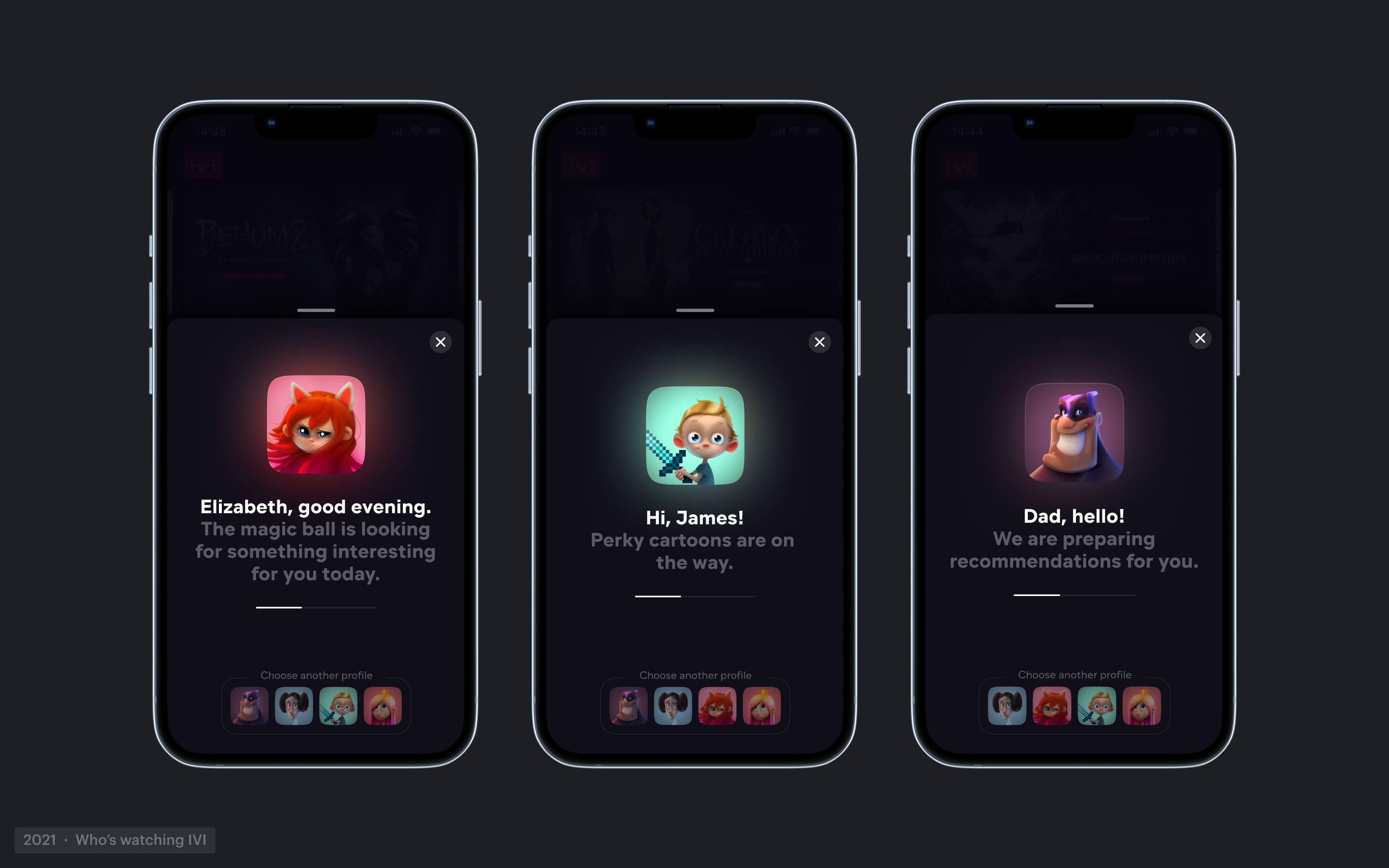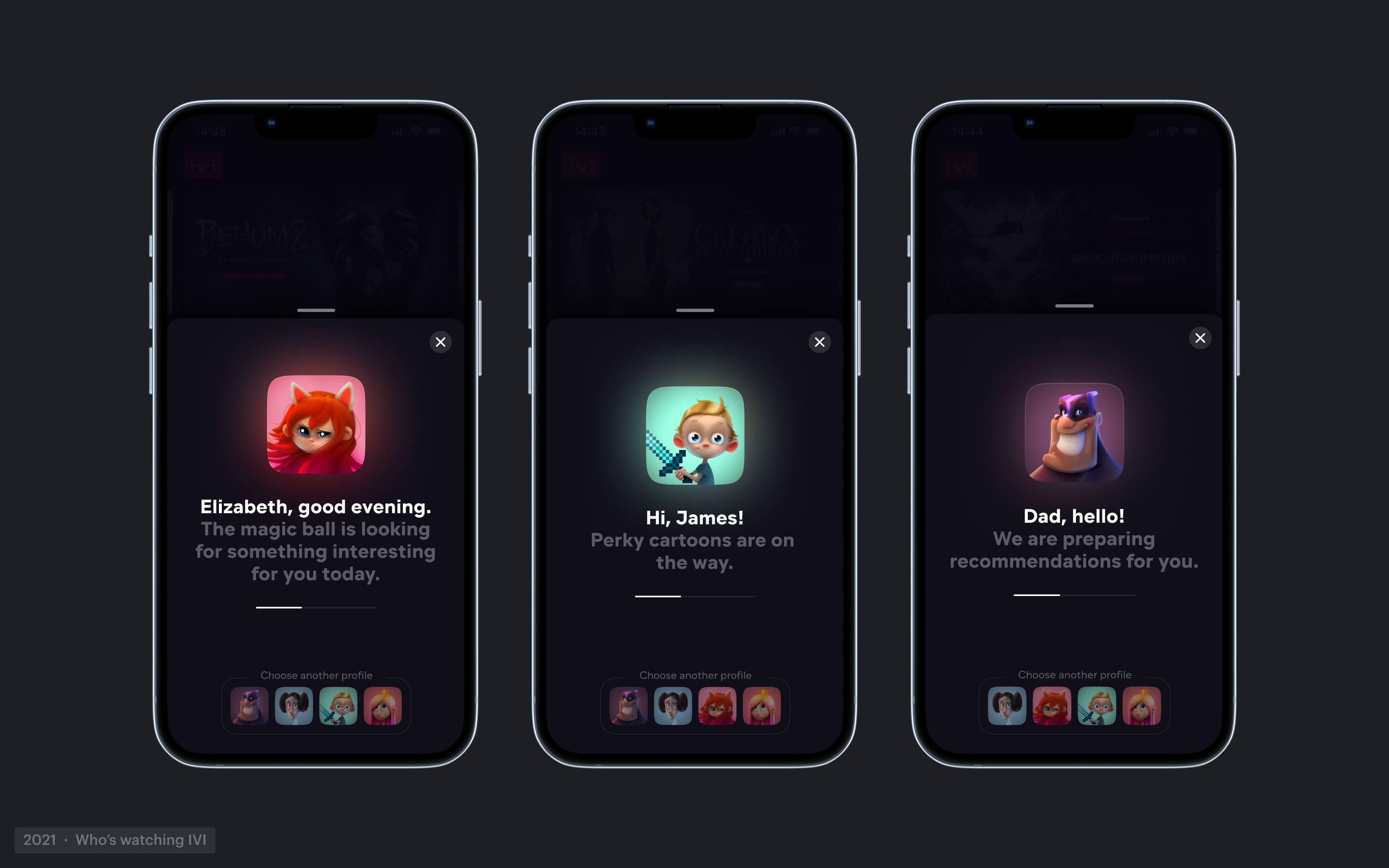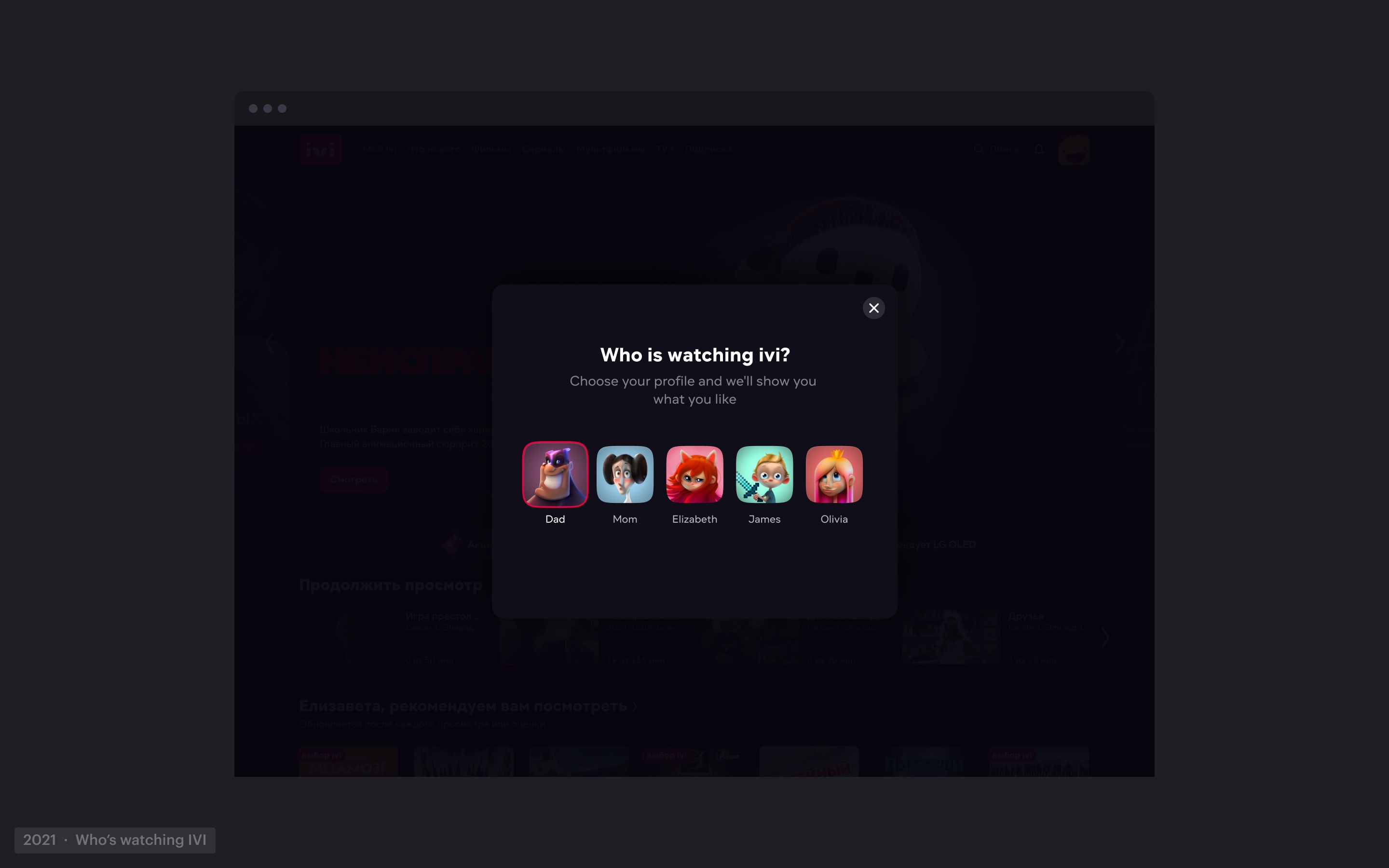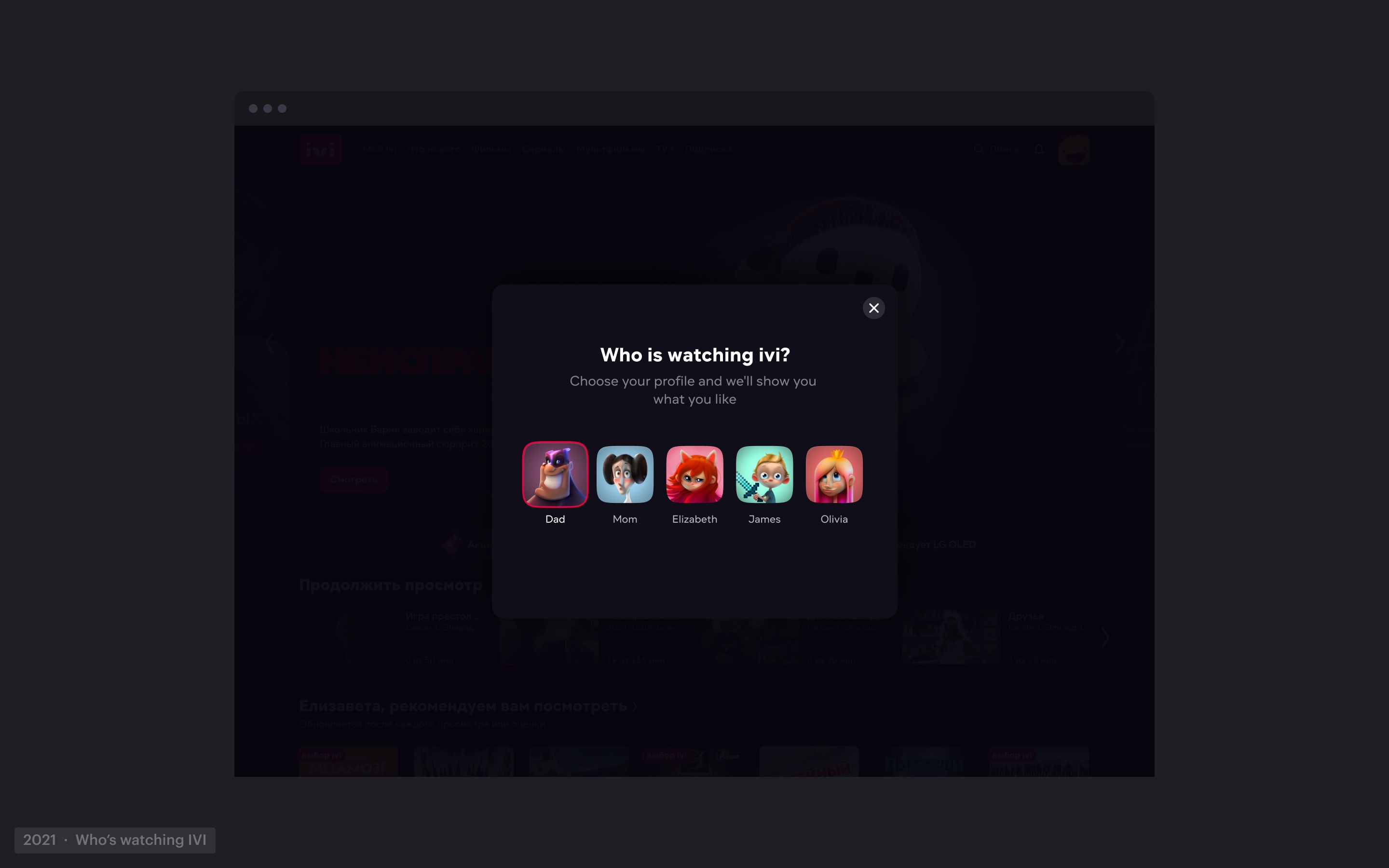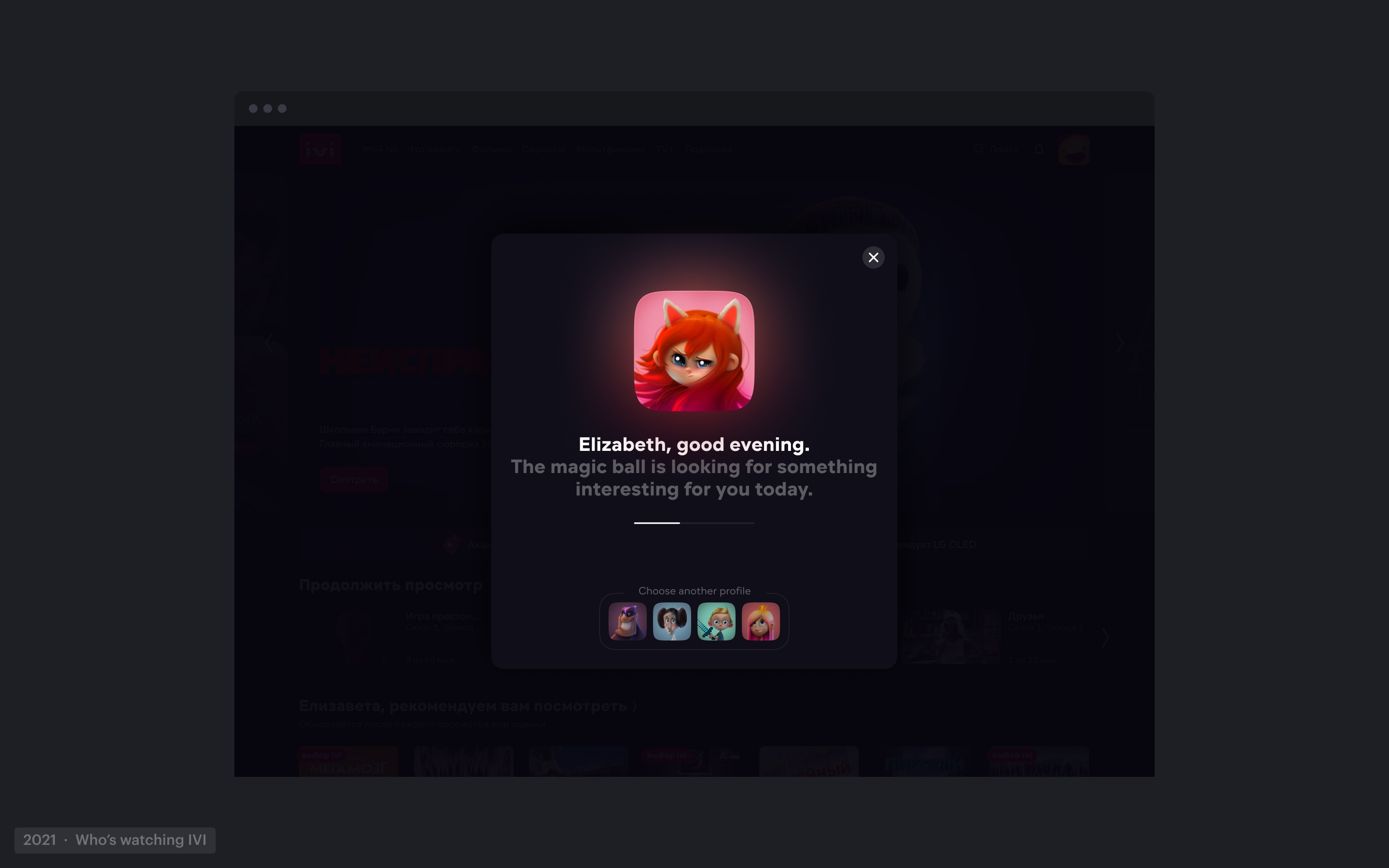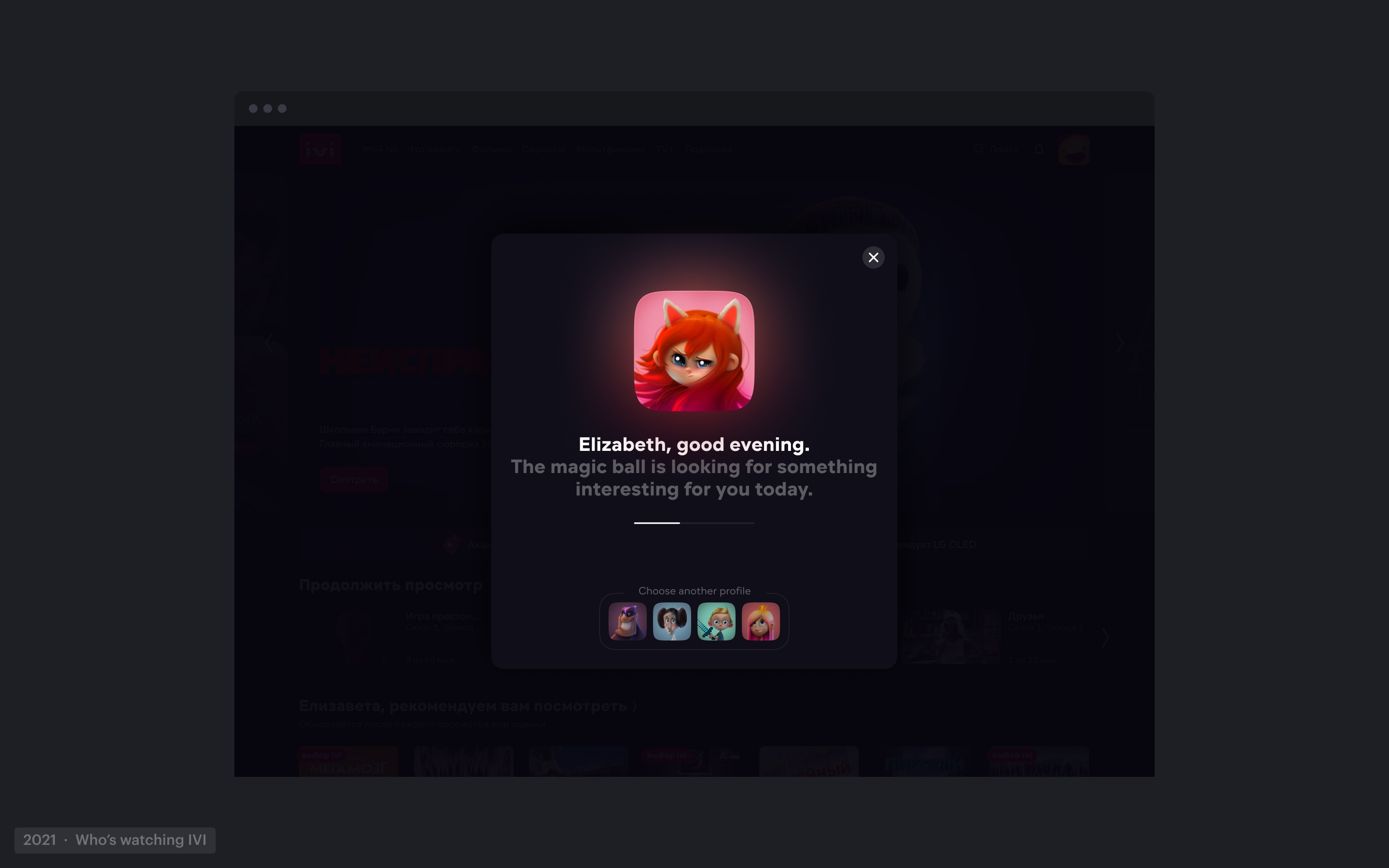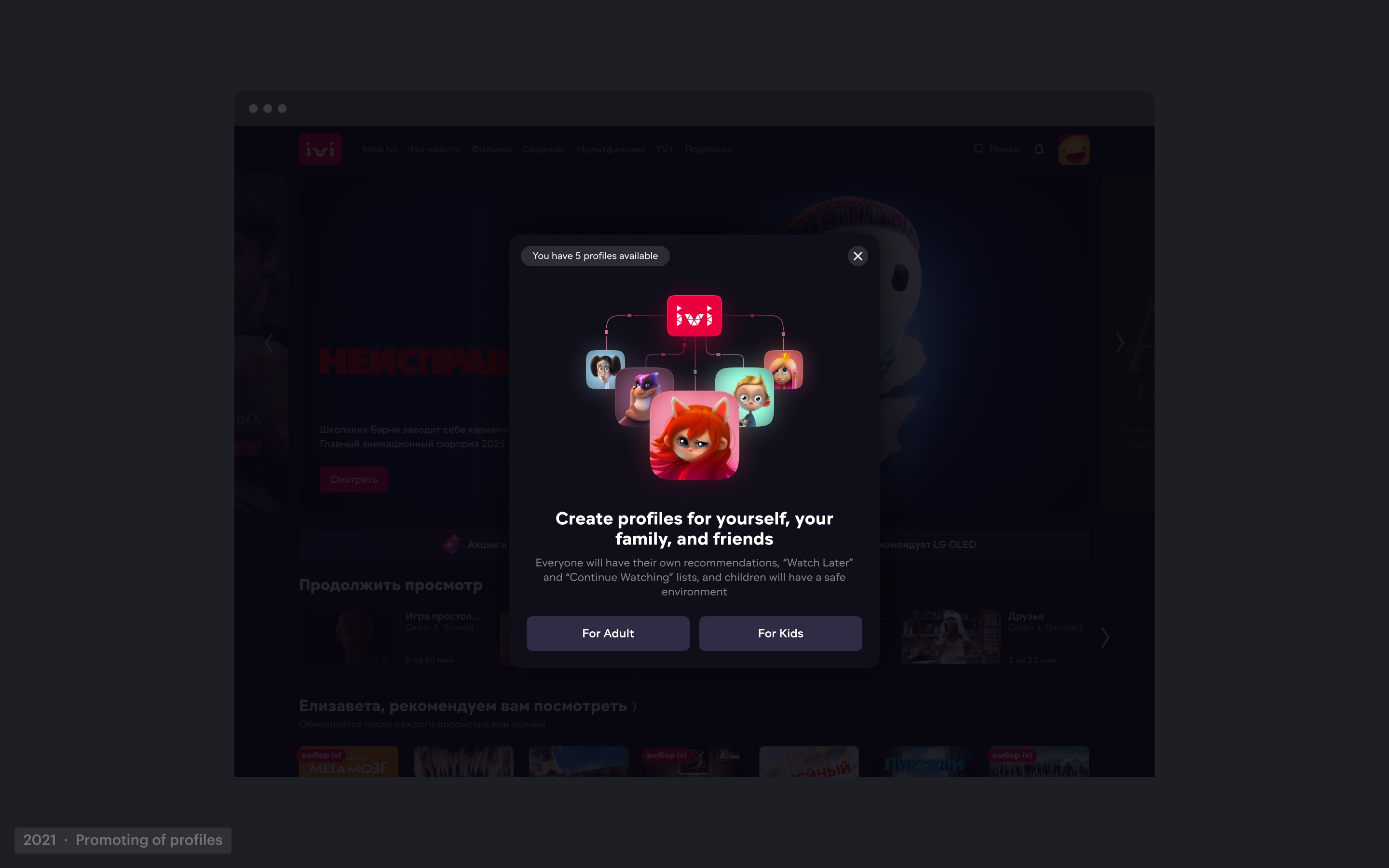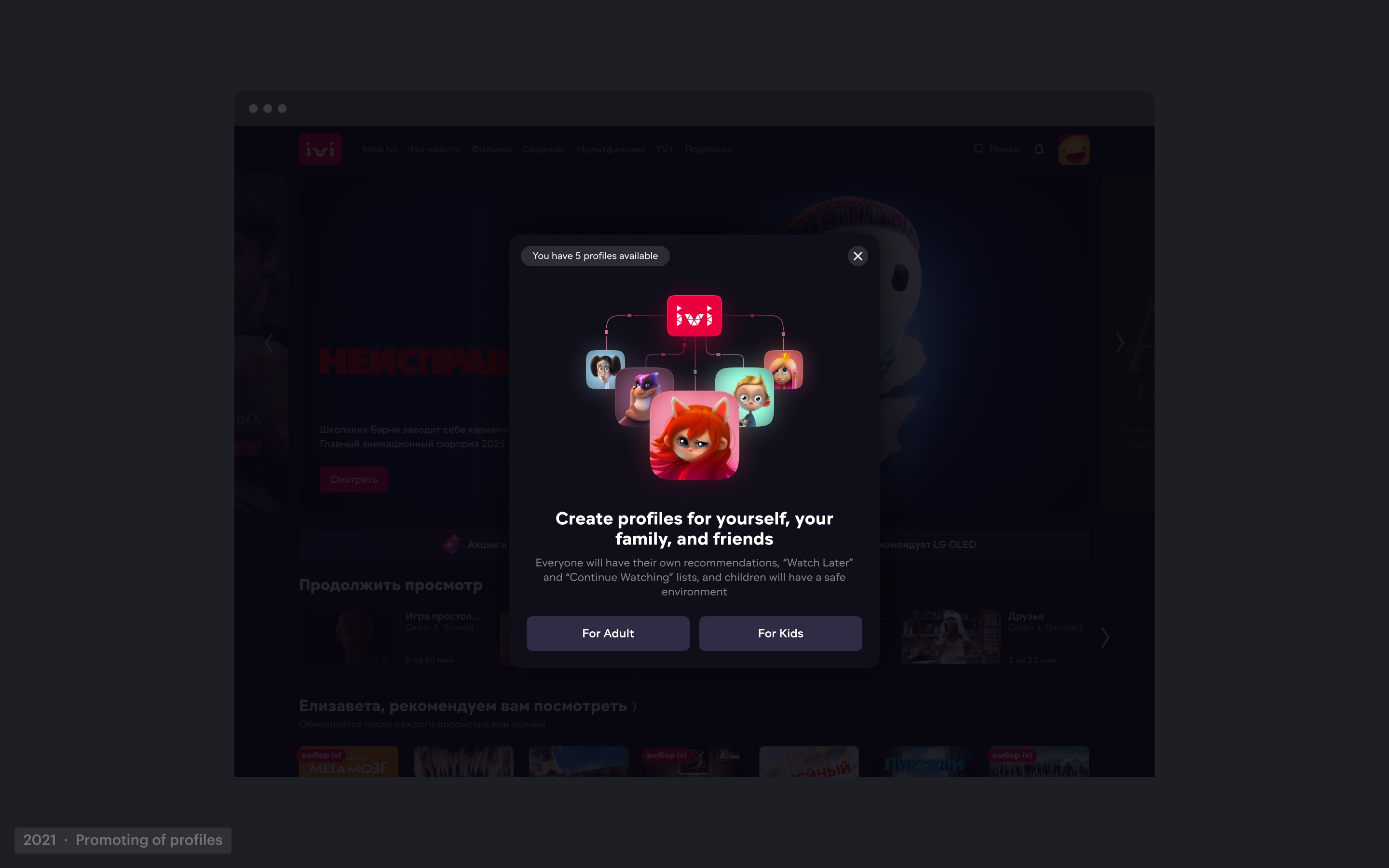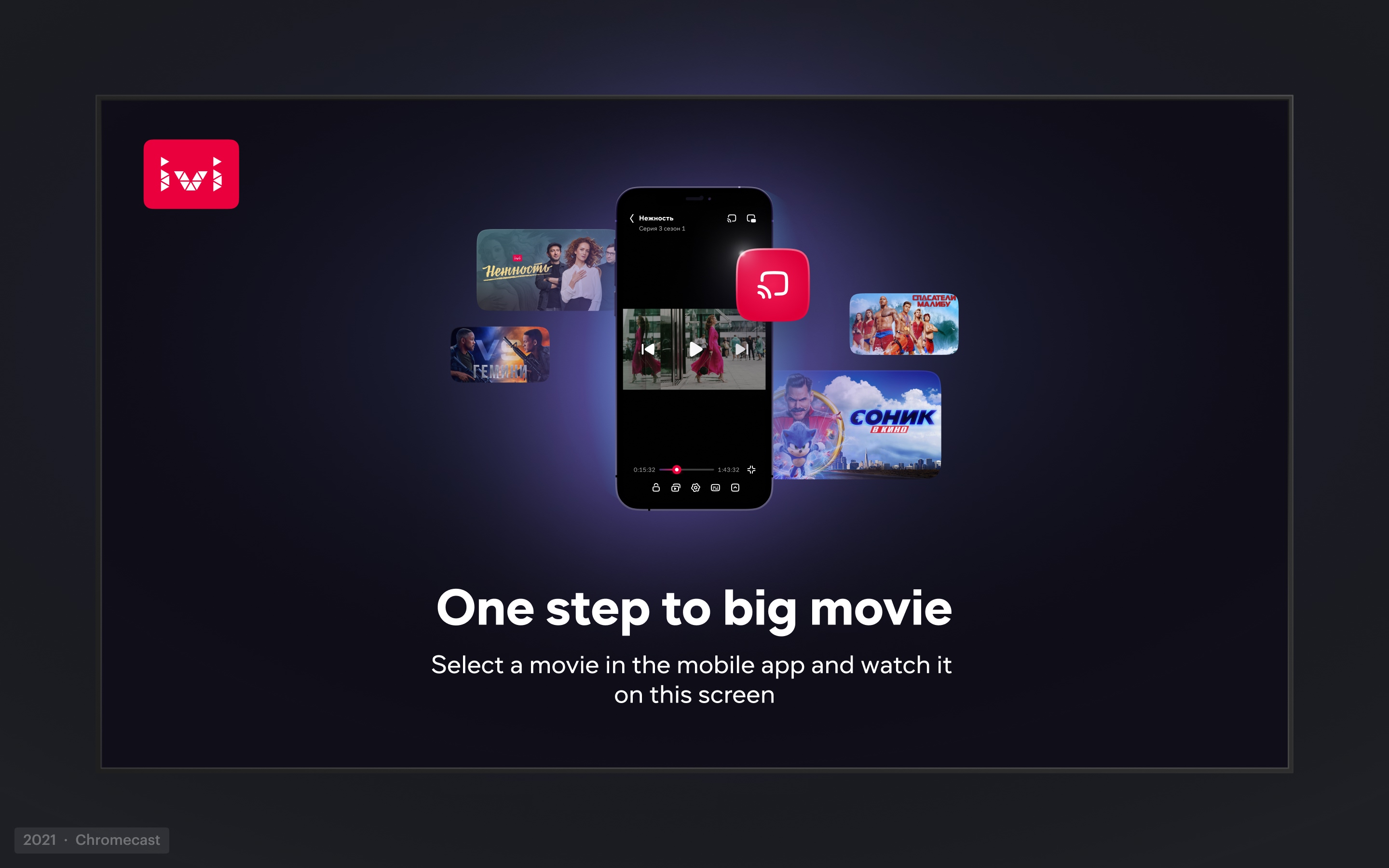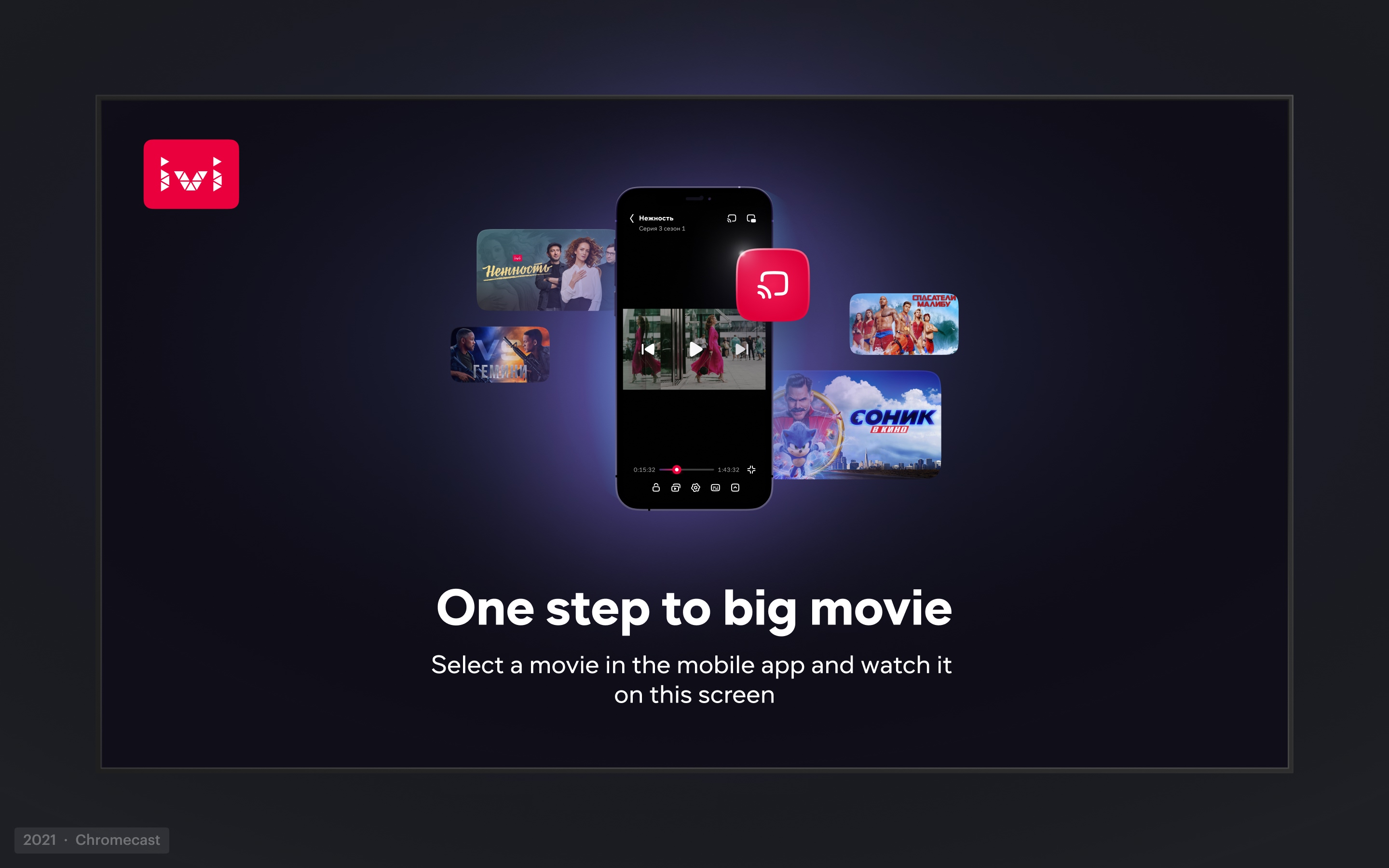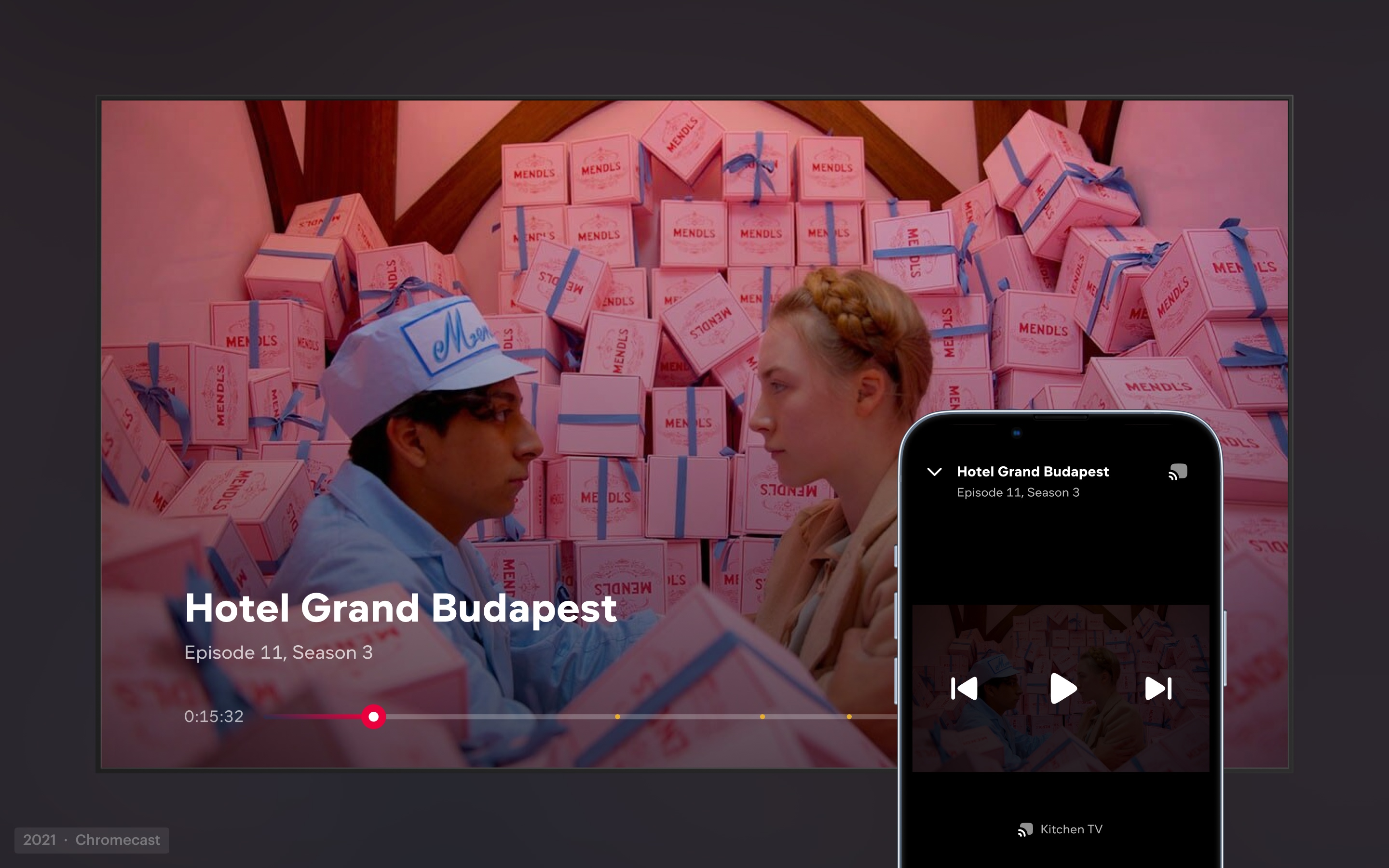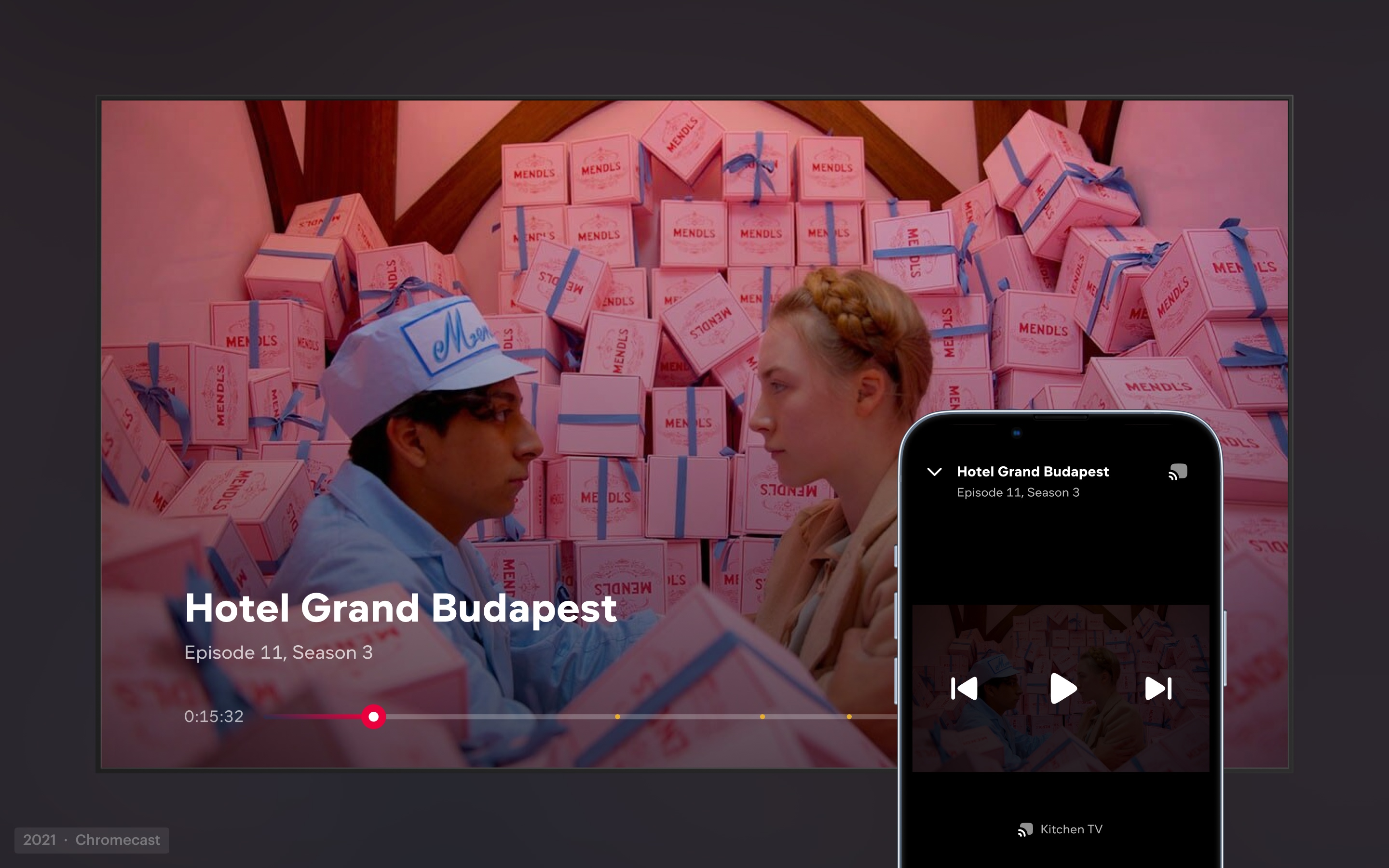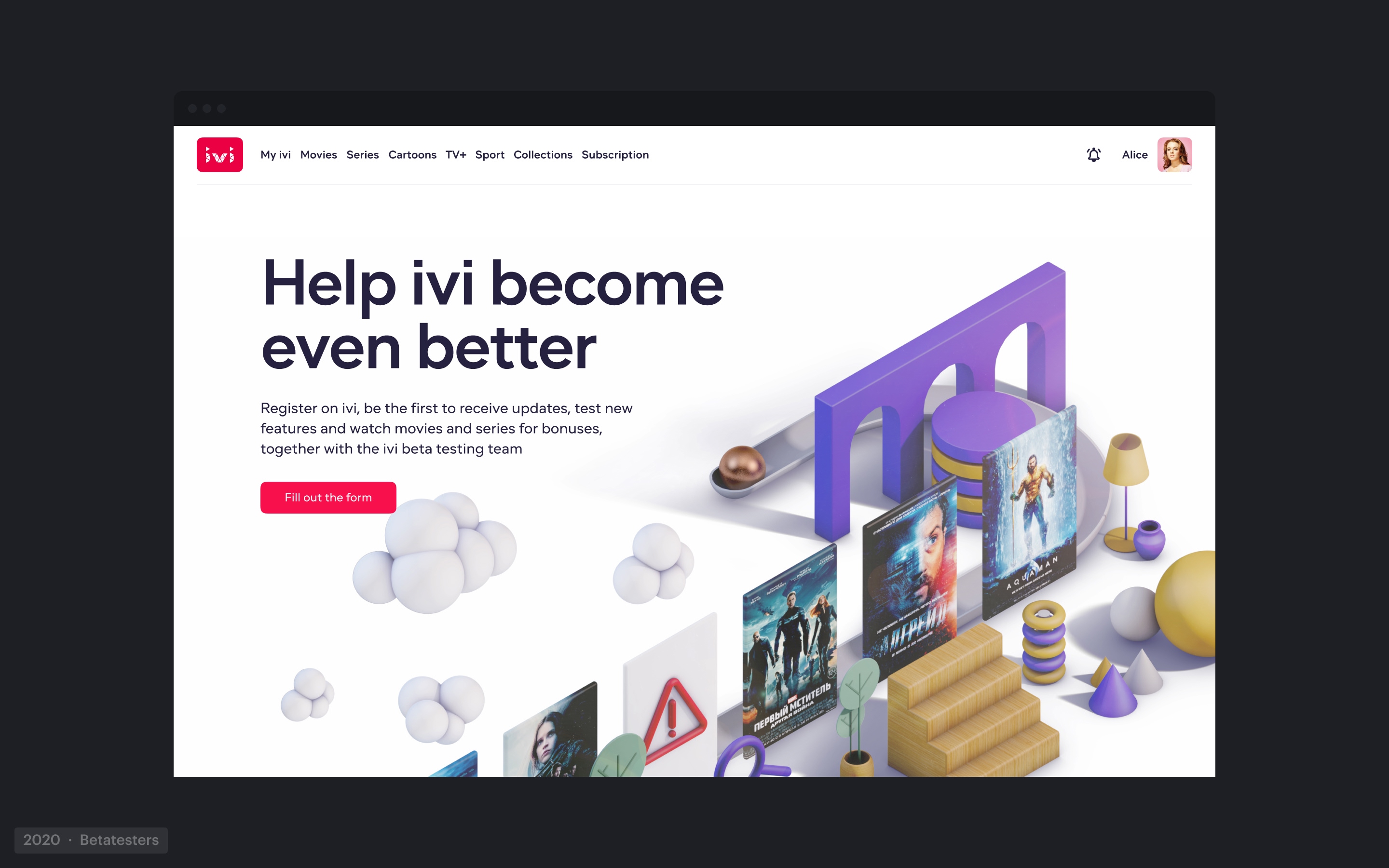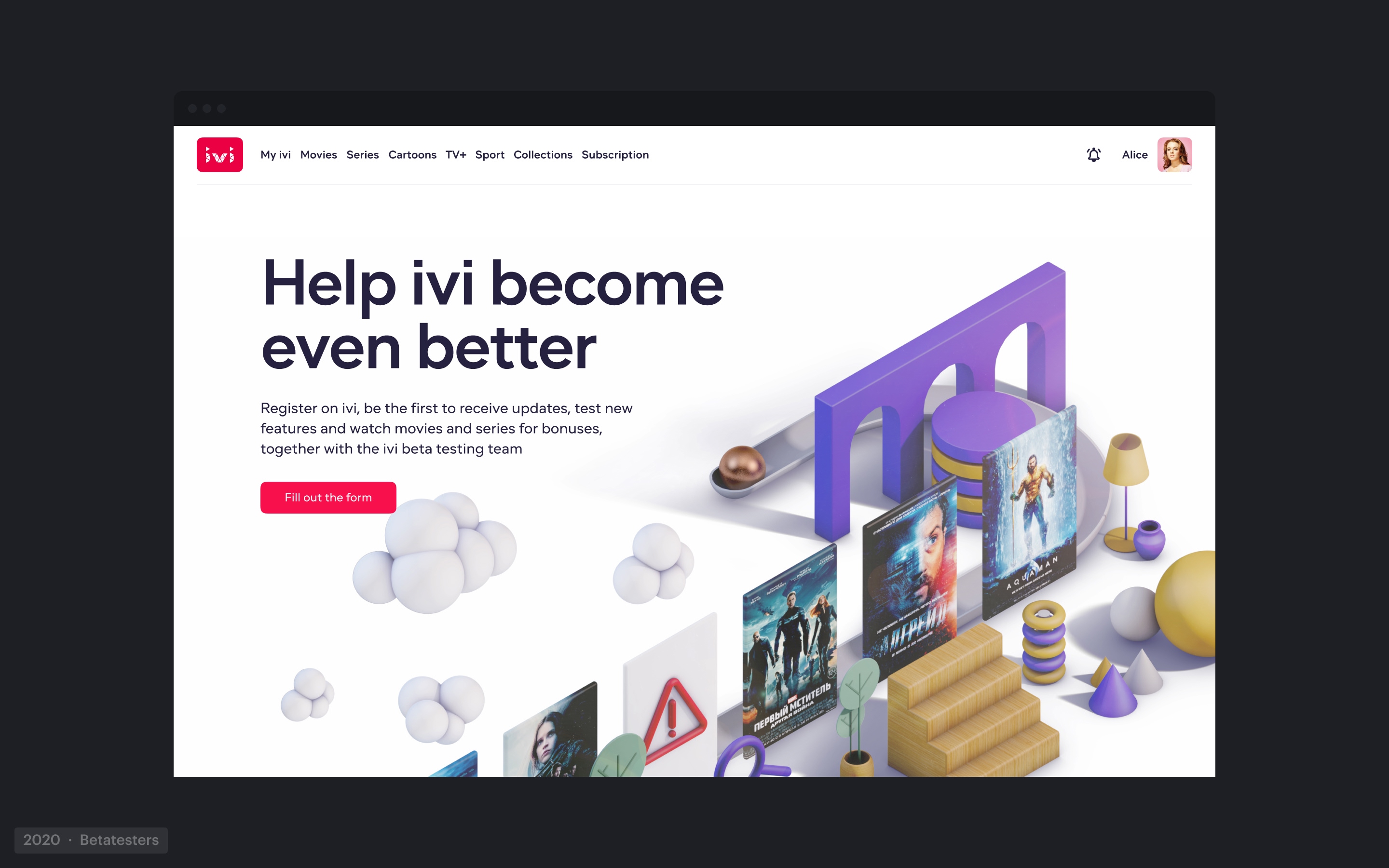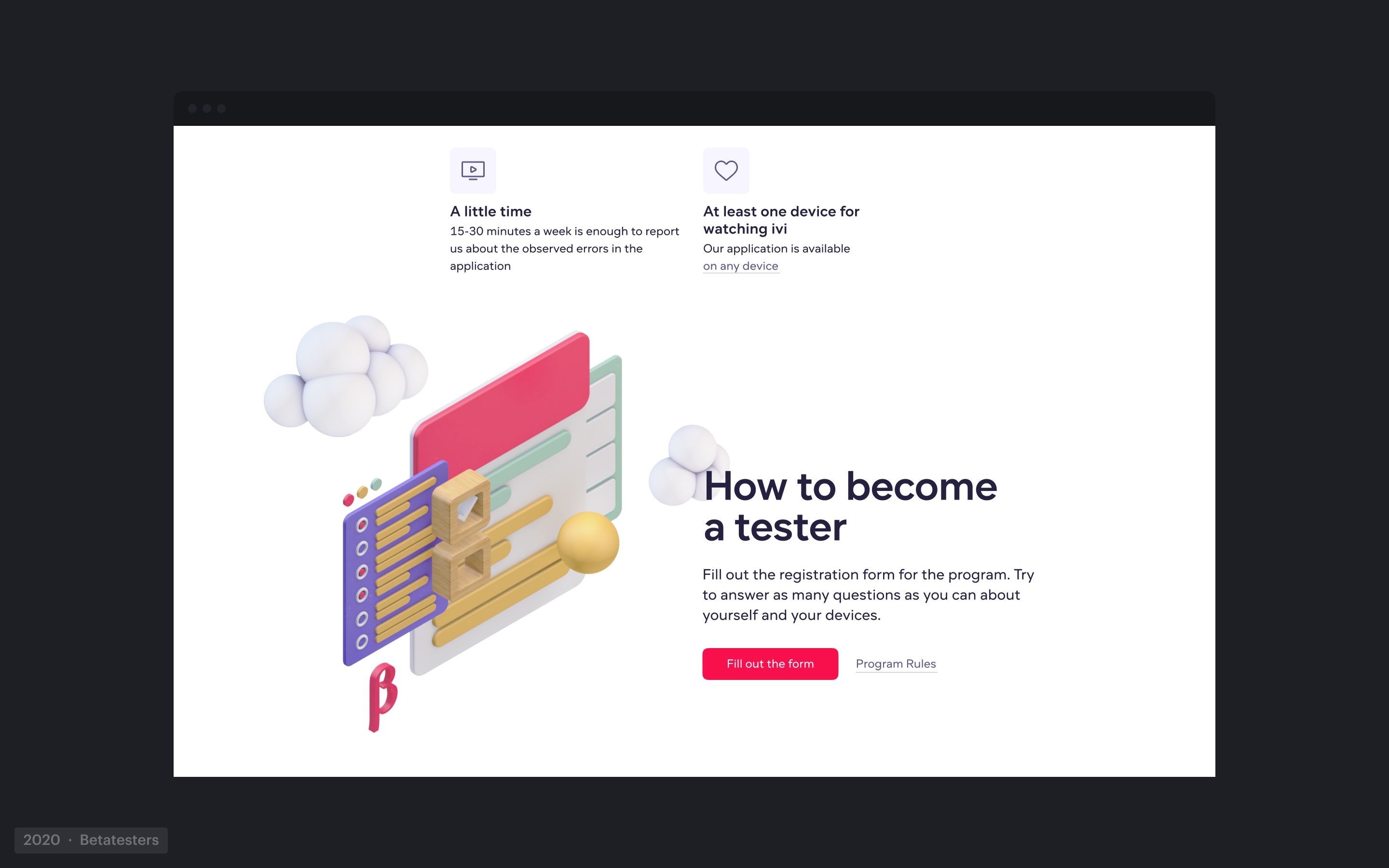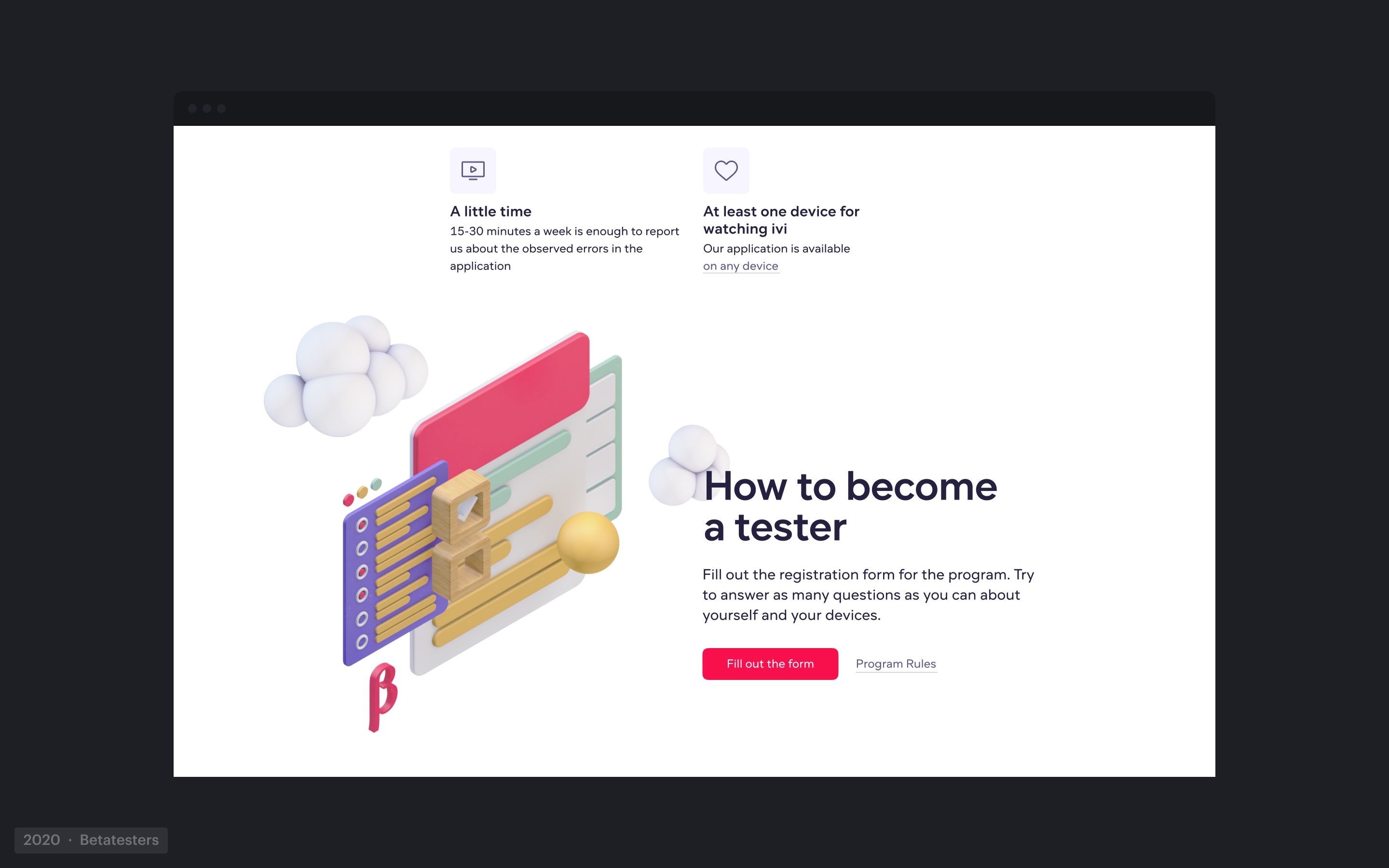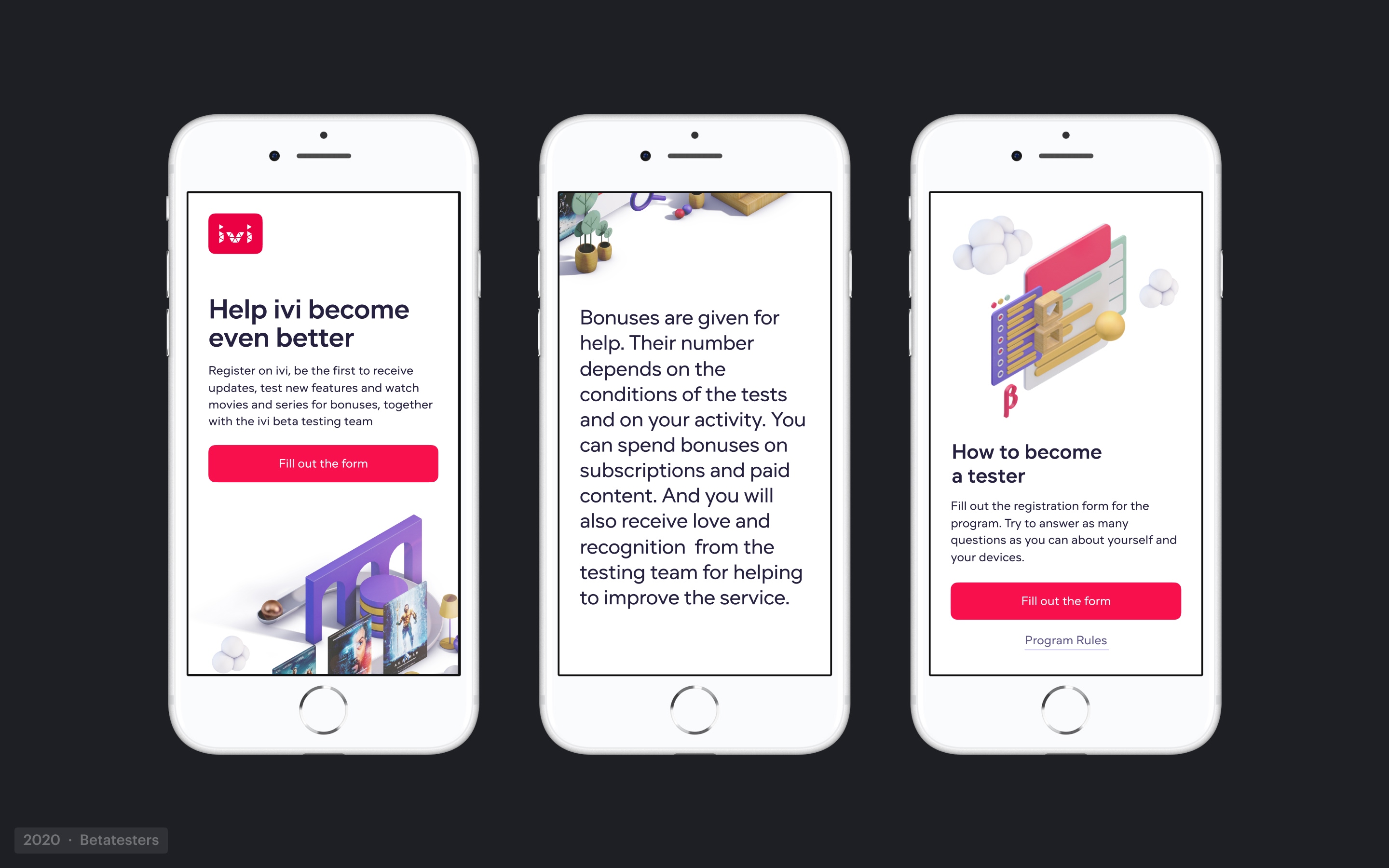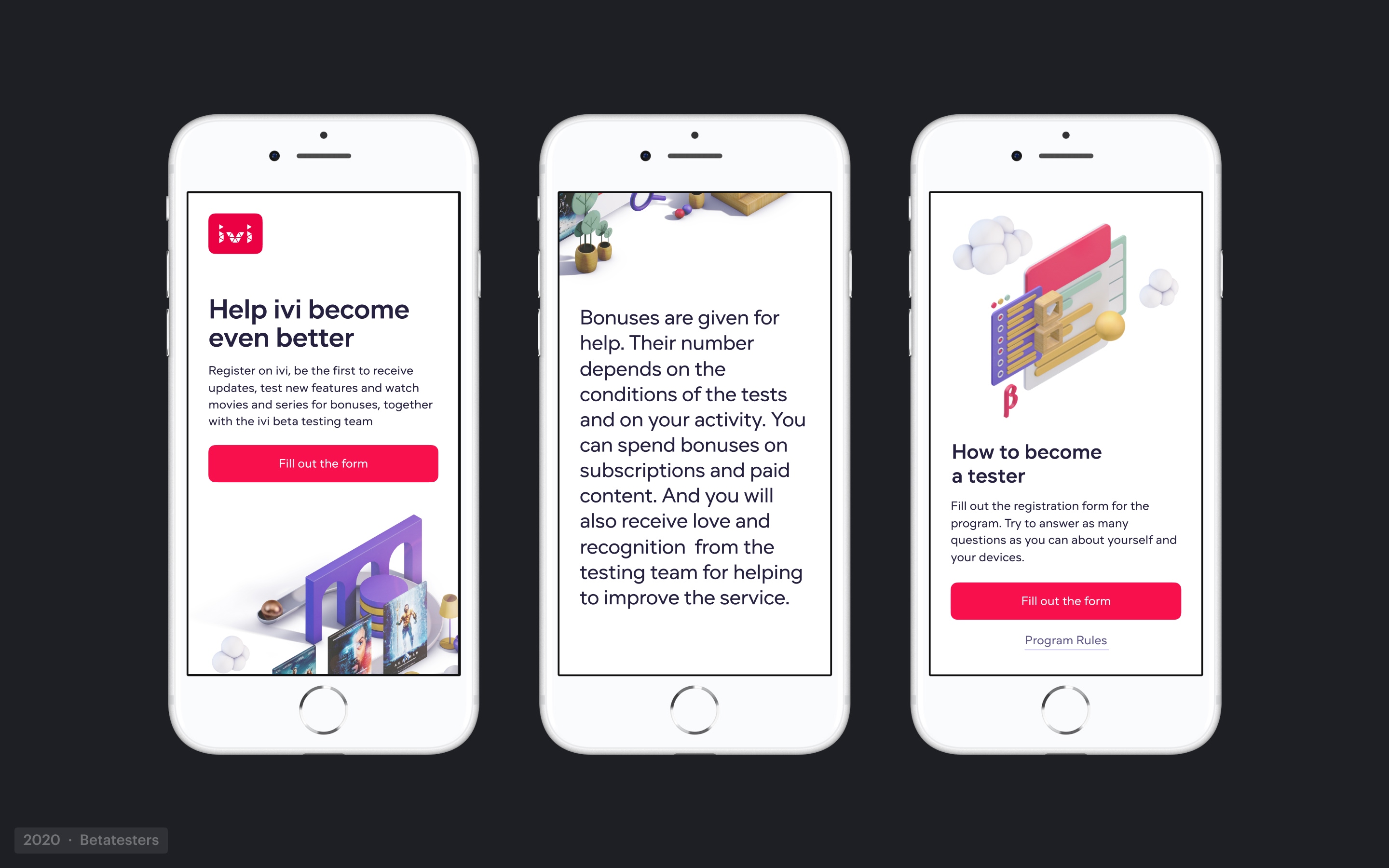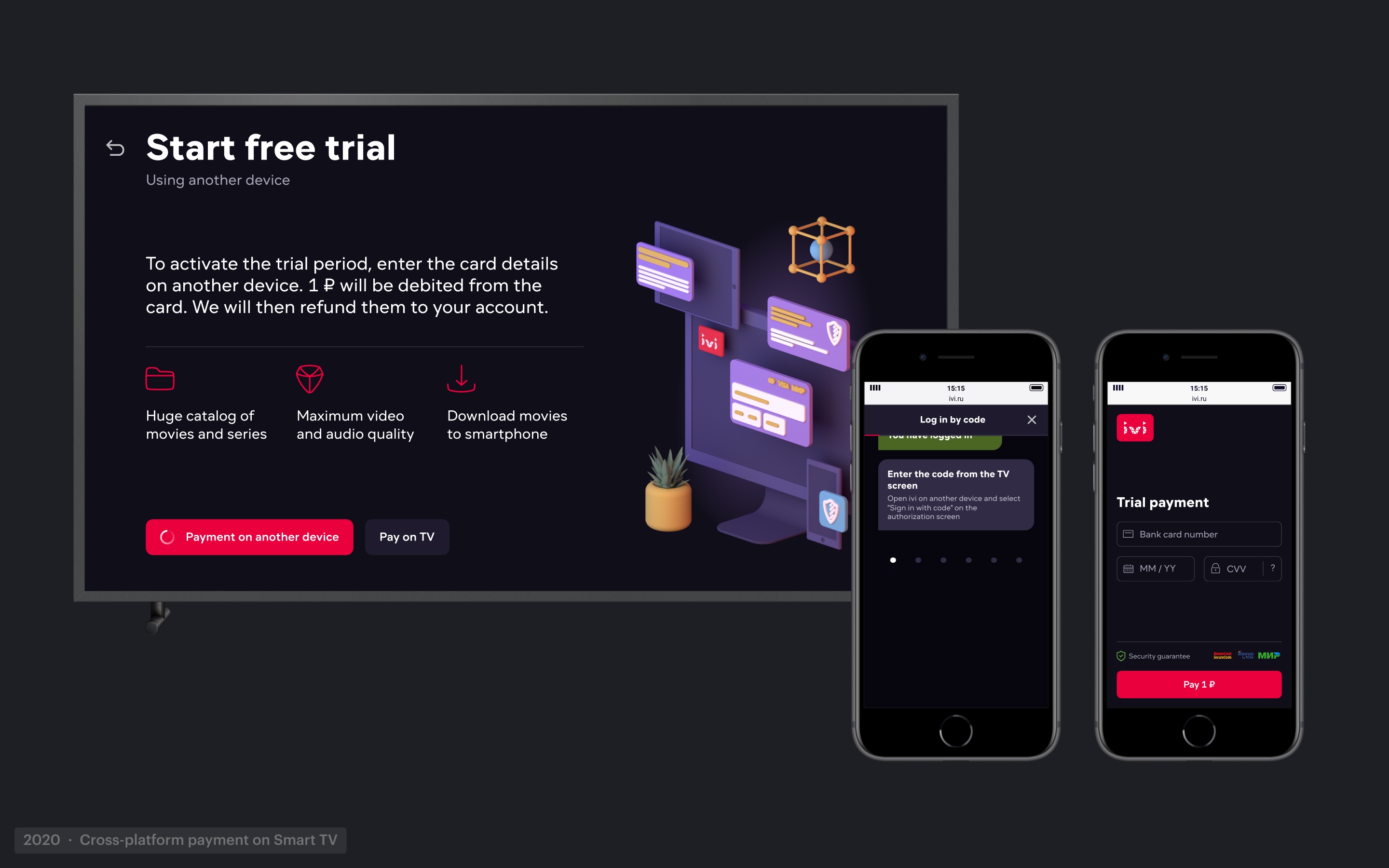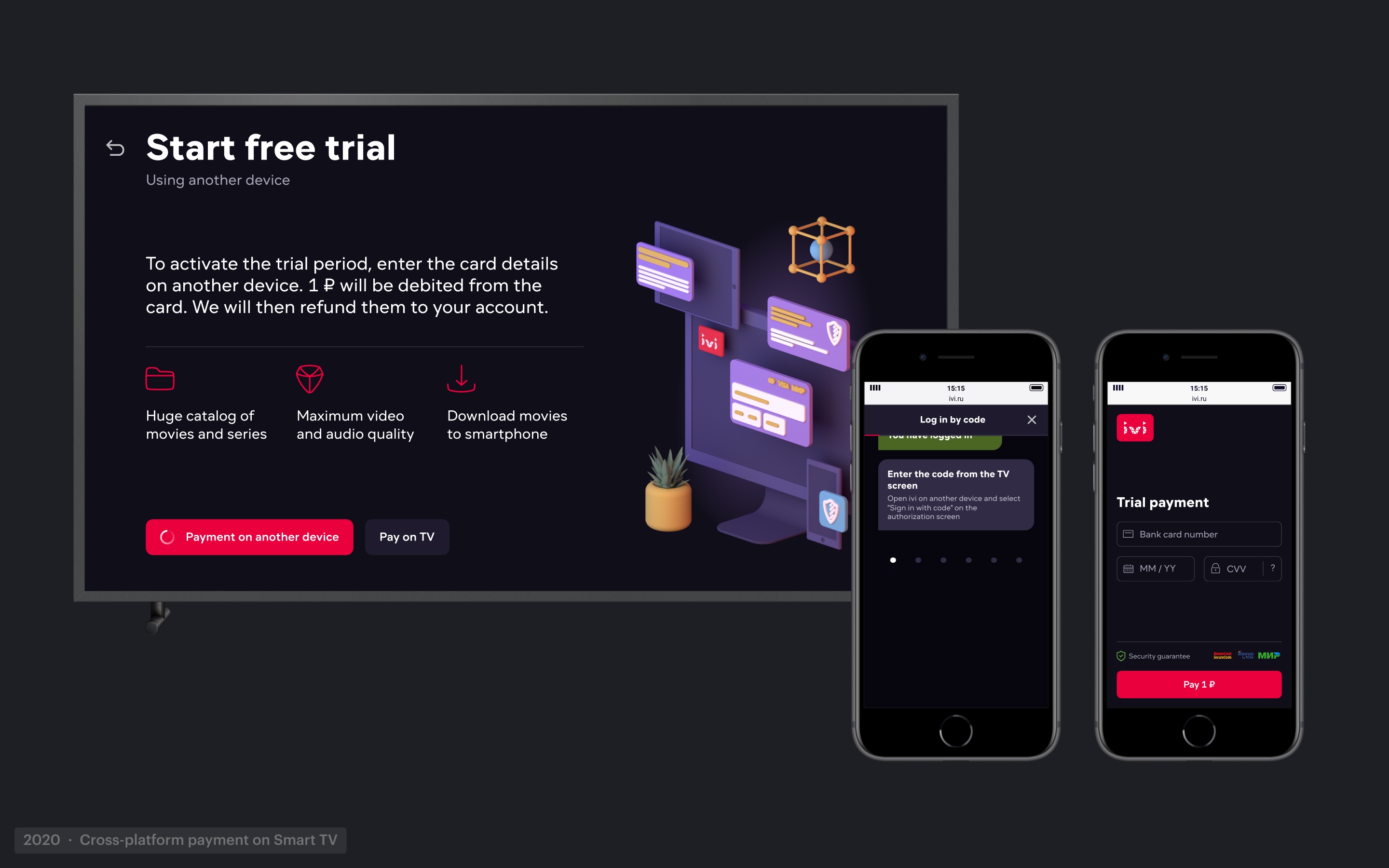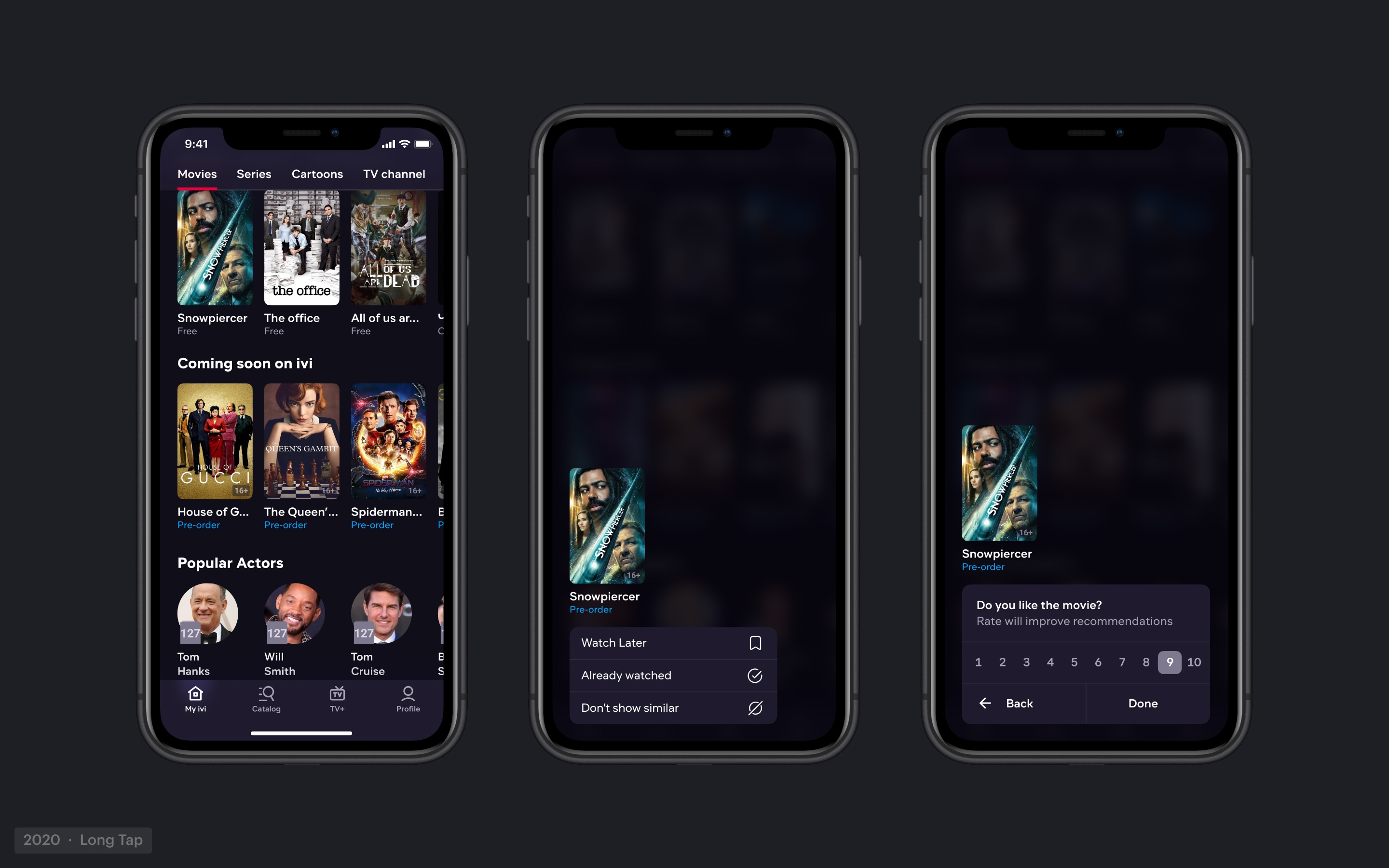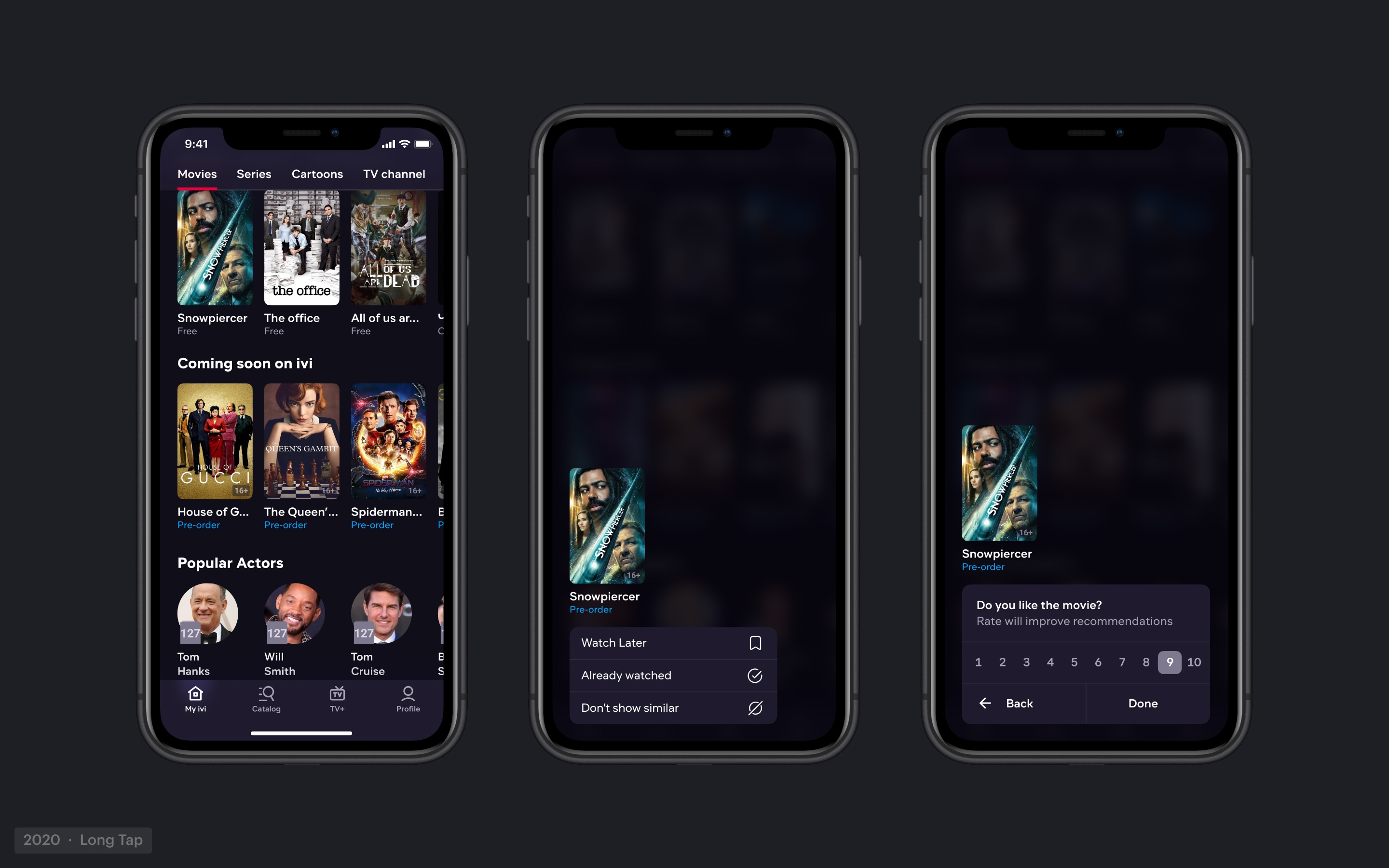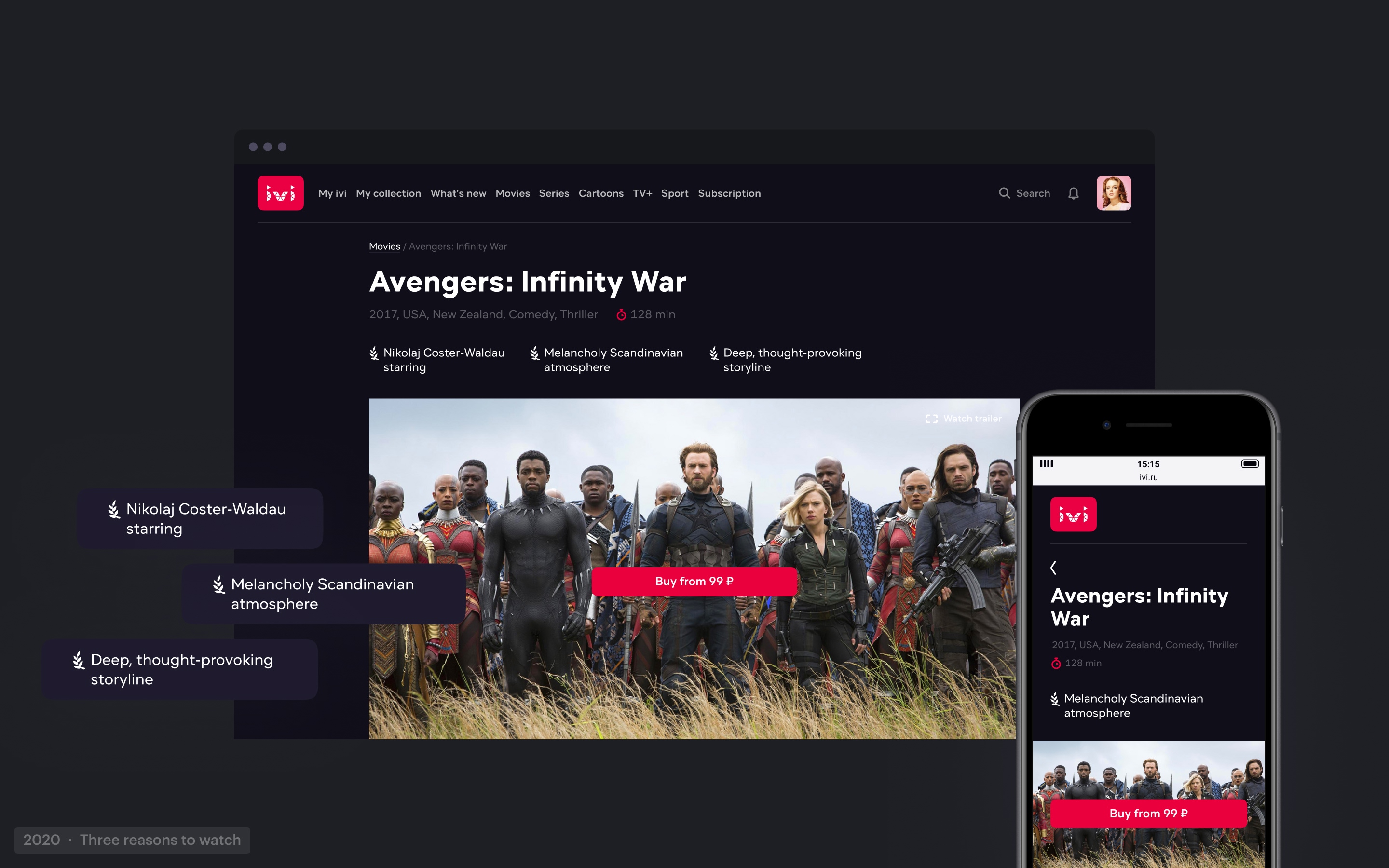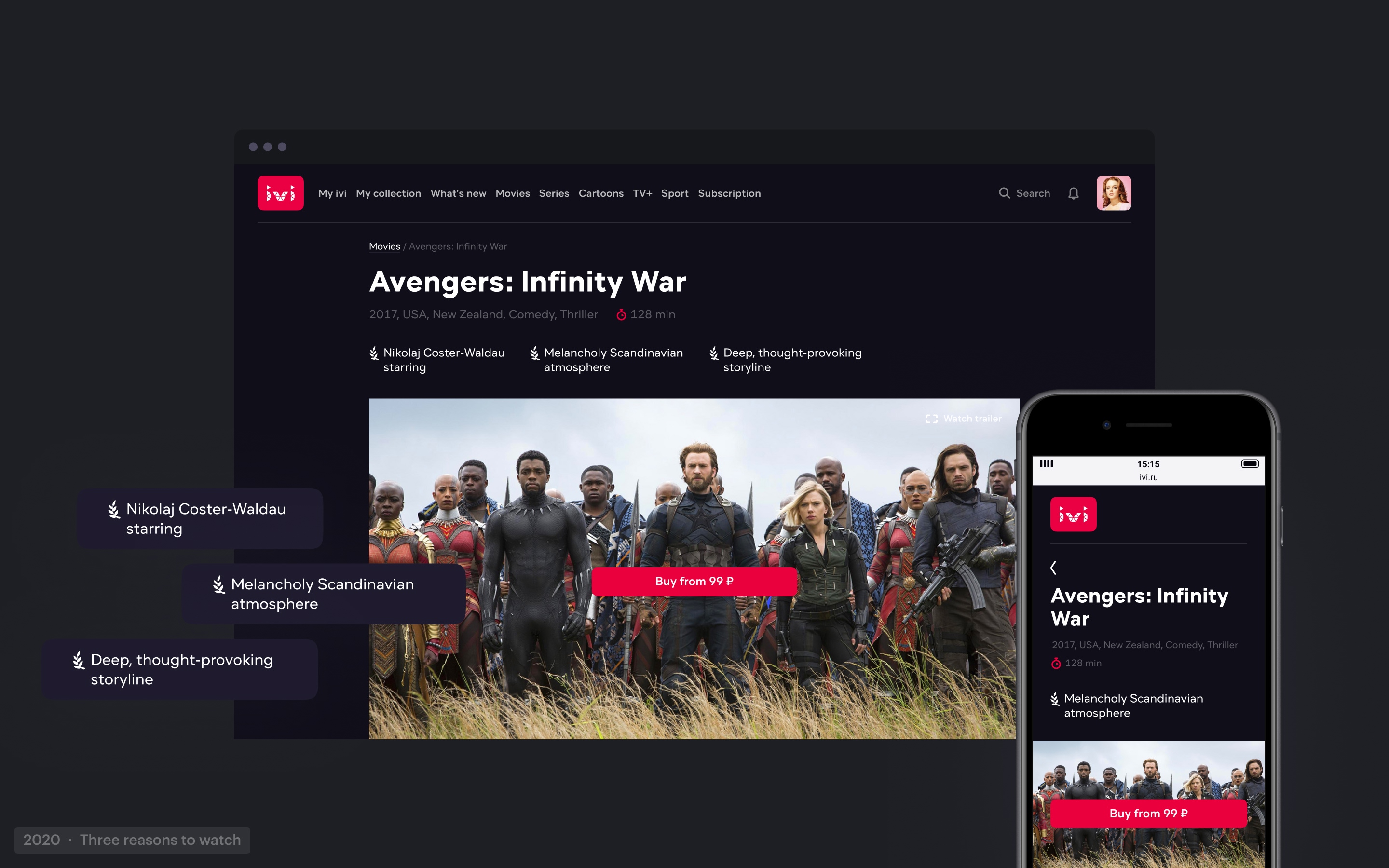 IVI. CORPORATE WEBSITE Dec 2019 — June 2020
In December of 2019, I came to work at IVI, and refreshing the corporate website was my first task. The previous version was made hastily, as a temporary option. For the new website, there were several challenges: to visually show technological leadership and modernity, to tell about business in numbers and the thesis, and to collect information for applicants.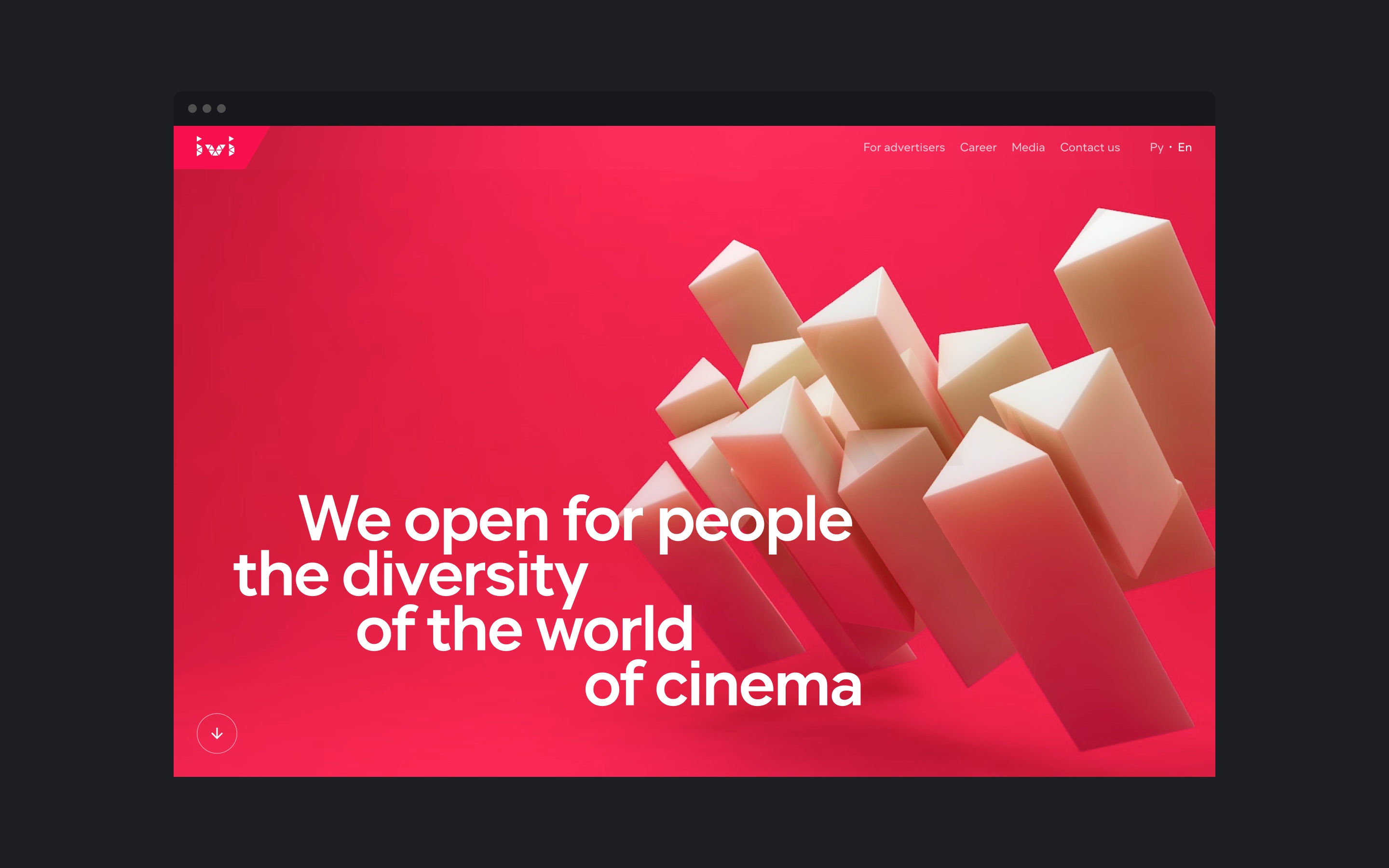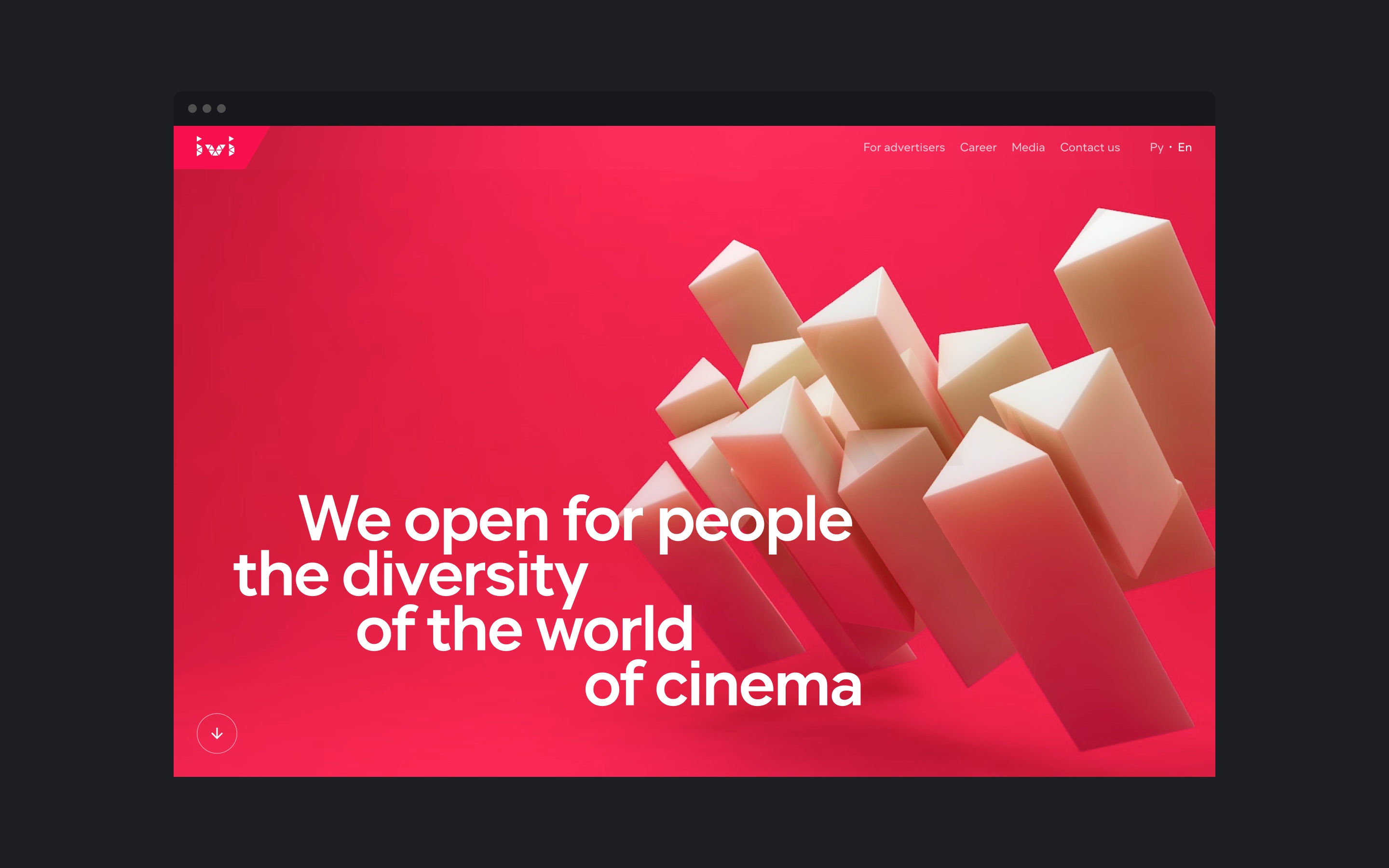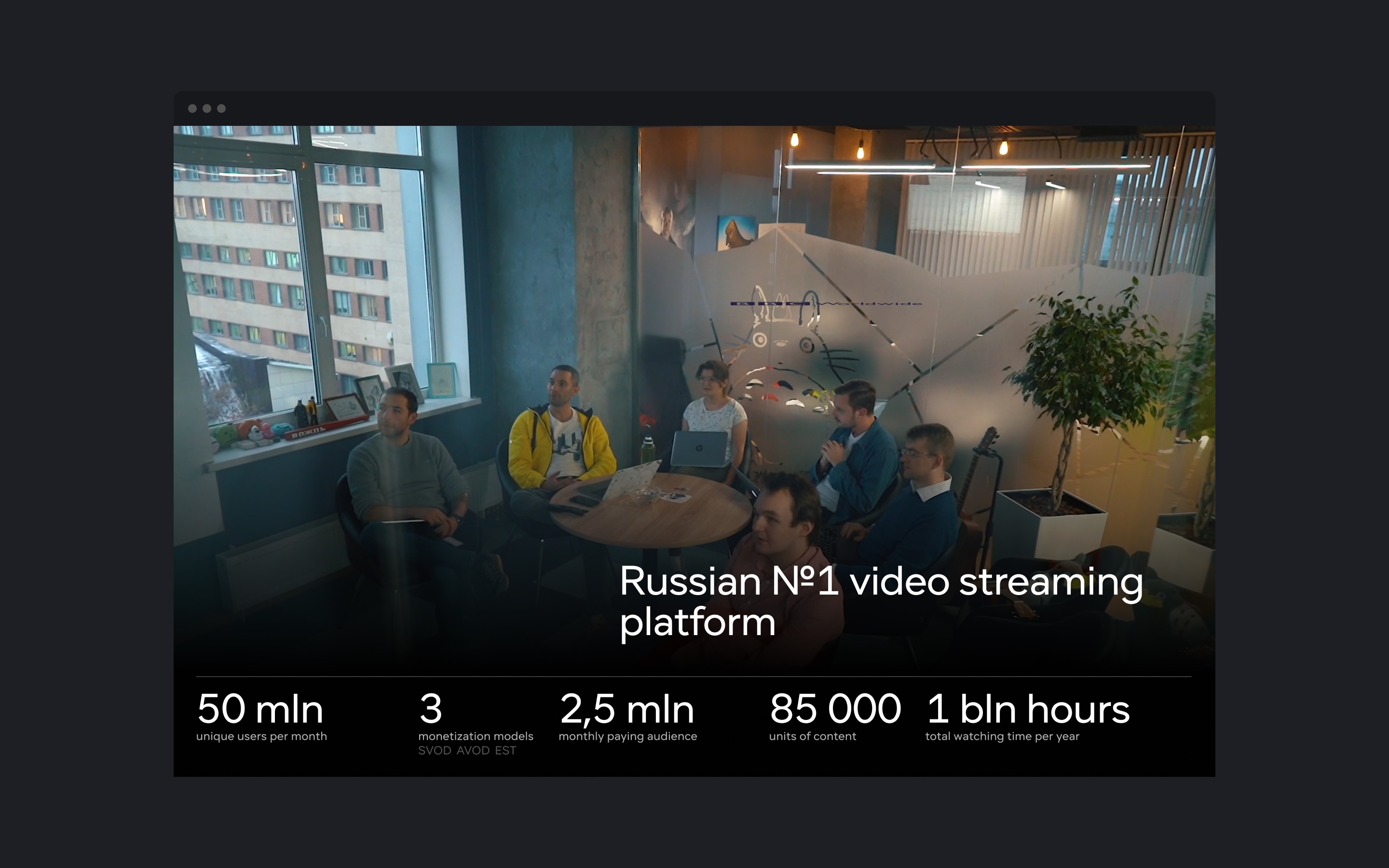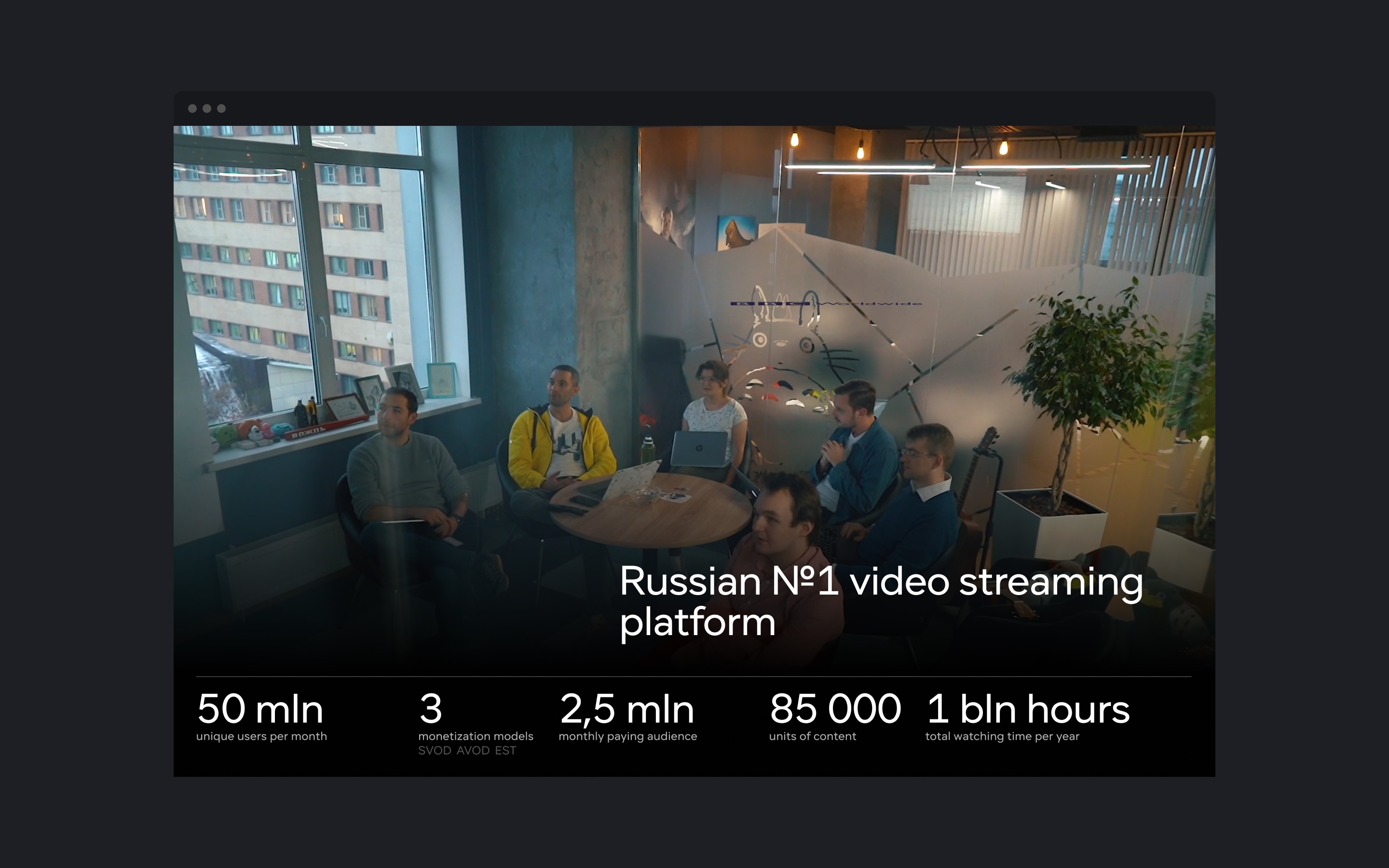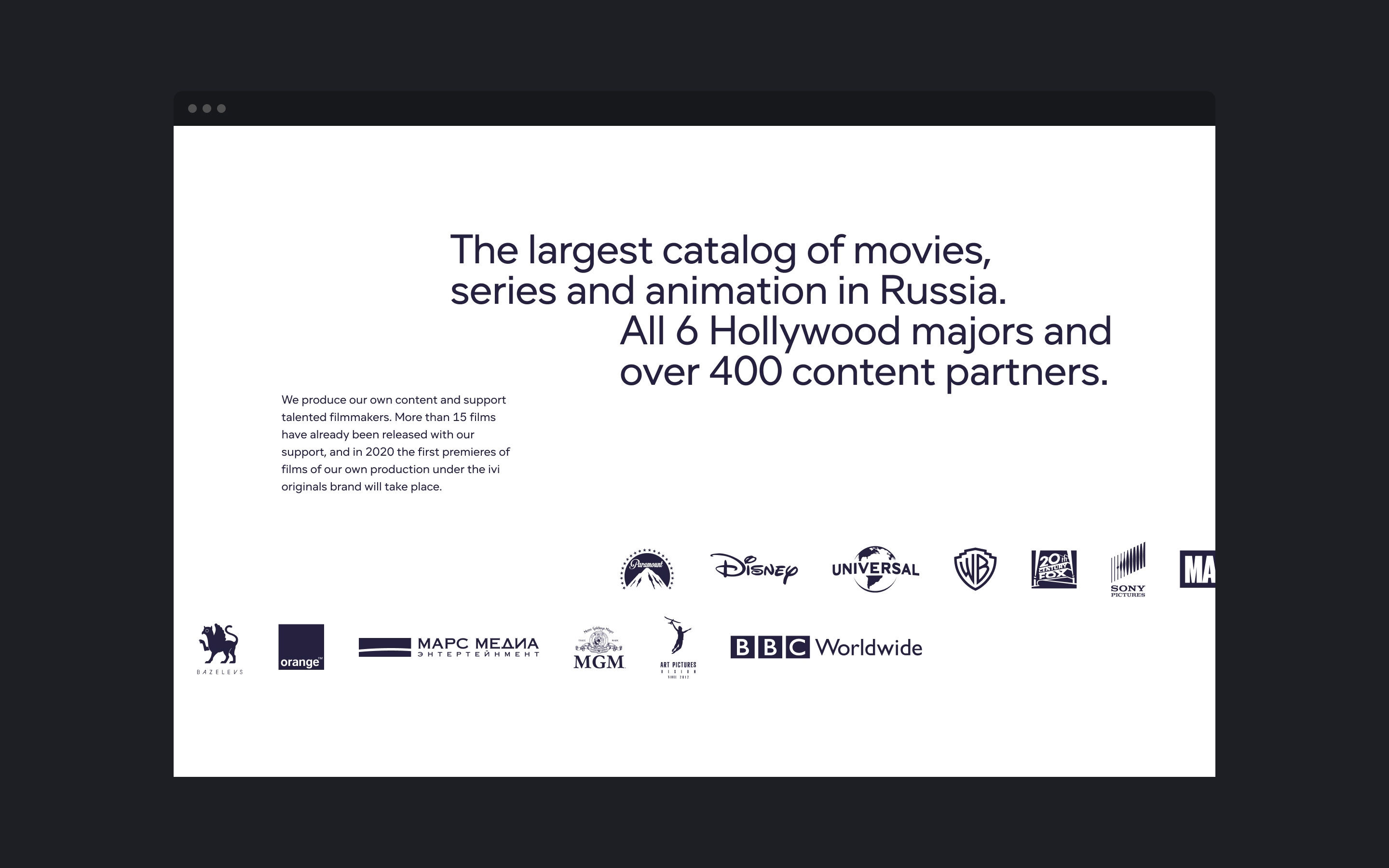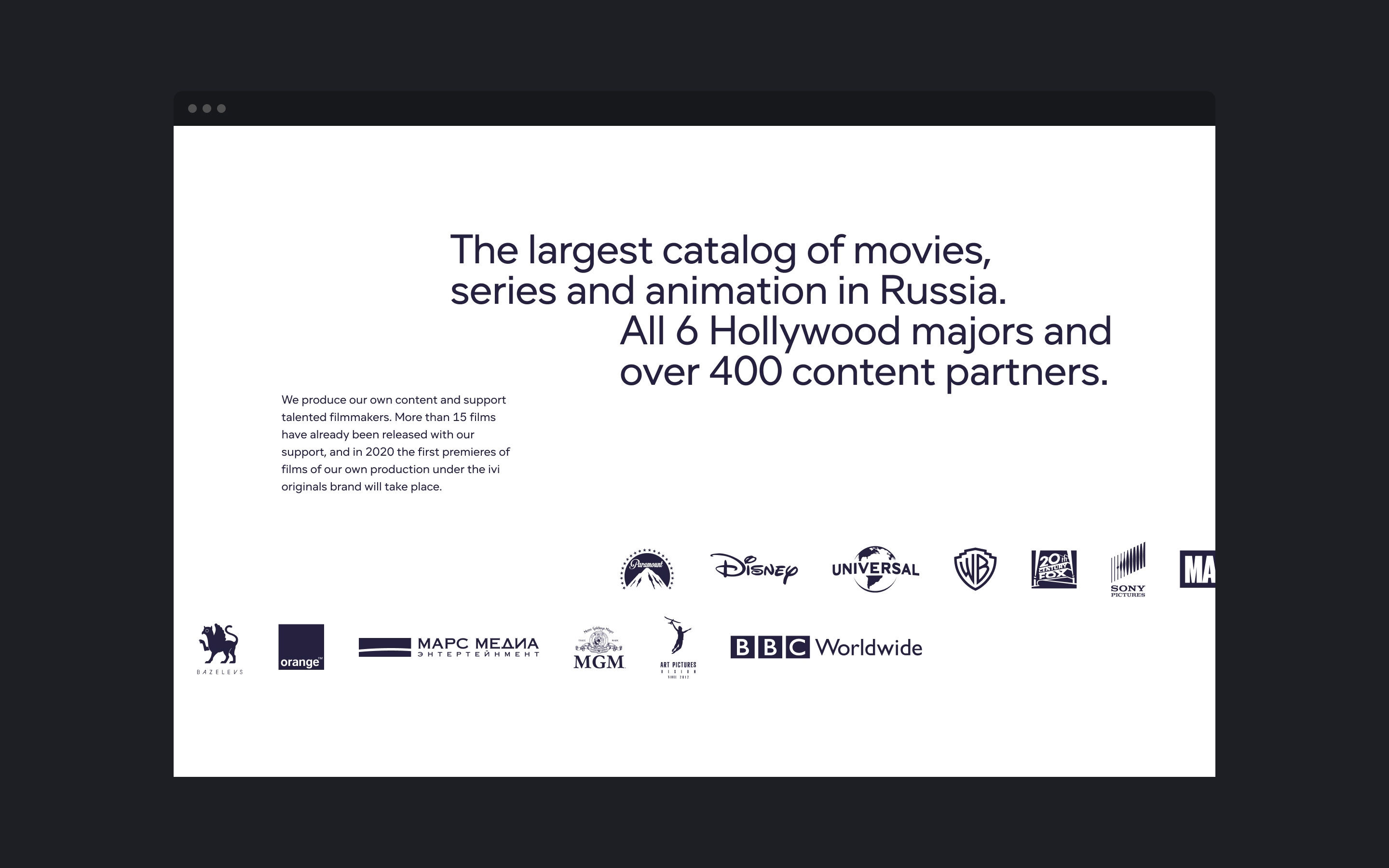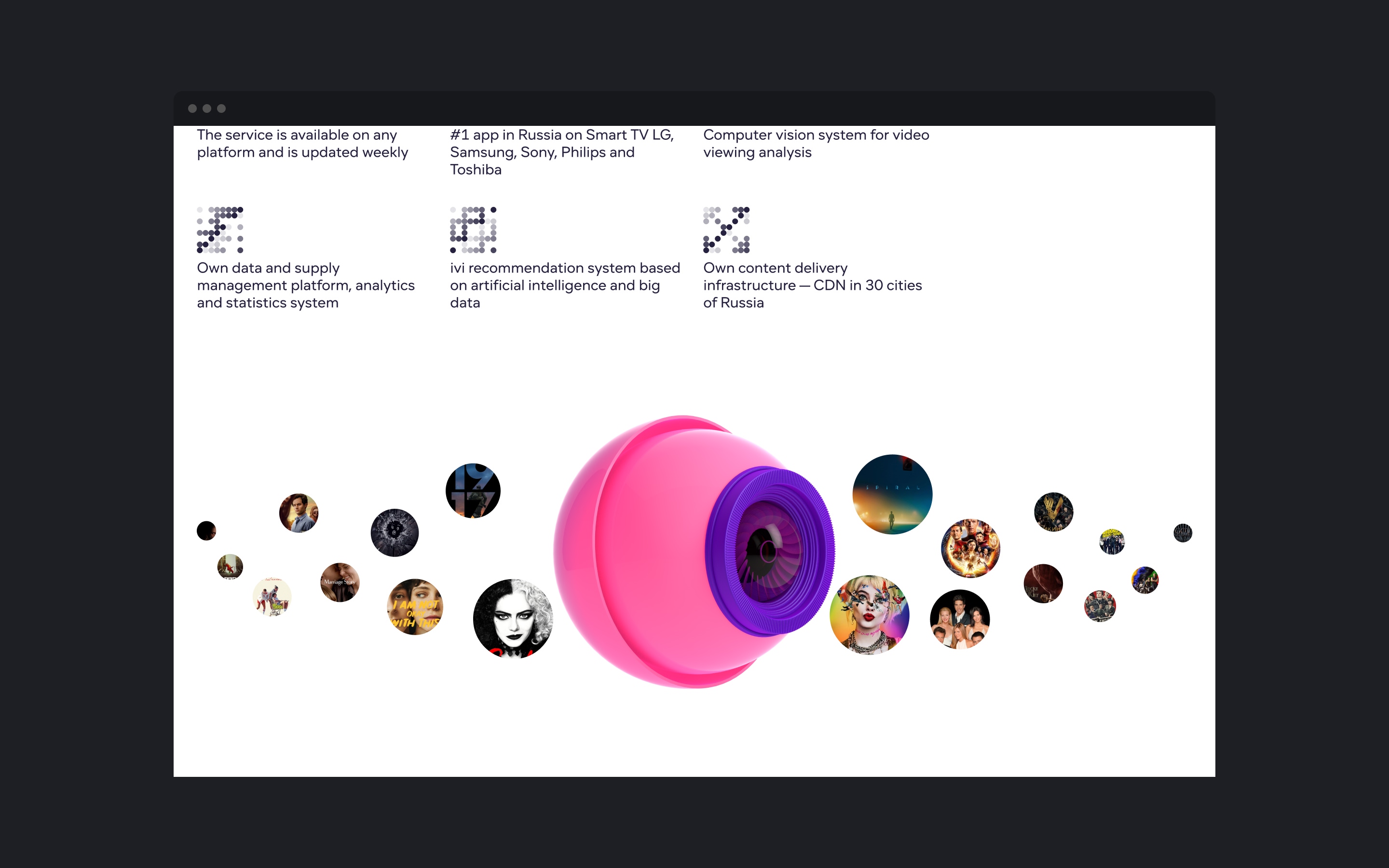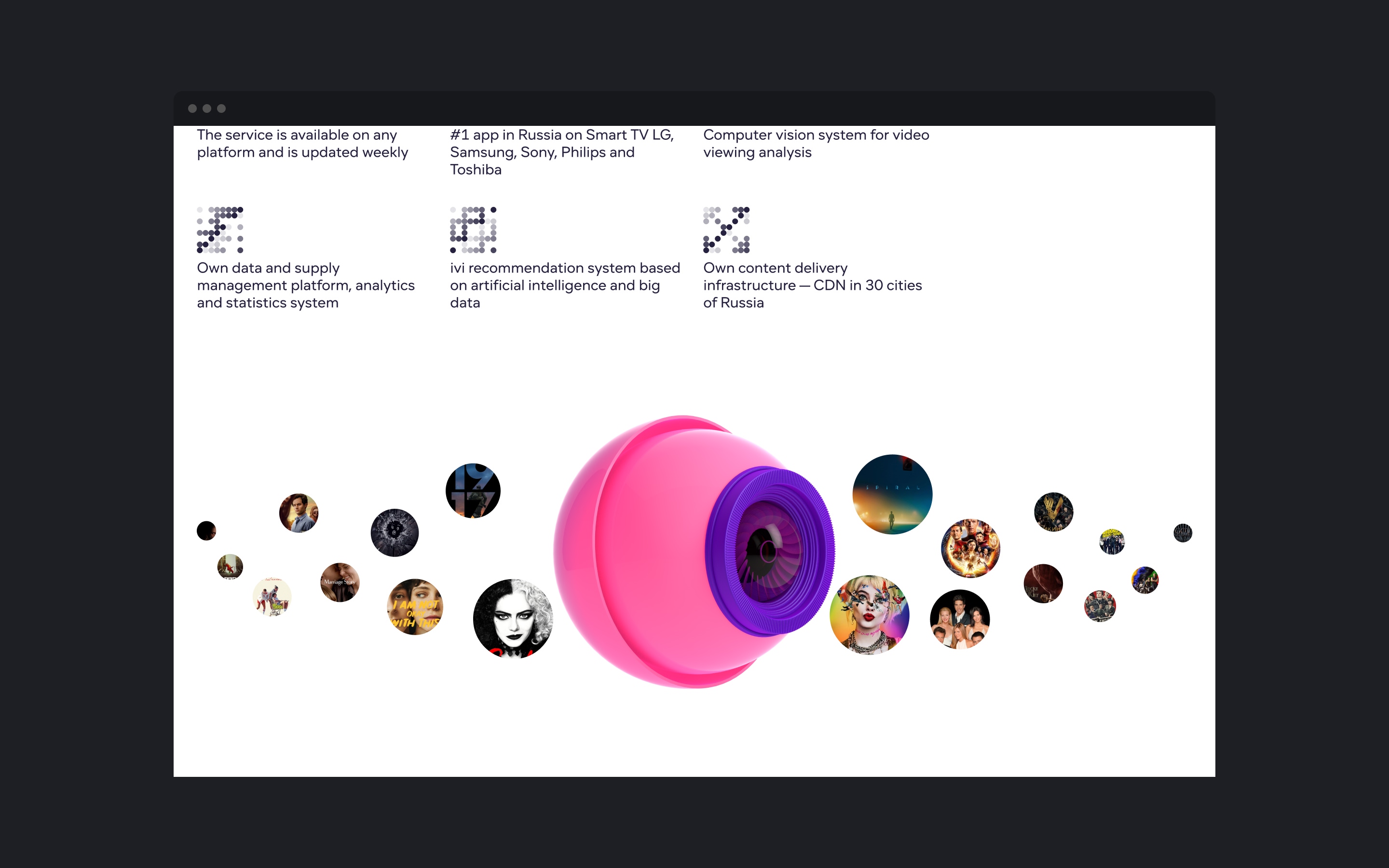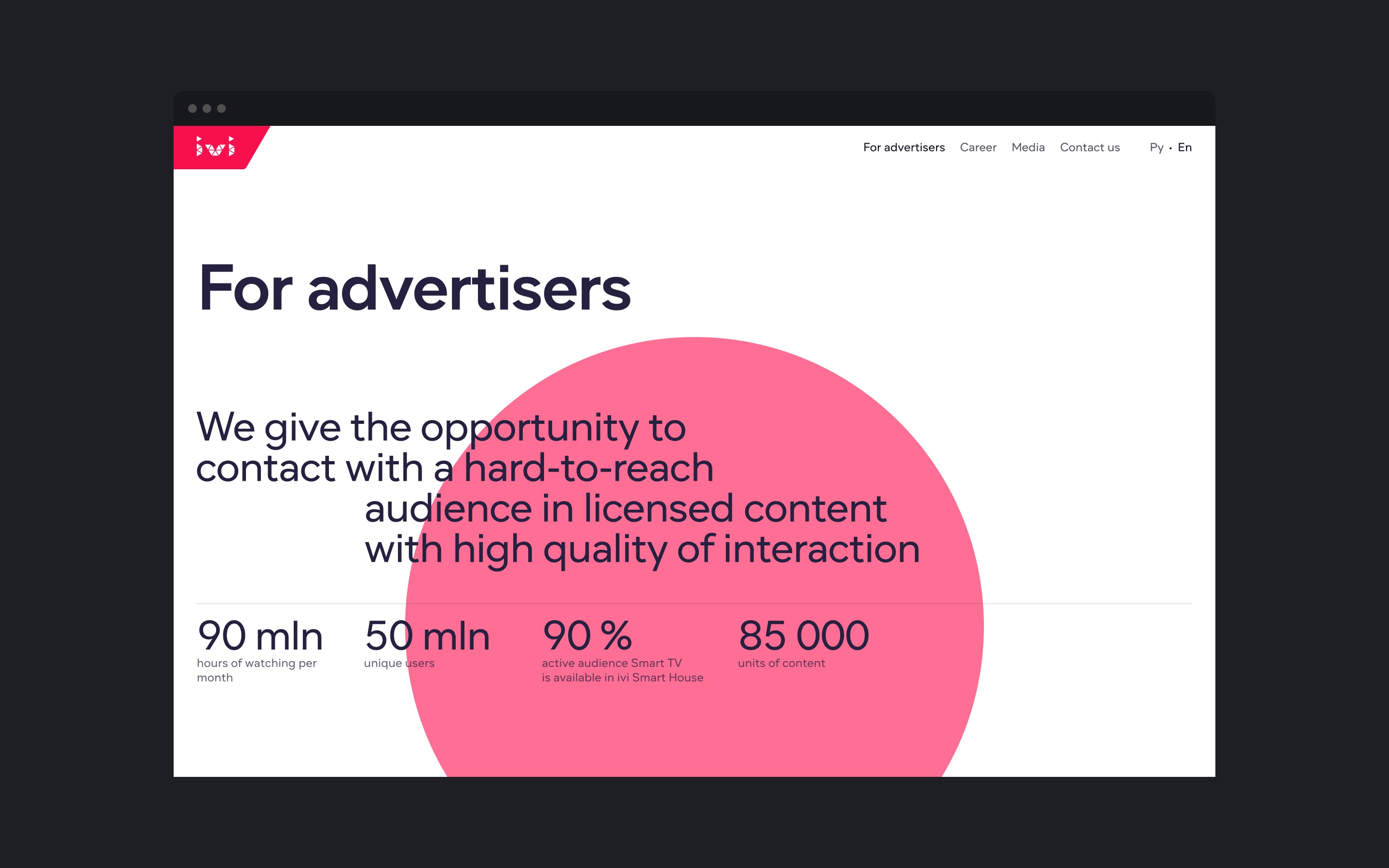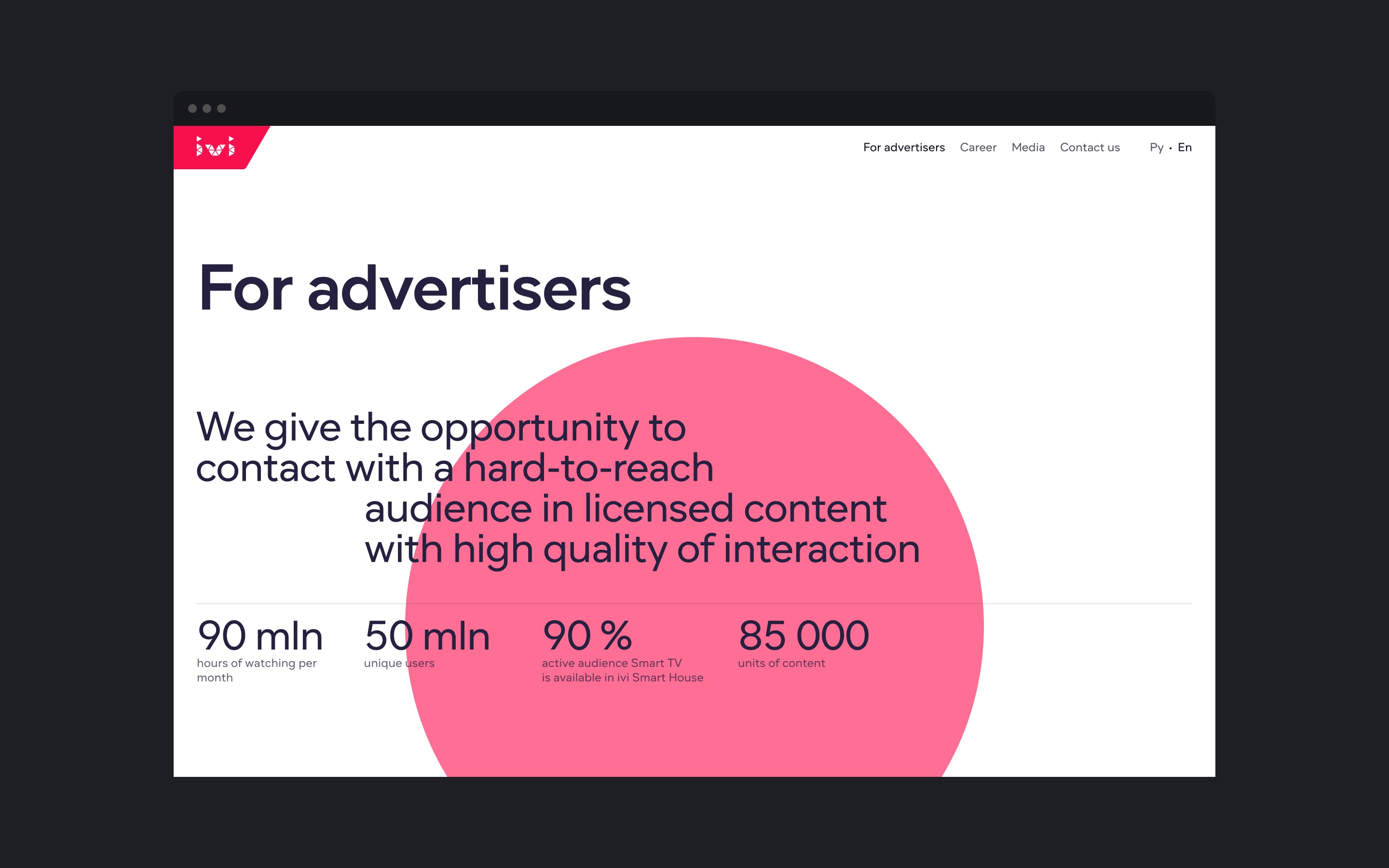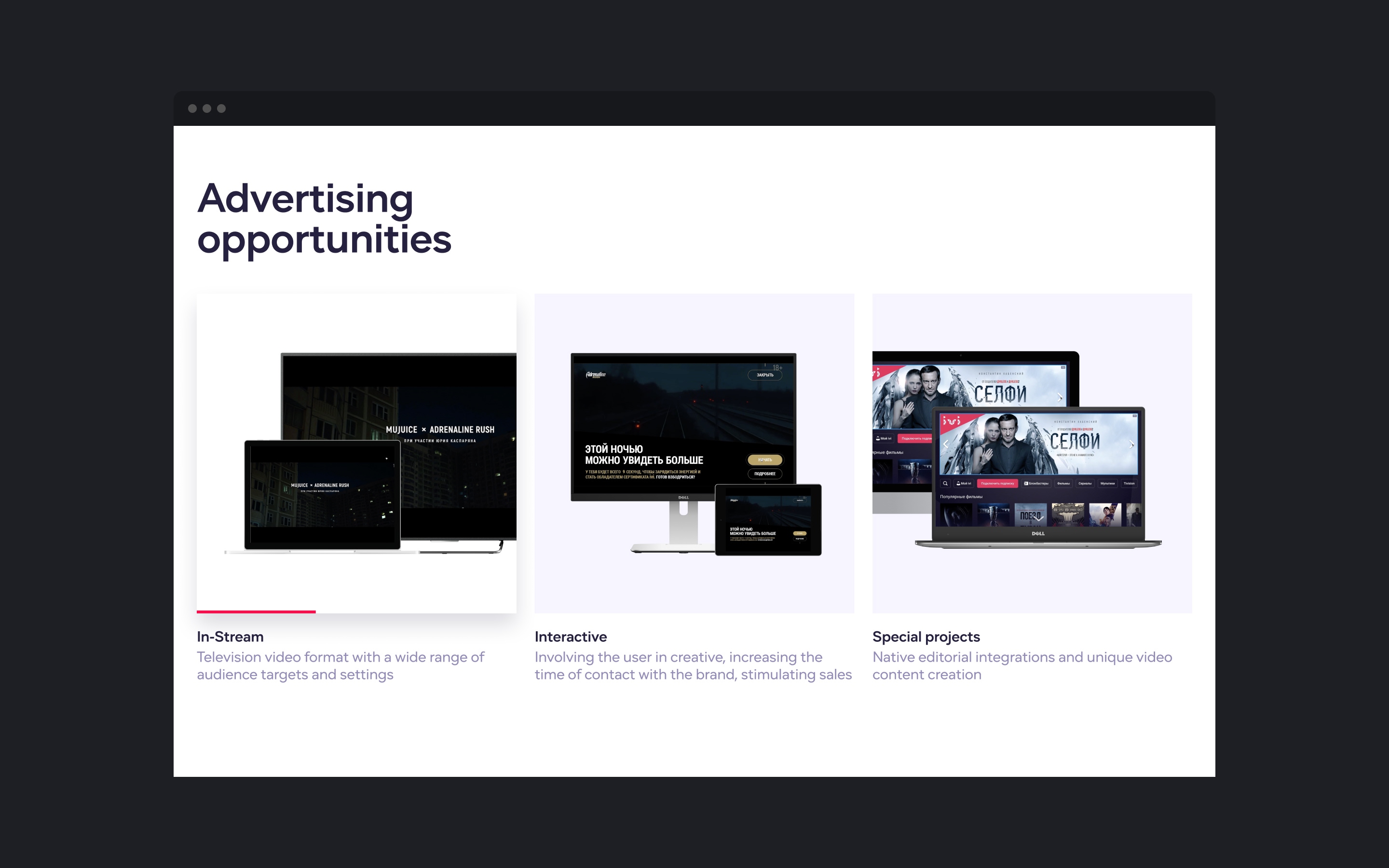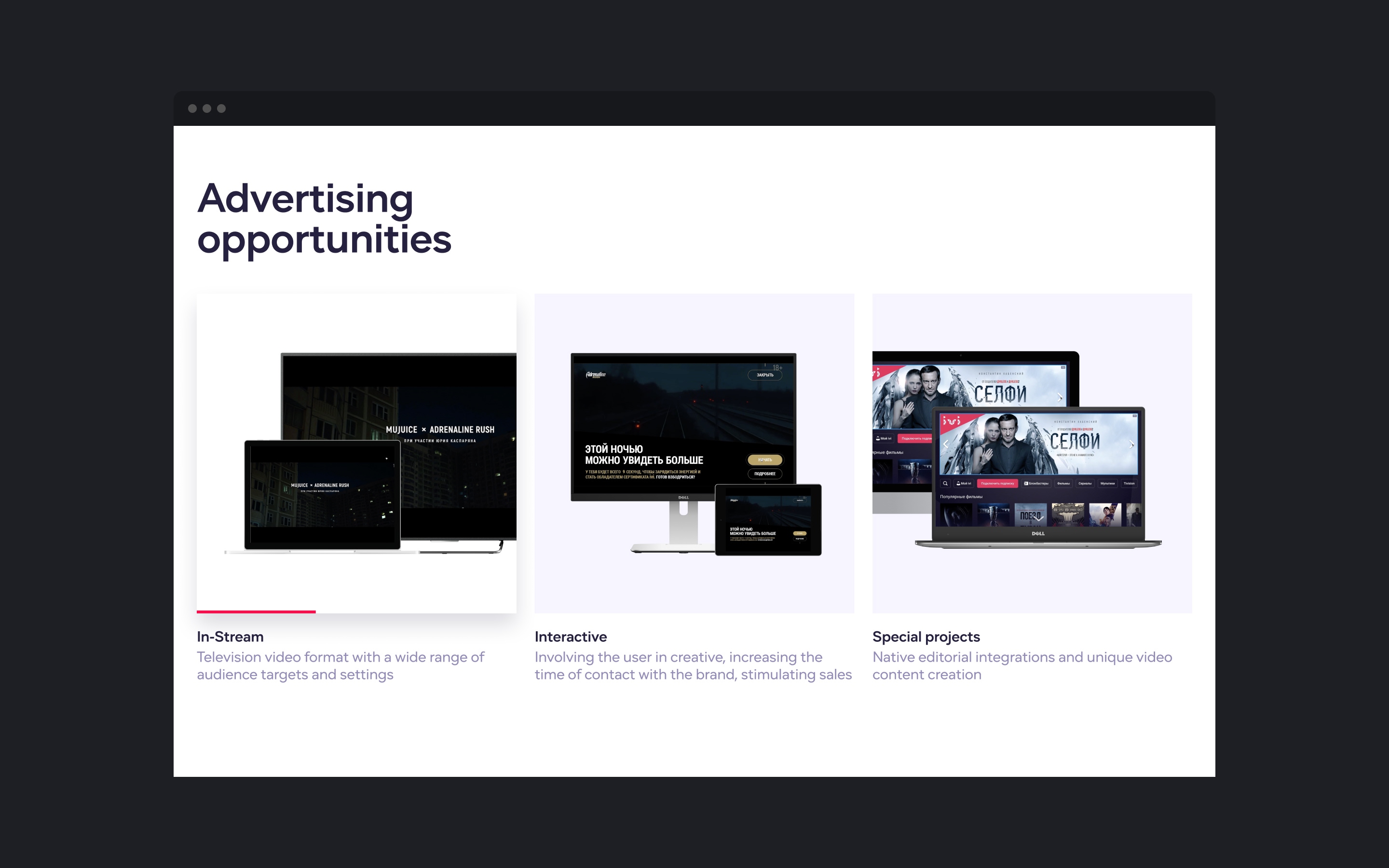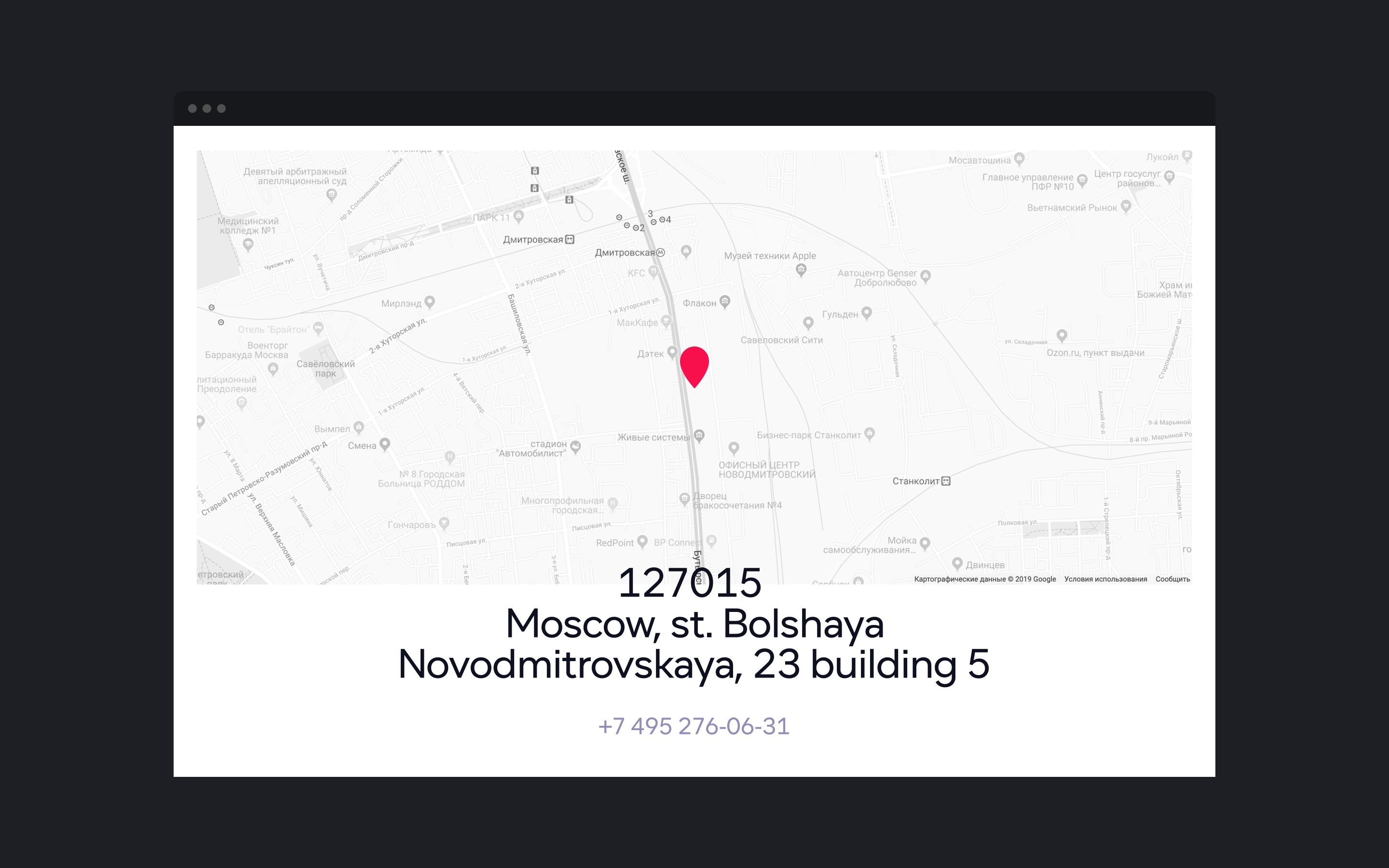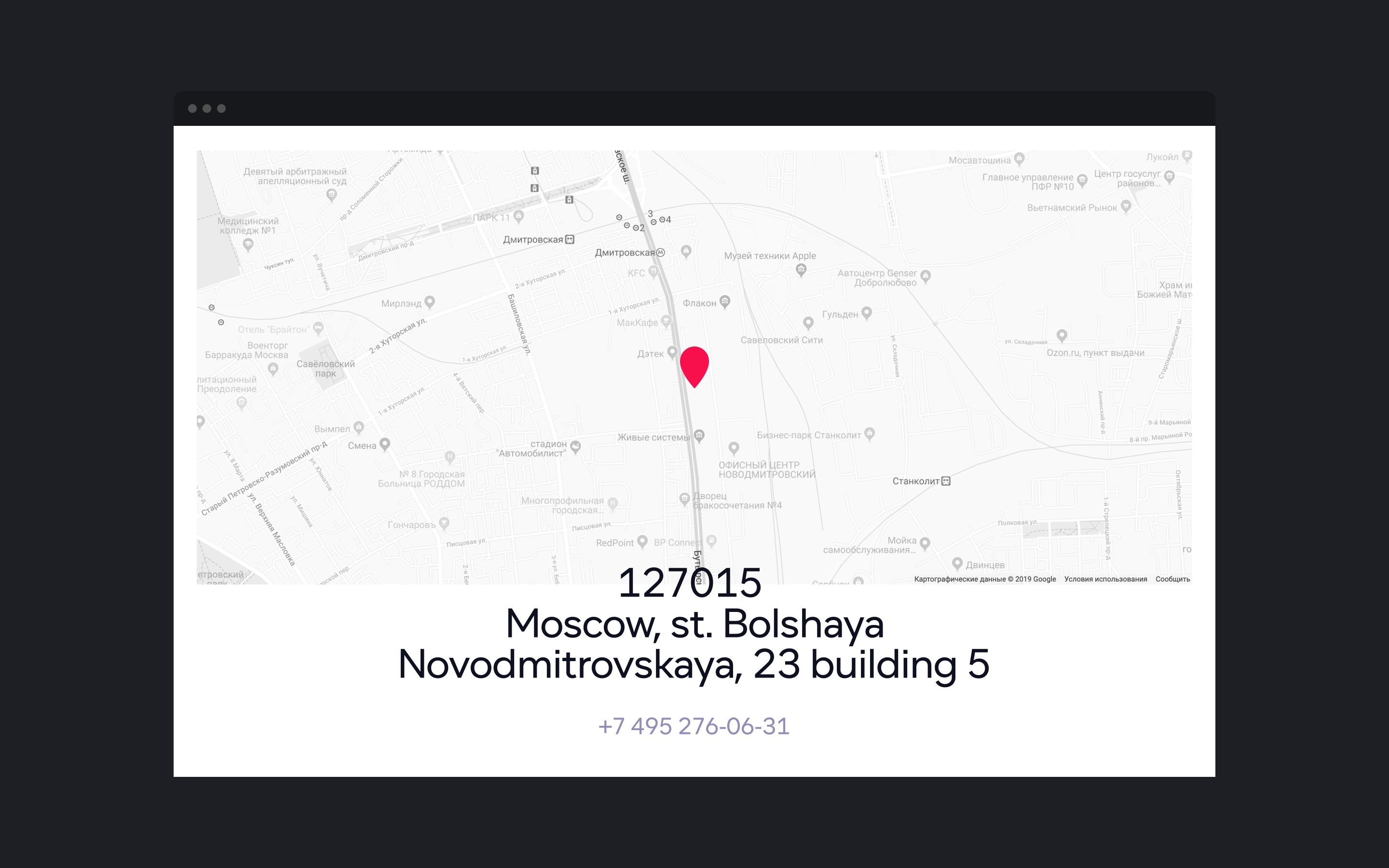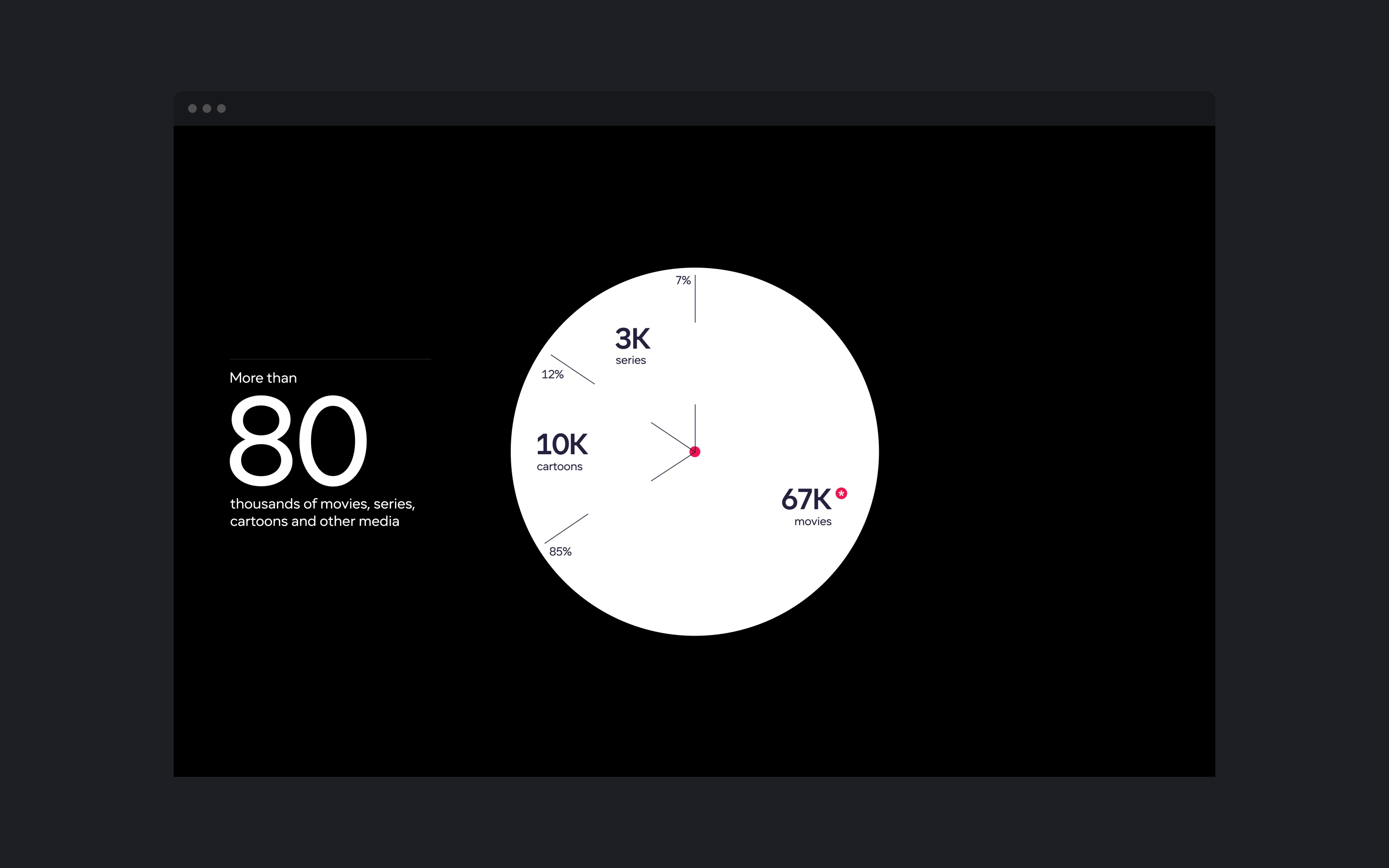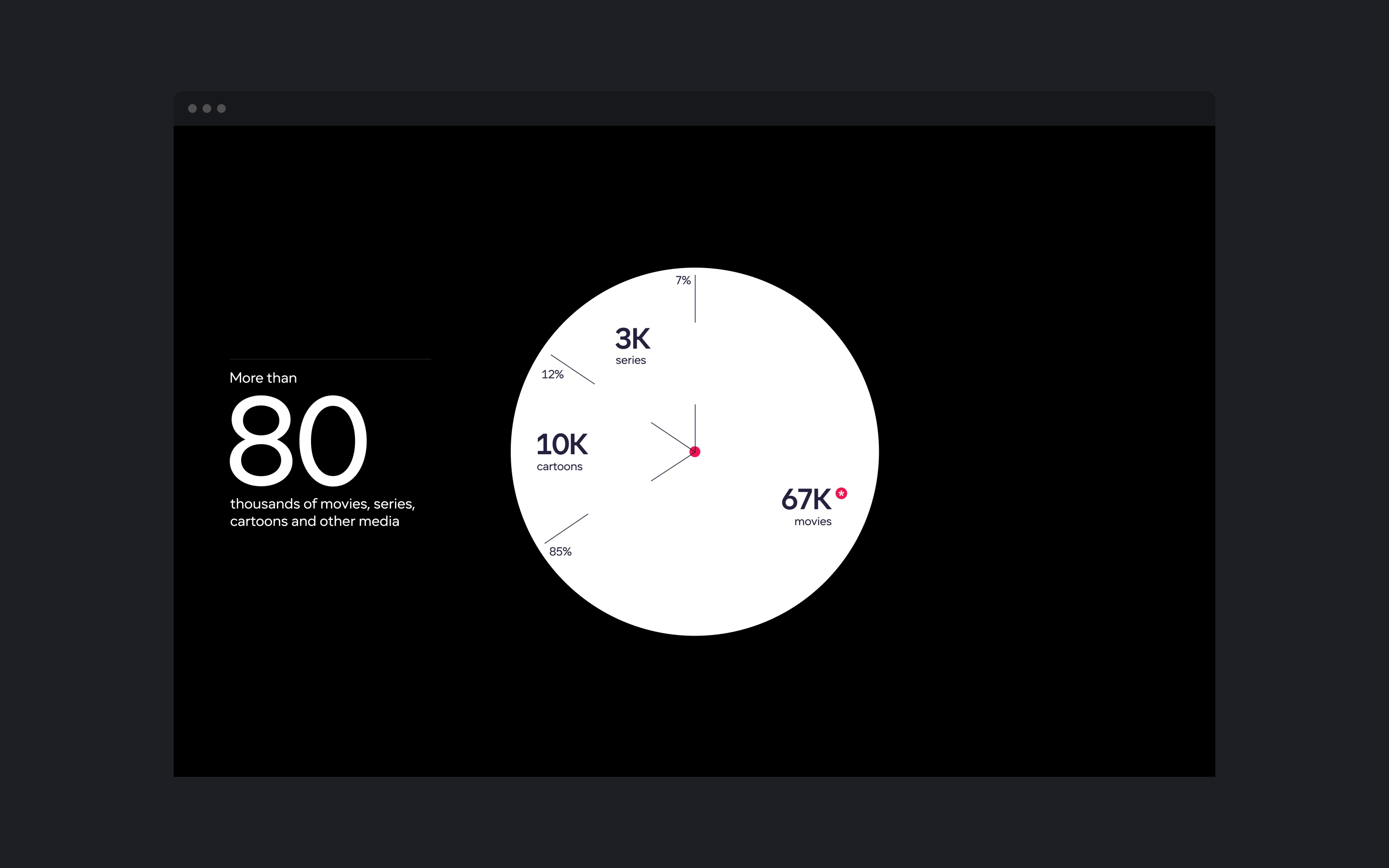 SOCIAL NETWORK ABOUT ART 2014 — 2019
Product Designer · Arthive
There is an editorial office in the product. The website contains a base of more than 300 thousand works and there is a platform for selling pictures and the community of art lovers and artists. For Arthive I established the design system that put the project in order. I also made designs for the most visited pages and sections of the project.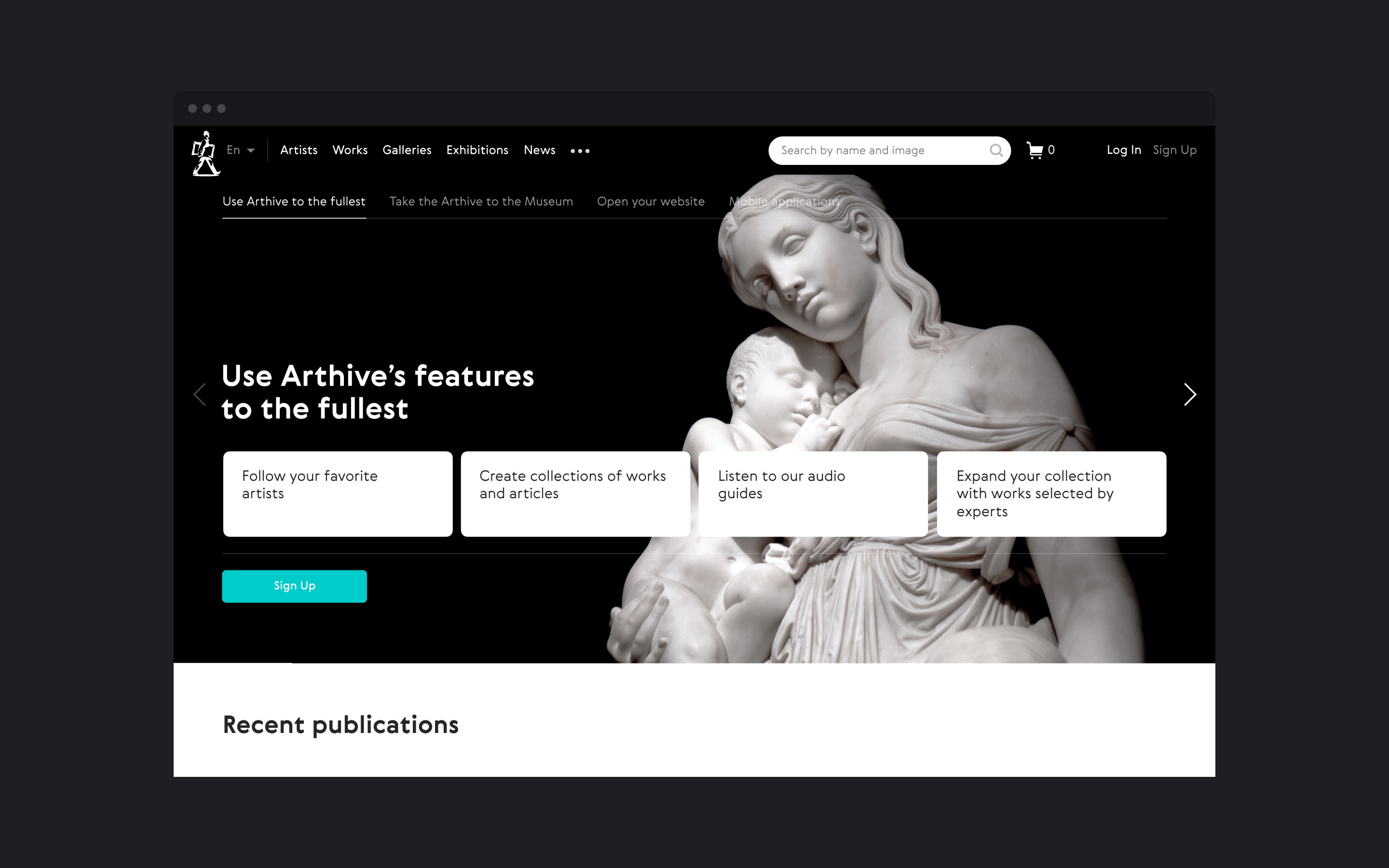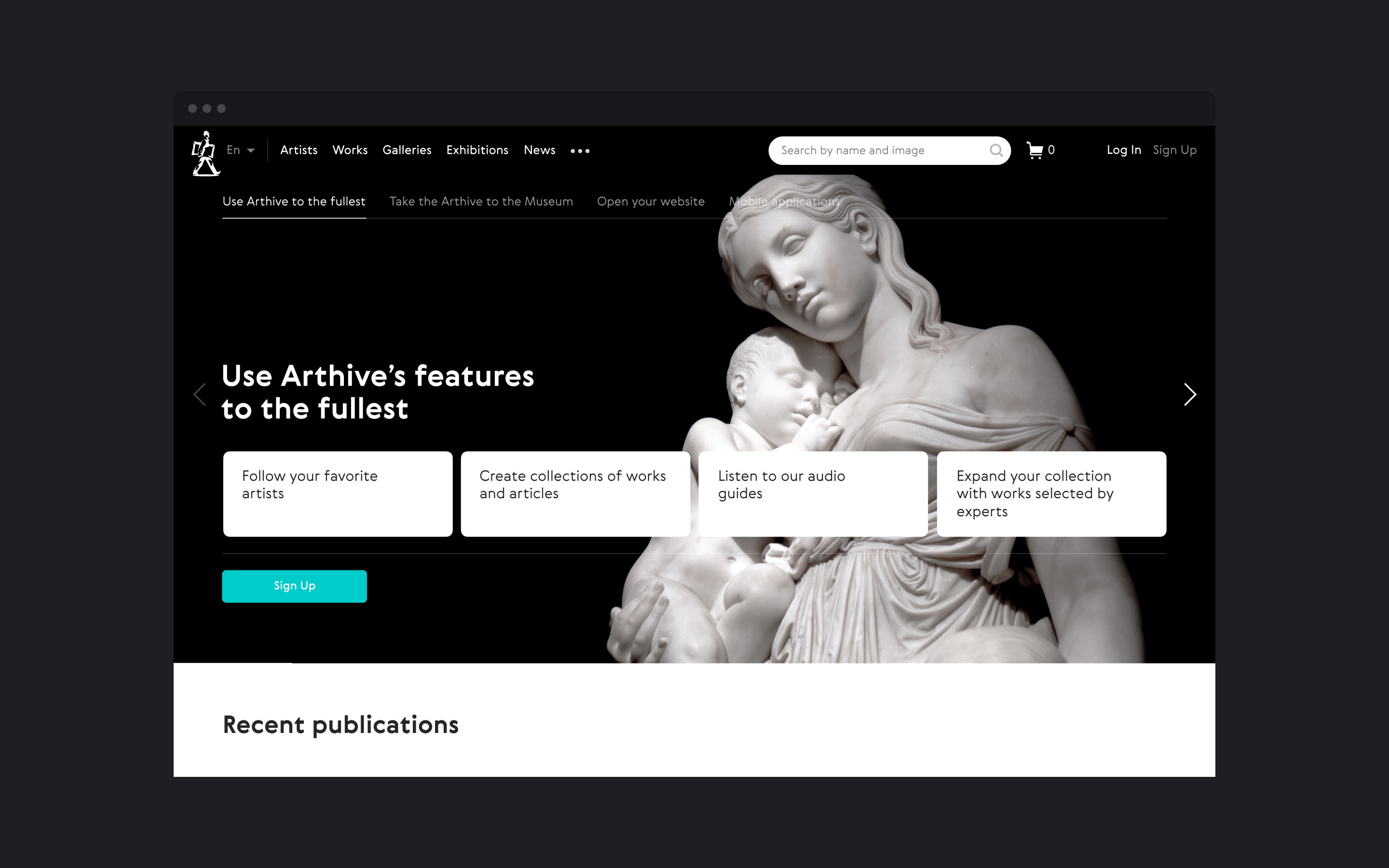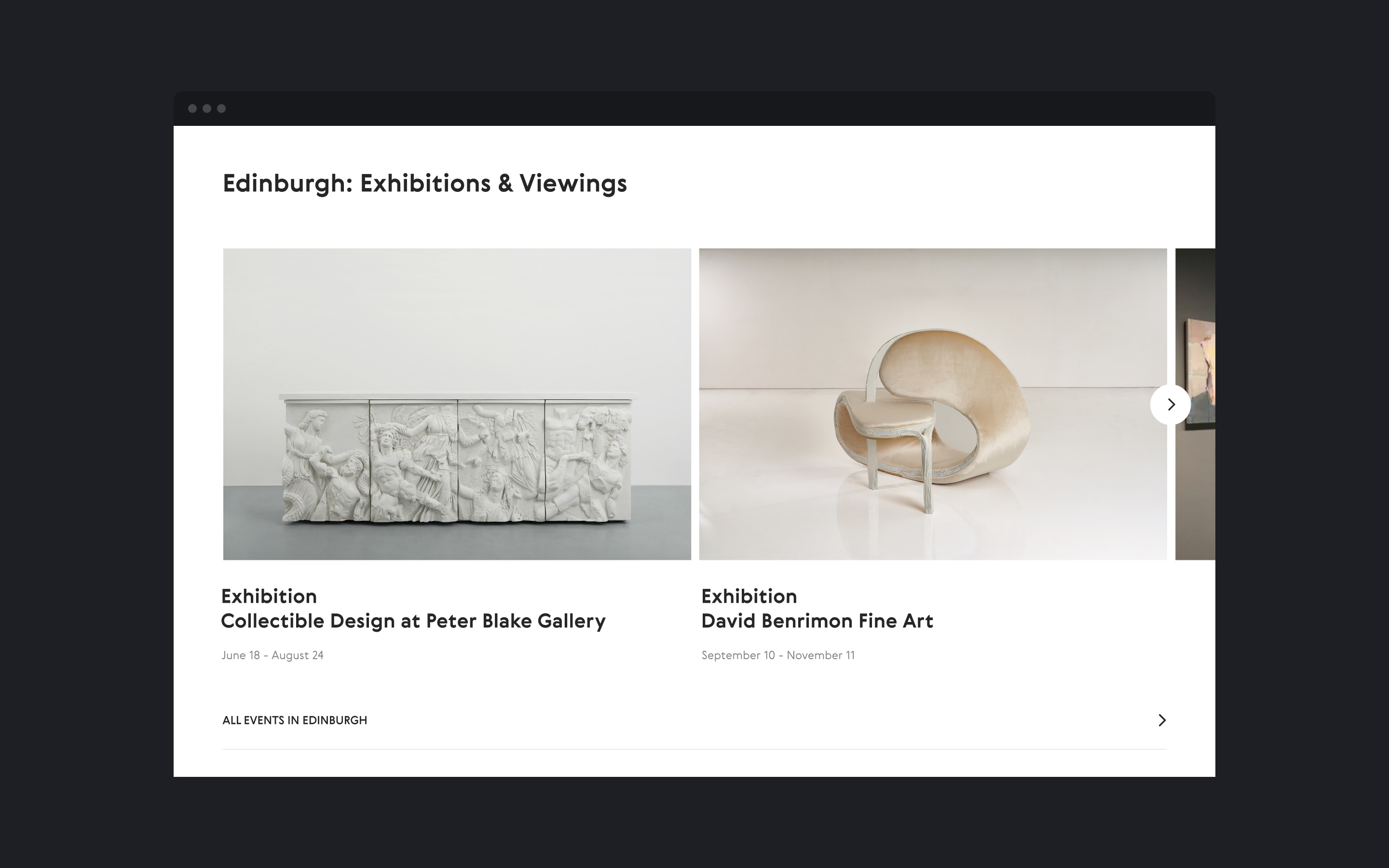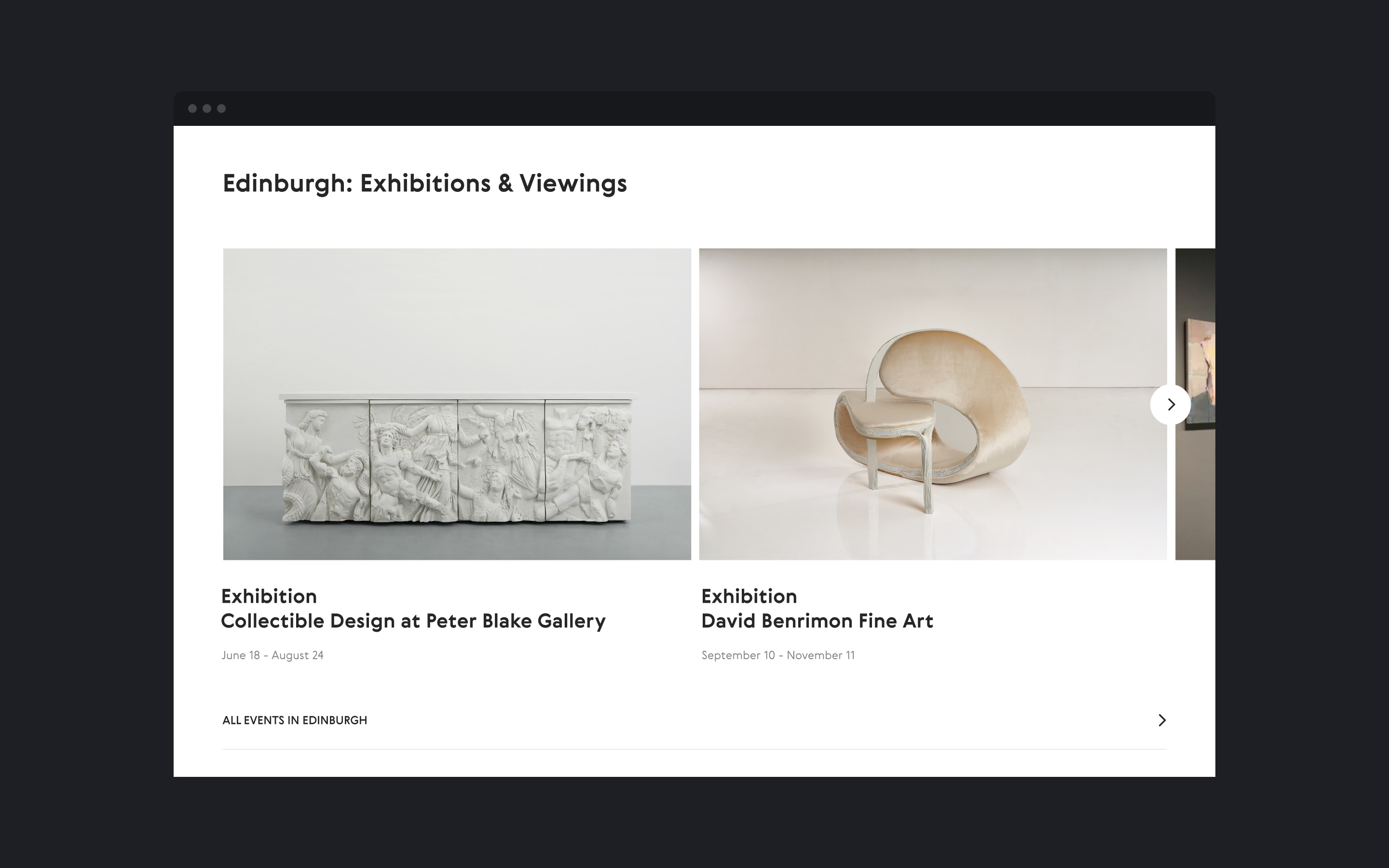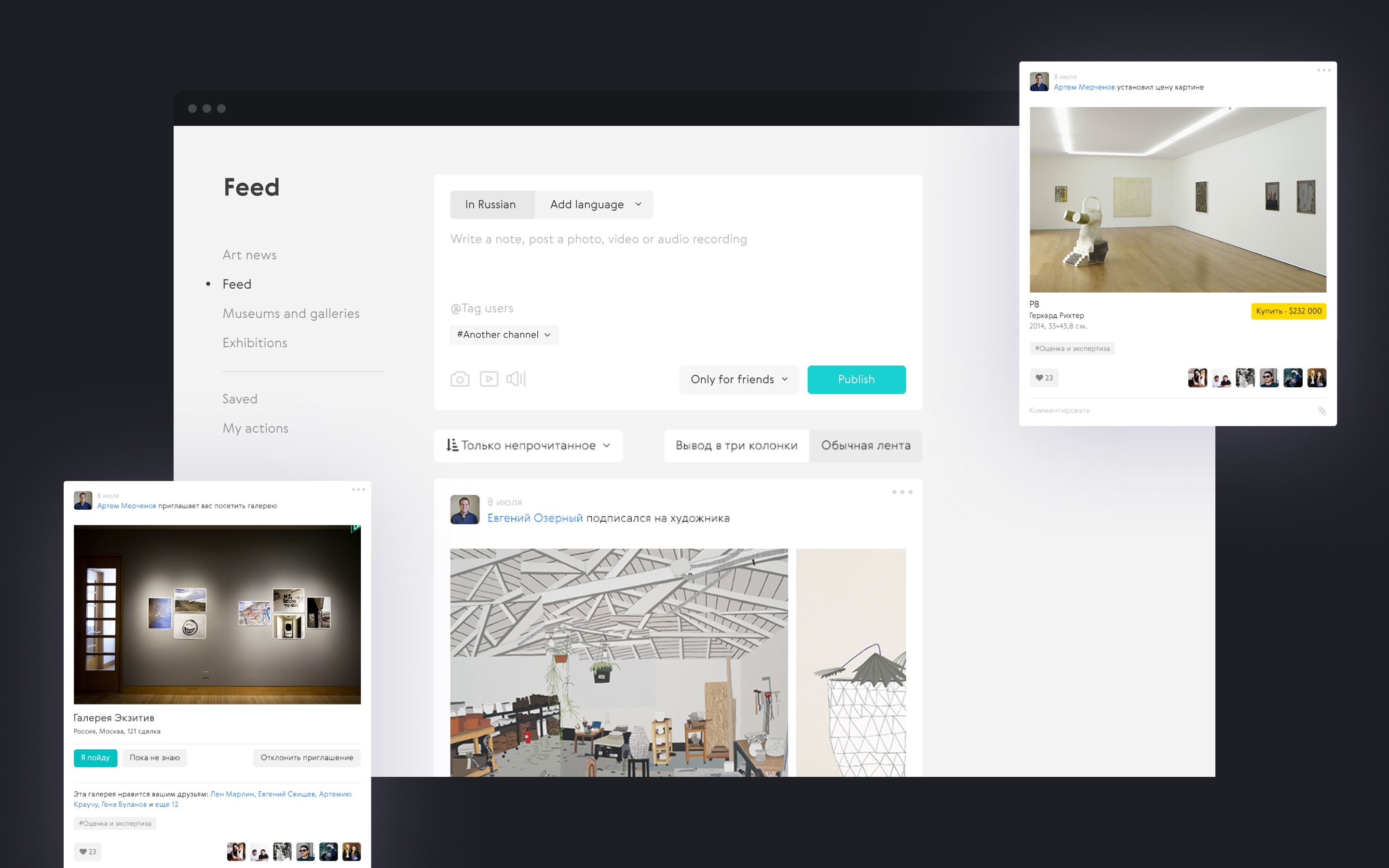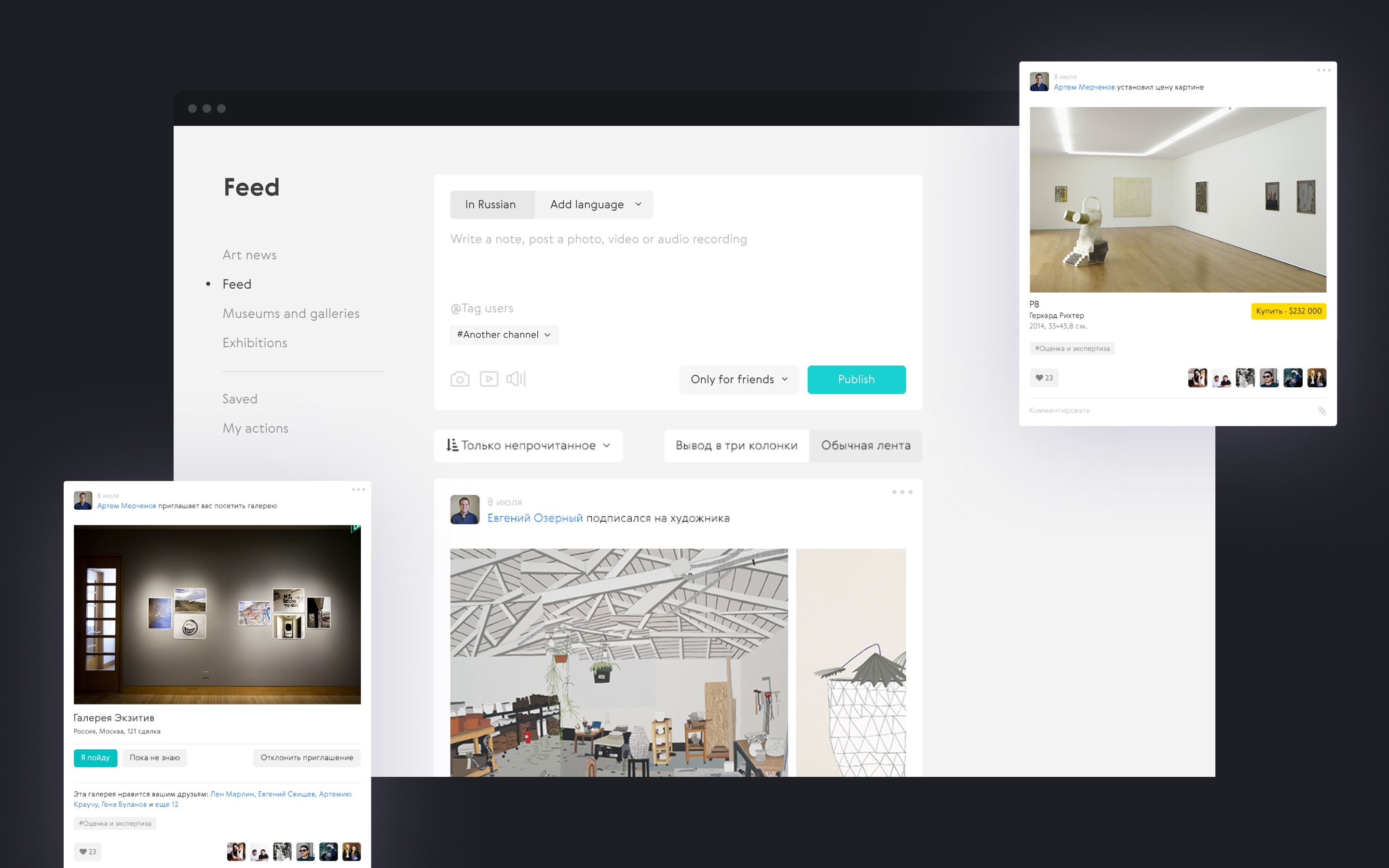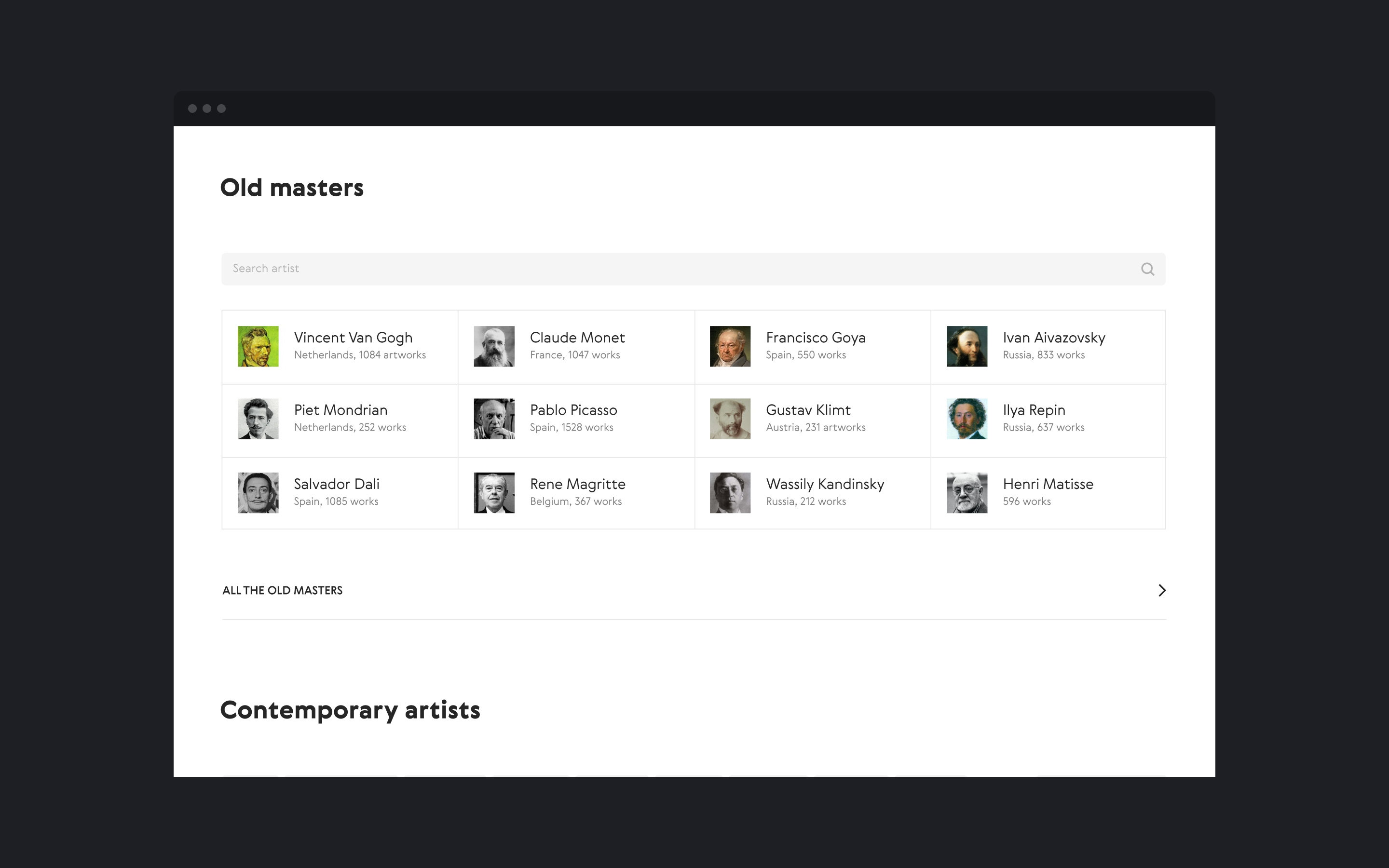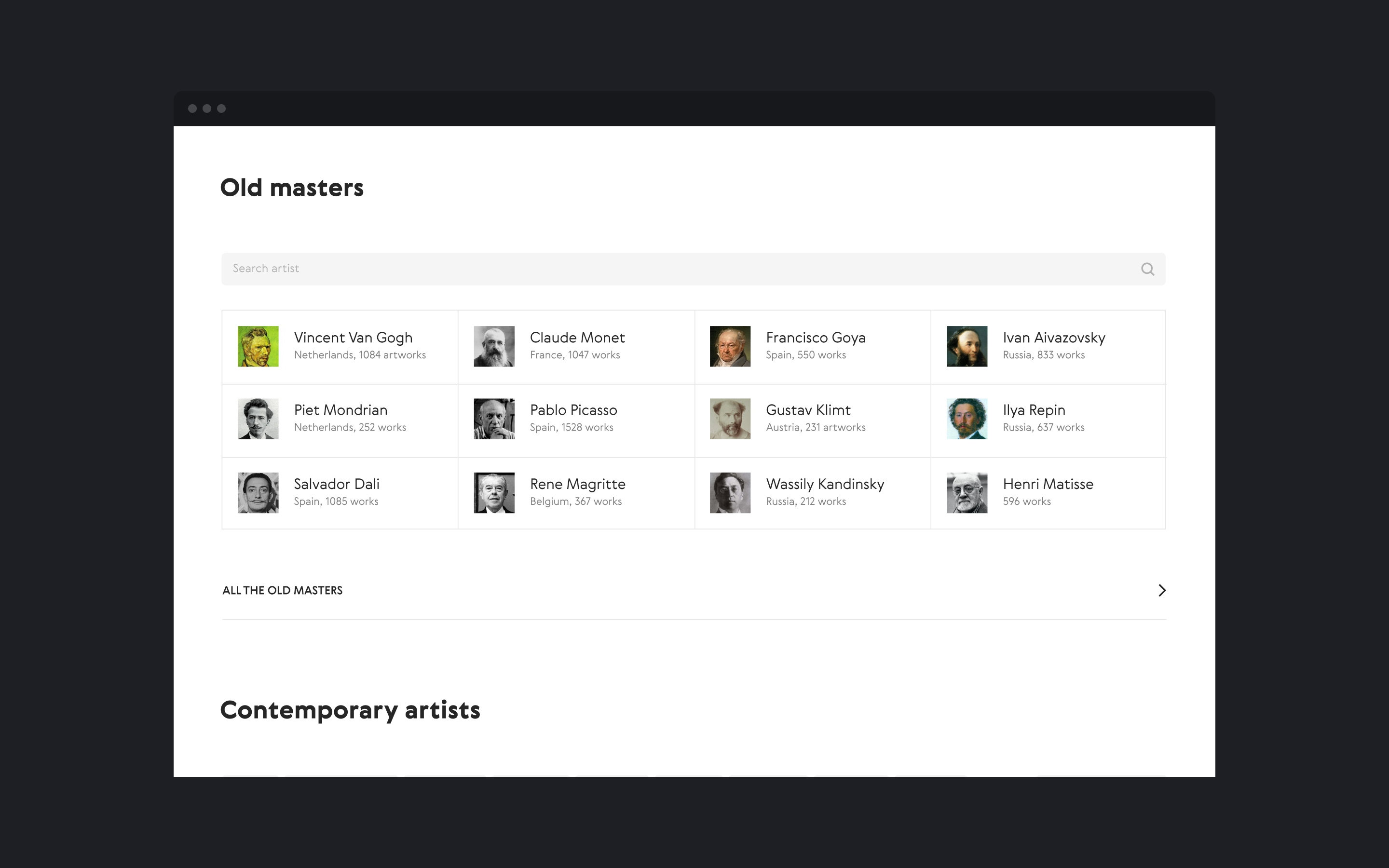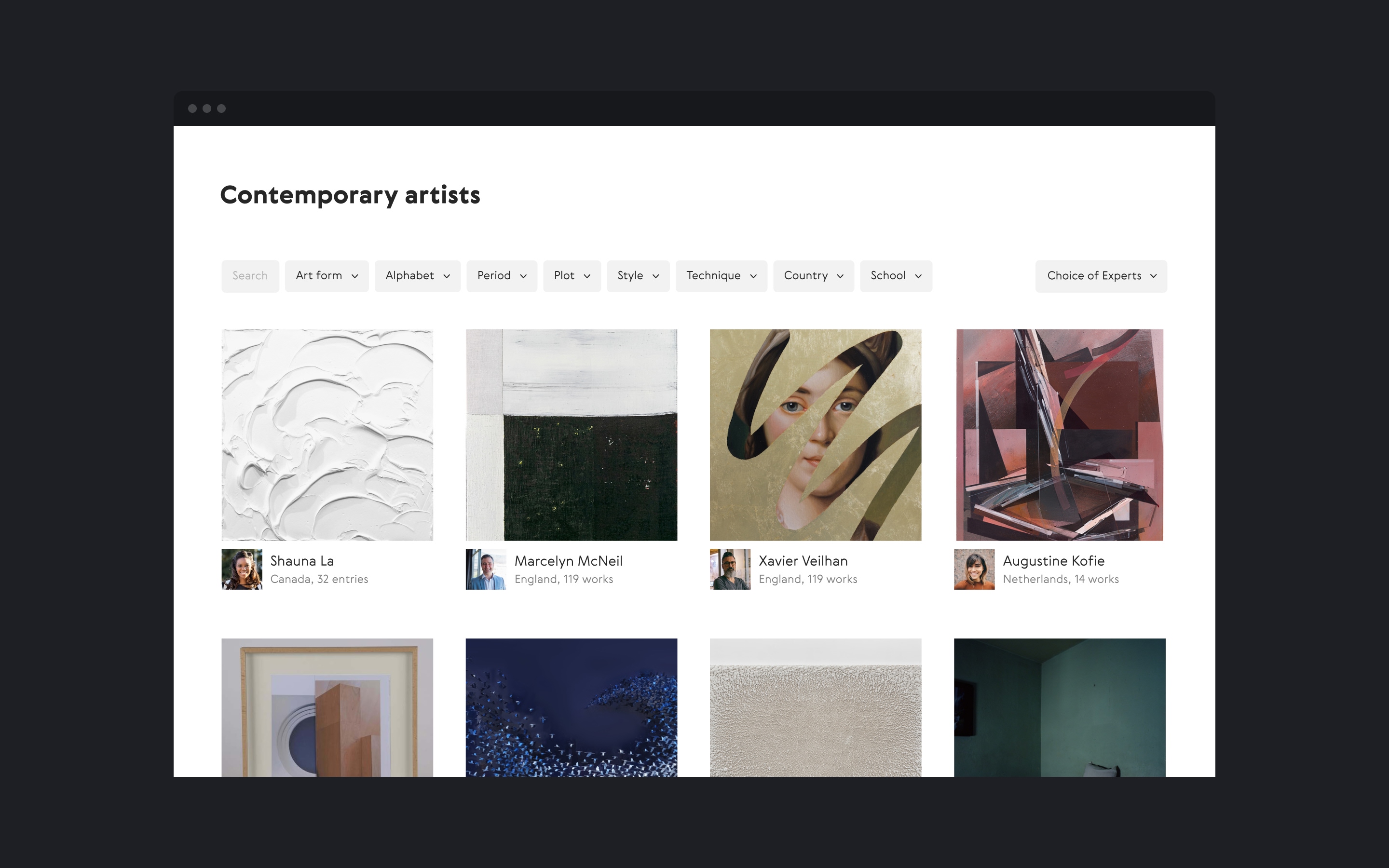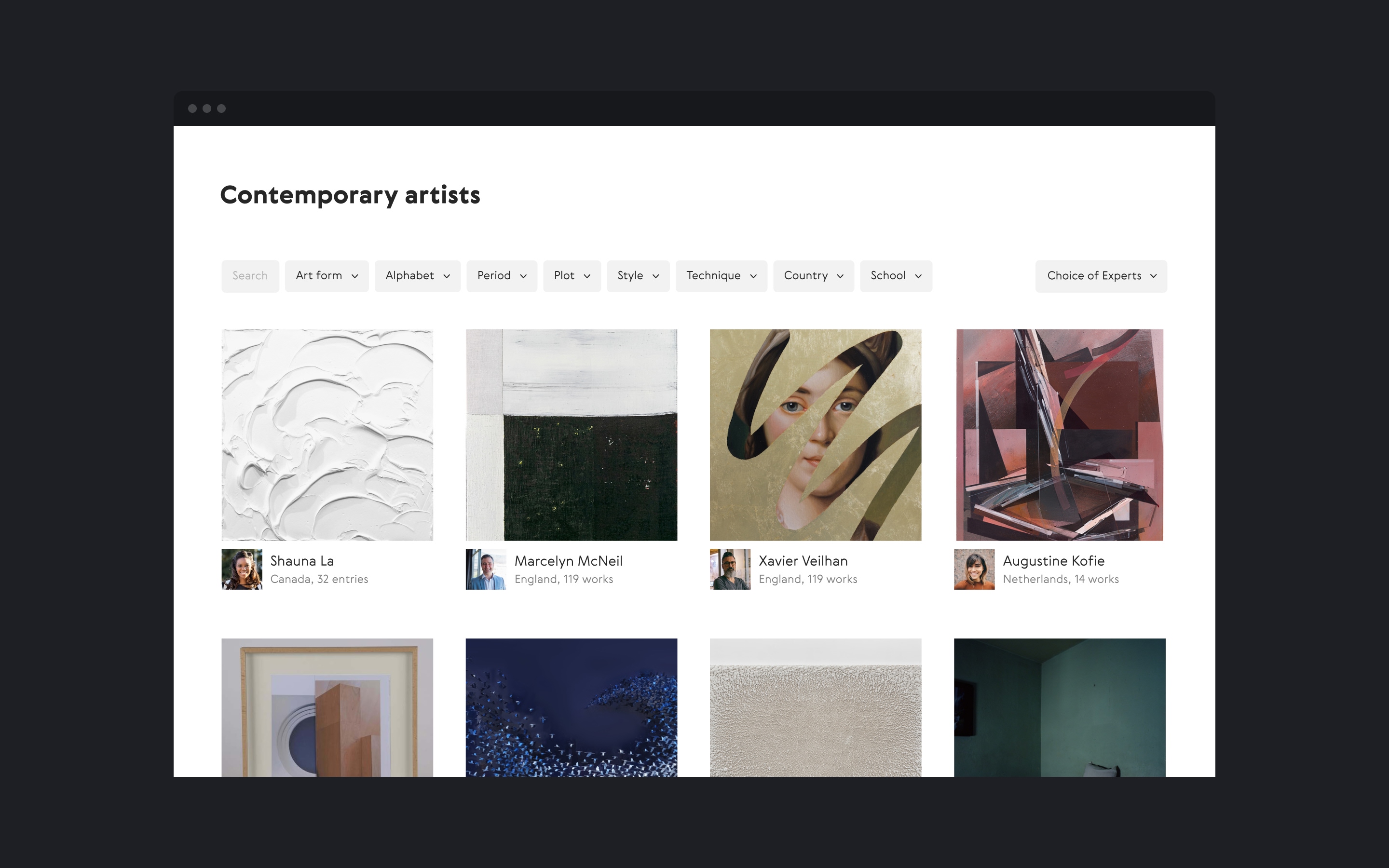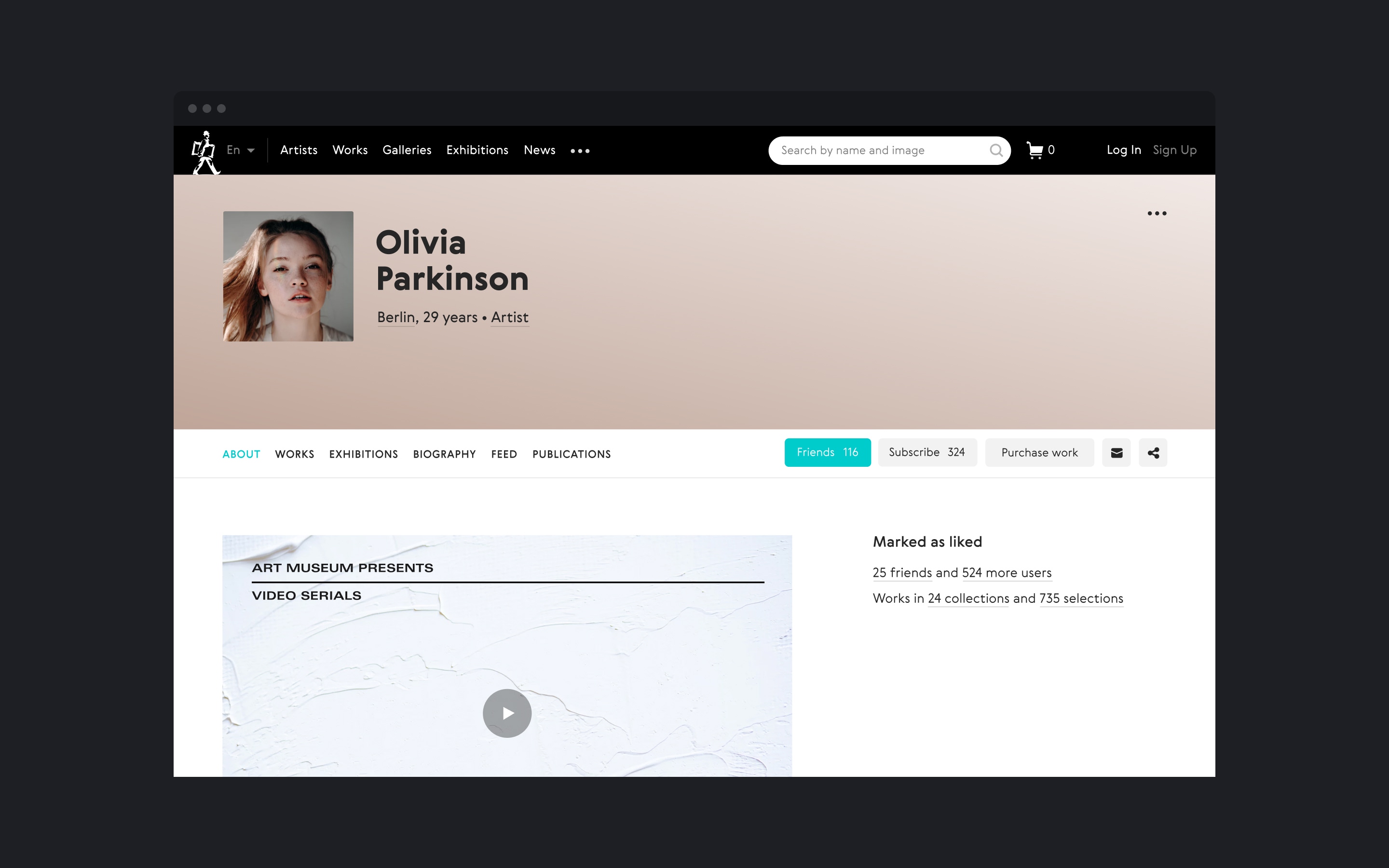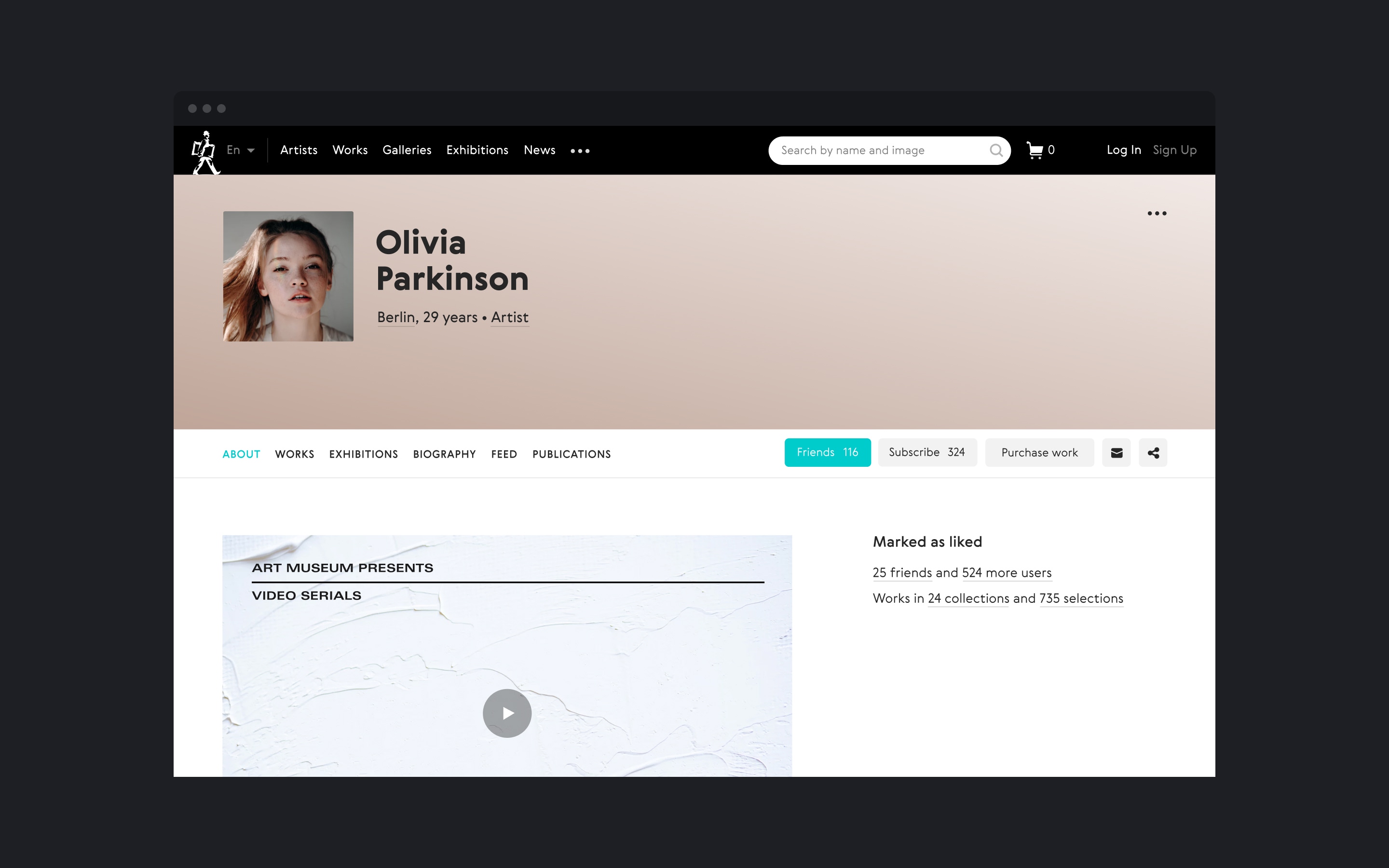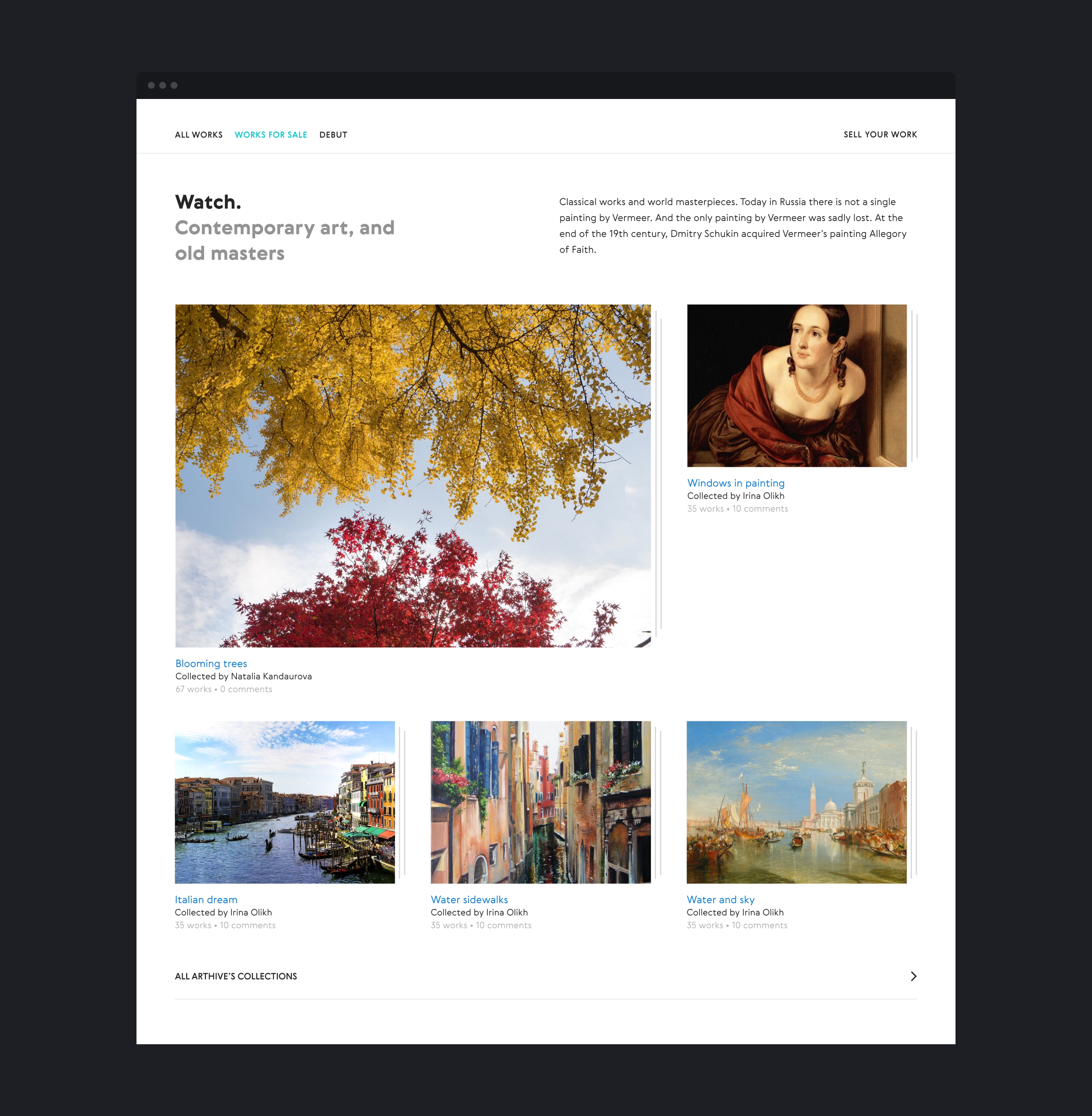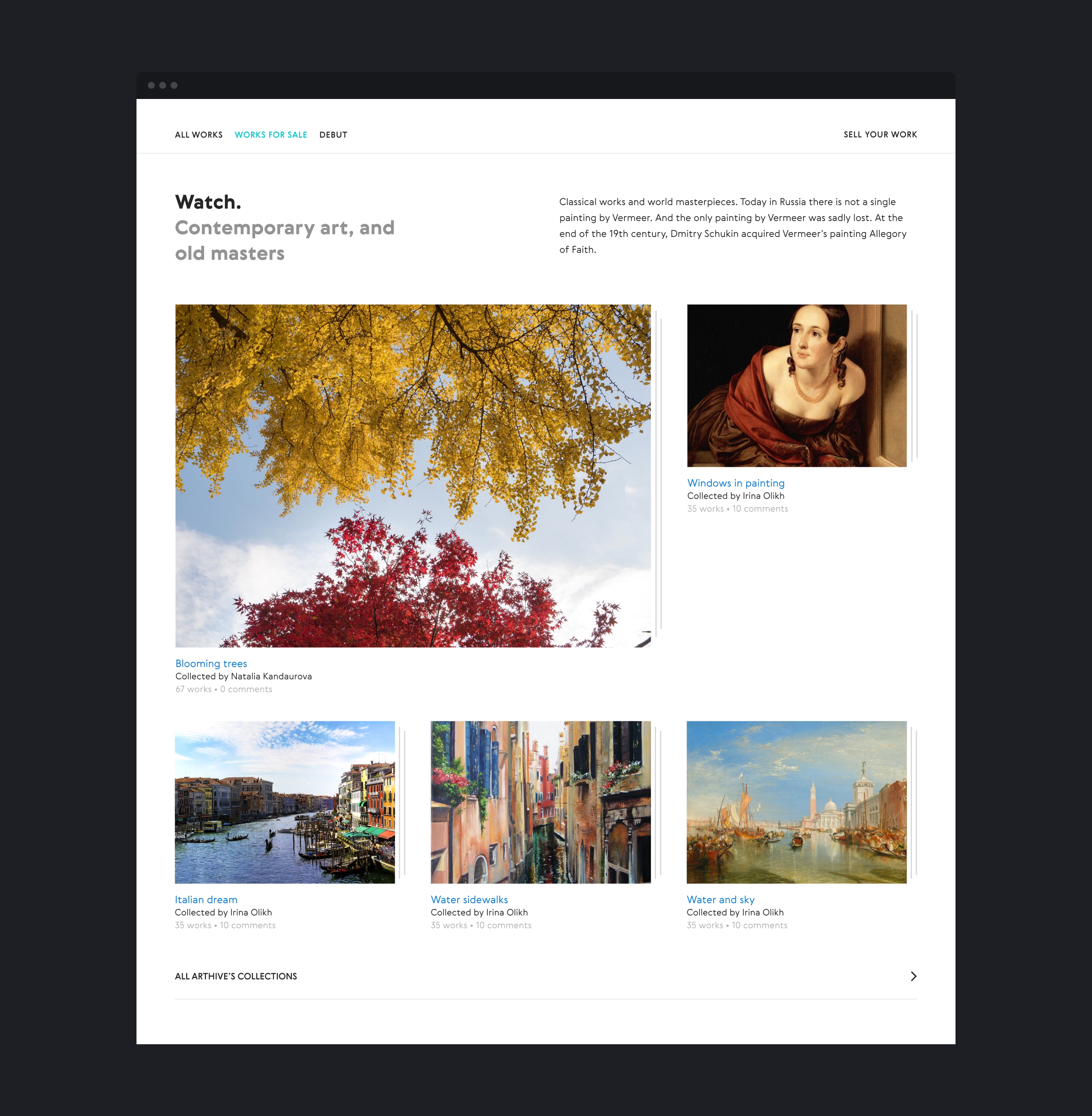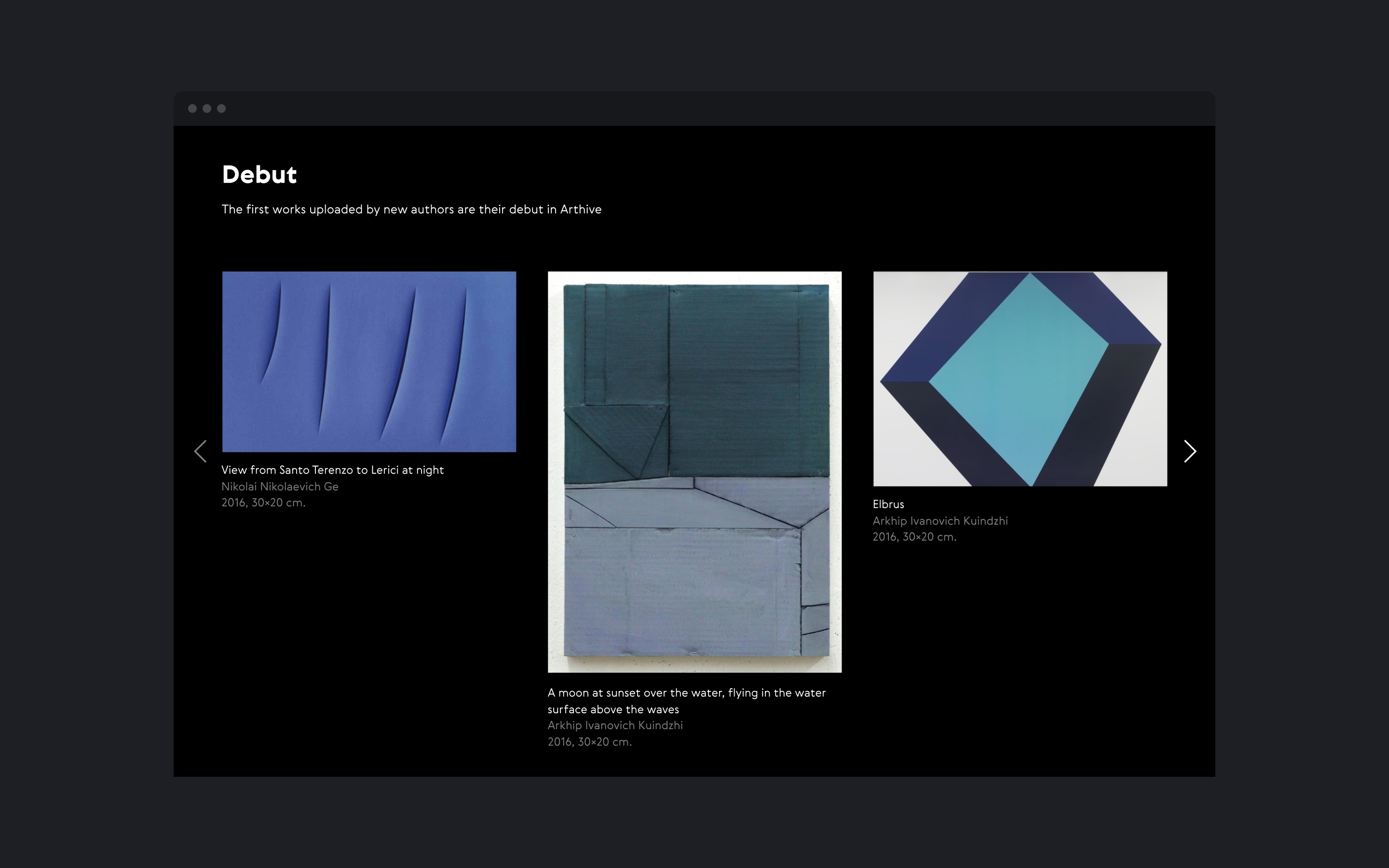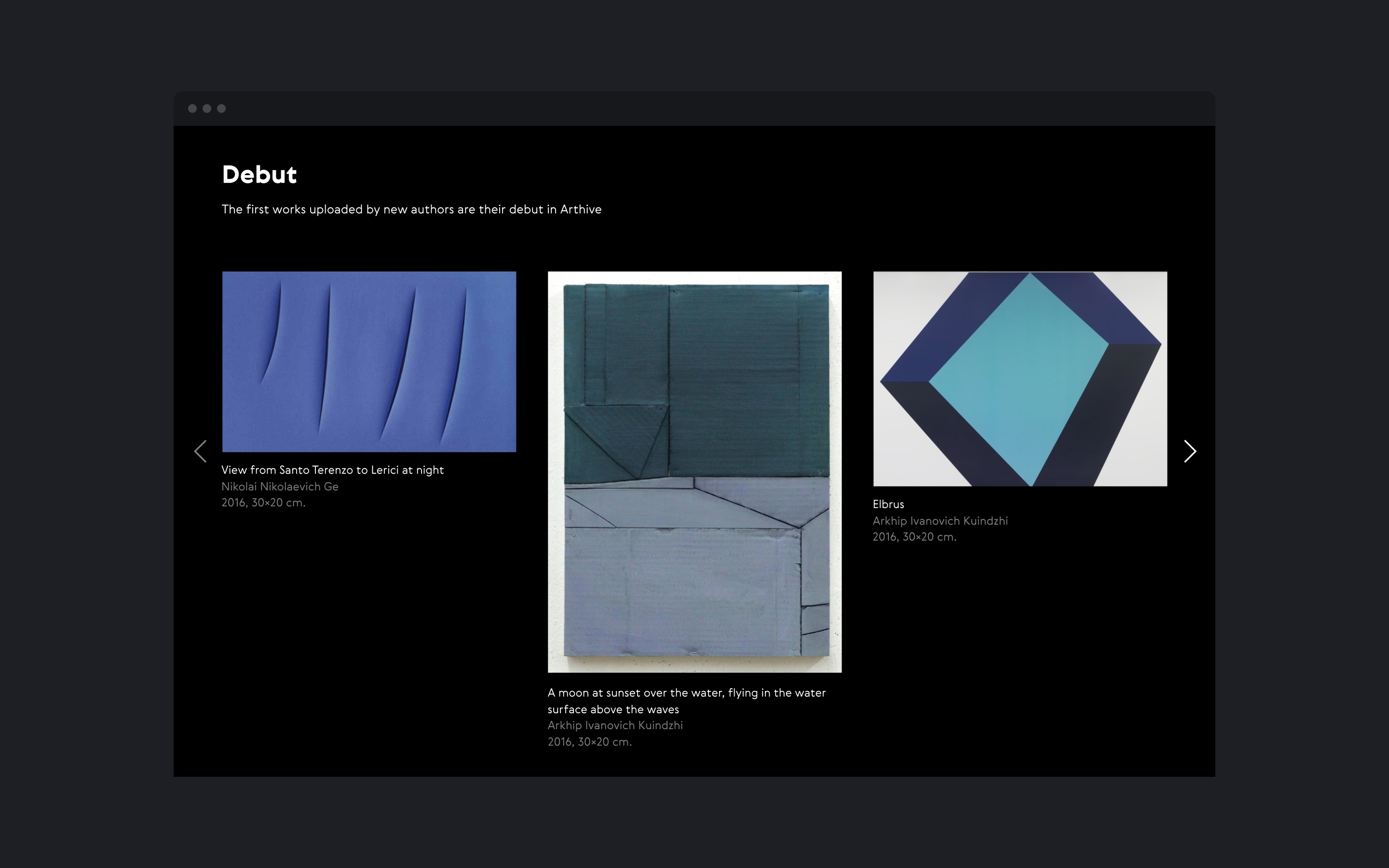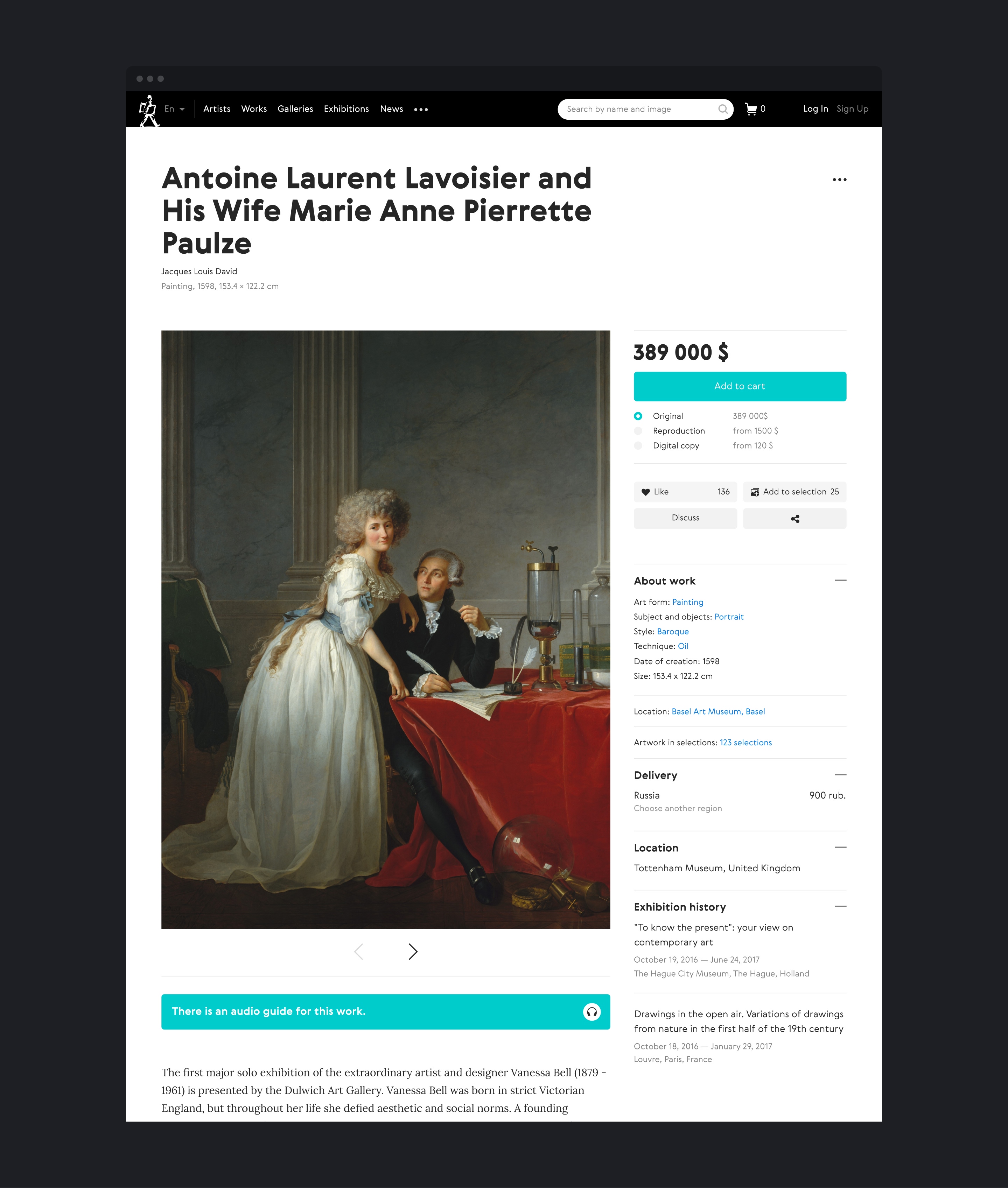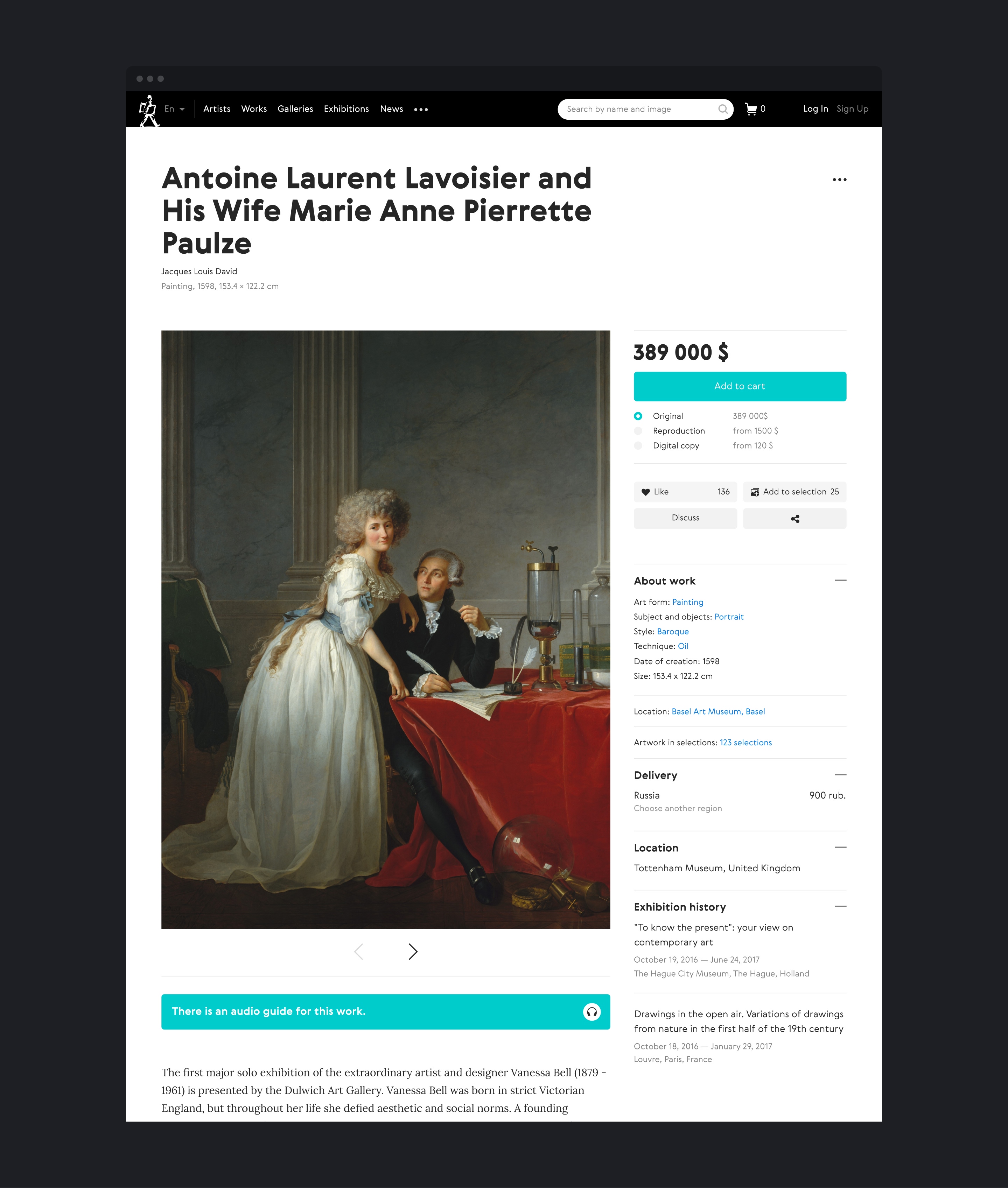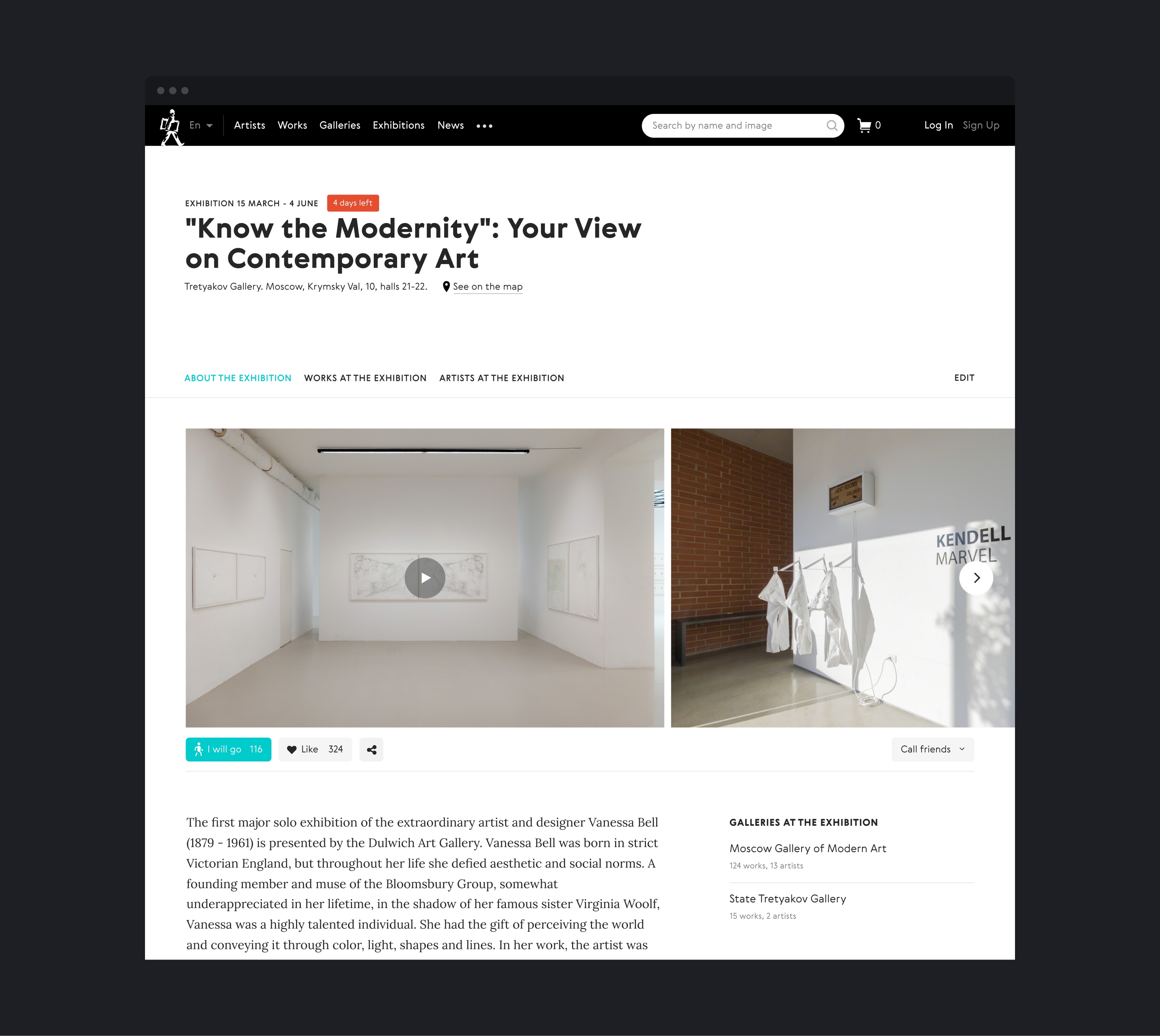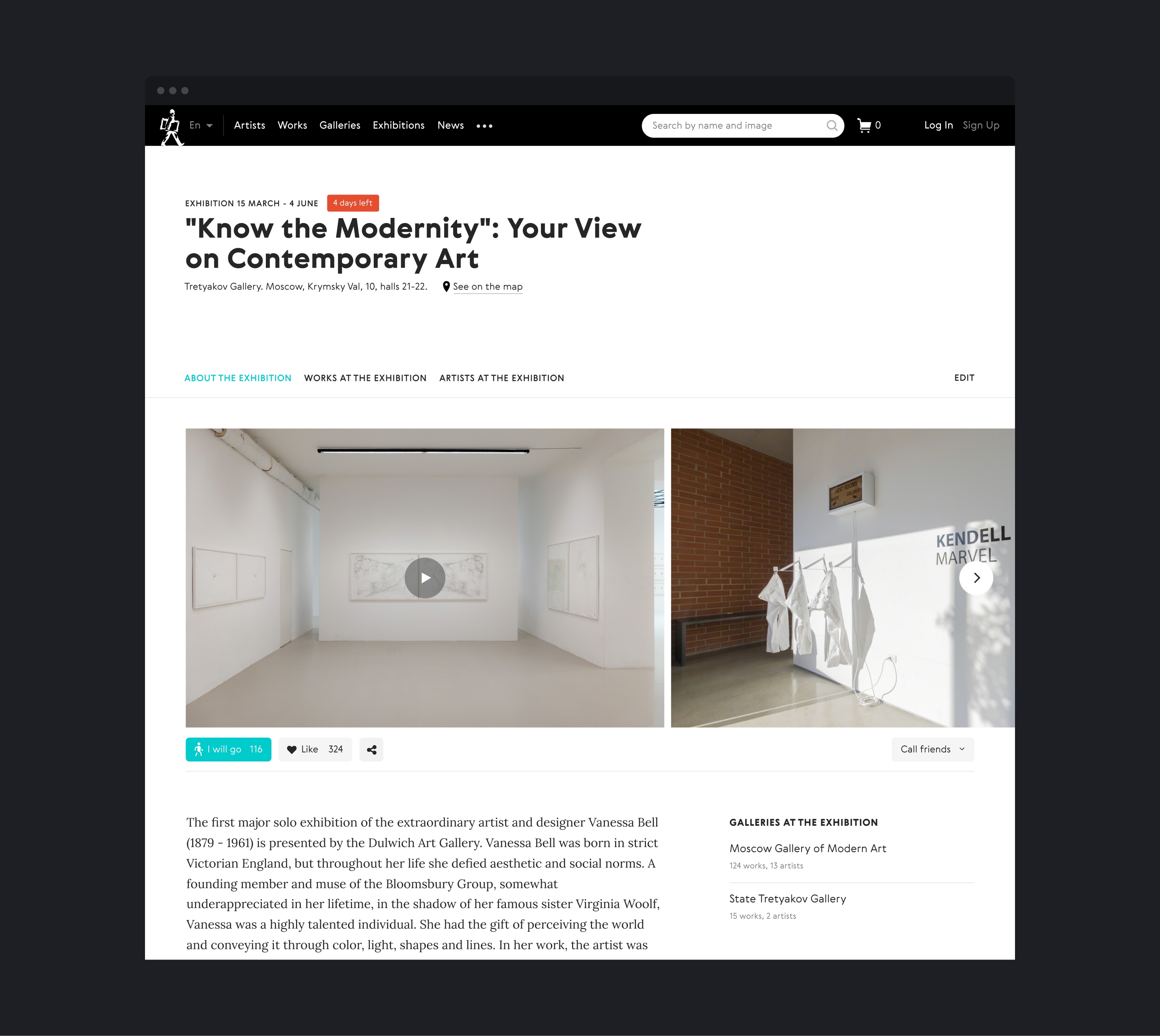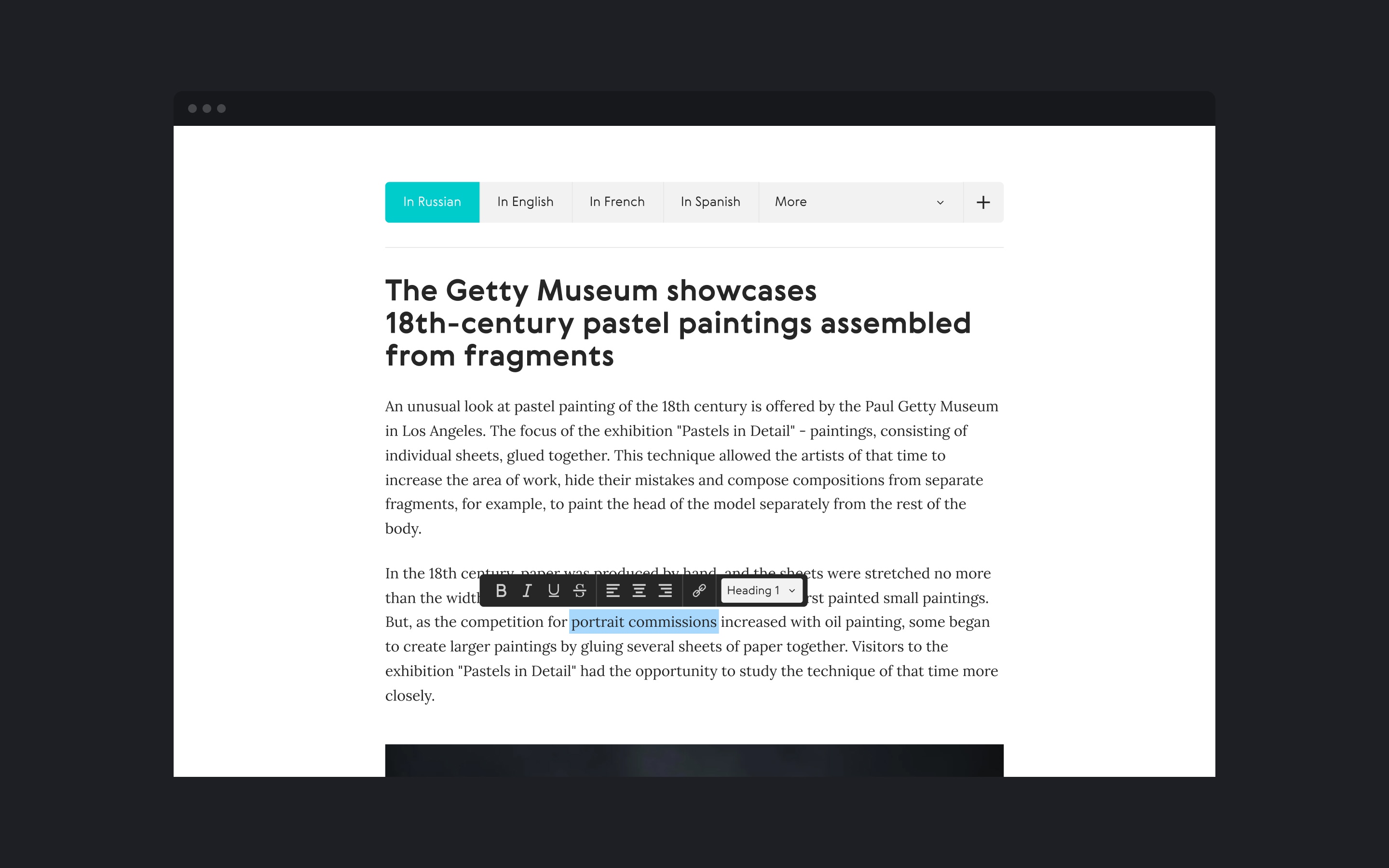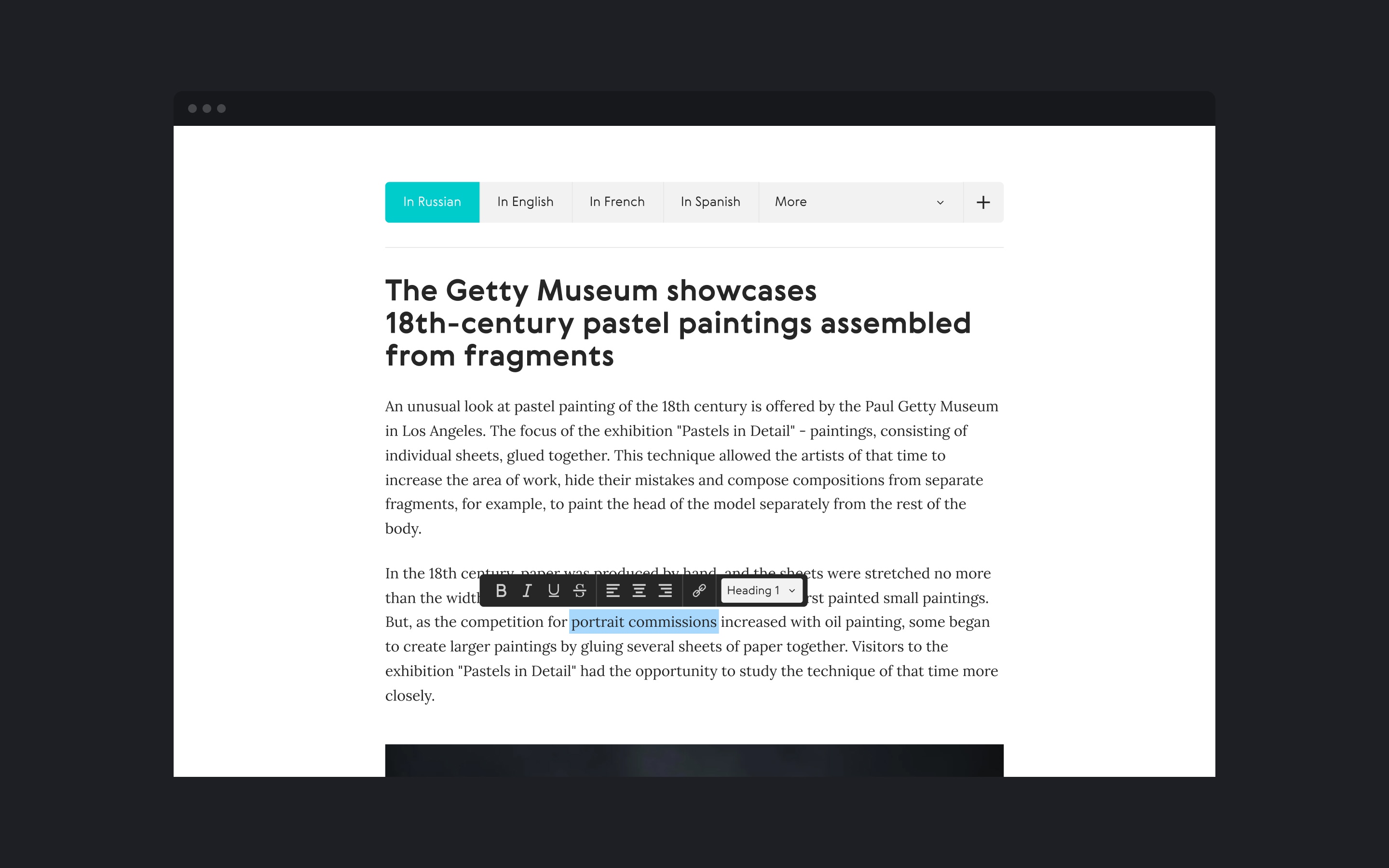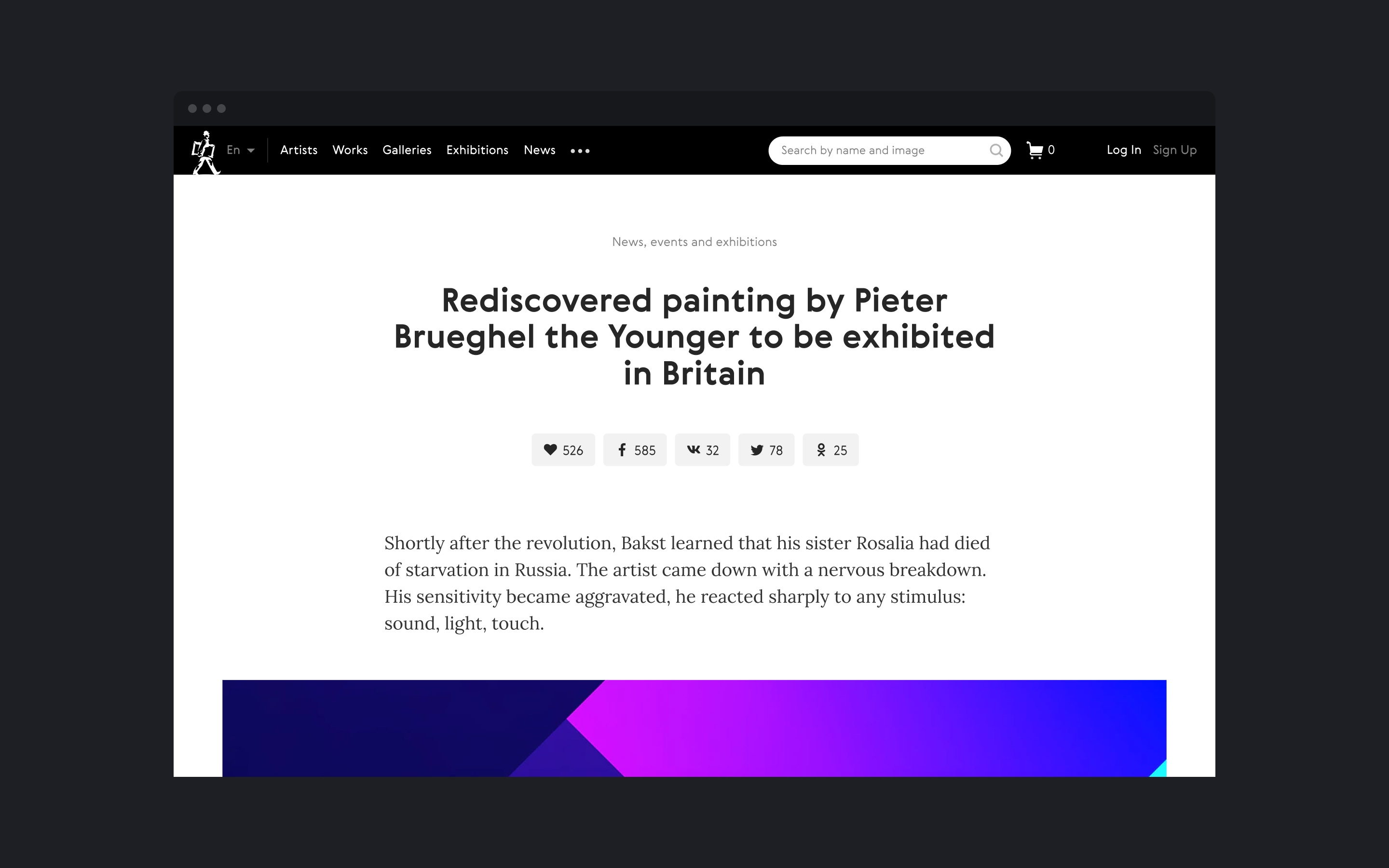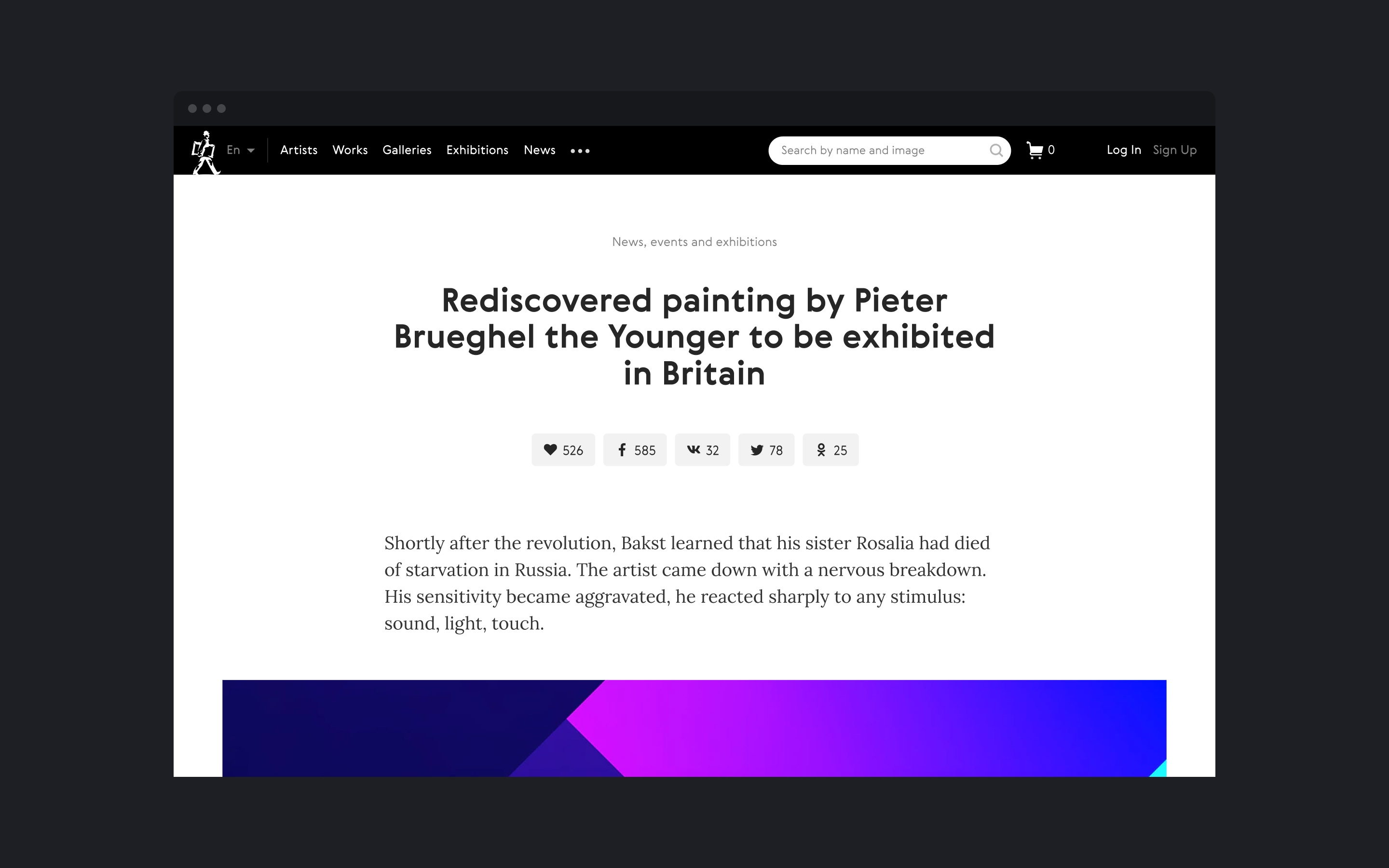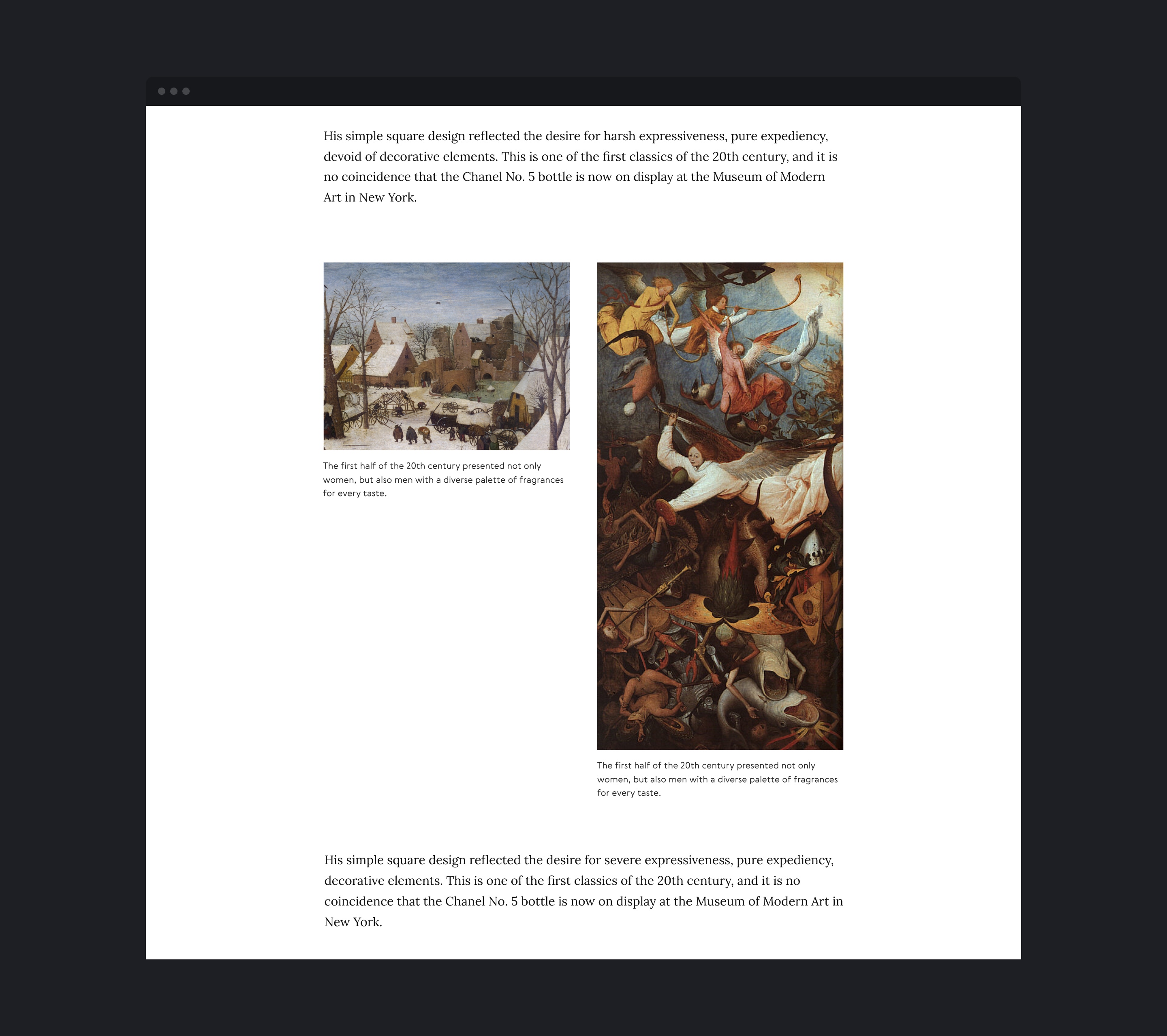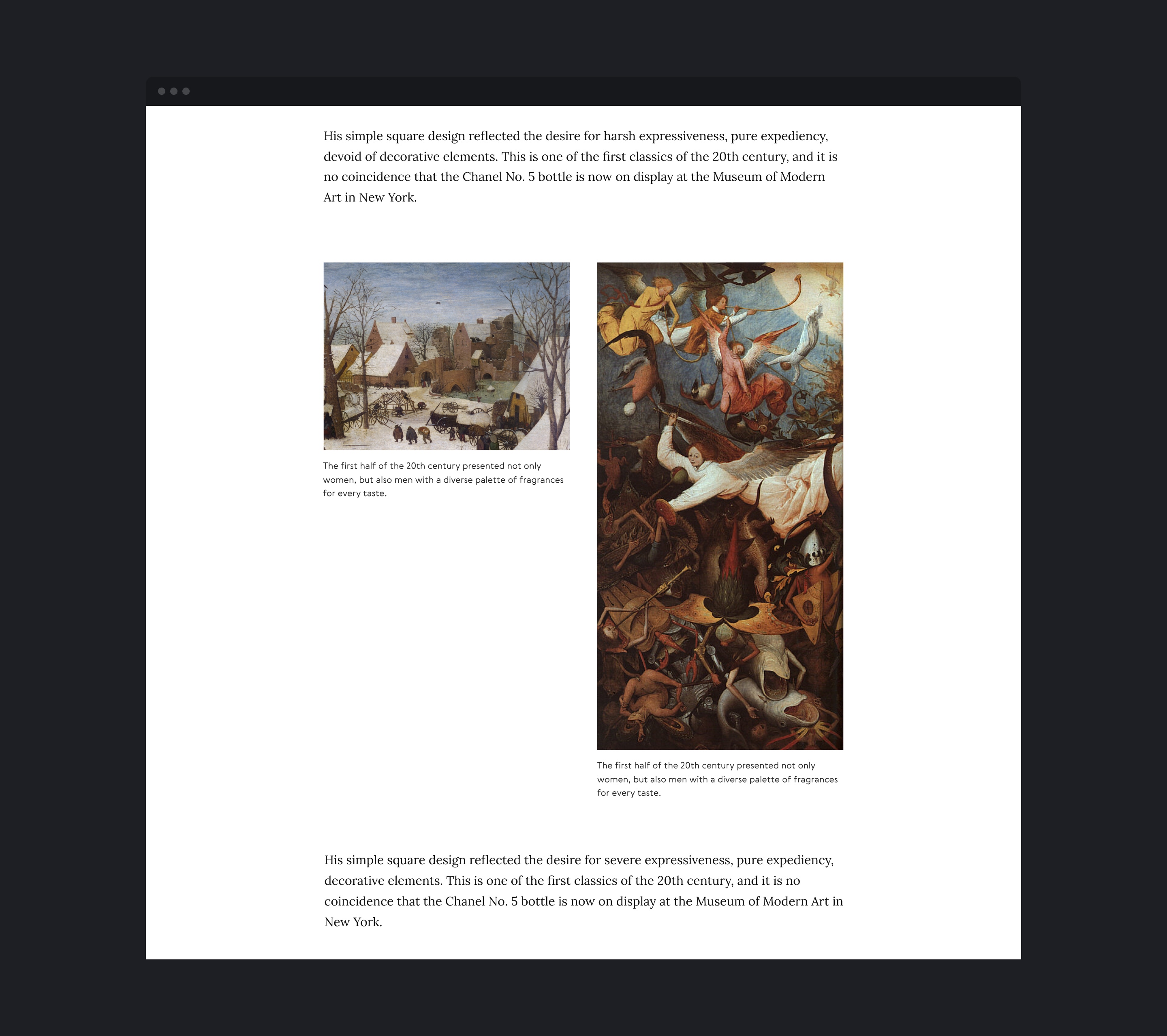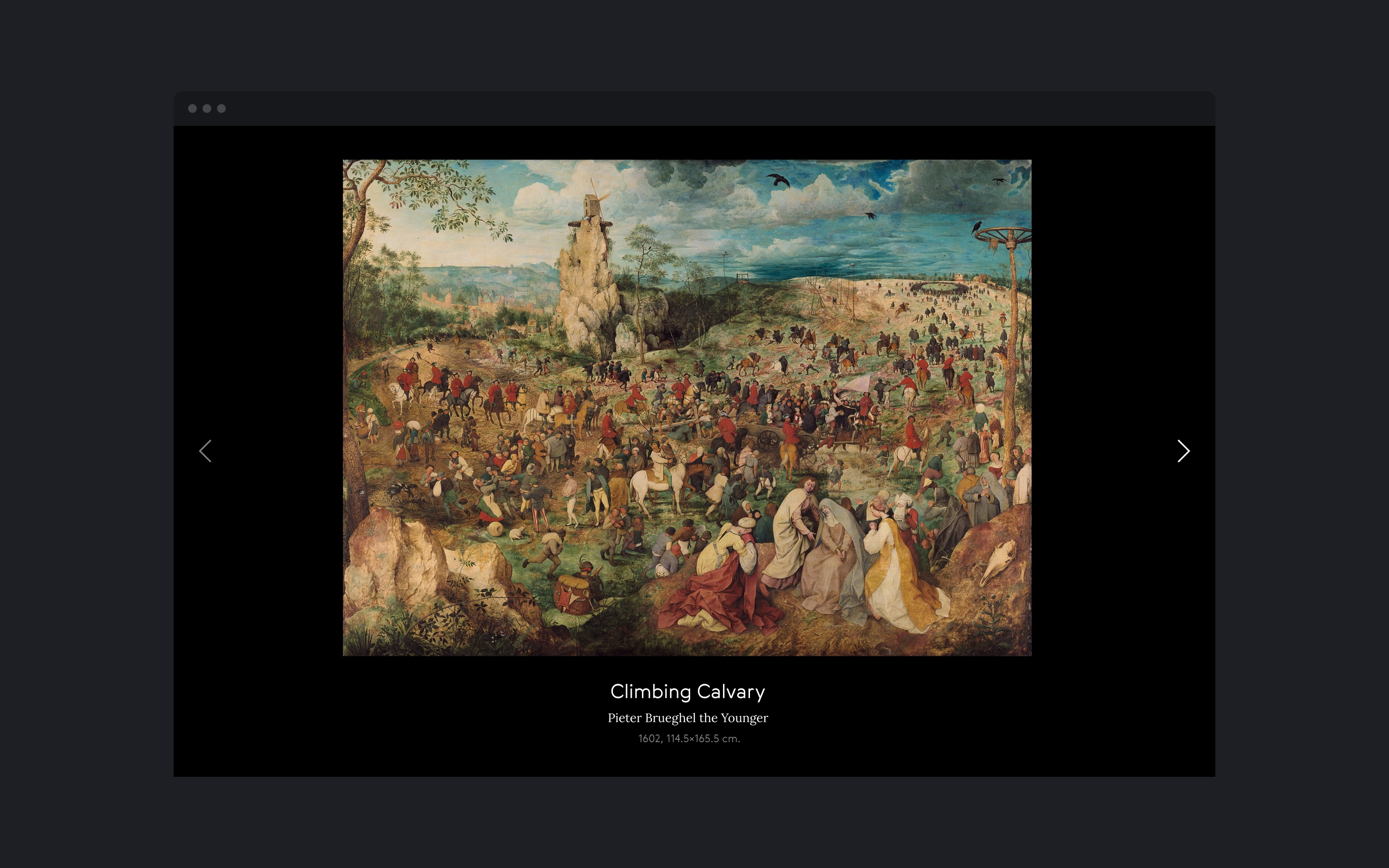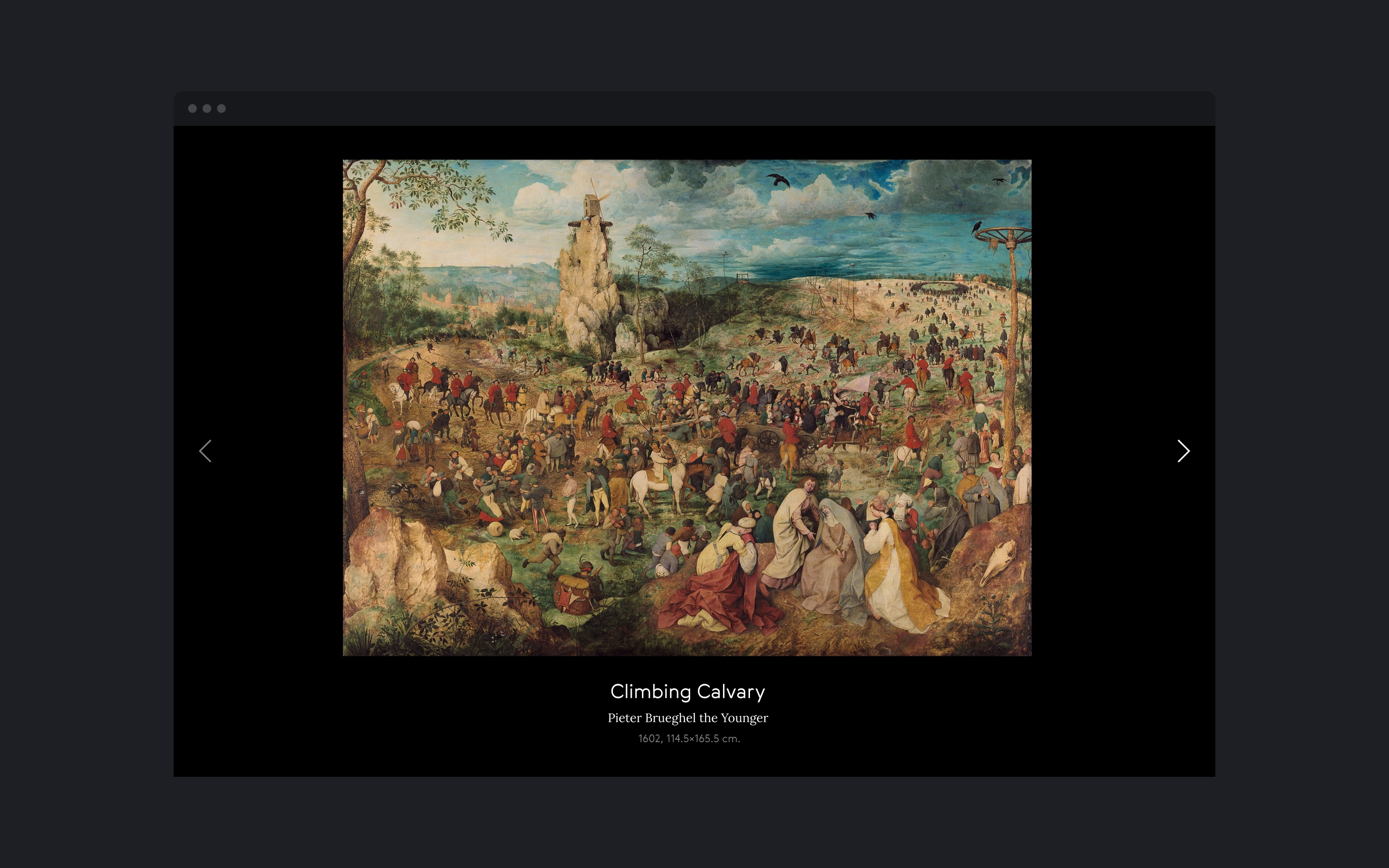 PORTFOLIO OF ARTISTS 2018 — 2019
Product Designer · Arthive
The important task for Arthive was creating instruments for the promotion of artists in the art market. One such project is an artist's portfolio. Inside the portfolio, there is an integration with the collection of the artist in Arthive and convenient management of works.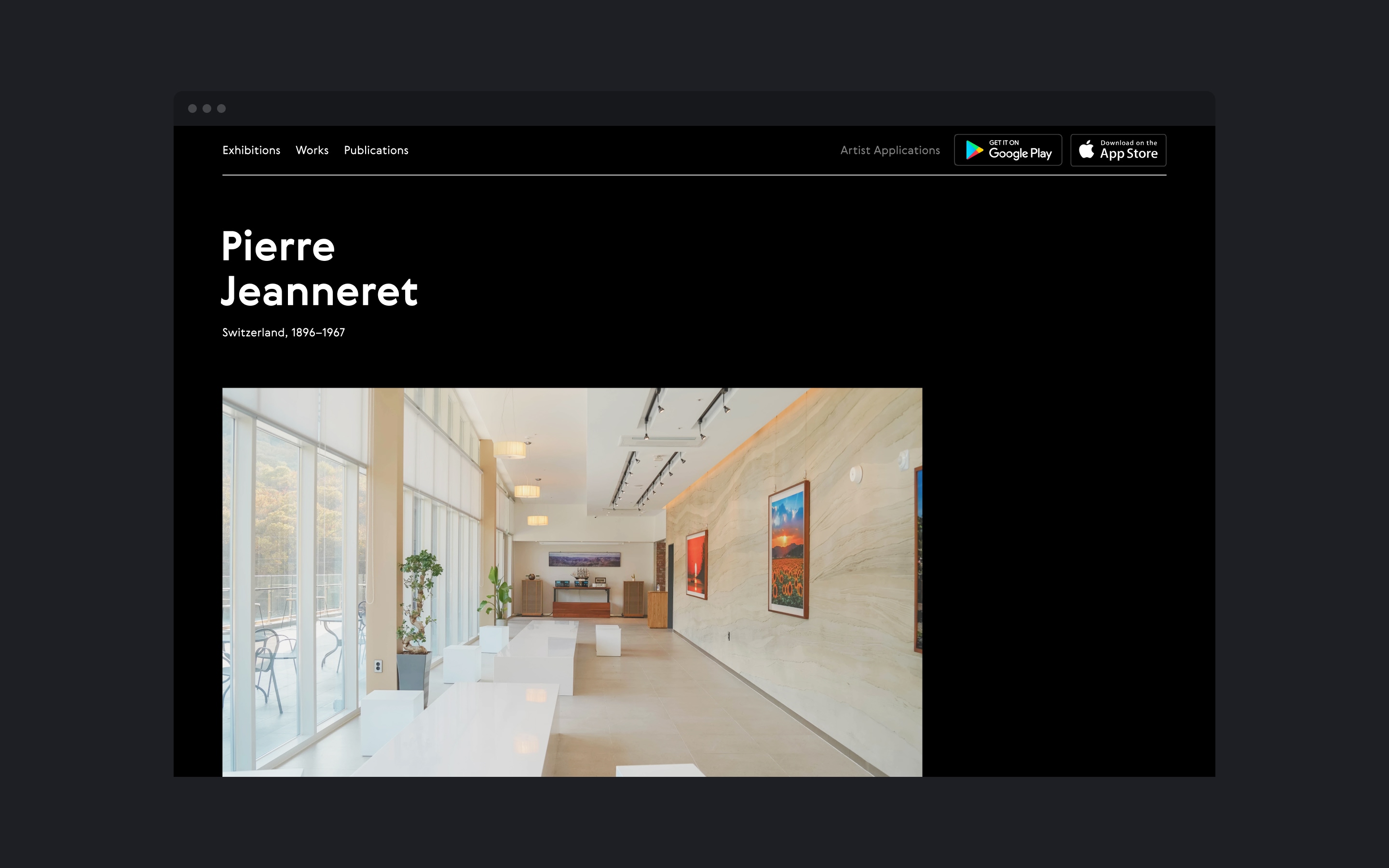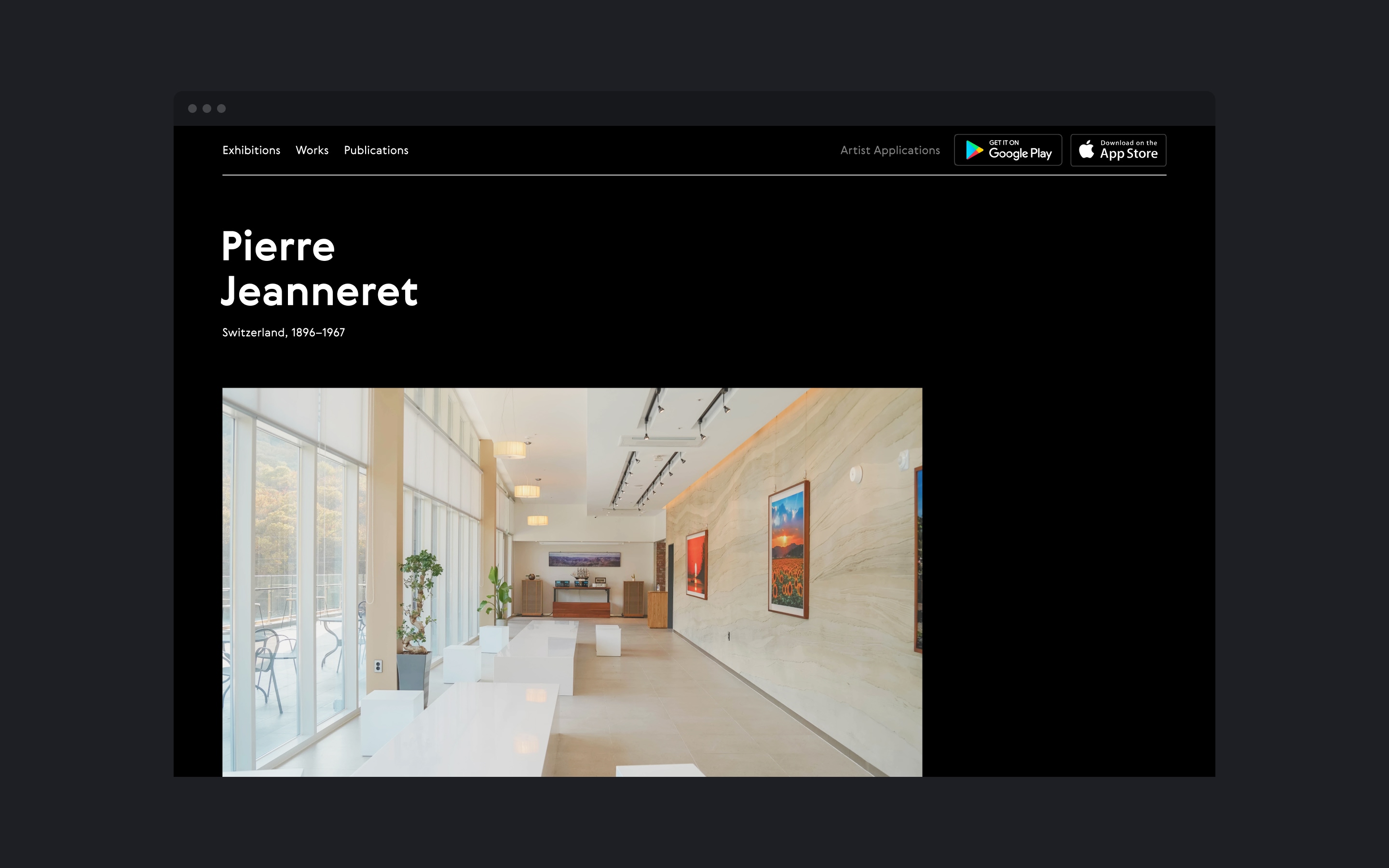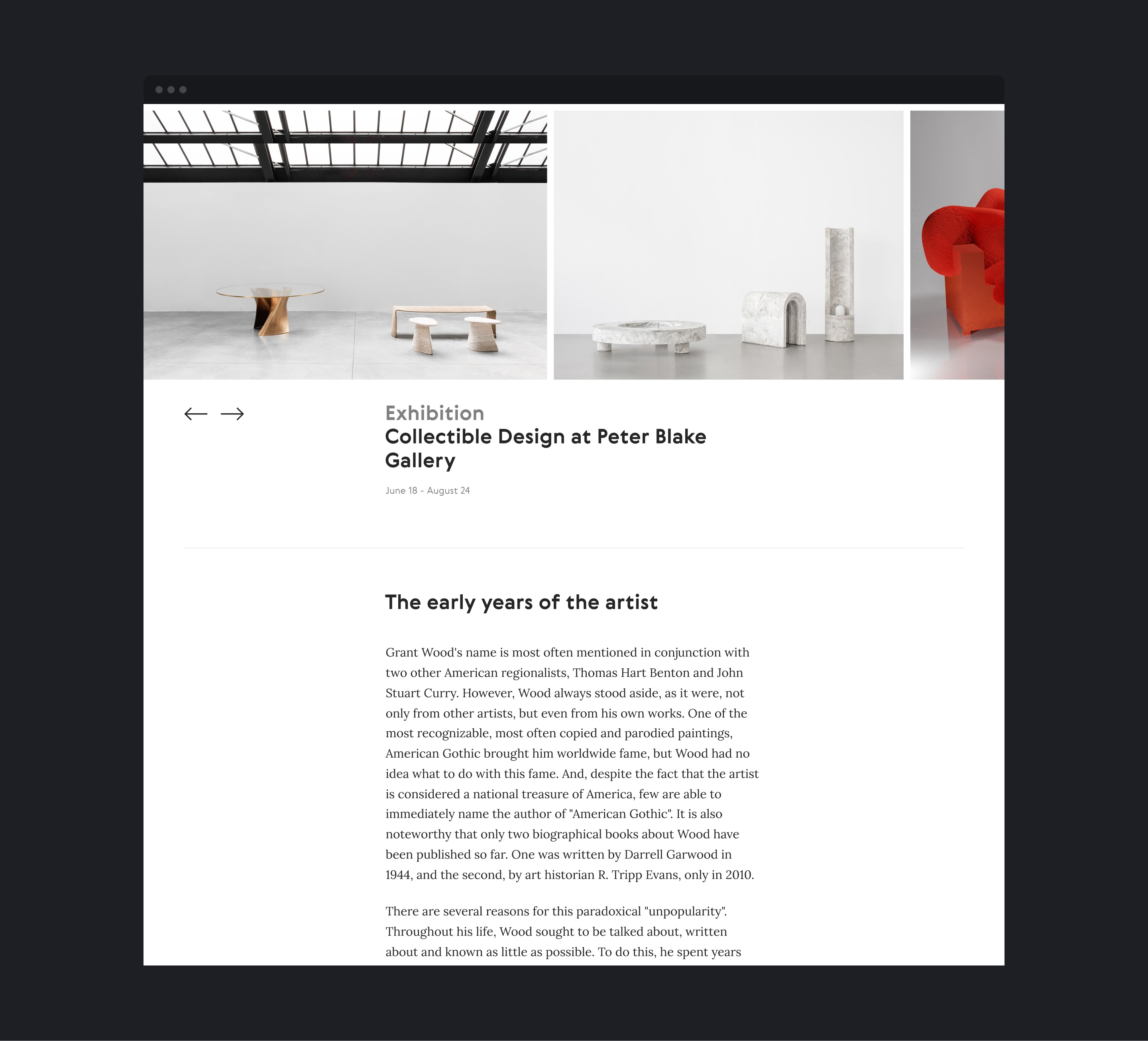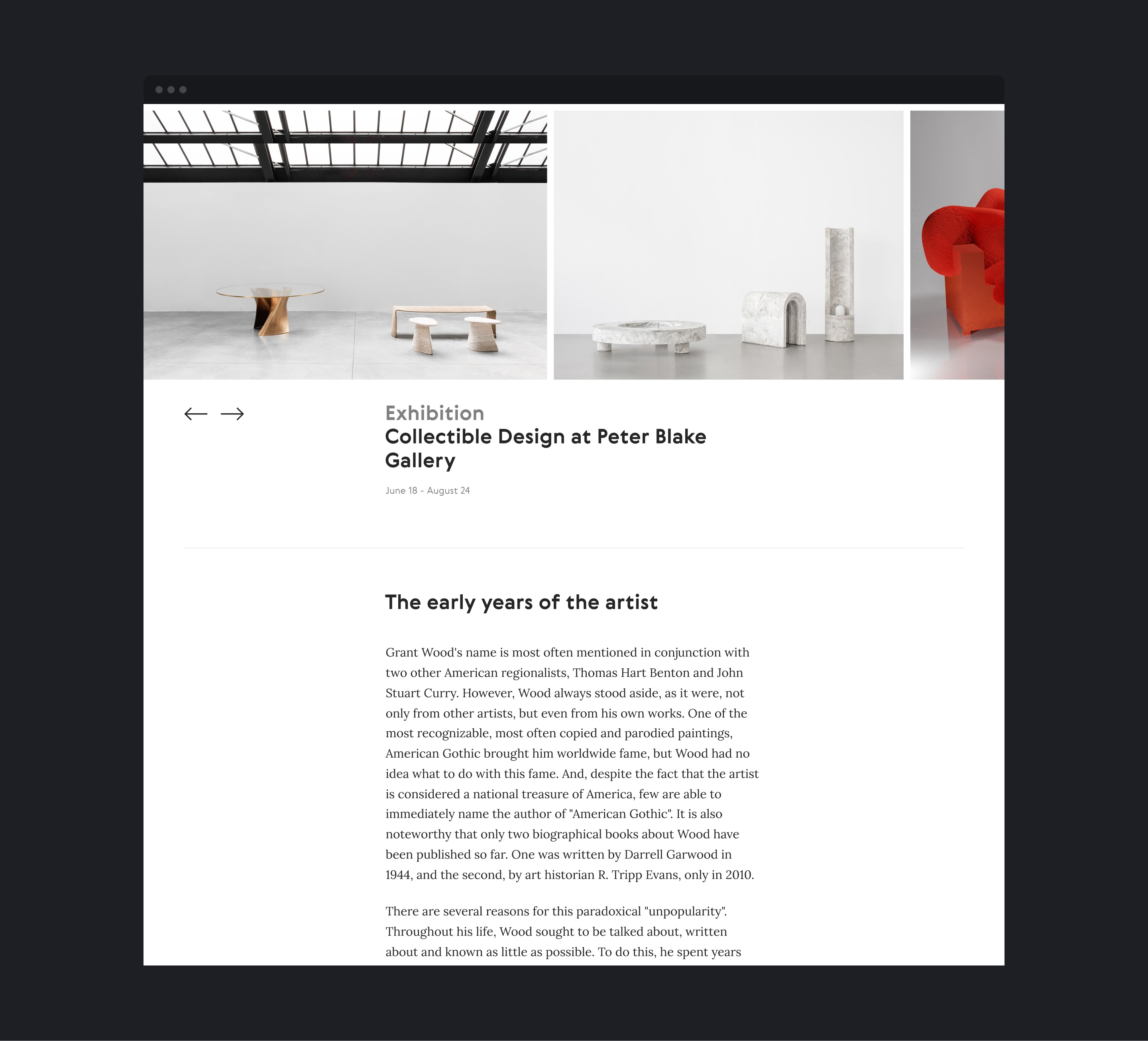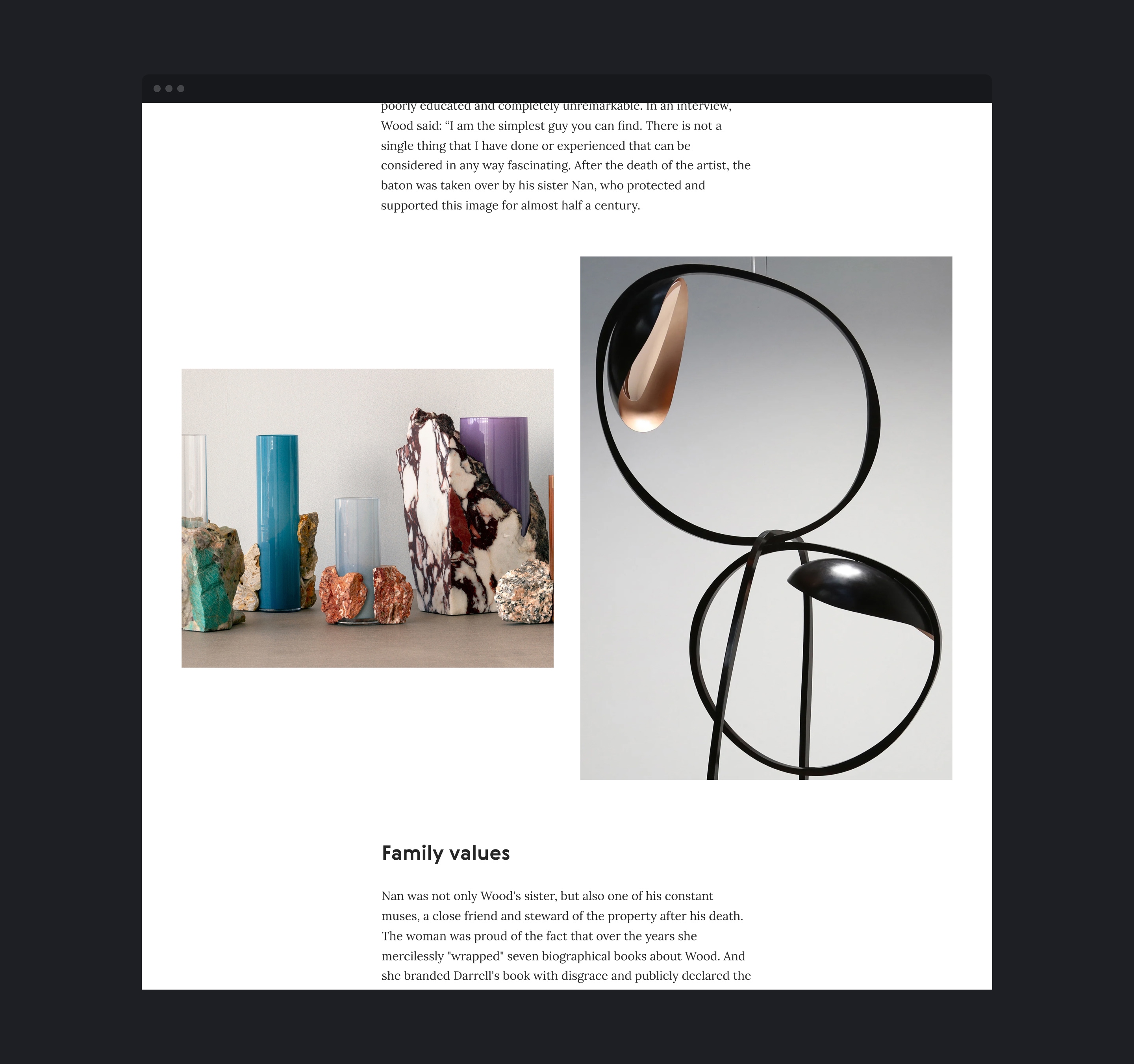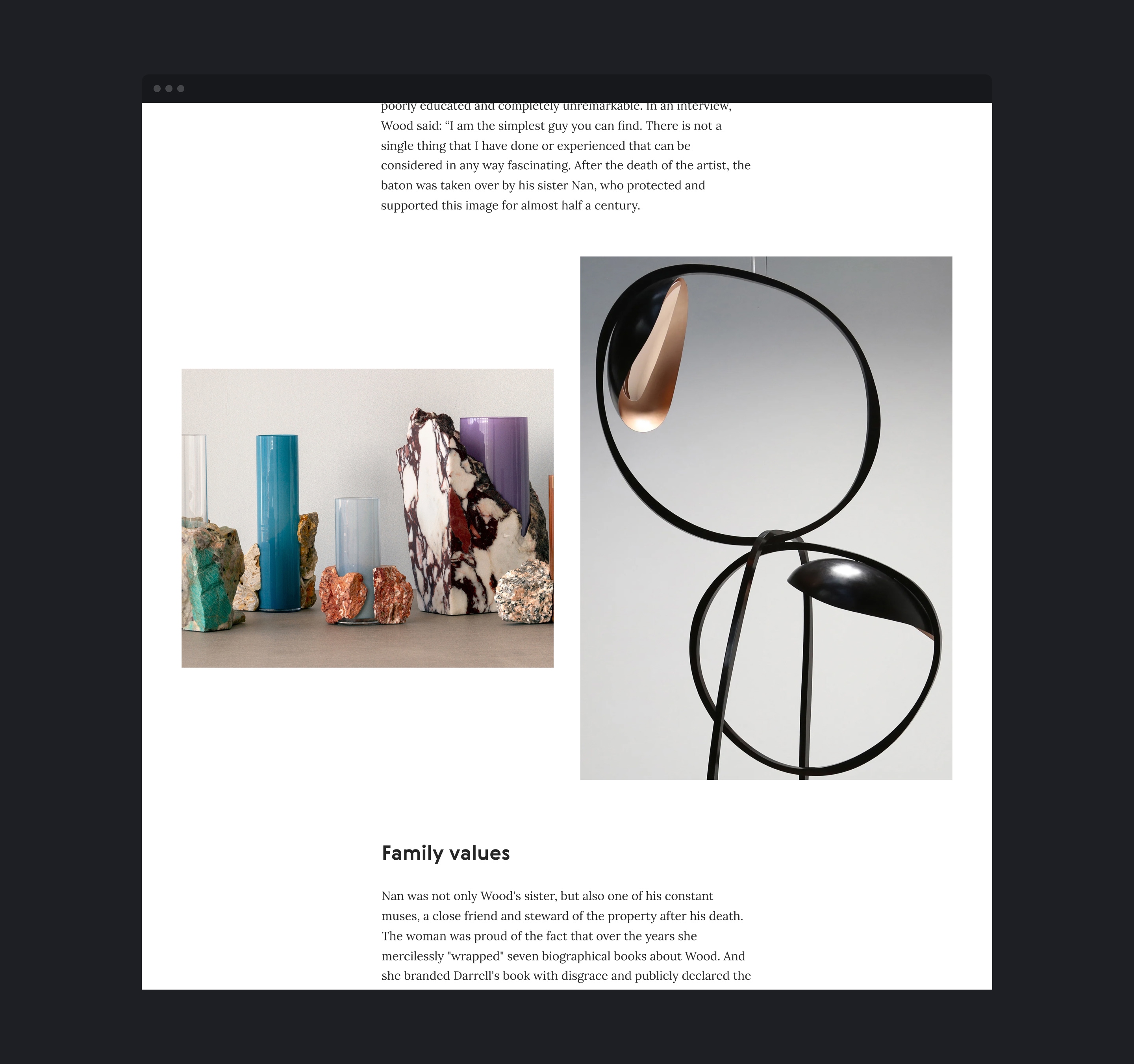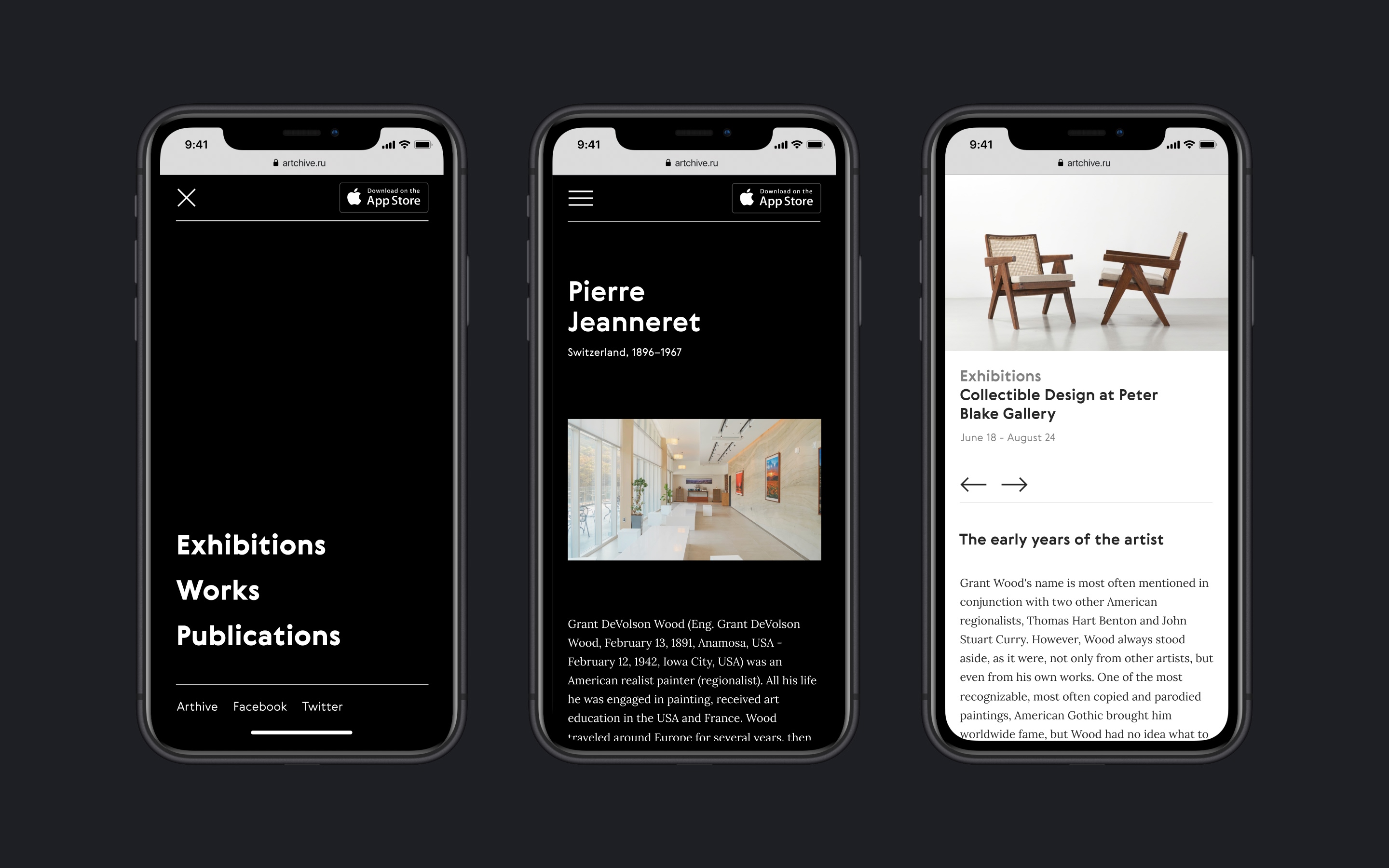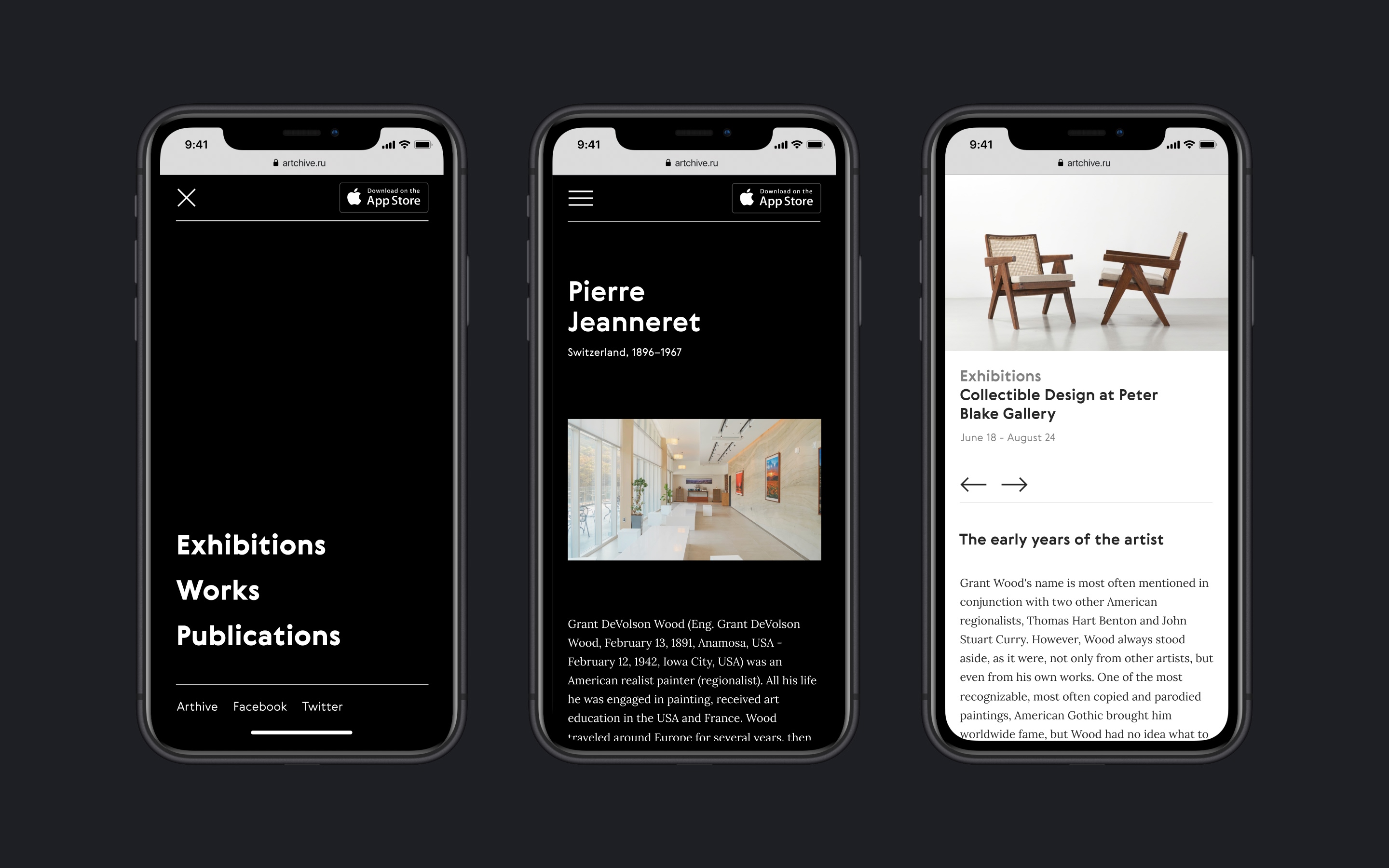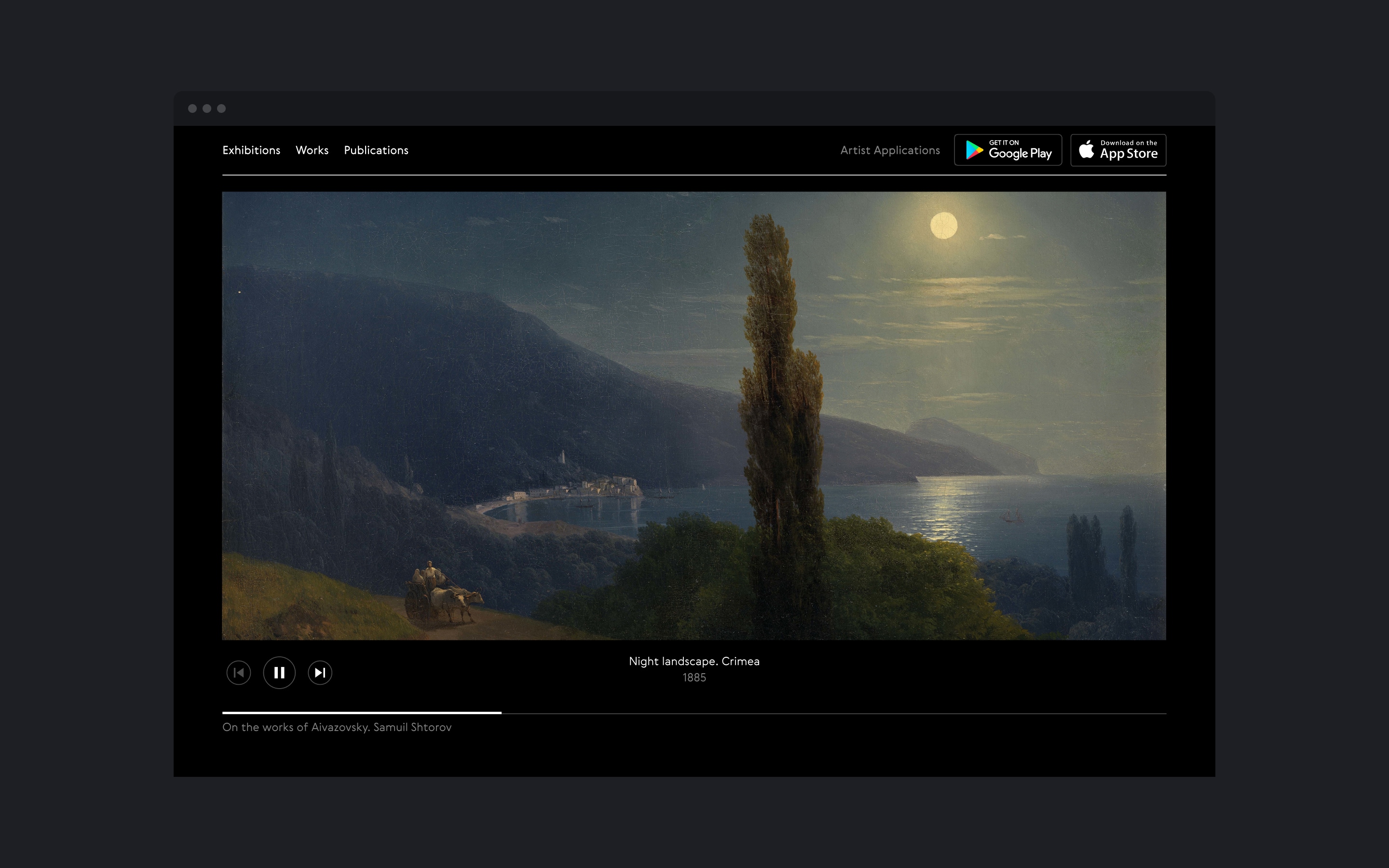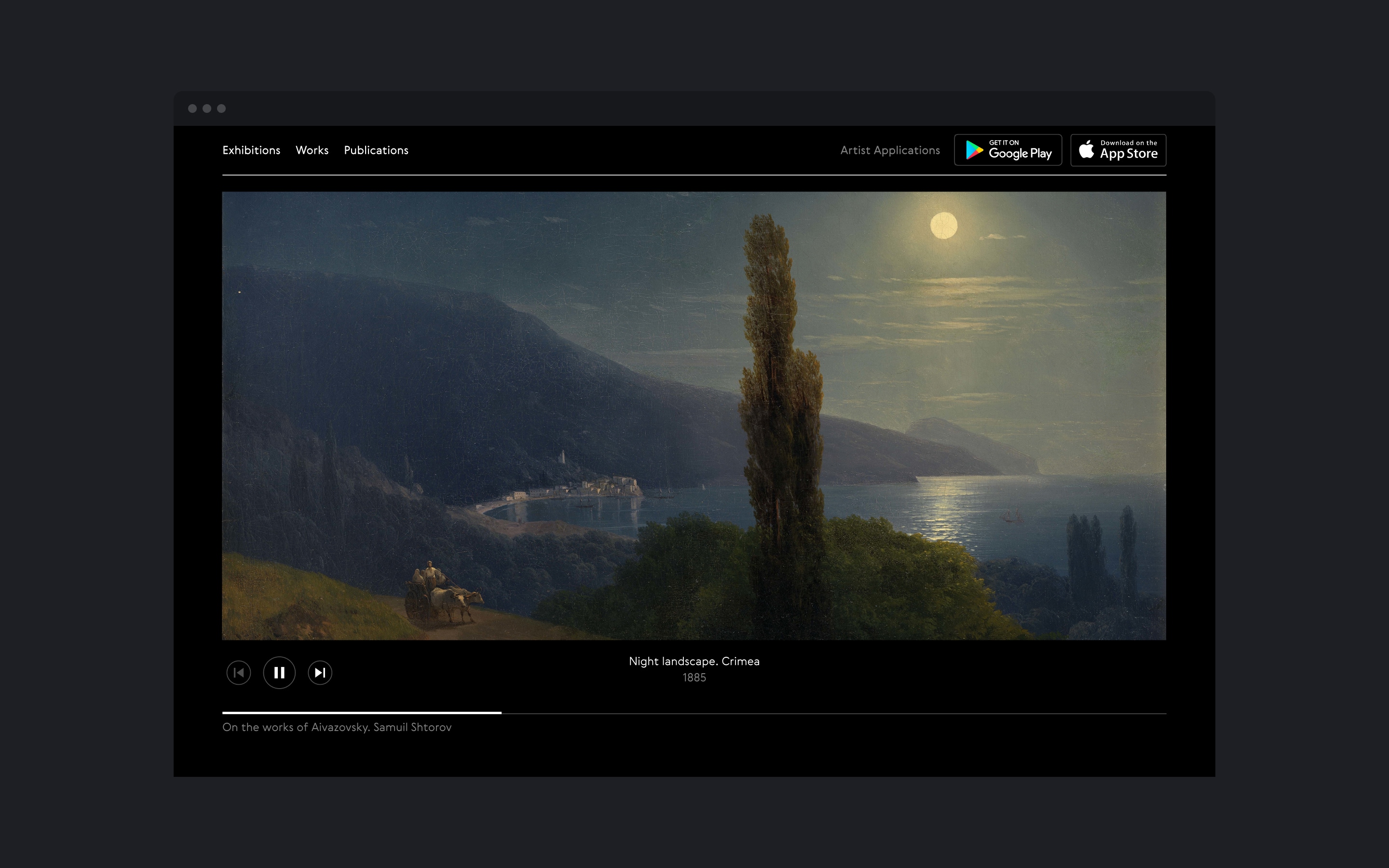 SOCIAL NETWORK FOR BIKERS 2014 — 2019
Product Designer · Bikenet
Bikenet is a social network for bikers. Bikenet is a child project of the Arthive. It started in February of 2014. At the same time, the first design of the project was created. The design was quite conceptual, but it was developed but wasn't rolled out to production because resources were transferred to another project. And lately, in 2016, when the resources were allocated for this project, I offered a more classical way of design which was successfully launched this time.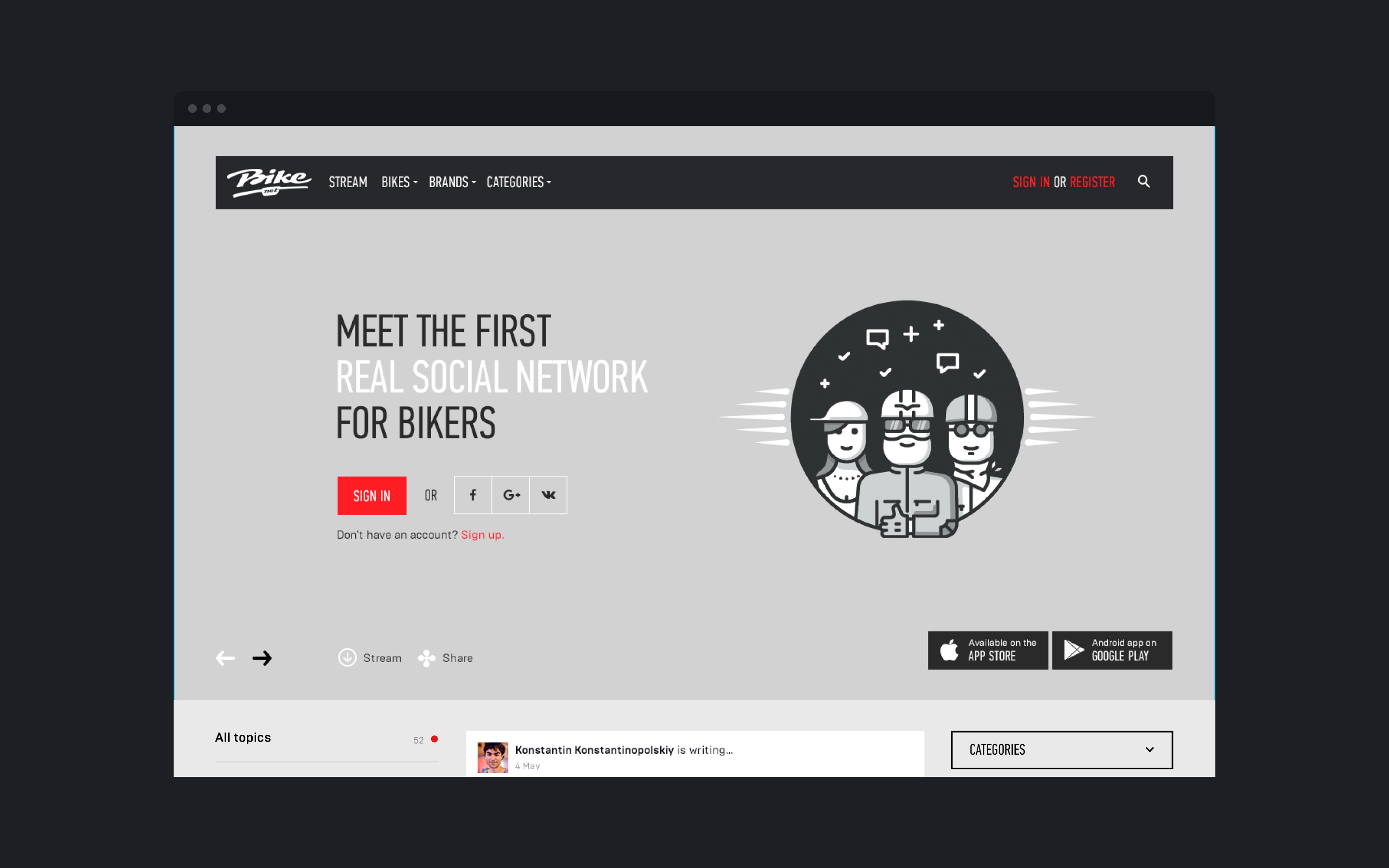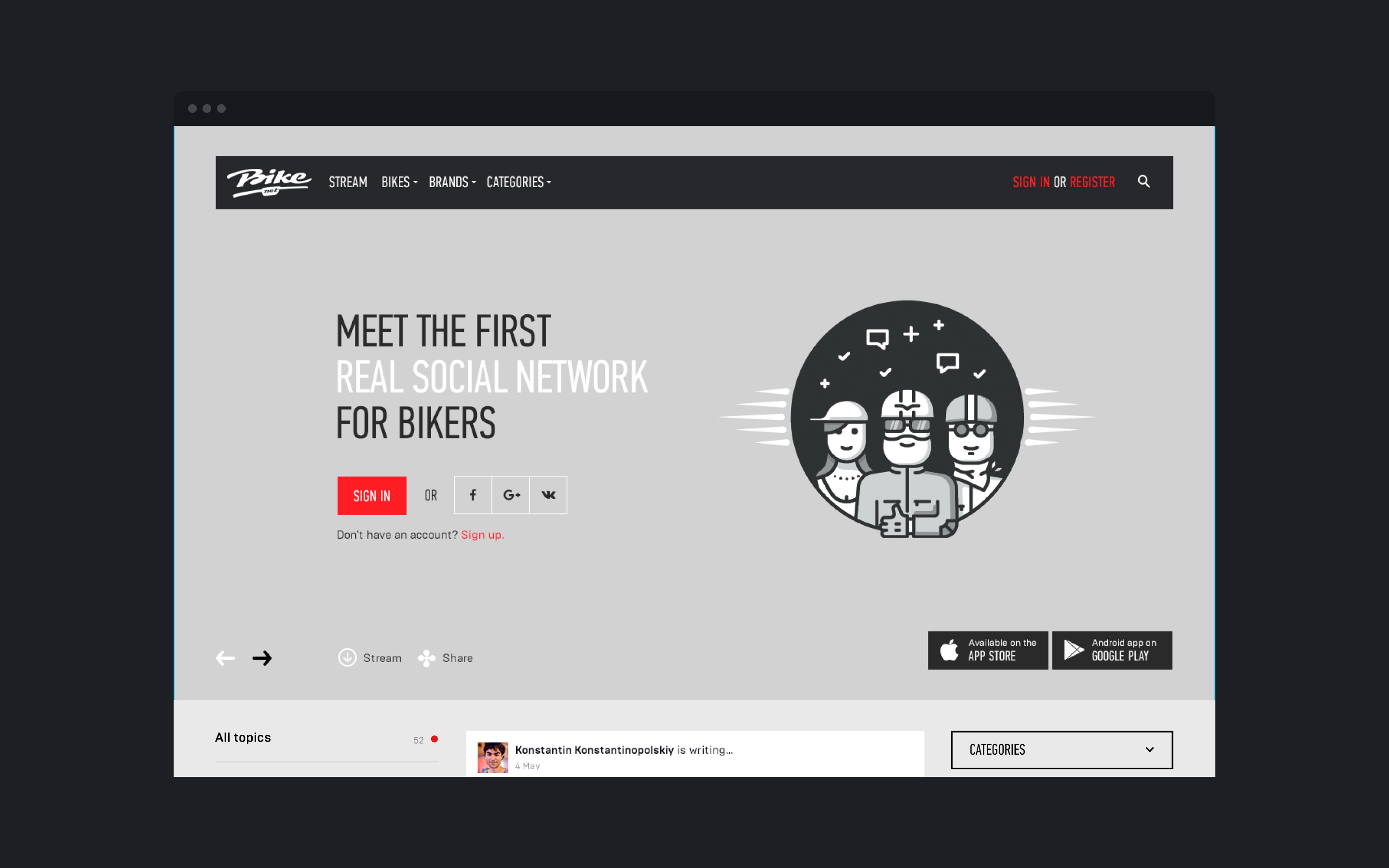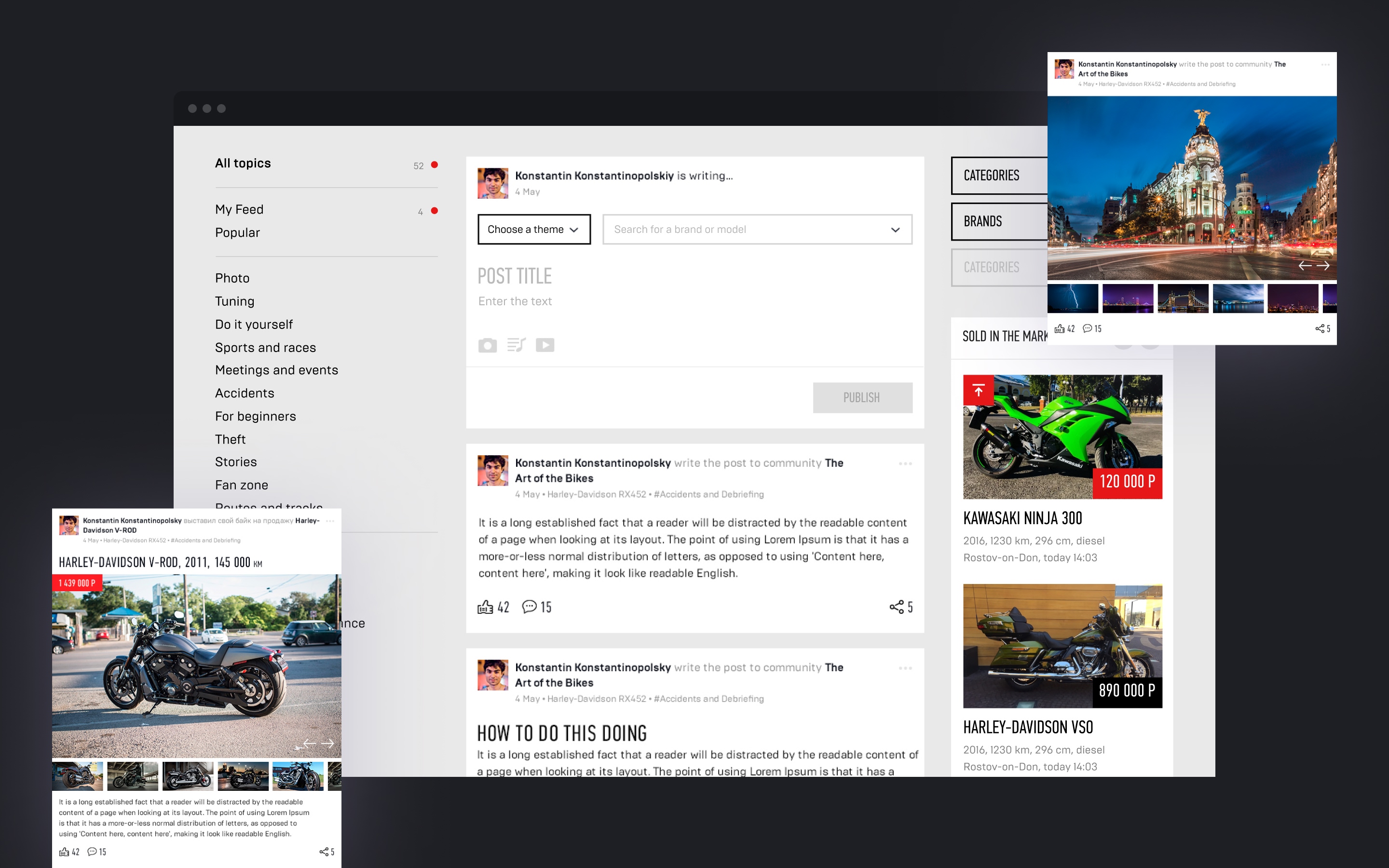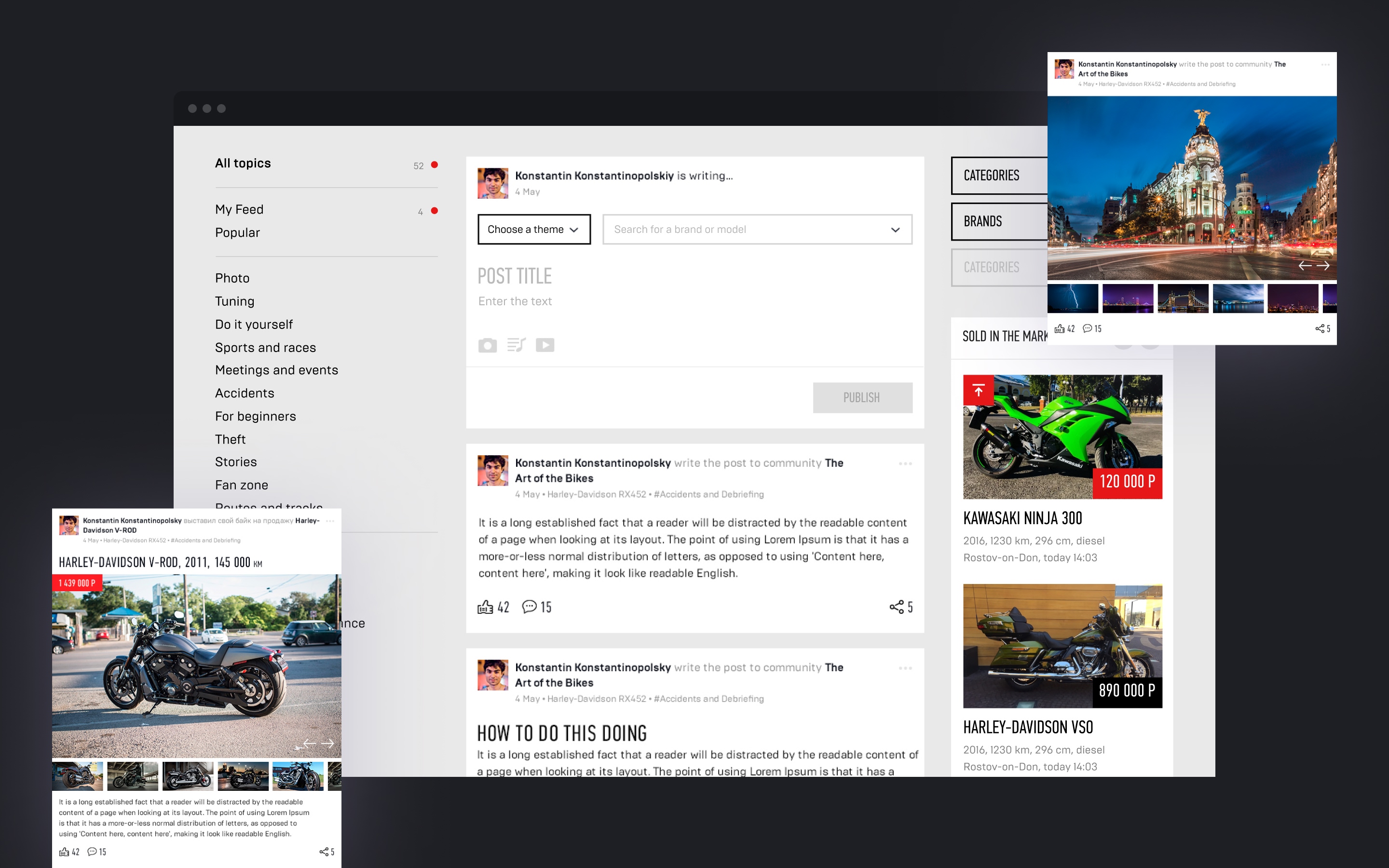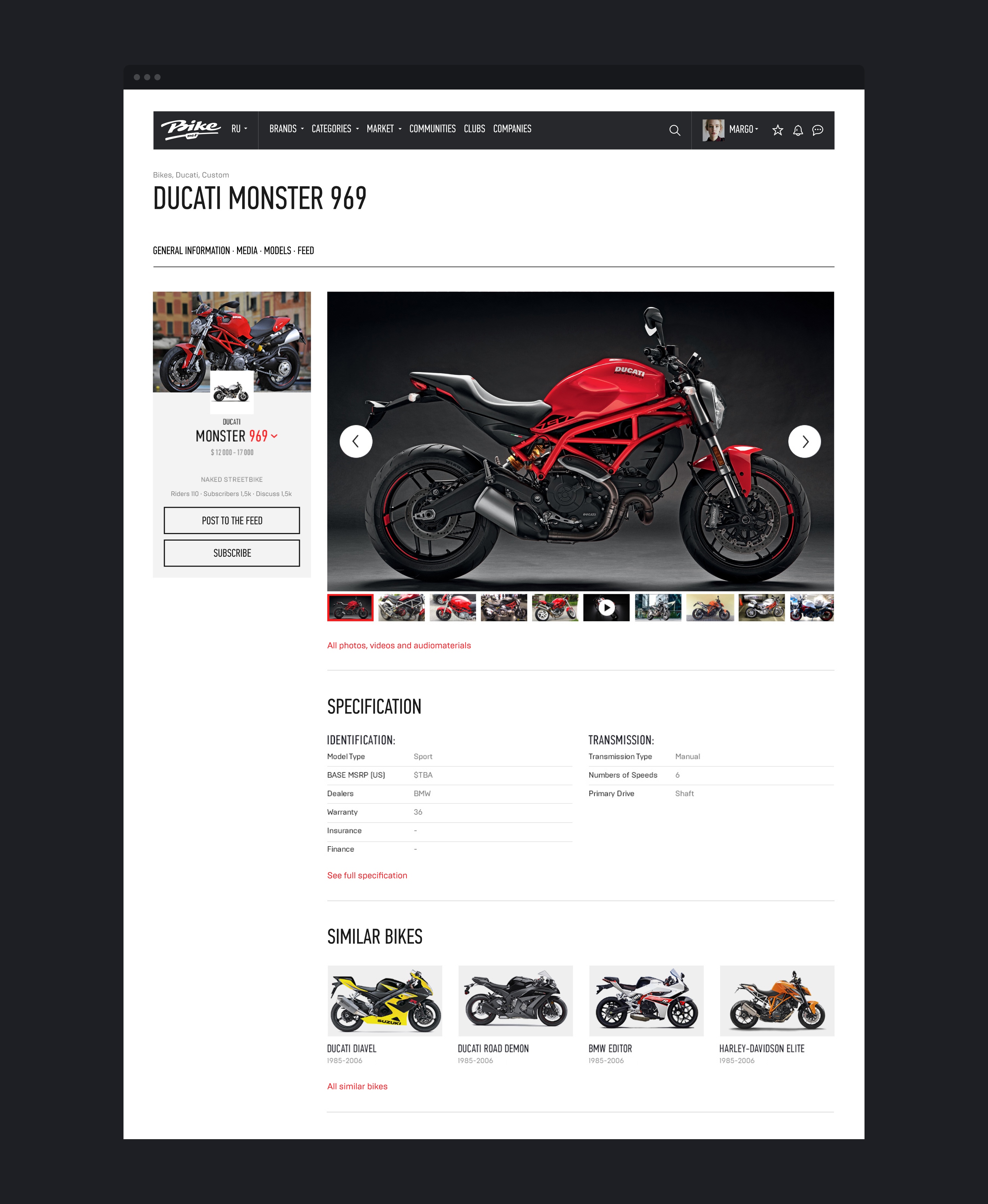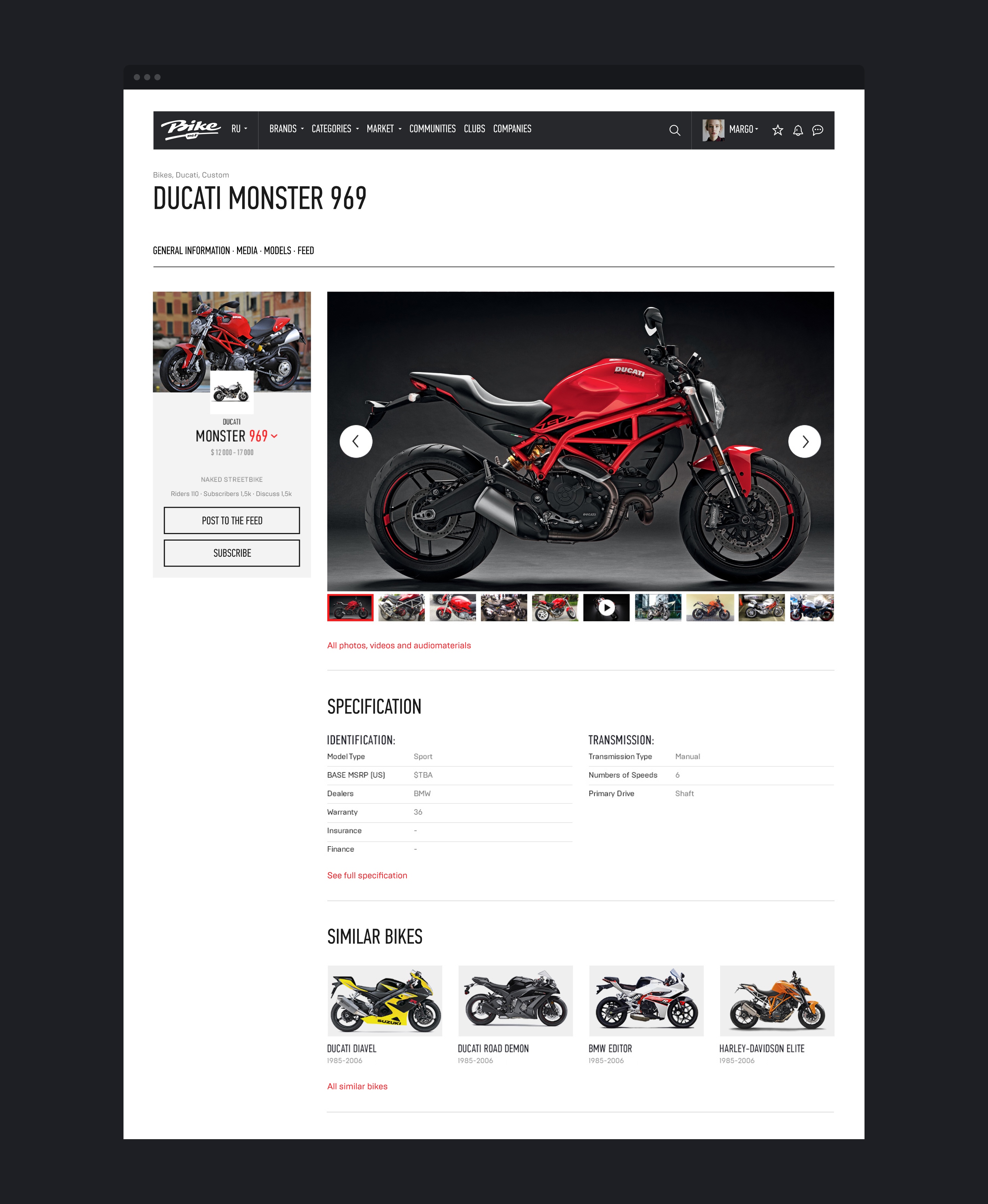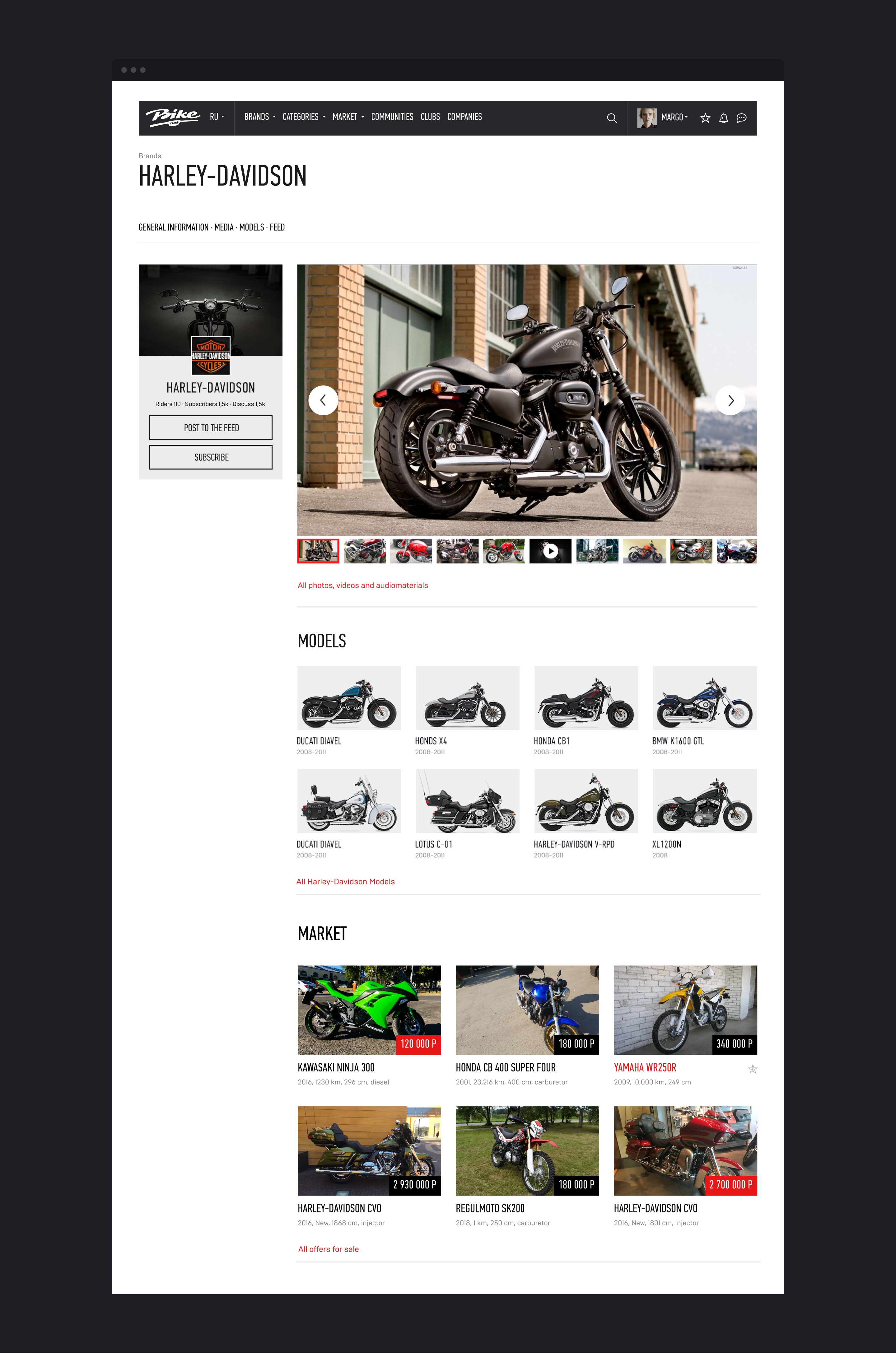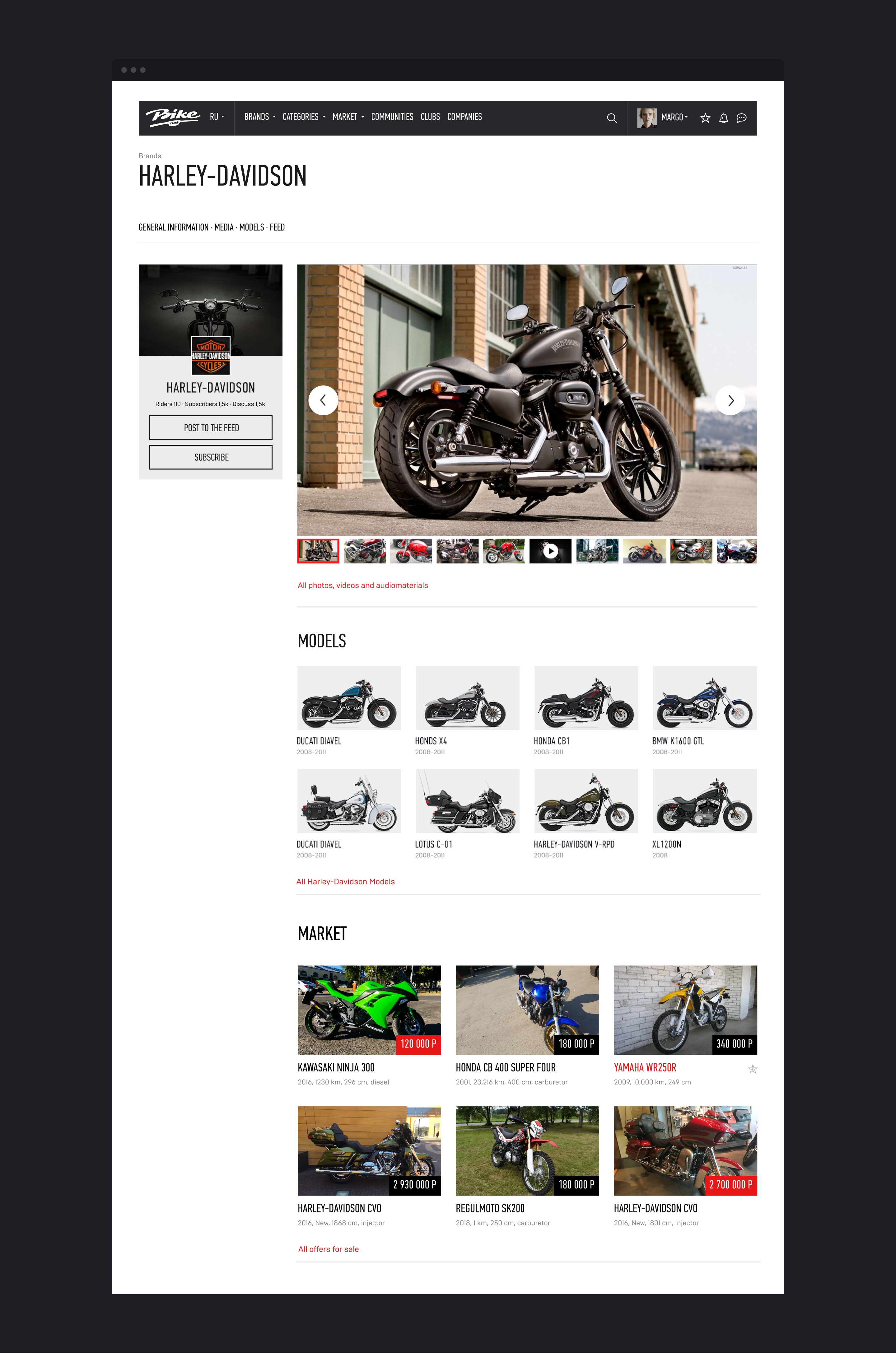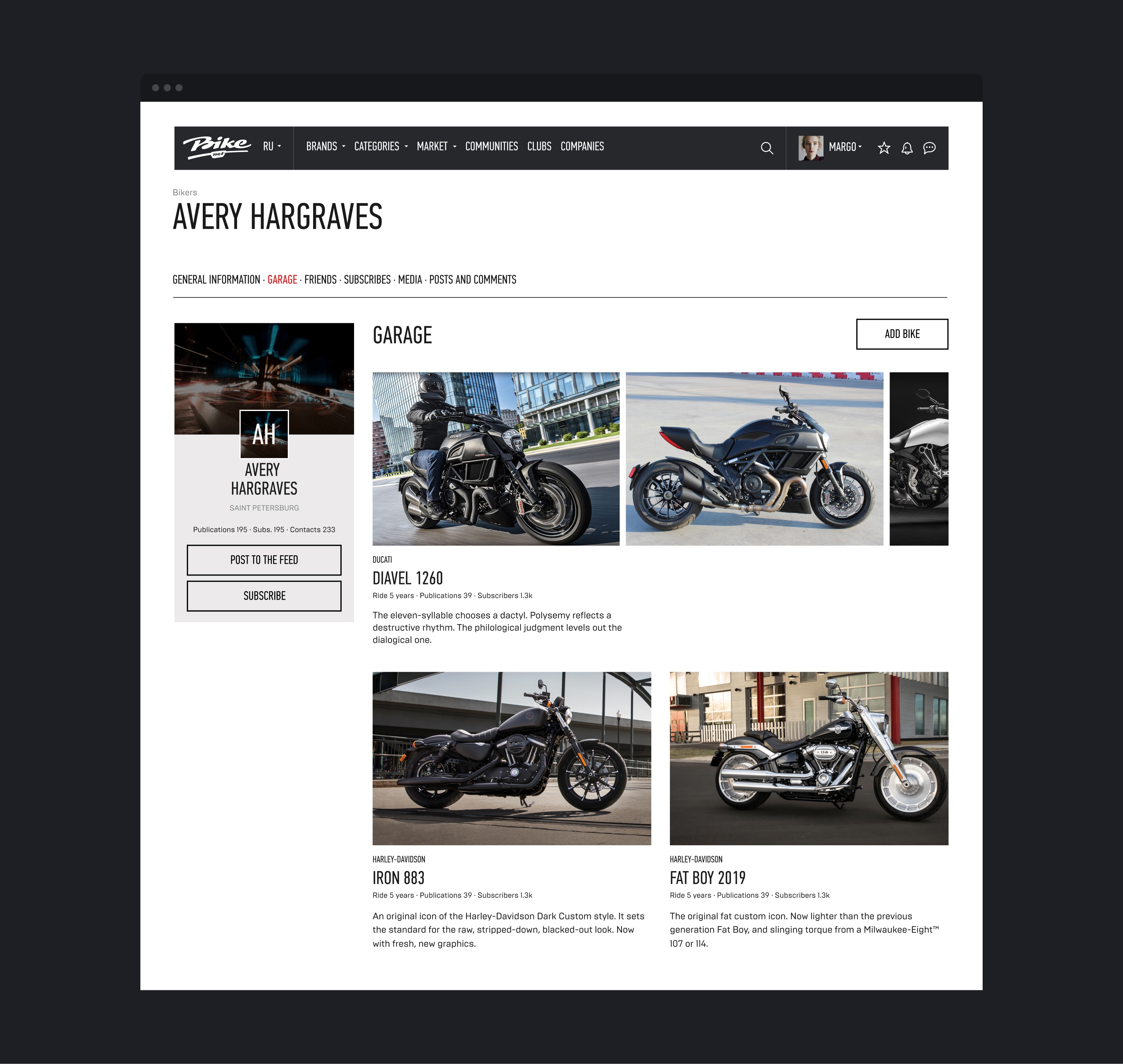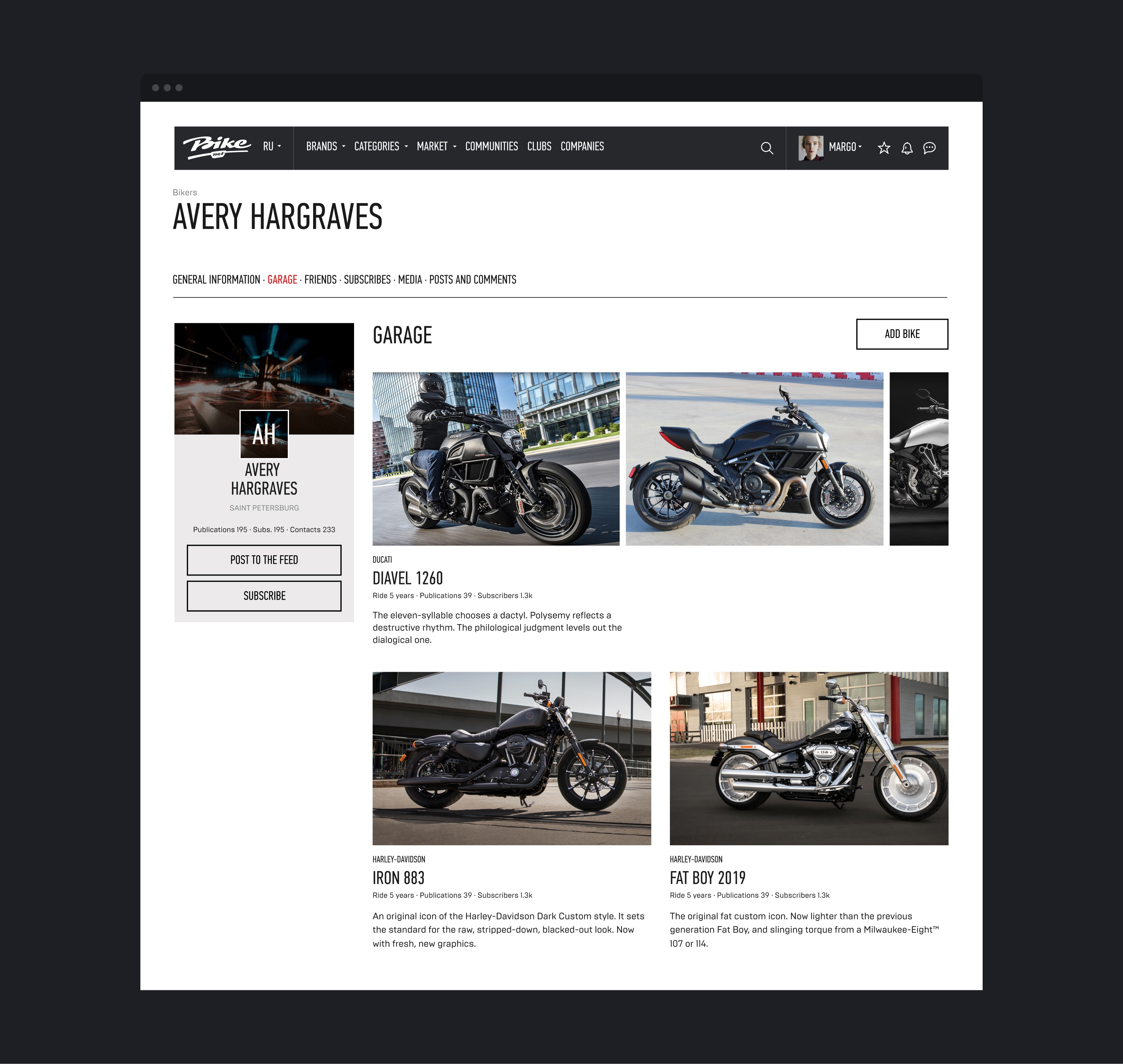 BIKENET.MARKET 2018 — 2019
Product Designer · Bikenet
If there is a social network for bikes and bikers then sooner or later users will need to buy or sell their bikes or spare parts. A market for such things was integrated inside of the social network and at the same time exists as a separate product.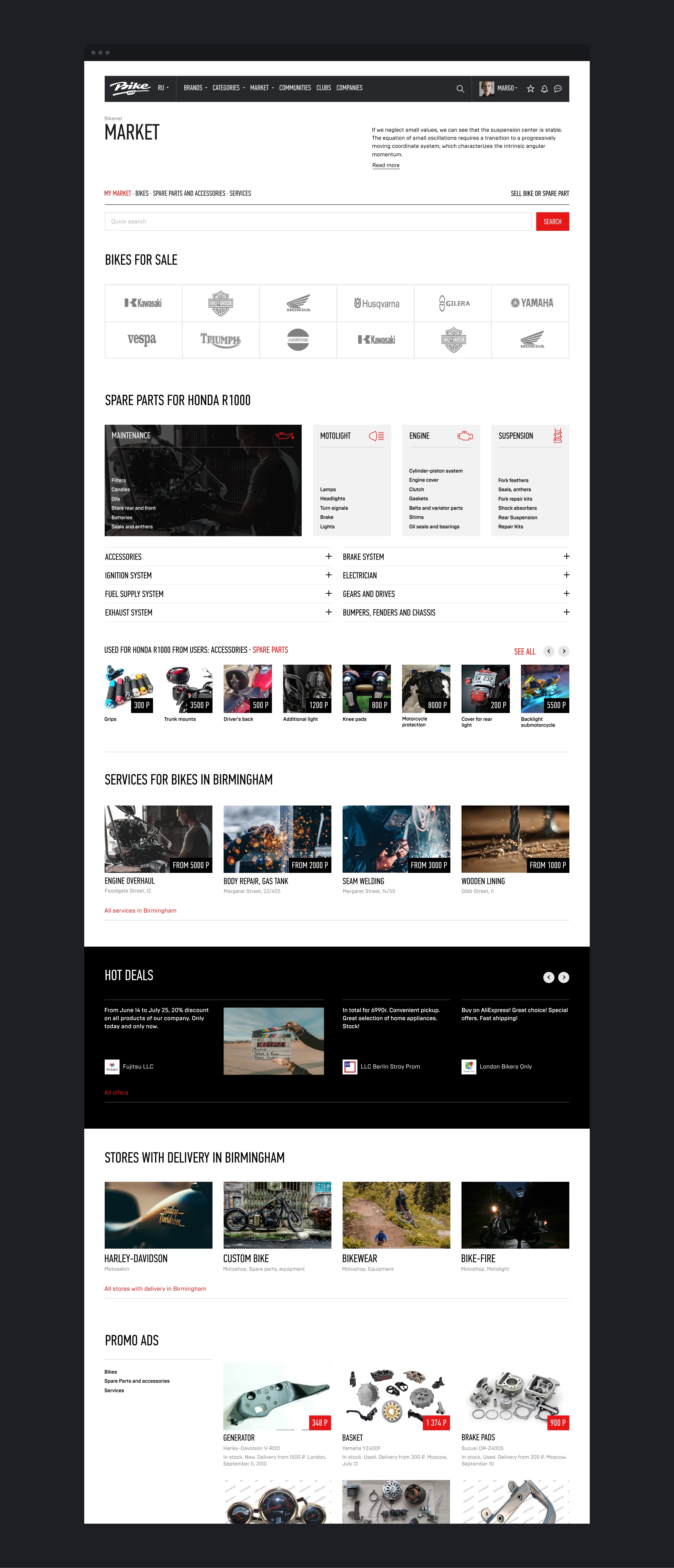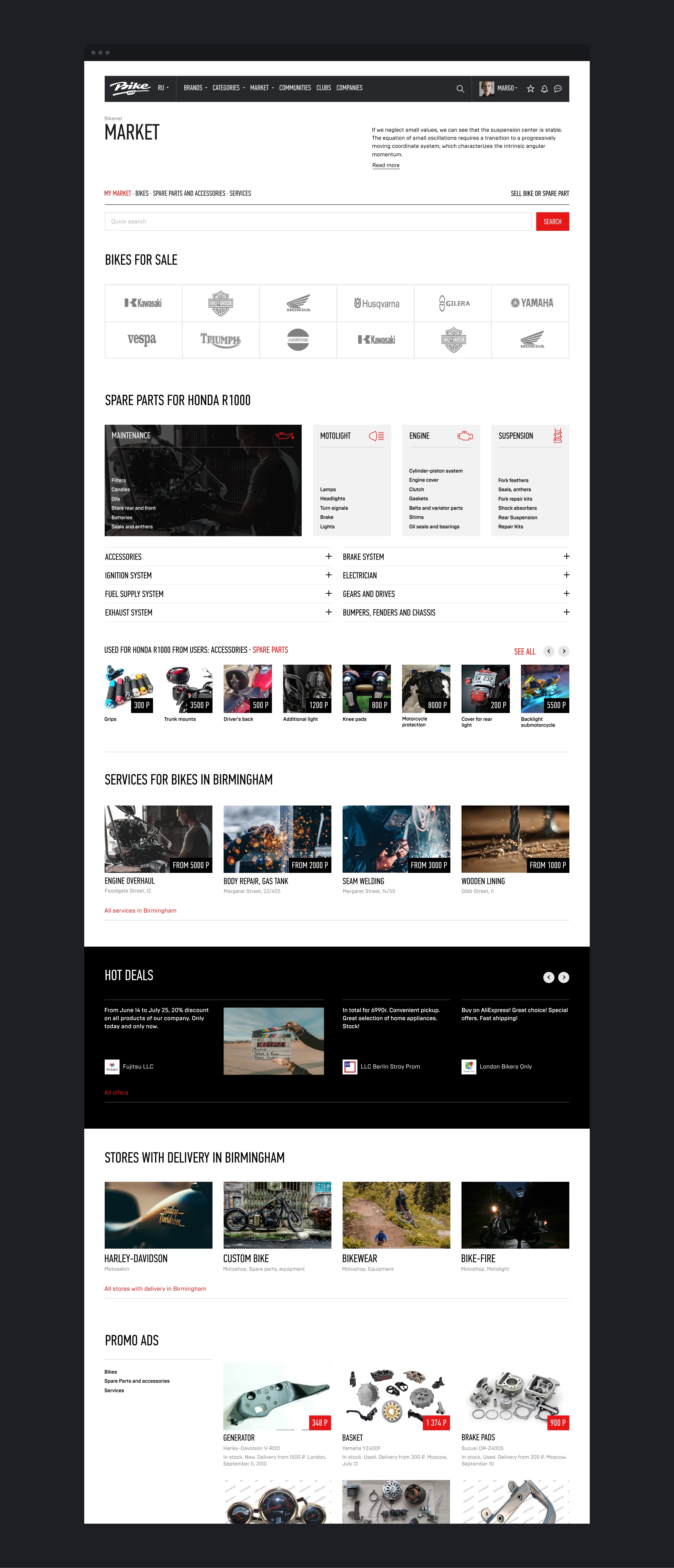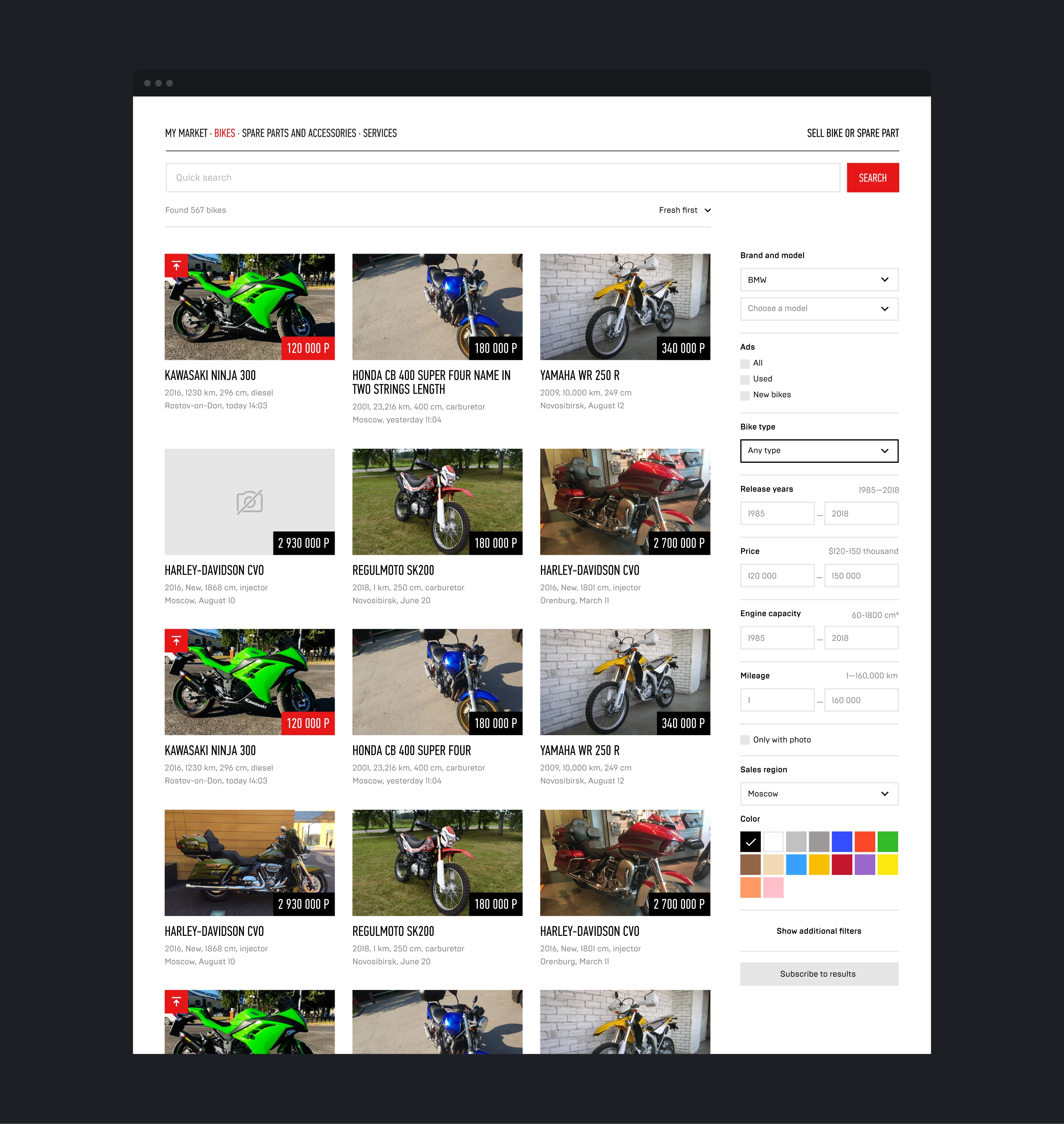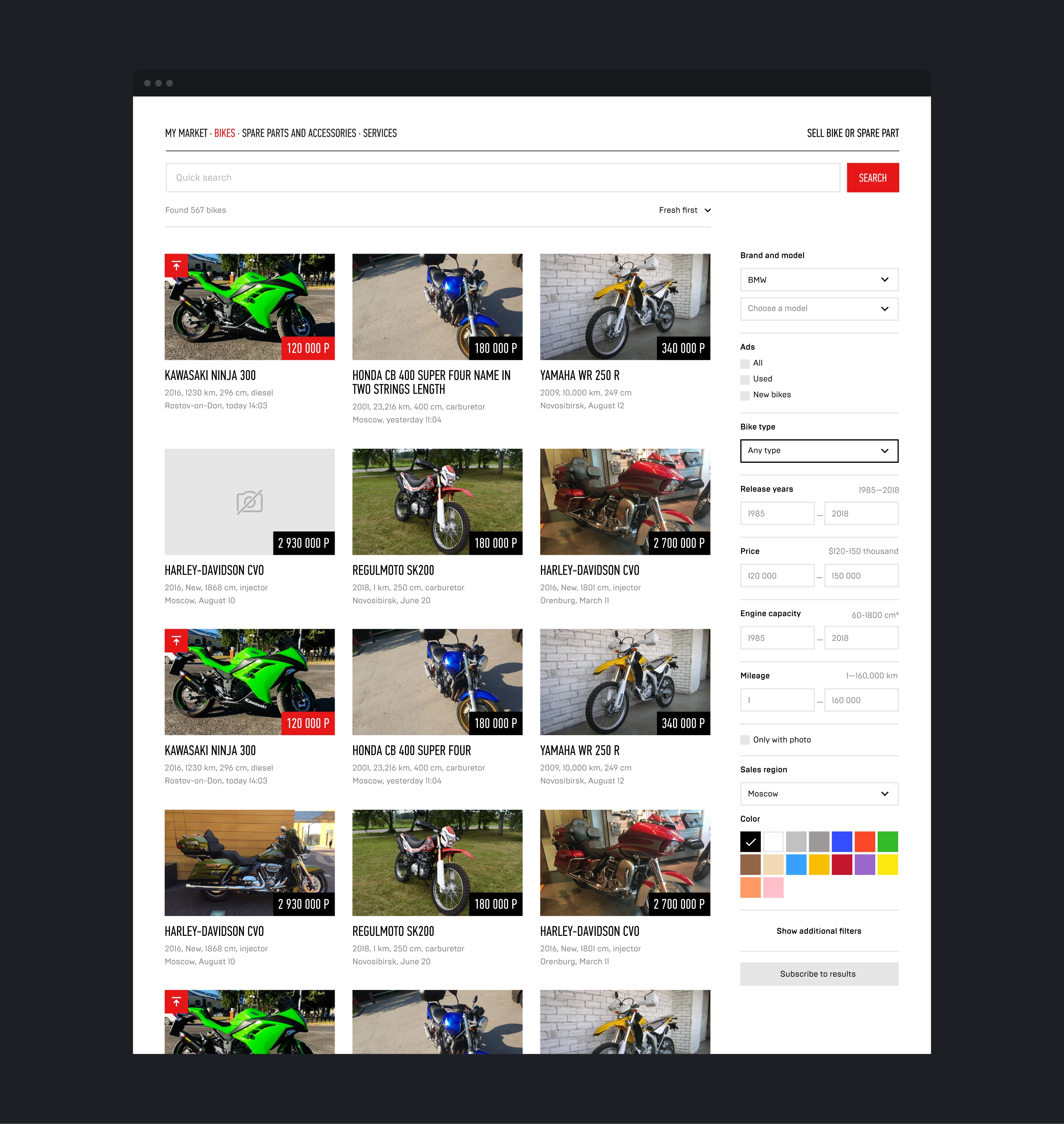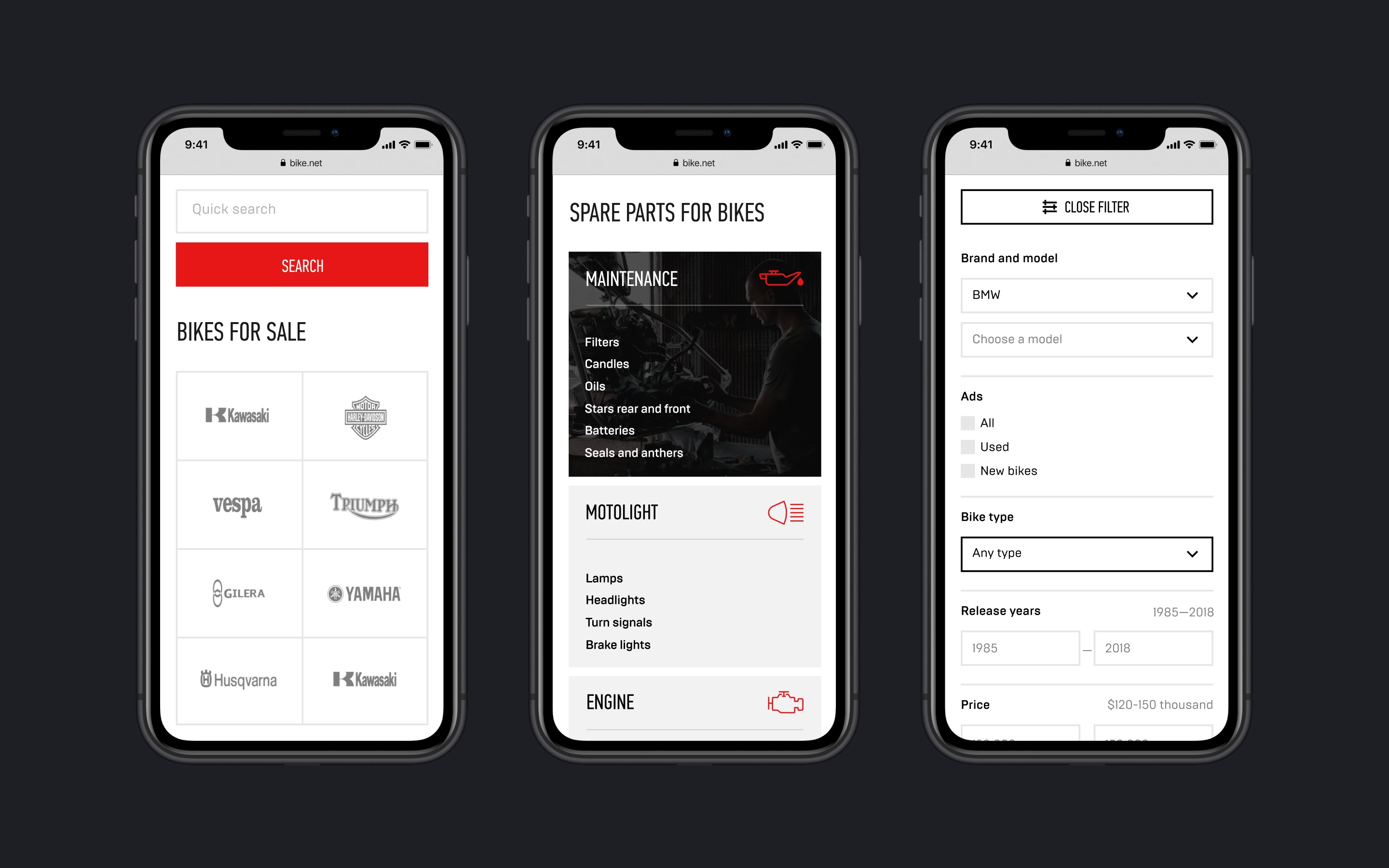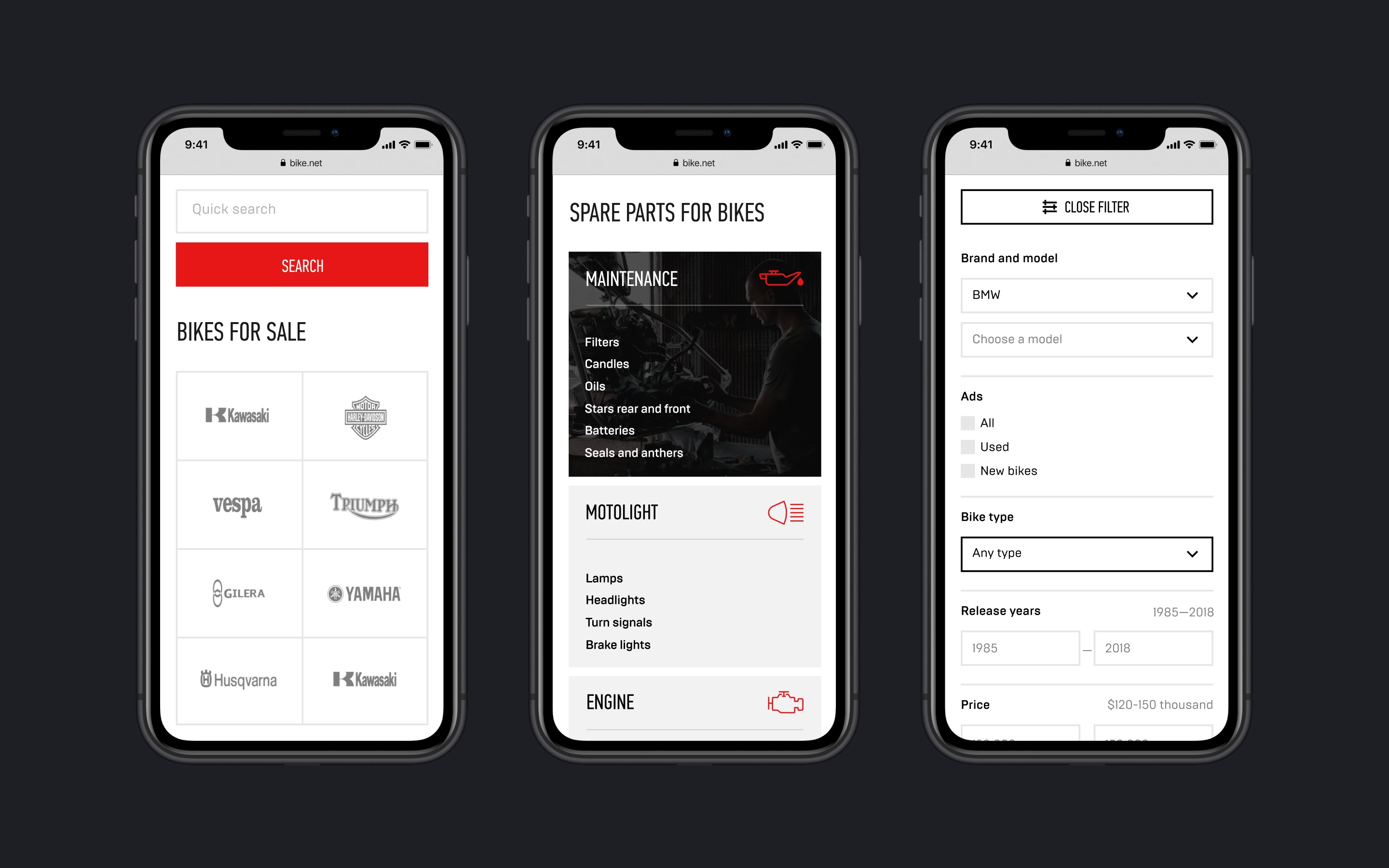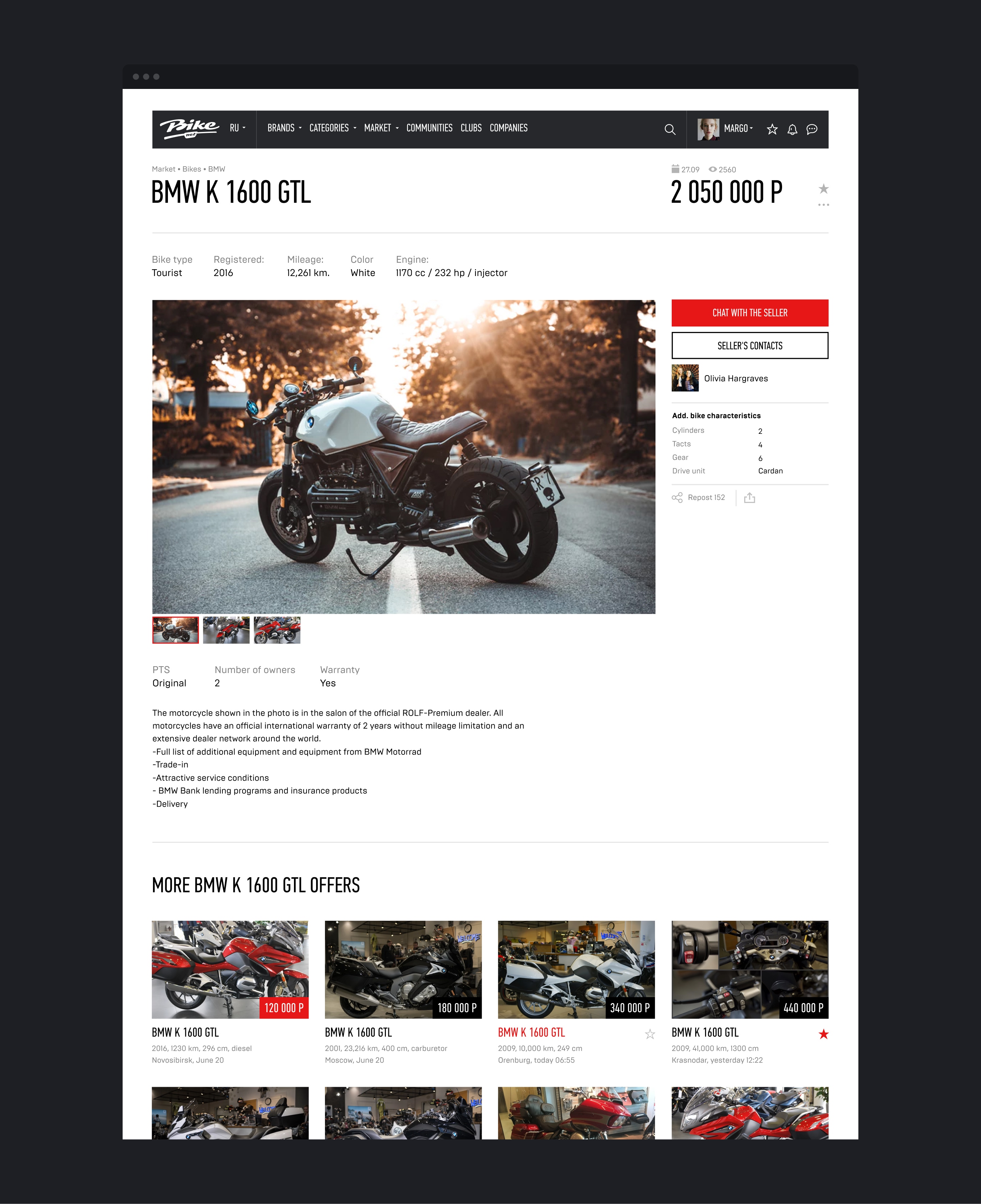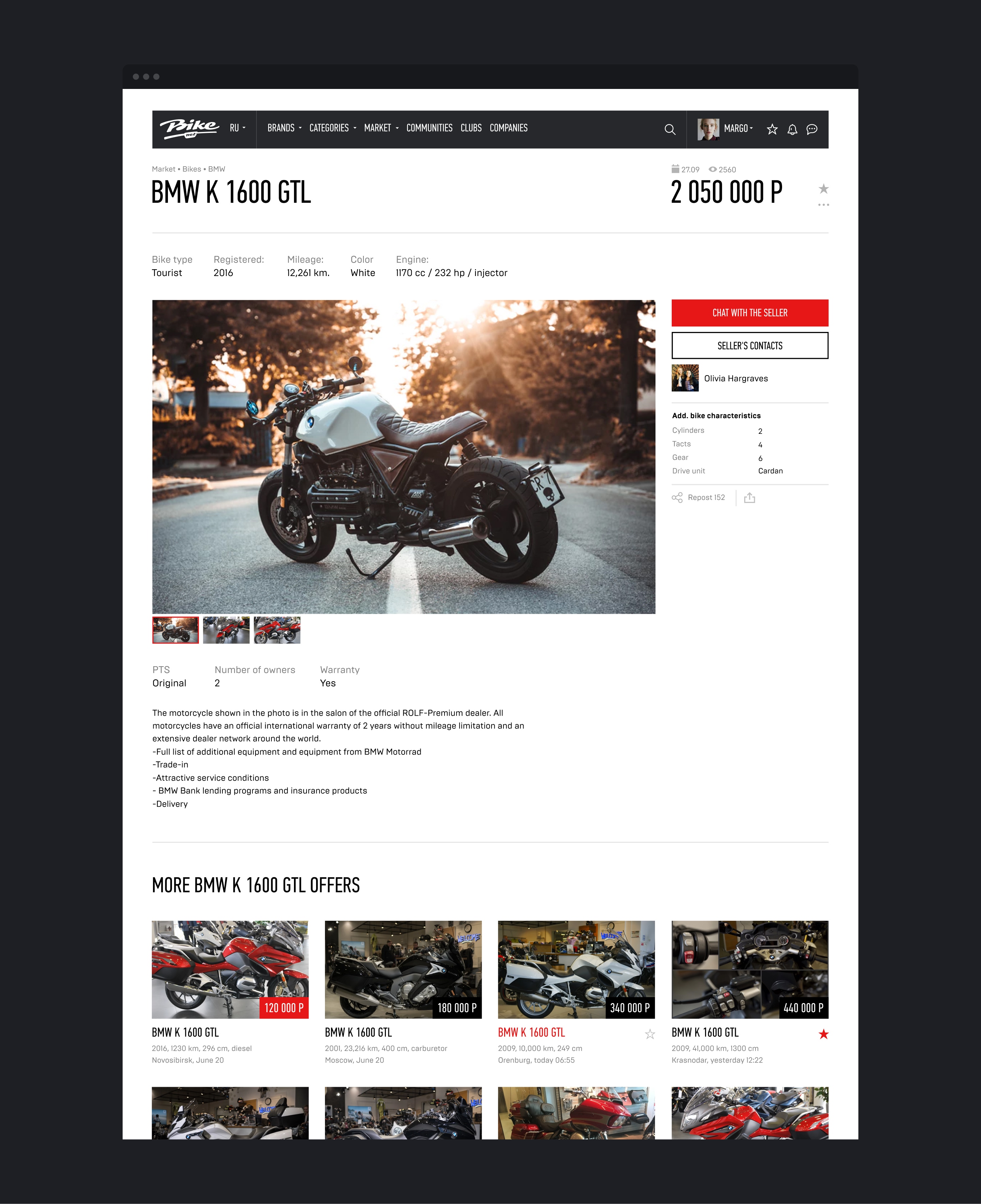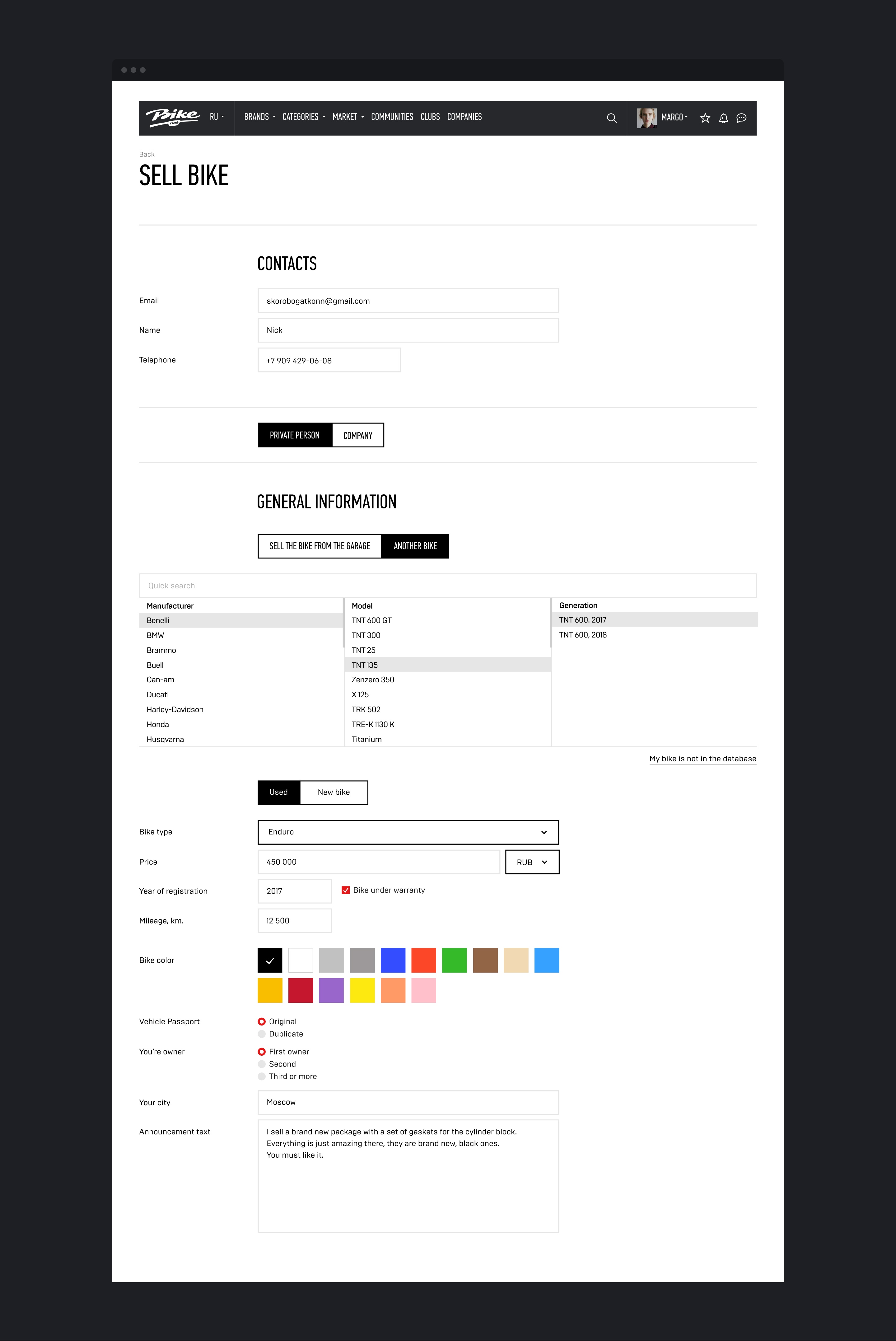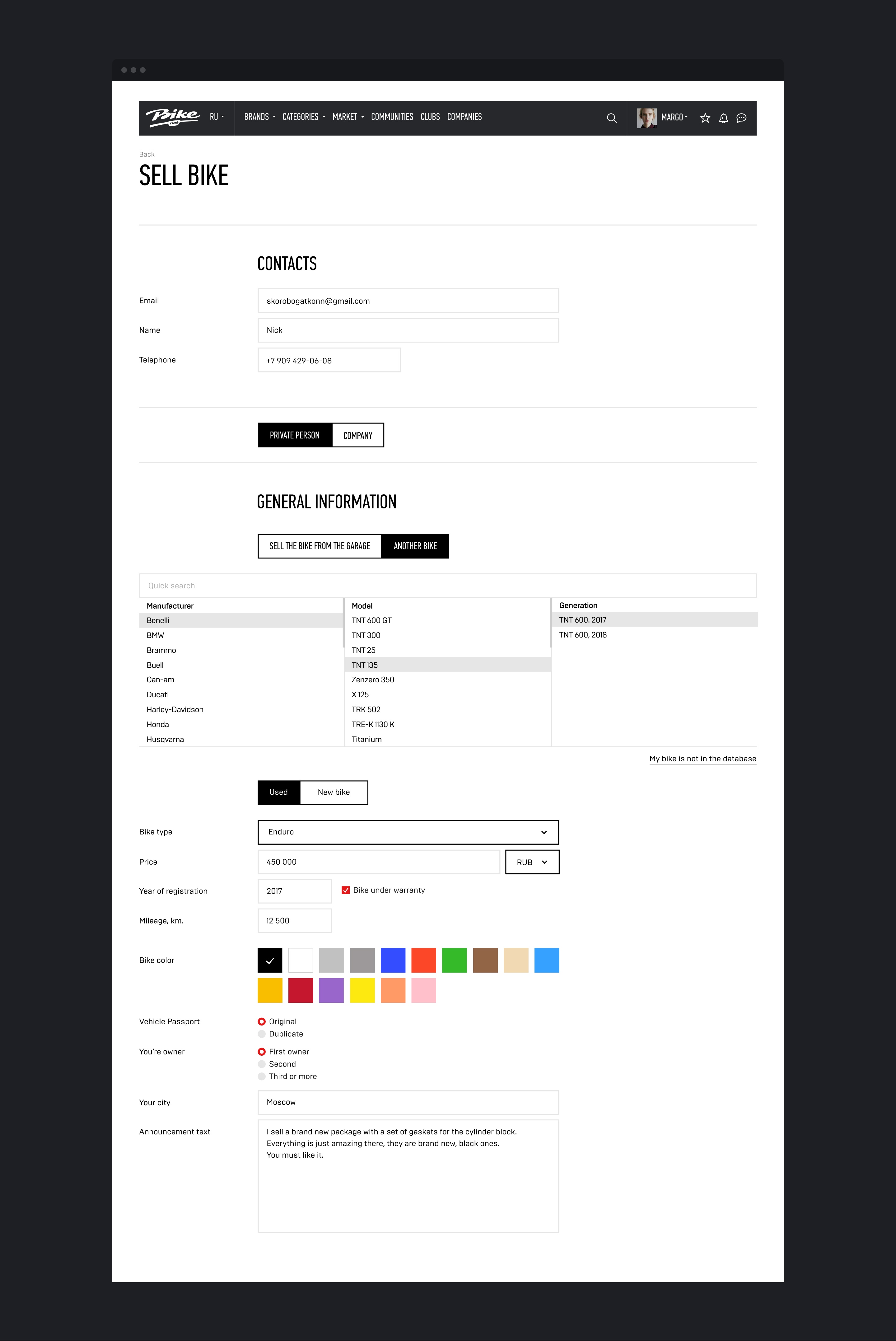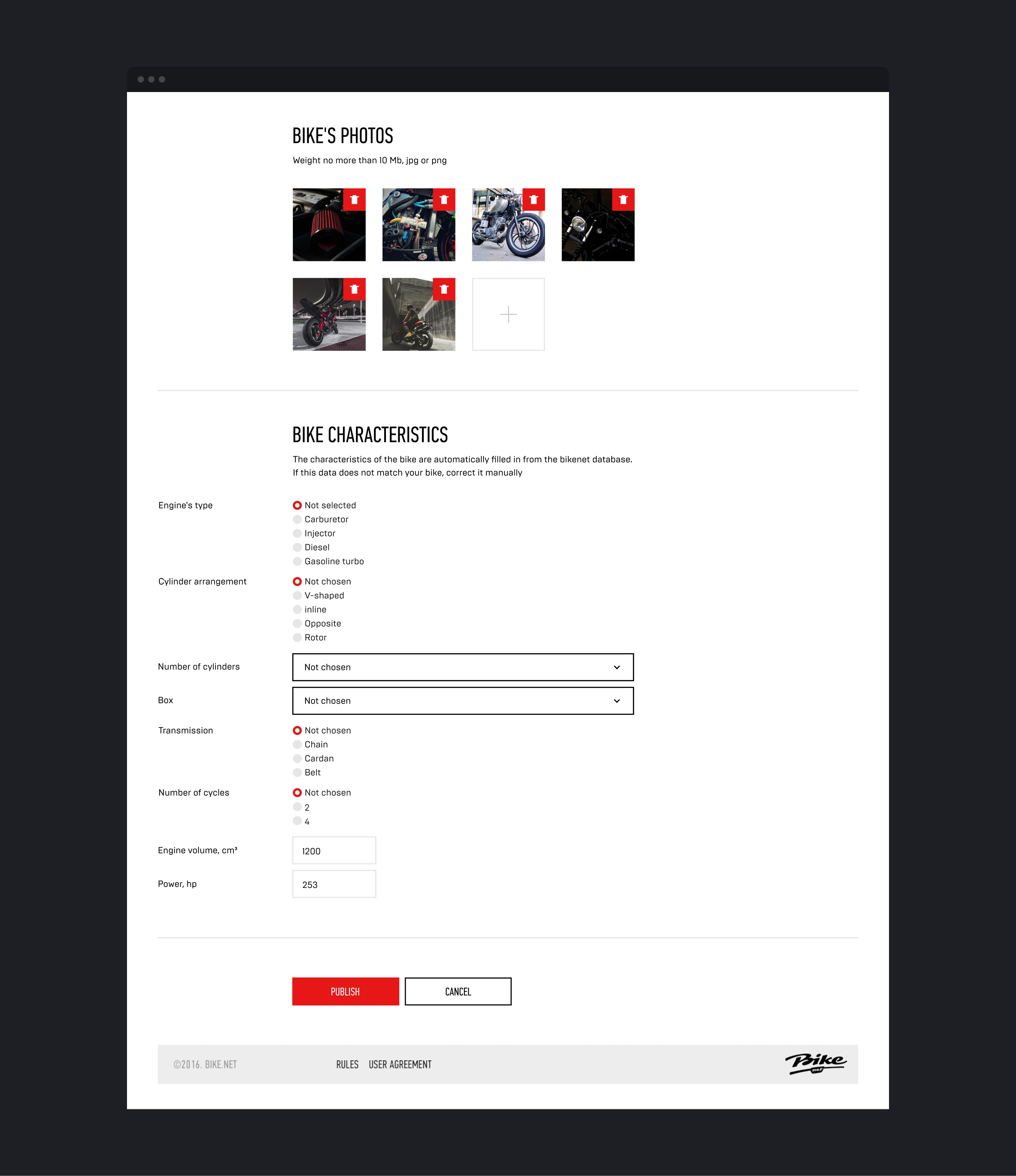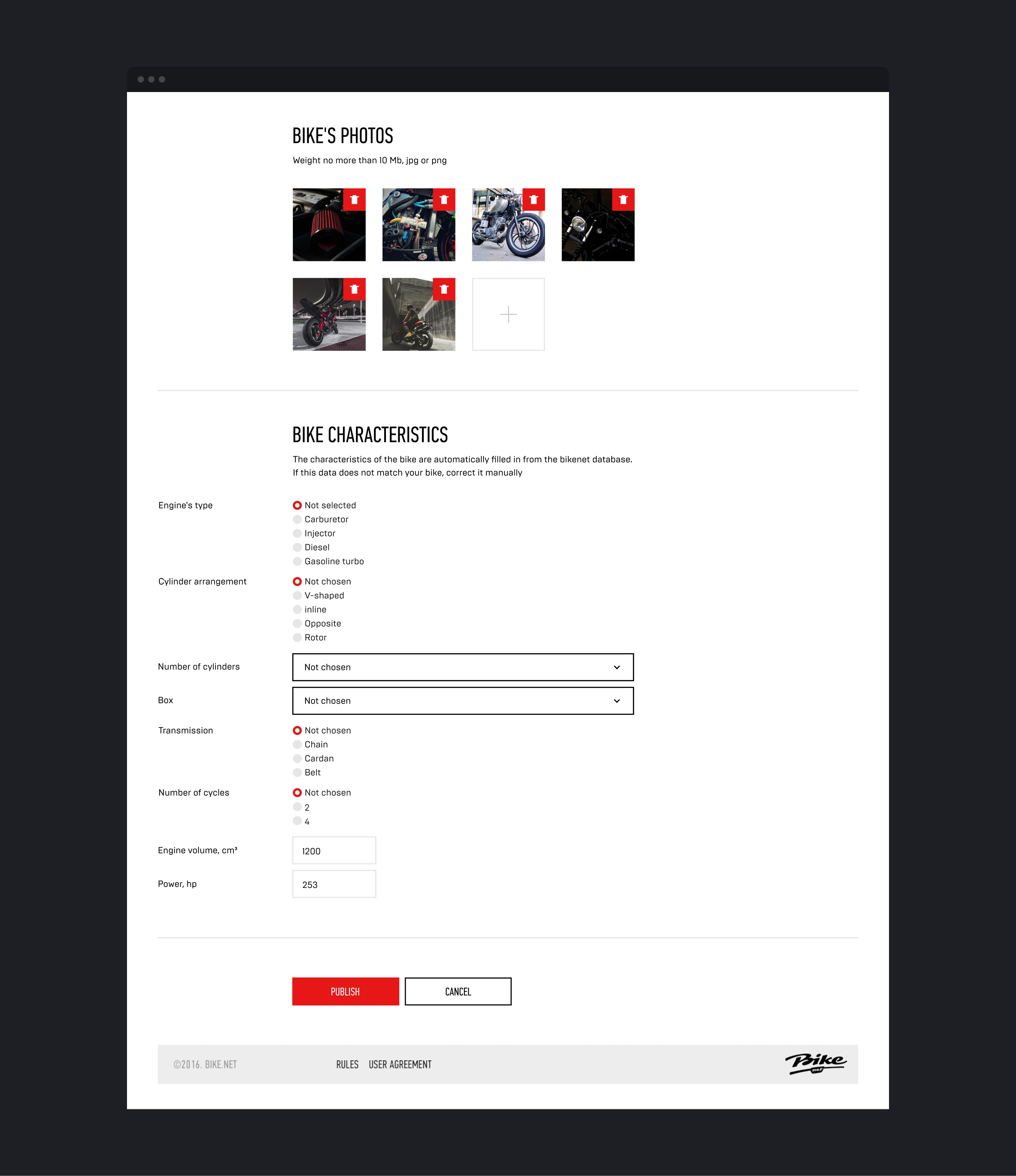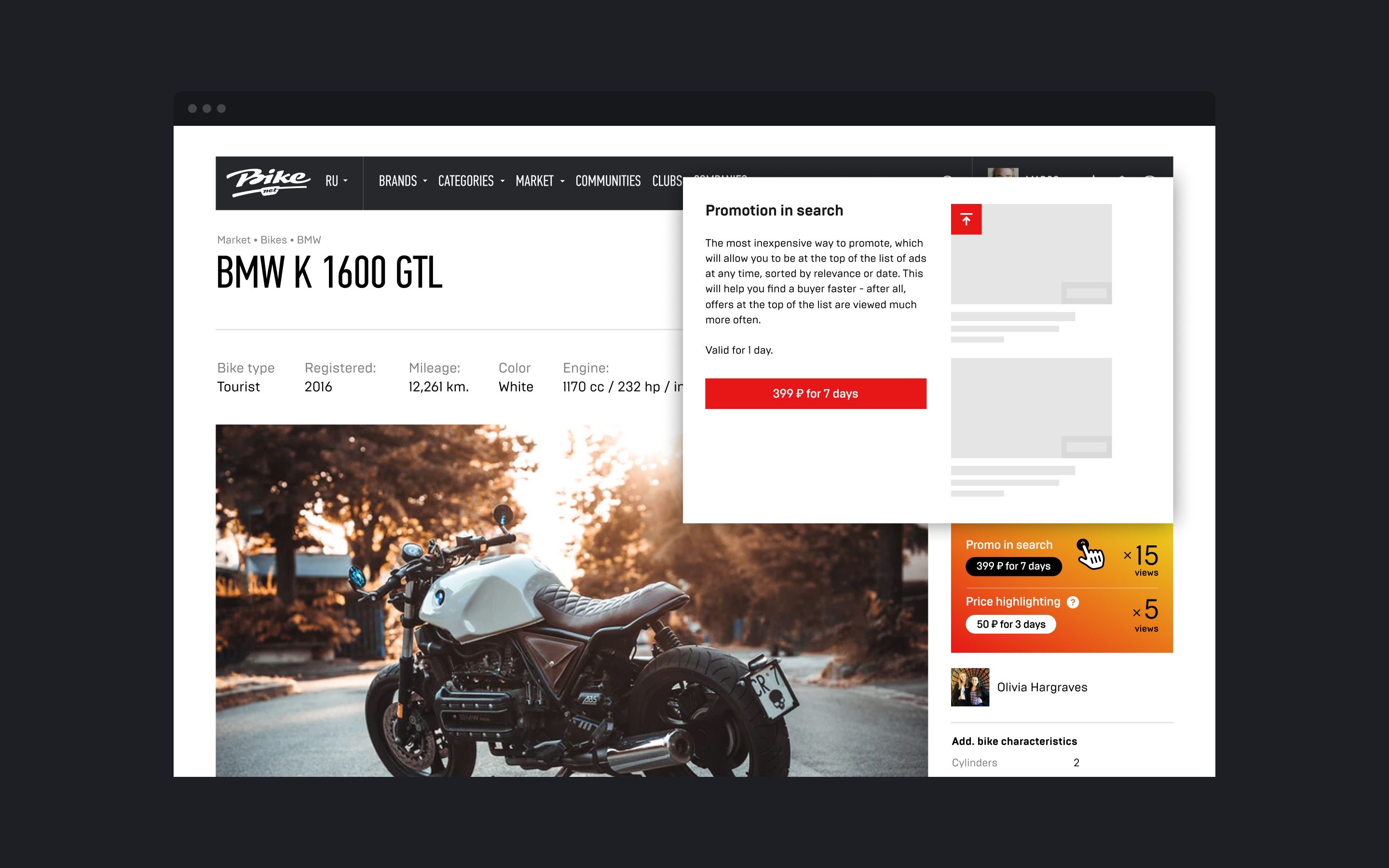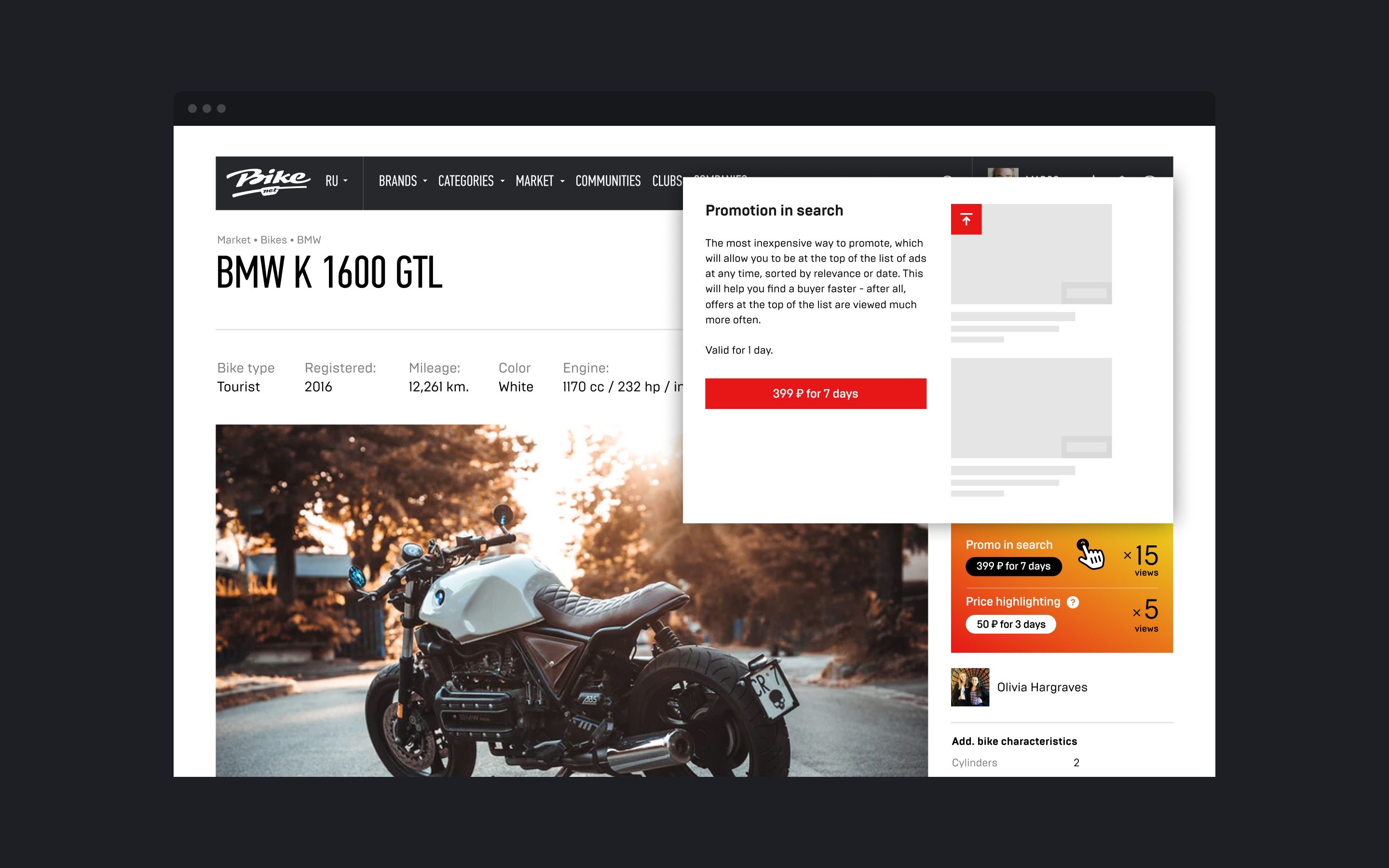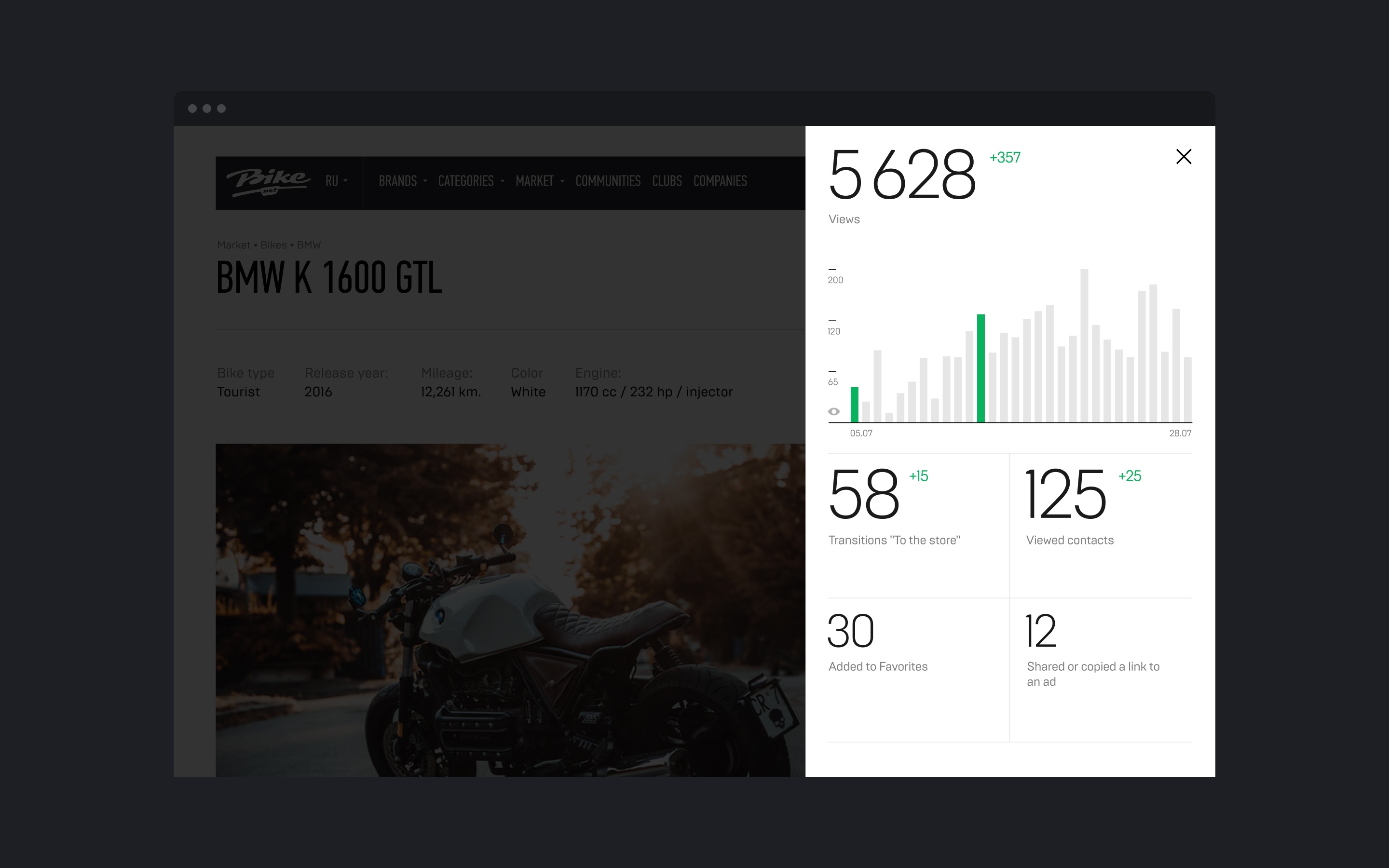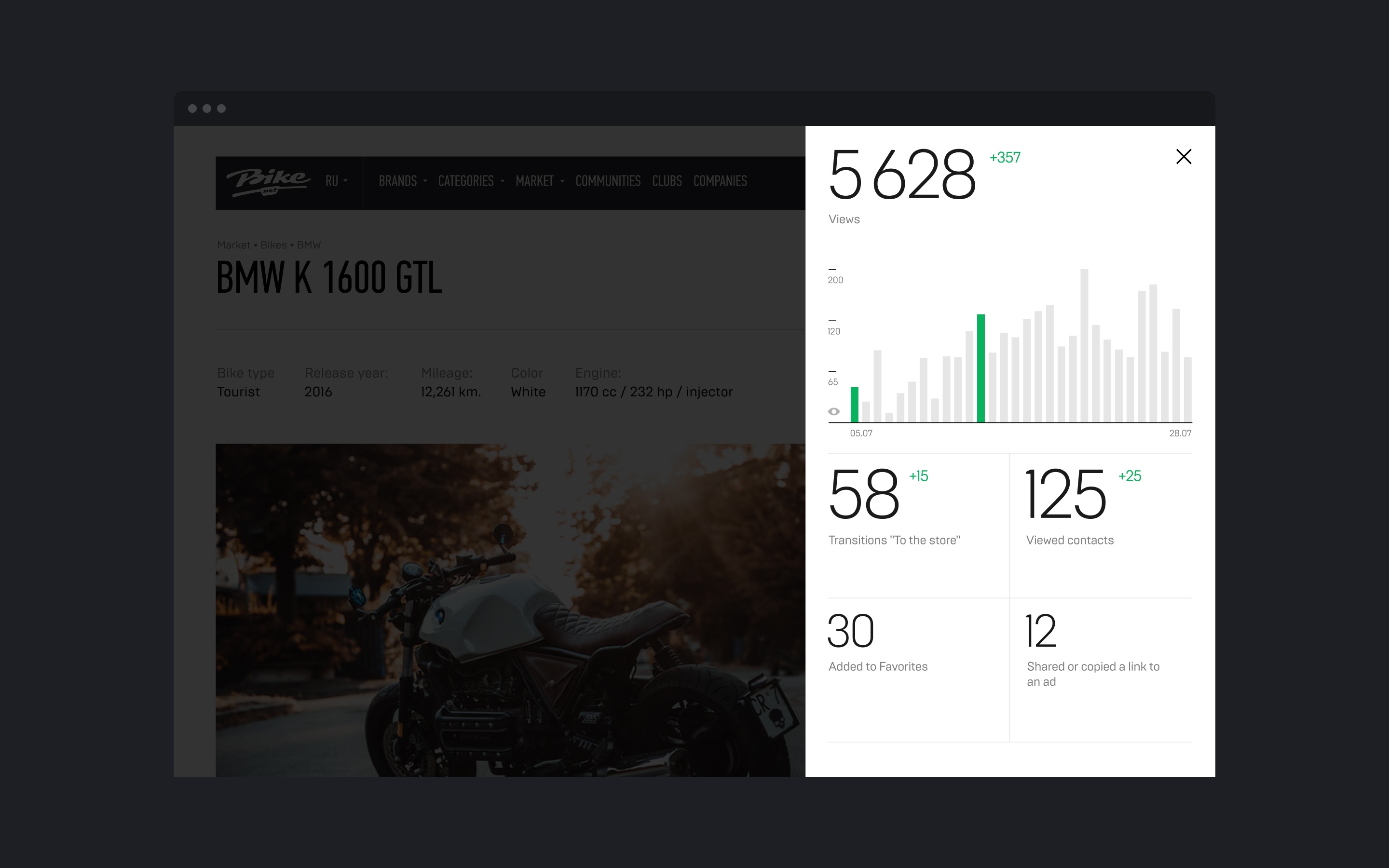 Product Designer · Futumarket
This is the second version of the product. In January 2019 after launching the first version of the project we got feedback from our users and we understood that our concept required huge expenses. The management decided to simplify the project. Remove unnecessary sections and stay only with important parts of the product. After dozens of discussions, we decided to choose the marketplace format. It's similar to already existing solutions like E-catalog, or Yandex.Market, but it differs in positioning and monetization form.